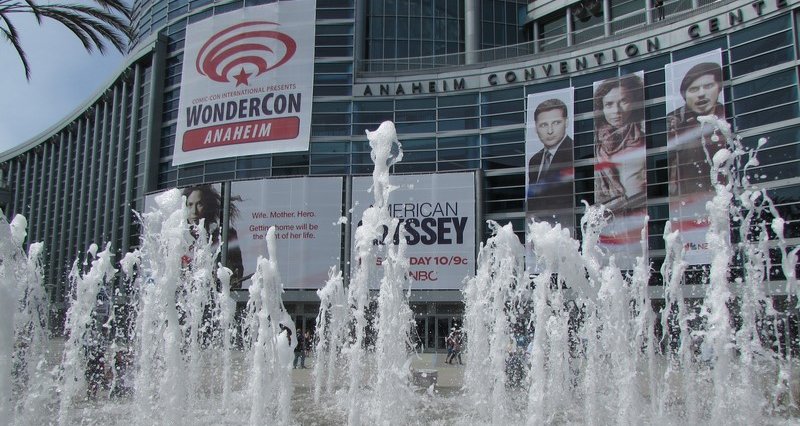 Josh and Violet continue their WonderCon coverage with the final day, Sunday, April 5! Josh starts off this article talking about the Nerdist panel with Chris Hardwick, then Violet takes over with a recap of the Powers panel, followed by The Flash panel (which will appear in Part 2).
If you missed our Friday Report, click here!
If you missed our Saturday Report, click here!
On Sunday, April 5th, Violet and I headed back down to the Anaheim Convention Center for the final day of WonderCon 2015. Typically, Sundays tend to be pretty slow at most cons, but we had a few panels we wanted to see still. Our first stop was going to the Arena again to see the Nerdist panel with Chris Hardwick, which started at 11am. We got to the Convention Center around 10:30ish, and we barely got parking in the front of the Convention Center. The last few spots were being taken and I am pretty sure I heard some parking attendants talking about closing the parking lot because it was full. That was a relief. Finding available parking in crowded events is just about one of the worst things ever.
We headed to WonderCon, and it was just as busy as ever. The turnstiles were still up, and security was still checking badges. The religious protesters with their yellow and black signs were out in full force today, I guess because of Easter. I would think they would rather be at home with their family celebrating the religious holiday. Ah well, whatever makes them happy. We funneled into the Arena which was getting filled, but still had plenty of room. It was time to watch Talking Dead, I mean listen to Chris Hardwick talk about….stuff.
The Nerdist Panel with Chris Hardwick, Arena, 11:00am-12:00pm
So, Chris Hardwick came out alone at first, and talked to us WonderConners. He then introduced everyone he brought from Nerdist: Justin Willman, Jessica Chobot, Dan Casey, Malik Forte, Matt Grosinger, Kyle Hill, Rachel Heine, and Brian Walton.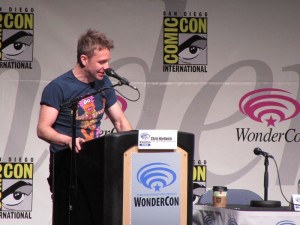 Chris Hardwick started off the panel with a few announcements he wanted to get out of the way. He first talked about how much Nerdist has grown, with his Nerdist Podcast growing to have 7 million downloads a month, and he has moved into a 20,000 square foot facility with recording studios. Nerdist also plans to have a big presence at San Diego Comic-Con, with several shows there, and having a big portion of the Petco Park for Nerdist fans, taking up the entire lower level. Chris Hardwick then introduced his "sizzle reel" which showed various members of Nerdist doing their various shows.
Then Chris Hardwick talked about his Nerdist News show turning into a pilot episode for SyFy, which has him really excited. He also talked about G4 and Attack of the Show as an inspiration for the show, and has a lot of the same cast and crew. Another pilot he has going is celebrity bowling, which will appear "somewhere" later as well.
Then he talked about Back to the Future and how when the third movie came out, there was a big event showing Two and Three back to back for the Back to the Future Three premiere. Chris Hardwick then tells us that he had become friends with Kevin Feige, having shared that experience with him, and then Hardwick revealed that he has plans with Feige to have a giant 11 movie marathon of all Marvel movies, with Age of Ultron premiering at the end. He says that for people who attend every movie, those people will be entered in a contest to attend the Ant-Man premiere, which is very exciting.
We knew that several theaters would be showing all of the movies back to back, but the cool thing about this is that it is in the El Capitan theater, and people will get to see Age of Ultron a few days earlier than the rest of us. Tickets went on sale Sunday morning at 10am, but the 29 hour event is now sold out. Tickets were about $70, and it sounds like an exhausting event, but I am sure the hardcore, dedicated fans will muscle through it.
Chris Hardwick then talked to his panelists about their various projects, whether it's a book club, science, video games, music or other various pop culture genres. You can see all of Chris Hardwick's shows on www.nerdist.com to see everything going on in that regard.
Chris Hardwick finished up talking to Justin Willman, who turns out to be a magician. He has a special coming up on Comedy Central, but we get a sneak peek at his "wizardry," and he performs a trick for us. Chris Hardwick and Justin Willman get a audience member to join the group on stage, and after some hilarity of Chris Hardwick boosting this woman onto the stage, and watching him "parkour" back onto the stage, Justin works his "magic":
Justin has the woman look at the first word on a random page of a joke book. She chooses the word, and then has her write it down without Justin looking. It looks like Justin is going to read this woman, and figure out the word. The word turns out to be "FART," which he writes in big letters on a white paper. She turns the paper to her chest, and Justin begins the reading, and seems to be on the right track. He identifies the word as a verb, and a funny word. He asks her a few more questions about the word, when was the last time she had done it? Ten minutes ago. She begins giggling a lot, and it looks like Justin has it figured out. She flips over the paper, and the word is revealed! Oh wait, the paper says "EAT"? Then Justin got it wrong! Oh, wait, I get it, he changed the word to "EAT" somehow…huh?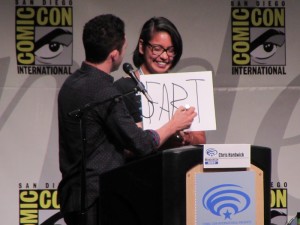 It was a pretty funny magic trick, that leads people one way, then winds up completely different than the way it appeared to be going. It certainly seems interesting. His special, called Sleight of Mouth, is scheduled to premiere April 6th on Comedy Central at 12:30am right after @Midnight.
The last part of the panel focused on audience questions. One question asked about Hardwick having a Talking Dead for the new Fear the Walking Dead show, and Chris Hardwick plays coy at first. He does confirm that the first 6 episodes will not have a commentary episode, as it sounds like AMC is waiting to see how the show does before they spend more money on it. Chris Hardwick does say he has "heard" the first episode is "amazing." Curious to know if he has actually seen it. I have a feeling he might have!
The next questioner asks about whether a Talking Thrones show would be possible. Chris Hardwick comes down with a firm no on this, because he doesn't have the time, but does acknowledge HBO could fill that void. Another interesting tidbit from Hardwick was discussion about the return of X-Files to TV. The questioner thanks Hardwick for bringing the show back, with having Gillian Anderson on his podcast and she revealing that she would be interested in bringing the show back. Hardwick acknowledges that this was probably well in the works before that podcast, but he does like to think he might have had a small part in bringing the show back.
Finally, the most important question that Chris Hardwick is asked–who would he like to wind up with in Rick's group, if the group was split up. His immediate answer is Carol, because she seems to be the only one not panicking at Alexandria, and seems to have "it" together the best.
There were a few more questions asked, including motivational ones for anyone trying to get into the type of work Hardwick is in, and that wrapped up the Chris Hardwick panel.
After the Nerdist Panel, we decided to hang around the Arena, and see the next panel, which was "Powers: A Sneak Peek at the Final Episodes of Season One." Violet will provide her recap on this next!
Powers: A Sneak Peek at the Final Episodes of Season One, Arena, 12:15pm-1:15pm
It me, Violet, again! We decided to just stay in our seats after the Nerdist panel, since there wasn't anything else really going on that we wanted to go to, and so that we could keep our seats when The Flash panel started. Also, I was a little curious about Powers, as I have heard good things about it, but haven't been able to watch it because we don't have a Playstation account.
The panel started off with a clip summarizing what has happened on the show up through the present. Every time there was a swear word, the volume would cut out for a moment. There were quite a lot of F-bombs, so this happened a lot!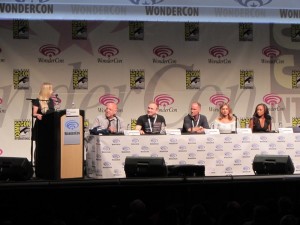 The panelists included Executive Producers/Co-Creators of the Powers comics, Brian Michael Bendis and Michael Avon Oeming, along with showrunner Charlie Huston, and cast members Olesya Rulin (Calista) and Logan Browning (Zora). At least, at first that's all that were included. Later on, two cast members who were sitting in the audience, Aaron Farb (Simons) and Justice Leak (Kutter) climbed over the barrier, then jumped onstage and joined the panel.
Since I've never seen the show, I wasn't able to follow most of the panel's discussion. But from what I can gather, the show is about a world where there are people who are born with powers, who are called Powers, and people who are not born with powers, but can acquire them by using a drug called Sway, which is very dangerous and only taken as a last resort. Sharlto Copley stars as a detective who was a Power, but is now a non-Power because his powers were taken from him by another Power, Wolfe, played by Eddie Izzard.
Bendis spoke about the freedom of being on the Playstation network. Apparently, this project has been 20 years in the making. The challenge has always been that this is a hard "R" crime drama, for adults, by adults. Bendis said that a network version of Powers would have been disappointing to readers of the comics. They wouldn't have been able to use F-bombs. He went on to comment that the comic book itself was scrappy and independent, so it's fitting that the show is too.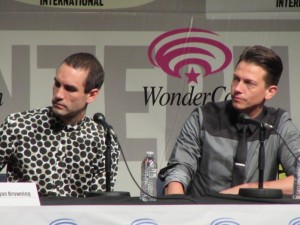 The panelists went on to talk about Powers vs. Non-Powers, and how they can't completely connect with each other because it's an unequal relationship. They also spoke about how great it was to work with Eddie Izzard. Bendis gushed about how Izzard had invited them down to some secret basement club to watch him do stand up, and recalled how Izzard had arrived in full drag to the table read. Huston also teased a super team.
We then got to watch a clip from the end of the upcoming Episode 7 of Powers, which was set to come out on the following Tuesday. The clip was about 7 or 8 minutes long.
The panel ended with the panelists each talking about their favorite thing about the show. Rulin's favorite thing was that the longer the show keeps going, the stronger the the female characters get, and praised the fact that there are such strong female characters on the show.
Oddly, there was no audience Q&A. Bendis had some swag to hand out, which he ended up going to the side of the stage to throw out to people, which resulted in a large crowd of people at the barrier. Security cracked down on that afterward, announcing that if anyone tried to approach the stage from now on, they would be turned away.
I thought Powers looked interesting, and looked like it was something I would like to watch. From the clips shown, the acting was really good, and I found myself wishing I knew more about the storyline and what was going on so that I could enjoy the clip more. Unfortunately, with it being available only on the PlayStation network, that's not a possibility for us. Hopefully it will become more easily accessible at a later date.
Next up in the Arena was The Flash panel. Click here for Part 2 of our WonderCon Sunday Report!