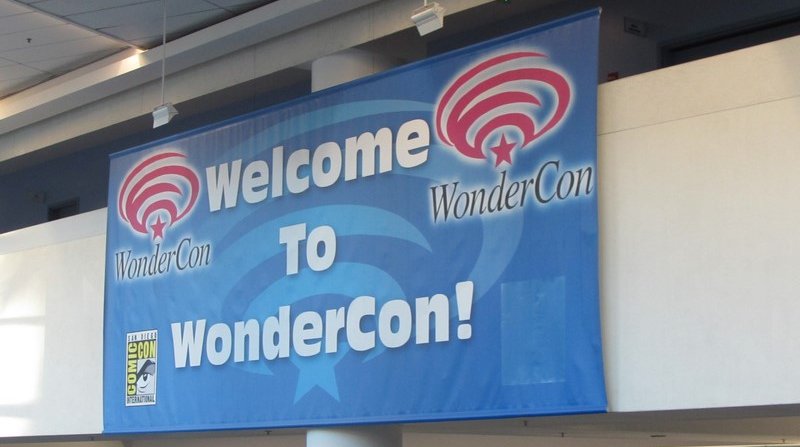 WonderCon Anaheim took place Friday, April 3 through Sunday, April 5 at the Anaheim Convention Center! In the Friday Report, Violet and Josh talk about their experience on Day 1 at WonderCon, including the Wayward Pines panel and the Surviving The Walking Dead panel featuring Michael Cudlitz. Read on for all the details and to see our photos from Friday of WonderCon!
Violet here for Part 1 of our Friday Report of WonderCon. Josh had to work on Friday, while I luckily had the day off due to the Easter weekend. But Josh traded shifts with someone so that he'd be able to get to WonderCon sooner, so he did eventually make it on Friday. Josh takes over in Part 2 of the Friday Report.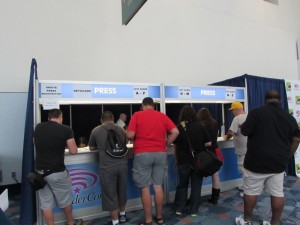 Anyway, so I got a later start than I originally planned. I had kind of wanted to see the Going Back to the Future panel at 12:00pm, where some filmmakers discuss their documentary about Back to the Future, but unfortunately I ended up not catching the bus until 11:45am. I live about 5 miles up the road from the Anaheim Convention Center. It took me about 25 minutes to reach the corner of Harbor and Katella. I'd say about 10 minutes of that was just because of traffic in the Disneyland area. By the time I walked over to the convention center and picked up my badge, it was about 12:20pm. It didn't take long to pick up my badge, because I just had to check in at Press Registration. Although this was our fourth time attending WonderCon, it was our first time attending as Press, so that was exciting!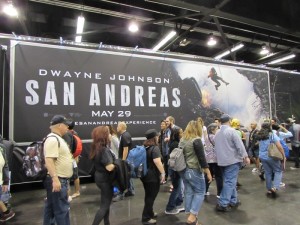 At that point, I decided to go walk around the Exhibit Hall floor for a little while, and didn't get very far when I discovered the San Andreas Real D Experience. The line didn't look very long, and seemed to be moving fairly quickly, so I went ahead and got in line. I also quickly realized that this was the big Warner Bros. booth that was very prominent on the Exhibit Hall map. It had been speculated that the Warner Bros. booth would be like their large booth area at San Diego Comic-Con, but apparently not. I've been inside these promotional type mobile units before, so I was expecting some sort of walk through with small stations of interactive exhibits. However, once inside, it was just a small movie theater in which you watch a trailer for San Andreas. If you don't know what San Andreas is, it's a movie about a huge earthquake that hits Los Angeles, and stars Dwayne "The Rock" Johnson. Granted, it did show a bit more footage from the movie than other trailers I've seen for the movie, but that's all it was. Although it was called the "Real D" experience, it wasn't 3D. The seats vibrated a little, but that's about it.  You watch the trailer, then exit.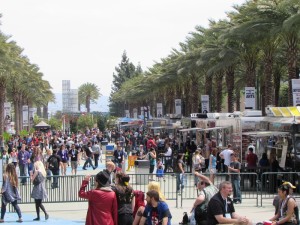 After that, it was about 1pm, and I was getting hungry, so I went outside to go check out the food trucks. On my way there, I ran into our Twitter friend @cyberaug, and hung out with him for a little while. After I finished eating, we started from the beginning of the quite large Exhibit Hall floor and meandered our way through Artists Alley. It was surprisingly crowded for a Friday! Oh, I also finally got to meet Shelley from Con*Quest Adventure Journals (@Quest_Journals), which we had the pleasure of reviewing last year. She was so nice, and it was great to see how much the company has expanded into new products! By that time, it was 2:15pm, and I figured I should start heading up to my first panel of the day.
Wayward Pines: Screening of Premiere Episode and Q&A, 2:45pm-4:00pm, Room 300AB
I was able to walk in and sit down during the tail end of the preceding panel, which was How to Get a Job in Video Games. Once that panel was over, I was able to move up to the second row. Promptly at 2:45pm, the moderator came out and announced that we would be watching the entire first episode, and the show started right up.
Recap of Wayward Pines Episode 1
Here's a recap of what happened in the episode. Skip past this section to the Q&A section if you don't want to know.
[**SPOILER ALERT**] Matt Dillon's character, Ethan Burke, wakes up in the middle of the forest, all banged up. He walks through the nearby town of Wayward Pines into a diner, passes out, and wakes up in the hospital. Meanwhile, we see a flashback of his session with a psychiatrist, which suggests that he's prone to hallucinations. In another flashback, we see that Ethan, who is a Secret Service agent, had been traveling to this town, Wayward Pines, Idaho, with another agent, in search of two agents who had gone missing. While traveling, Ethan and the other agent are in a car accident.
So, back to the Wayward Pines hospital, the nurse, played by Melissa Leo, acts really odd, and tells him that his wallet and phone are at the sheriff's station, and won't let him use a phone. When she goes away, he gets dressed and leaves the hospital, despite the nurse trying to stop him. When he goes to the sheriff's station, it's locked, so he goes to a bar instead. The bartender, Beverly, played by Juliette Lewis, lets him use the phone. He calls home a leaves a message on the answering machine. Beverly writes down her address for him if he needs a place to stay. On the back, she writes "There are no crickets in Wayward Pines." He leaves, hears crickets, but when he looks into the bush, discovers it's a small speaker emitting cricket sounds.
The next day, when he goes to the address, it's a run down house. Inside, he finds the decomposing body of one of the agents he had been looking for. It looks like it's been there awhile. He reports this to the Sheriff, played by Terrence Howard, who also seems rather odd. He tells Ethan that his wallet and phone are not there, however. Ethan tries calling the Secret Service, but some "new" person answers the phone, and won't connect him to his partner.
Ethan goes back to the bar, but the guy there says that no women work there. They start to get in a fight, and Ethan passes out, as the guy radios into his walkie talkie "Number 101628 is not doing well." Ethan wakes up back in the hospital, this time cuffed to the bed. A doctor tries to convince him that he's having a dissociative mental breakdown. The nurse tells him that he's going into surgery. Ethan protests, but the nurse forcibly injects him with a sedative and wheels him out on the gurney, leaving him outside the surgery room. Beverly comes by and wheels him away, saving him. They can't find a way out, and the nurse comes looking for him, and he has to hide. However, he attacks the nurse, knocks her out, and they're able to escape. Ethan soon learns that Beverly has been in Wayward Pines since 1999, but she thinks she's only been there for a year.
The next day, Ethan is walking in the park, and he recognizes a woman as Kate Hewson (played by Carla Gugino), the other agent he was looking for. He follows her home, and she pretends not to know him at first, but then she relents and speaks with him, warning him that "they're watching us and listening." She reveals that she has been in Wayward Pines for 12 years, which baffles Ethan, since she was just with him 5 weeks ago. She warns him that he could be putting her life at risk, and when he asks if he has had a relapse, she shakes her head no. We also see in a flashback that Ethan and Kate had a romantic relationship.
Ethan then steals a car and tries to drive out of town – but every time he thinks he's leaving town, it's not long after that he enters the town again. He tries to climb up the side of a hill to get out of town, but when he gets near the top, there's an electrified fence, and we see that it goes in a circle around the town. He gets back in the car, and the Sheriff finds him. When Ethan asks how to get out of here, the Sheriff replies, "You don't."
Back in Seattle, Ethan's wife, Theresa, and teenage son, Ben, are hanging out by the waterfront, when Theresa gets a call that Ethan may have been involved in a car accident. However, as the car accident is further investigated, the car's GPS monitor is missing, and there is no evidence of Ethan ever having been in the car, while the other agent's body was badly burned almost beyond recognition. Later, Theresa meets up with Ethan's partner, Adam Hassler, pleading with him about Ethan's whereabouts, but Hassler says he doesn't know where Ethan is. After that, we see Hassler meet up with the doctor from Wayward Pines, and says he wants to call it off, but the Doctor says it's done. Theresa checks the answering machine, but she did not receive the message Ethan left for her. [**END SPOILER ALERT**]
Q&A with the Panelists
After the episode was over, that left about 20 minutes for the panelists to talk about the show. The panel was moderated by Sandra Gonzalez, and panel members included Executive Producer Donald DeLine, and actors Reed Diamond, who plays Kate Hewson's husband, Harold, and Tim Griffin, who plays Adam Hassler.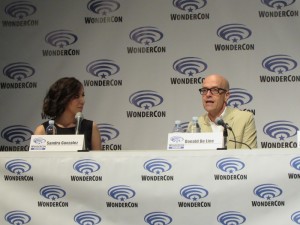 DeLine started off by talking about the "birth story" of Wayward Pines, which consists of 10 one hour episodes. He had read the book by Blake Crouch, and it originally came to him as a movie, but then he realized that it would be better as a television series because it was so complicated and layered, with so many characters. His friend Chad Hodge wrote the pilot, and they brought it to M. Night Shyamalan, who had never done television, to direct the pilot. Shymalan loved it, and tried to guess the twist, but was unable to, which made him love it even more.
DeLine explained that Shymalan was very involved, and helped scout out the filming location, which ended up being Vancouver. He also talked about how Shymalan had the whole cast come to his farm outside of Philadelphia to rehearse and workshop the show. Diamond said he didn't go, but Griffin said he did, and referred to the farm as a "compound."
Diamond talked about reading the pilot and how he had to know how it ended, so he went out and bought the book, and read it within hours. He said that the special thing about Wayward Pines is that oftentimes in other shows, the mystery is never explained, or takes years, but here, we find out early on what's going on. Diamond went on the hype up the big reveal, saying that it blew his mind, and made the show that much more explosive.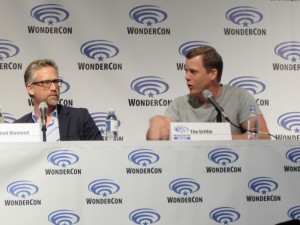 Griffin commented that at first he didn't want to know what happened to Adam Hassler, but then when he got on set, he cornered Shymalan and said he had to know what happened to him. Shymalan happily complied.
DeLine said that although there are small reveals beforehand, the end of the 5th episode is when the big reveal about the truth of this world takes place. When the episodes were being written, Crouch, the author of the novel, was working on the second novel of the trilogy, so it sort of became a collaboration. DeLine emphasized that the tenth episode is just as surprising and revelatory as the fifth episode.
In regards to a comparison to the book, DeLine said that the big ideas in the show are very much the same as in the book. However, sometimes the writers of the show took the inner lives of the characters in different directions than the book. It got to the point where the writers created a "bible" outlining where the ten episodes would go, having planned it all out in advance, so they were able to give the actors answers when they asked about their characters. However, Griffin told us that when Terrence Howard was at Shymalan's compound, he insisted that they didn't tell him anything about his character, whether he was good or bad, or anything about his future.
DeLine then talked about bringing this great cast together, and commented that he had never produced TV before, nor had Shymalan ever directed TV before, but that Shymalan had wanted to do something that was original, and not like anything else on TV. DeLine thought that this being just a limited 10 episode run was what attracted such quality talent.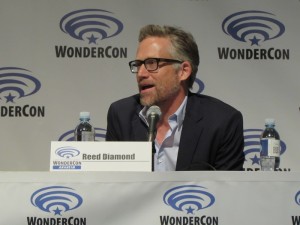 Diamond commented how when the show comes out, he'll get to watch it as a fan, because all the characters were "spokes" that revolved around Matt Dillon, so there are so many things that happened in the show that he doesn't know about. He also went on to say that what the characters are saying and what they're thinking are two different things, and that there's often something deeper and darker going on, whereas that isn't the norm on TV.
Griffin spoke about how Shymalan and the other directors were very open to letting him and the other actors bring what they wanted into their characters, but also kept them on the correct path as to where their character was at that point in time, knowing what was coming later. DeLine reiterated that the reveals come fast and furiously after episode 5.
When the moderator asked why this was a good time for this show to come out, all of the panelists praised the fact that it's a great, well-written story that's of a very high quality, and includes top notch actors, many of which are film actors.
The panel then moved on to audience questions. The first guy asked about Diamond's character Dr. Whitehall on Agents of SHIELD, [**SPOILER ALERT**] who had been shot and killed, wondering how lethal a bullet was on a guy who didn't age. Diamond told us about when he was shooting the scene and the cameraman told him, "No one really dies. It's the Marvel-verse. You'll be back." Diamond then added, "Hail HYDRA!" [**END SPOILER ALERT**]
The next question was for a summary of what the show is about. DeLine summarized it as "a great suspense thriller where nothing is what it appears to be, but everything answers itself in due time with an incredibly interesting science based rationale that is brilliant and original."
The final question was about the possibility of a second season. DeLine said that it was designed for 10 hours, but the show could continue on if people wanted it to, so that's a possibility.
Wayward Pines premieres on Thursday, May 14 at 9/8c on Fox.
So what did I think about the pilot? I actually liked it! It seemed really weird, but in a good way. The mystery is really building up, and the acting was really good. And of course, now that I've watched the entire first episode, I have to know what happens! Plus, I like this idea of finding out quickly what's going on, and that everything is contained into a limited 10 episode run. I'll definitely be watching when the show begins airing next month.
Continue on to WonderCon Anaheim 2015: The Friday Report – Part 2, where Josh takes over! >>