The folks over at OneLessNemesis have come up with a brilliant idea: the ConQuest Adventure Journal! For all you convention goers out there, this could be just the thing you've always needed, but never knew you wanted. Just what exactly is it? Read on for more details!
Note: Click on any of the pictures for an enlarged image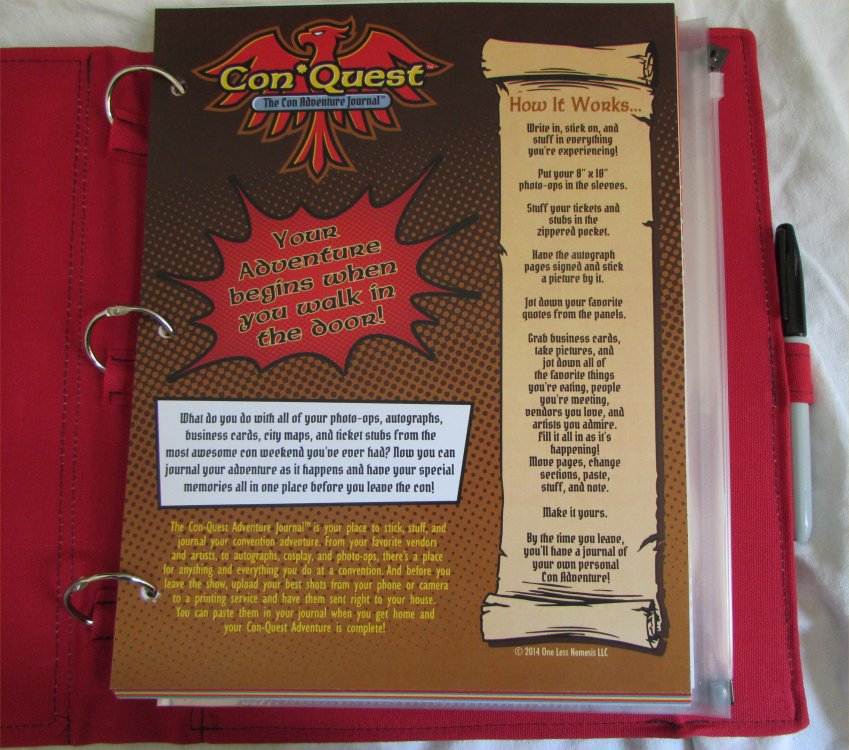 In the words of the creators of the journal, "Con-Quest Adventure Journal is your place to stick, stuff, and journal your convention experience." It provides a place not only to keep all of your memorabilia that you collect from a con (we all know that we tend to amass a ton of swag when we go to cons!), but also has specific places to get an autograph, or have your favorite artist doodle a sketch, and even to write down all that you're seeing and doing, chronicling every aspect of your con experience, from cosplay to panels.
The journal seems very durable, is made of high quality canvas, and even has a built in Sharpie holder and comes with a Sharpie! It's a 3-ring binder that comes with beautiful high quality card stock pages to write on or stick stuff to, sleeve protectors in which to place your 8″ x 10″ photo ops or other loose pieces of paper, a sheet in which to keep business cards, and a zipper pouch for the little odds and ends you collect.
For the following examples, at WonderCon I had picked up a free Wonder Woman poster from DC Comics. As it was already folded in half, the sleeve protector would have been the perfect spot to keep it. Also at WonderCon, I got a sheet of How to Train Your Dragon temporary tattoos. I could have placed those in the zipper pouch for safekeeping. There is a band that wraps around the journal to secure it shut.
As I mentioned above, there are specific pages for every part of your con experience:
an Autograph Quest page for those highly desired autographs when you don't already have something for them to sign (who knows when you'll randomly run into someone at the con, or when you'll come across an unexpected signing at a vendor booth?!)
an Artist Quest page where you can have your favorite artist sketch something for you
a Panel Quest page where you can write down quotes you want to remember from the panels you attend
a Cosplay Quest page to write down awesome cosplay costumes you saw and to come back and place pictures of them if you took any
a Vendor Quest page to jot down info about cool vendors you came across on the Exhibit Hall floor
a Peep Quest page to write the contact info for new friends you meet at the con
and even a City Quest page to list your favorite and least favorite things about the city in which the con took place if you came from out of town!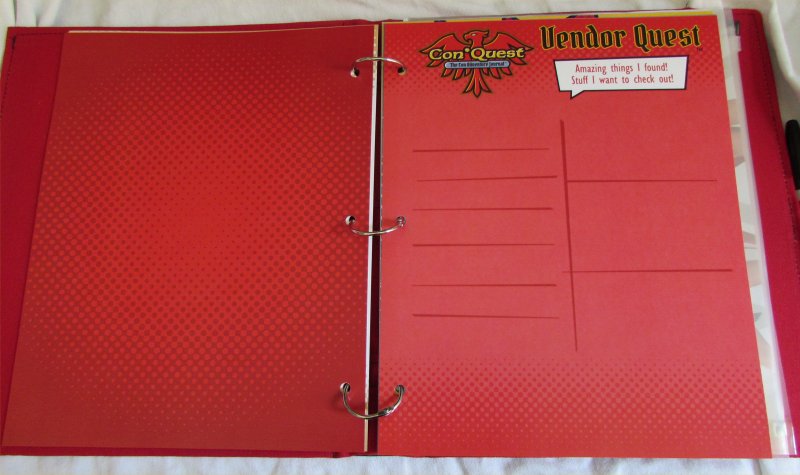 Don't forget about the Business Cards sheet! A handy dandy sheet is included which contains slots for each individual business card that you collect. The journal also comes with a packet of extra pages and extra sheet protectors in case you need more!
It seems that the makers of the ConQuest Adventure Journal have thought of everything to give you the perfect companion to use both during your con-going adventure, and a place to scrapbook everything afterwards.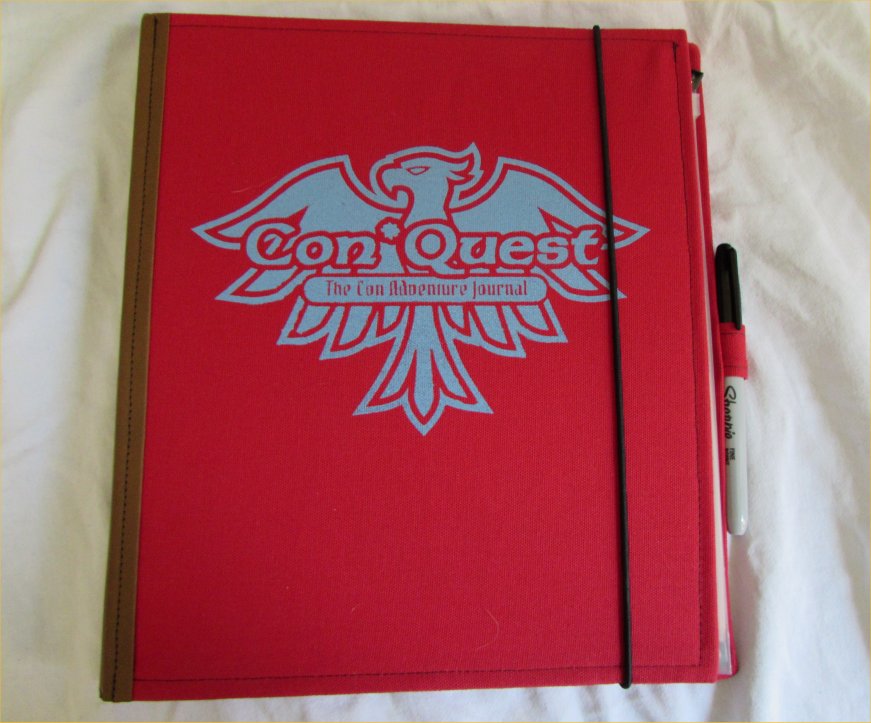 The only drawbacks are that it is quite large, so it might be a burden to carry around all day during your convention, and that the 3 rings are a bit loose, which makes the contents shift around a bit, and causes the journal to come off as somewhat flimsy. However, it is understandable that it would need to be that big, because sometimes you get some rather sizable items, and of course it needs to be big enough for those photo ops with your favorite stars! PLUS, it comes with a tote bag to carry it in! As for the looseness, that's probably because our journal is so empty right now. It was probably made that way so as to allow for more pages and for you to add content to your journal. Once you start filling it up with all your con memorabilia, that problem will most likely go away.
So where can you get one of these awesome ConQuest Adventure Journals? They're available on the OneLessNemesis Etsy page for $40, and as I mentioned, it also comes with a tote bag. Also, keep your eyes open, because they may also show up at a con near you! For example, they will be at Indy PopCon May 30 to June 1 at the Indiana Convention Center. Check out the ConQuest Adventure Journal blog, follow them on Twitter @Quest_Journals, or like them on Facebook!