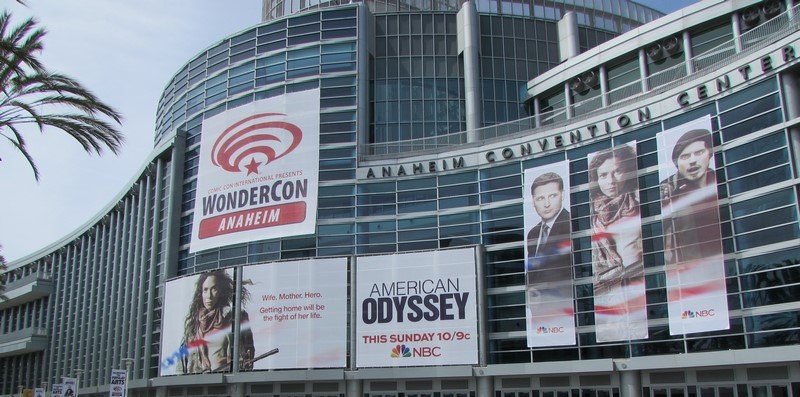 Josh discusses his experience with getting to WonderCon, around 4:00pm on Friday afternoon, walking the Exhibit Hall floor, and seeing his first panel of WonderCon, Surviving the Walking Dead! Check out part two of the WonderCon 2015 Friday Report after the jump!
To check out Part One of the WonderCon Friday Report, Click Here!
To get straight to the Walking Dead Panel, click here!
Josh's WonderCon 2015 Arrival – Yeah It's Busy, and It's Only Friday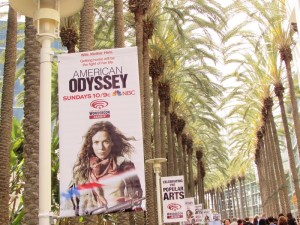 So, unfortunately due to my work, I was not able to get to WonderCon until around 4:00pm on Friday. By then I sort of felt like I was missing the party. First of all, the Anaheim Convention Center parking lot was full. I had to park at the Garden Walk parking structure which is a block away, diagonally, then down the street a good few hundred yards. When I got to the Garden Walk structure is when I knew that it was going to be a busy weekend at the Anaheim Convention Center. Even Garden Walk was filling up, as I had to park on the fourth floor. As soon as I got out of my car, with my Marvel/USC shirt on, ready to go, there was no mistaking what was going on. People in costumes were either walking to their car from WonderCon, or heading back to the Con from their car. Definitely a great feeling of "homeyness" about it.
It is a bit of a trek from the Garden Walk structure, so I began the walk. It is an interesting walk though for a couple reasons. One, you get to see a lot of the cool costumes people are wearing. Two, since WonderCon takes place right next to Disneyland, and it is Spring Break for a lot of people, you get to witness the Disneyland vacationers looking peculiarly at the costumed "WonderConners." It is a pretty fun sight to see.
Once at the gates of WonderCon, I noticed something different this year–there were signs seemingly separating the "WonderConners" from "general population." The Convention Center had a lot more fences up seemingly to enforce this barrier as well. It didn't seem to have staff really doing anything to keep the non-Conners out, but it seemed odd to me that these fences were up. Turns out, this divide gets more enforced on Saturday. Check that out on tomorrow's post. As I expected, the "courtyard" of the Convention Center was packed! So many great costumes as well: Deadpools everywhere, Princesses from the various Nintendo games, Ghostbusters, Stormtroopers, various X-Men, Superman, Batman, Harley Quinn, Joker, Spider-Man. So many! It is one of my favorite things about Cons–seeing what everyone has done to dress up. But it was time to get to "work" (well, I guess not really, I am not paid for it, but hey it is a heck of a lot of fun!). I picked up my press badge, and since Violet was in the Wayward Pines panel, I headed to the Exhibit Hall Floor for awhile.
WonderCon Exhibit Hall – Still Shoulder to Shoulder, Bigger Than Ever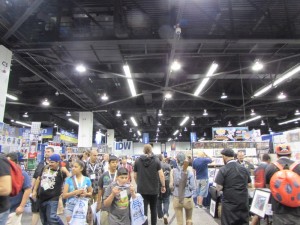 As usual, the Exhibit Floor was shoulder to shoulder. It is a good thing most people in these "geek" related cons are polite, as if this was Black Friday at a Walmart, I would be afraid for my life. I went up and down the halls admiring the various artists' work on display, and desperately trying to keep my money in my pocket. There were a couple of really cool items I really wanted to get: a "Timeless Hero" Legend of Zelda shirt, Almost any Marvel/DC art piece I saw, a Walking Dead version of Risk, and the graphic novel "Hush," which I haven't had a chance to read yet, were the most notable things I walked by in sadness. What was most spectacular about the Exhibit Floor was the enormity of it. I had been walking about for about 20 minutes, and reached what I thought was the end. No, no, turns out, that was just the half way point. I had a whole other half to walk through! I kept going, until I heard from the wife, and we decided to go get some dinner. This journey the through the Endless Aisles of WonderCon had left me famished.
After eating at a restaurant called Tiffy's down the street, we headed back, and did some more walking on the Exhibit Floor. There were of course, more great costumes, with my favorite one being Carol, Maggie, Lizzie and Mika from The Walking Dead . The poor kids have no idea what is coming….But after walking most of the floor, we decided to head up to what would be my first panel: Surviving The Walking Dead: Understanding Behavior in a World Without Rules.

Surviving The Walking Dead: Understanding Behavior in a World Without Rules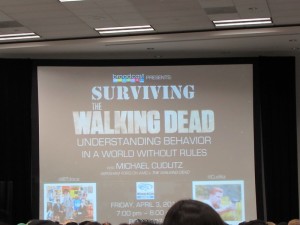 So this panel was hosted by H. Eric Bender, M.D. and Praveen Kambam, M.D., forensic psychiatrists who host a website called Broadcast Thought, and they analyze various characters from different works of fiction, and have done several articles on characters from The Walking Dead. I thought this would be a very interesting panel. One of the best aspects of The Walking Dead is trying to figure out the motivations for people, and determine the reasons people do the things they do. Also, Michael Cudlitz was on the panel, who plays Abraham Ford in the show. That was certainly an added bonus, but I was still interested in this panel regardless of who of the cast attended. I have always had an interest in psychology/psychiatry, and I like The Walking Dead (most of the time) so this panel seemed right up my alley!
The first thing I have to say about the panel, is Michael Cudlitz seems like a very down to earth guy. I am sure doing these panels can be a bit exhausting a lot of the time, and to me, he seemed a little out of his element on the panel, but I think he handled himself really well. He actually wound up doing most of the talking during the panel, despite him not being a trained psychiatrist, which seemed a little odd to me.
But the panel talked about quite a number of interesting things. The first focus was on all of the dangers of the The Walking Dead, walkers, people, fire and other dangers. Then the panel focused on Abraham's story arc in The Walking Dead from the flashbacks we meet him in, up until now. Michael talked about how Abraham has lost everything, and how Eugene came to his "rescue" with this new mission, despite it totally being a lie (spoiler alert-this is revealed in the episode Self Help earlier this season). Michael continued, saying that now Abraham is realizing that Eugene saved his life, as this entire story arc of trying to get to D.C. allowed enough time for Abraham to think, and realize that he wants to live. Michael also talked about how sitting around having time to think might not be the best for Abraham as he doesn't have a mission to push forward, and also said that he is defined by his violence. Michael had a lot of deep thoughts about the evolution of his character. All of this helped me appreciate his character a little bit more.
Michael also talked about how he thinks Abraham feels responsible for what happened this family, as he didn't want his family to see him "work," referring to the actions he took in his flashback where his family dies.
The panel then moves on to discussing Morgan and Rick from what I believe is Season 3 (this predates our website unfortunately), when Morgan seems to have amnesia, not remembering Rick. Michael postulates that Morgan is putting himself in the same shoes that Abraham did, but didn't have the guts to kill himself as Abraham was about to. That is a pretty good theory. The doctors discuss Morgan's phrases about the dead wearing friends' faces. Michael jumps in yet again, discussing that it has to be strange living a world where your dead friends/family have friendly faces but they want to kill you. At this point in the panel, Michael as really shown me that he has pretty deep thoughts about various aspects of the show.
Moving on a little, they focus more on Rick, and talk about Rick's "crazy phone" time. The psychiatrists seem to not consider this as crazy as we might think. The way they talked about it, it almost seemed a way for Rick to grieve, which makes sense in a way. In this world, grieving is a lot harder than in the "real world."
The panel then moves on to talking about cannibalism, which they say comes up in various ways, but least of all is delusion. The main "reasons" are for necessity, criminal/violent acts and/or rituals primarily, according to these doctors. Turns out that most cannibals are rarely psychotic, and the doctors seem to agree that Gareth's group was not psychotic. I am curious to know what Gareth's reason was then. Necessity? Sort of, I guess, food is probably getting more scarce. Another reason I would postulate would be ritualistic. In a way, if Gareth played it the right way, it would be a "good" way for his group to scare any surrounding groups so that they are left alone. I mean, who would feel brave enough to act against a bunch of cannibals? Anyway, back to the panel. Michael also talks about how the this world is so different now–and how if Rick's group ran into a clone of his own group, they would probably kill each other. I guess that makes sense in a way. As I have mentioned in my various Walking Dead posts, I would hope that Rick's is the "exception" to the rule, but turns out that is starting to be less and less of the case.
The doctors then ask Michael who Abraham would follow given the choice: Rick, Deanna or The Governor. Michael goes with the obvious answer, Rick, saying that Rick seems to have the most concrete plans compared to the other two. Michael then talks a little bit about Deanna, and that Deanna knows more about Rick's group than she is letting on. He does disclaim that is coming from himself as a fan, but I am curious to know what that means. But Michael also says that Deanna knows that Rick's group fills a void for the people of Alexandria.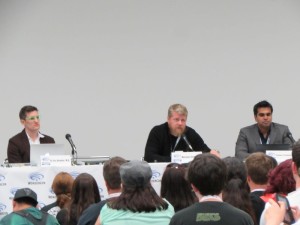 Moving on to talking about narcissism, and they seem to say that is a trait that the Governor exhibits. But they feel that Rick doesn't, and that Rick seems to have his group in mind when making his choices. The doctors then talk about why people follow certain leaders, and they describe Rick's leadership as a transformative leadership, meaning it helps people improve themselves, and provides a sense of self worth. They also talk about the power of a group, and beliefs tend to start falling in line when a specific group of people, with specific ideas come together. This sounds like both a good and bad thing to me…(Hitler comes to mind for some reason?)
Up next, we see a clip of Rick giving his speech that is rudely interrupted by Michonne in the episode Try . Michael talks about this speech, and he seems to agree with Rick's speech, but it could have been handled a little bit better.
The panel then moves onto audience questions, and there are a few notable ones. The first is asking what leadership quality is lacking. Michael doesn't seem to see any, but it does spark the conversation that Rick seems to know people's strengths and will use them to the groups advantage. That is one thing that does seem pretty prevalent, and probably one of the best aspects of the group dynamic.
Another question involved Michael discussing his own self surviving in the zombie apocalypse, and I like his answer. He doesn't know, because he doesn't know how he would react in that crisis. He does inform us that Norman Reedus has a plan, and he will be sticking with him. Then another question follows–who would be the next leader if Rick were to die. Michael indicates that there are several candidates, but they would emerge naturally. The question follows up if there would be a power struggle, but Michael doesn't think so. He reasons that in times of war, leaders emerge, and in times of peace is when the power struggle happens.
The group also talks about PTSD some. The doctors make some interesting points–humans tend to be "in the moment", and function really well when in danger, and the PTSD doesn't generally kick in until the crisis passes, and that everyone seems to react differently. Also, an interesting fact the doctors provide–10% of people will have "full blown" PTSD, but even people with some aspects of it are treated.
My favorite audience question was asking if Abraham would take a leadership role, and Michael Cudlitz has a good answer. Abraham likes taking orders, and will execute missions given. He backtracks a little bit when he remembers Abraham has been put on a construction crew, but in a way he is still carrying out a mission–it just has a little broader scope than he may be used to.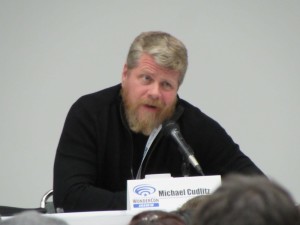 Another good question: Judith's experience in the world and how this world will affect her. Michael again has a pretty good answer. He thinks she will probably be the most adept to this world, since he has been around it all of her life. Michael makes another good point–she will probably be quite different than the people who first experienced it as adults. That already seems to happen in our world–kids feel like they are living in a different world than their parents. With the drastic world change in The Walking Dead, that shift would seem exponentially larger.
My second favorite question asked was if the world of The Walking Dead could ever return to normal society. The panel seemed to not think so, due to how drastic it has changed. I would personally argue against that to some extent. If we take a look at our own history, humanity came from a savage world not too much unlike this new world for Rick and the gang. Given a few hundred/thousand years, some sort of more civilized society would probably eventually emerge. Especially if the walker disease could be eradicated, one way or another. So in my eyes, either the walkers win, and all humanity is wiped out, or eventually civilization would slowly come back. It might not be exactly the same as now, but it would not be as savage as it is now in The Walking Dead.
Overall, I liked hearing Michael Cudlitz's opinion on a lot of aspects of various characters. I had wished the doctors would have gotten a little deeper into the actual psychiatry of the characters. The two doctors do have a good point–psychology is based a lot on the cultural norms of the world. Since The Walking Dead's universe is now so different than ours, the cultural "norms" are really different. I would have liked more comparison though, maybe dragging these characters into our world for analysis. But still, it was a lot of fun, and certainly made me look at some of the characters a little differently now.
But, since I had been up since 5:00am for work, it was time to head out, and get ready for Saturday! We headed home, went immediately to bed for the big day! Click here to check out the Saturday Report!