WonderCon 2017 took place at the Anaheim Convention Center March 31-April 2! In Part 2 of our Saturday Report, Violet recaps the Midnight, Texas and The Magicians panels.
Continued from WonderCon 2017: The Saturday Report Part 1 – Rock Stars
When we returned to Room 300AB, it was around 11:30am, and the APB panel was still in session – but there was a line of people waiting outside the room. Then we realized that the line extended into a holding room next to Room 300AB, with taped off columns for people to stand in – and which were already filled with 4 or 5 columns of people waiting in line. Well, that escalated quickly within the past 40 minutes! So Josh, @CorgiKohmander (Jason), and I filed into line and sat down to wait. The start time of 11:45am for the Midnight, Texas panel came and went, with only maybe a handful of people being let in. We weren't sure if the panel was so full because people had arrived early to ensure their spots for the 2:00pm Agents of SHIELD panel, or if this many people were interested in Midnight, Texas itself.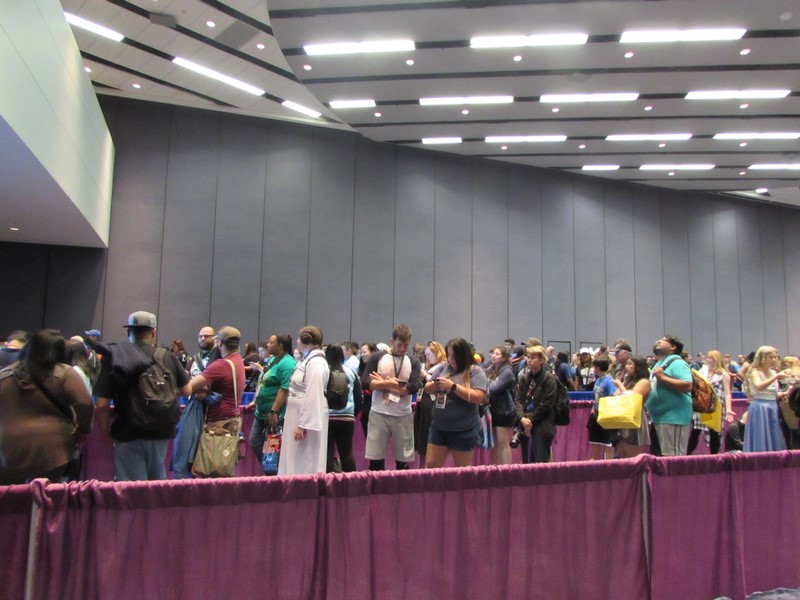 Personally, I was mildly interested in Midnight, Texas, having read Charlaine Harris's Sookie Stackhouse novels (on which the True Blood TV show was based), and watched the TV show (though I haven't read the Midnight, Texas novels). Plus, I enjoy seeing pilots in advance of their release dates. So I was a little bummed to be missing the pilot, but my main goal was to get into the Agents of SHIELD, and I was hoping that that would still be a possibility.
Slowly but surely, the columns of people in line were let in. Our column was finally called forth, and people were let in a few at a time, with volunteers leading them to open seats in the dark room. They counted out a certain number of people, which ended up separating our group, but the volunteers told us there were only single seats available anyway, so we would end up being separated regardless. So I was led in at the end of another handful of people and was about to be seated, when Josh and Jason were led in right behind me. The volunteers found 2 seats together, so Josh and I sat together, while Jason was given a seat a couple rows in front of us.
Midnight, Texas
We only got to see about the last 5 minutes of the episode, so I can't give you a very accurate impression of it. We did get to see various characters display their powers, and from what I saw, the effects looked pretty good.
Following the screening, the panelists took to the stage to talk about Midnight, Texas. The panelists included Executive Producer Monica Owusu-Breen, and actors Dylan Bruce (Bobo Winthrop), Sarah Ramos (Creek), Francois Arnaud (Manfred), Arielle Kebbel (Olivia), Parisa Fitz-Henley (Fiji), and Jason Lewis (Joe Strong).
Monica spoke about how she loved the books, and wanted to stay true to a lot of it, but since it's TV, they added some things.
The moderator then asked the panelists what their respective character's Tinder bio would be, and they went down the line giving answers. For example, Dylan said his would be "Bobo Winthrop: Pawn me your heart, and you just might not get it back," while Sarah said hers would say, "Let's have some fun, but don't tell my dad."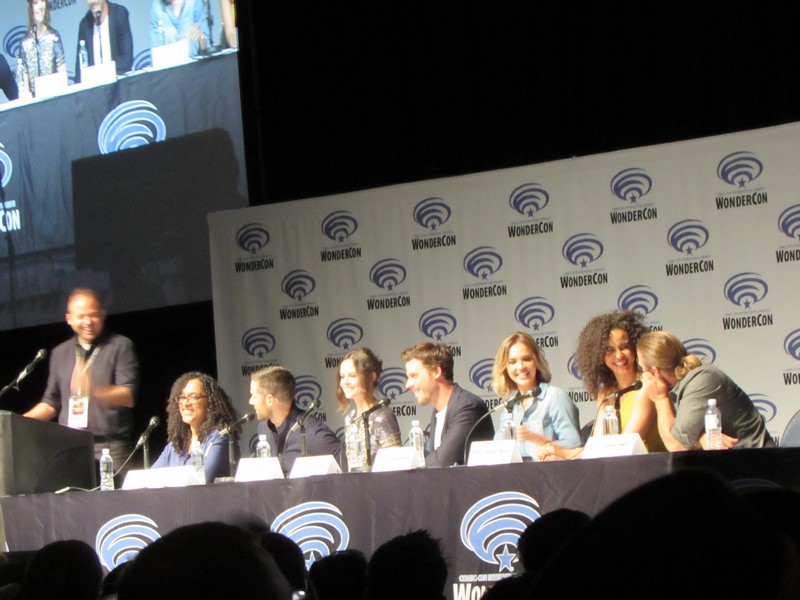 The moderator brought up how the show was shot in Albuquerque, New Mexico. Parisa spoke about how this made the cast members grow closer because they lived closer and were around each other a lot more often than they would have been driving across LA, so they became like family. Francois commented how he noticed that Monica had observed them during the filming of the pilot, and that he could see the changes in the writing from the script for the pilot to the script of the second episode, in that he felt like it was written more towards his particular portrayal of Manfred.
Dylan addressed how, like his character in Orphan Black was a human surrounded by clones, in this show he is a human surrounded by various supernatural beings. He commented that he enjoys playing this sort of role, and that his character has a lot to wrap his mind around and has an interesting arc. Dylan also mentioned that he loves being on genre shows, because "Sci-fi fans are the best fans there are."
It was then opened up to audience Q&A. One audience member pointed out how there was a lot of deliberateness, and Monica confirmed that was the case, talking about Manfred's tattoo. Francois said that he had wanted the character to have more piercings, like he does in the book, but wasn't able to. He does get to have the hair, though.
Another audience member asked the panelists if they read the books, and the answer is yes, all of them read the books. Another person who had read the books asked about the decision to include reveals in the pilot that weren't revealed until much later in the books, specifically that Joe is an angel. Monica explained that to know this doesn't even begin to scratch the surface of who he is or why he's in town. Ultimately, they decided to let the audience know who all these characters are, and then to ask questions about that. "It's not their powers that make them interesting," she explained. "They're interesting and they have powers."
The final audience question was from a New Mexican, who asked the panelists about their sauce preferences: red or green? After a bit of a debate, the panel ran out of time.
Midnight, Texas premieres July 25, 2017 on NBC.
The Magicians
Confession: We haven't gotten around to watching The Magicians yet, so I wasn't able to follow much of the panel, since I had no idea what was going on in the show, which is in its second season, and at the time of the panel only had 3 episodes left of the season. The panel began with a clip of upcoming events for these final three episodes, which you can watch here, and included a dragon that scoffed about f*cking Millennials.
Alicia Lutes, the Managing Editor of Nerdist, moderated the hour long panel, which included Executive Producers Sera Gamble and John McNamara, as well as actors Jason Ralph (who plays Quentin) and Stella Maeve (who plays Julia).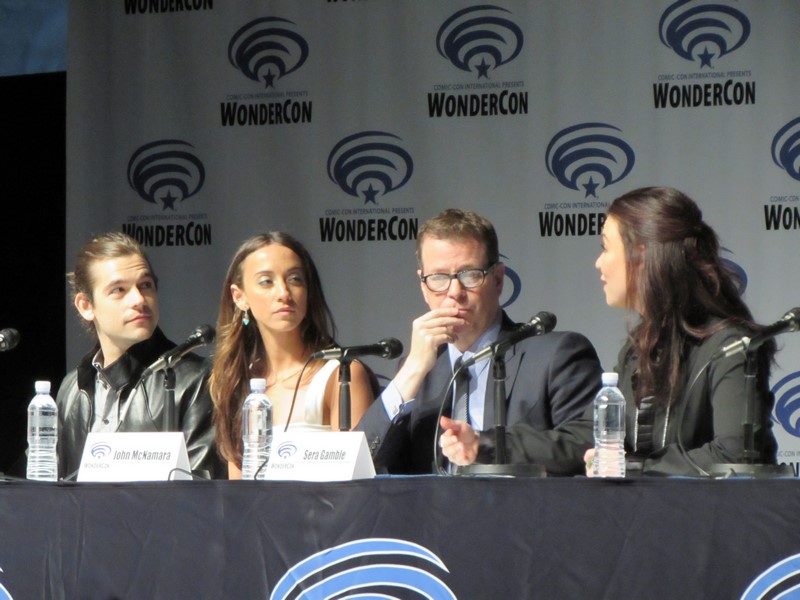 The actors discussed working together again, after apparently their characters had a falling out. Another topic of discussion was the hand gestures that the characters make in order to do their magic, also known as "tutting," and the panelists talked about the choreography that goes into it. Jason recalled the difficulty of watching a video of what he was supposed to do, while looking at what he was doing with his hands in the mirror. Stella lamented that she is unable to do anything special with her fingers, unlike other cast members who can hyperextend their fingers, so were given special gestures. During audience Q&A, a deaf person asked the panelists if they knew how to sign, because the much of the tutting resembles sign language. They admitted that they don't, but Sera Gamble recalled that renowned deaf actress, Marlee Matlin, had made the same comment when she appeared on an episode. Another topic of conversation was about doing a musical episode, and John McNamara welcomed fans to tweet him suggestions about what musical to base it on.
We were also shown a clip from an upcoming episode involving Jason and Julia talking to a dragon, which you can watch here. The panel ended with a blooper reel.
Up next was the Agents of SHIELD panel. Click here for our recap and photos!
Check out more photos of the Midnight, Texas and The Magicians panels below.