Wondercon 2017 took place at the Anaheim Convention Center March 31-April 2! Check out our recap and photos of the Agents of SHIELD panel, which included pretty much the entire cast, and where we got to see an advanced screening of an episode!
Continued from WonderCon 2017: The Saturday Report Part 2 – Midnight, Texas & The Magicians
Marvel's Agents of HYDRA (SHIELD) Panel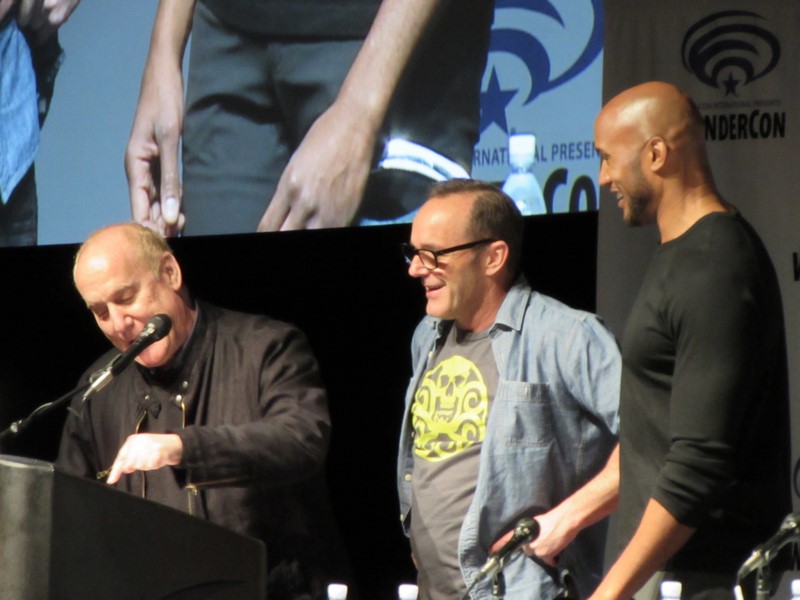 After The Magicians panel was the Agents of SHIELD panel. The panel began with Jeph Loeb, who tends to run the Marvel TV panels, and seems to have some fun doing it. He began the panel by trying to get the (completely packed) Room 300AB hyped up about the panel by beginning with a chant. He divided the room into three sections, having one section chant "Marvel's", then next section chanting, "Agents of", and the final panel would be "SHIELD" you would think, but the panel comes to halt, with Clark Gregg (who plays Agent Coulson on the show) coming to Jeph Loeb, seemingly wanting something changed in the chant. Loeb refuses though, so Clark Gregg calls out the "big guns", Henry Simmons, who plays Mack on the show. Jeph Loeb, who looks quite intimated, still refuses to budge, so then out comes AIDA herself (actress Mallory Jansen), who is able to get Jeph Loeb weak in the knees (I am not sure if intimidation, or attractiveness was the motivating factor), and Loeb finally caves in. So the chant changes from, "Marvel's Agents of SHIELD" to "Marvel's Agents of HYDRA"! Many people in the "HYDRA" chant section tried to remain loyal to SHIELD, but the overwhelming majority of the panel said HYDRA.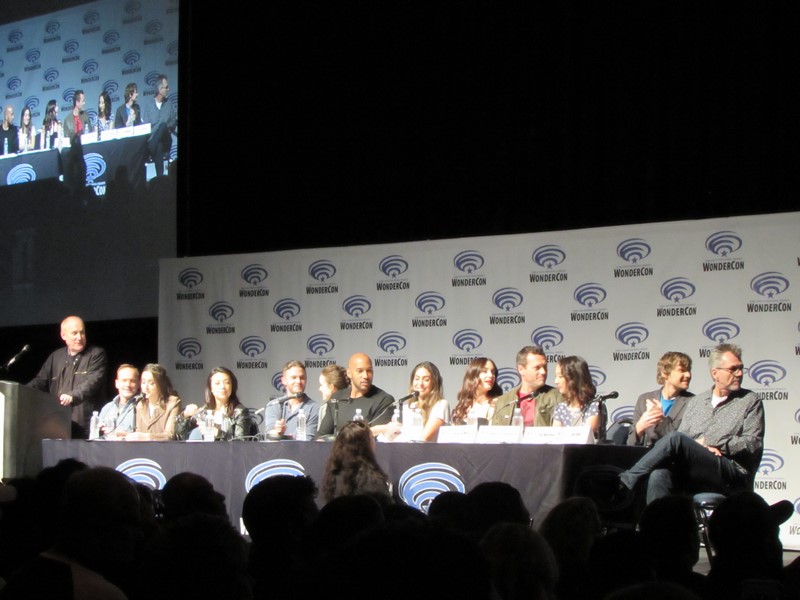 So Gregg, (Henry) Simmons, and Jansen headed backstage, and Jeph Loeb got the panel proper underway. He thanked a bunch of people and then began bringing out the cast. Practically the entire cast showed up for the panel: Clark Gregg (Agent Coulson), Chloe Bennet (Daisy/Skye), Iain De Caestecker (Fitz), Elizabeth Henstridge (Simmons), Henry Simmons (Mack), Natalia Cordova-Buckley (Yo-Yo), Mallory Jansen (AIDA), Jason O'Mara (Director Mace), and even Ming-Na Wen (May), who apparently was injured pretty recently, as she was wheeled out in a wheelchair. She was pretty tough though, and managed to hobble up the stairs, and get to her chair sans-wheelchair.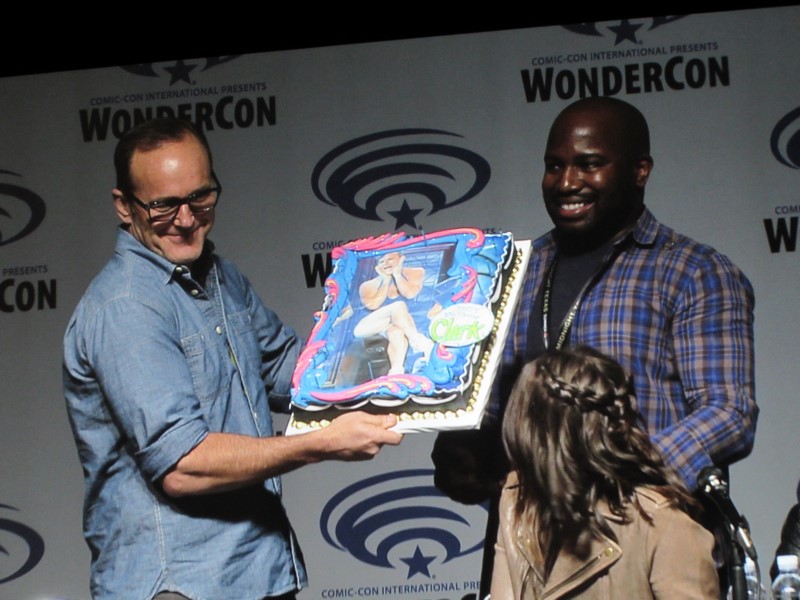 Also showing up were Executive Producers/Creators Jed Whedon and Maurissa Tancharoen, along with Executive Producer Jeff Bell.
Chloe Bennet actually crashed the panel with a birthday cake for Clark Gregg, whose birthday is apparently April 2nd, so the room sang happy birthday to him, and he blew out the candles. Unfortunately, Gregg was not able to pass out a piece of cake for everyone in the audience, but that's okay, Agent Coulson.
After opening the panel up for a couple audience questions, an obvious plant asks if they have the next episode coming out Tuesday available to watch early. Jeph Loeb hams it up, wondering why anyone would think there would be anything to show, but of course, the entire episode titled What If… is shown.
Episode Recap of What If
For those who do not want spoilers on the next episode, I would suggest skipping this section! Otherwise, let's get into what the episode is about!
This episode begins with Daisy awake in the early morning, and she sees a man in a bed, in a room she doesn't quite seem to recognize as her own. The man then wakes up, and it is revealed to be Grant Ward. Huh?! Daisy's immediate reaction is to try to use her powers on Ward, which do not seem to work, and Ward just thinks is an odd way to show affection. Daisy tries to piece together what is going on, all the while she learns that they have been called into work. She eventually is able to figure out that Grant is working for HYDRA–and so is she.
Meanwhile, Jemma wakes in about as equally a traumatic situation, where she crawls out of a mass grave. She looks like death too, with bullet shots in her chest, and her eyes looking like those of a zombie. She manages to find someone driving by who stops and picks her up, but Jemma begins to learn things about this world, including that HYDRA is in control.
As the two approach a checkpoint, the woman tells her that she needs to show her ID. She tries to claim she doesn't have one, but the woman insists that they will be in big trouble without any ID. So Jemma pulls out her SHIELD ID which turns out to be an even worse of an idea, as the lady basically forces her out of the car. Jemma flees, trying to figure out her next move.
Meanwhile, we also see what Coulson is up to, and something has happened to him–he currently is a school teacher, and seems to have lost his way morally too. Some HYDRA agents come to his classroom, and demand to run some tests on a student, under the assumption he might be an Inhuman, and Coulson seems perfectly find letting the child be taken from the classroom.
Speaking of Inhumans, HYDRA has cracked down on all Inhumans, and they have captured one–Vijay Nadeer. Oh, and Agent May is apparently a leader in HYDRA and demands that Daisy and Ward interrogate Vijay to figure out what they can about Inhumans.
Daisy tries to figure out what is going on, and ask questions, but Ward winds up knocking him out.
Jemma, meanwhile, is trying to figure out what to do. She tries meeting up at the bench that she and Daisy seemed to agree to meet at, and Daisy isn't there, so she marks an "X" on the bench, and picks up the device they had planted there. At this point we don't know the purpose of it, but we learn later. Jemma then heads to a diner, and manages to lift some clothes and keys. She is on her way out, when she is approached by some HYDRA agents. She is able to get out though, and steals one of their cars.
Simmons then winds up looking for Coulson, and pays him a visit at his school. Jemma tries to get him to remember something–anything–including reminding him about Tahiti. This seems to cause him pause, but still– he tells her to leave, and then winds up calling the HYDRA police on her. Outside, Jemma meets one of Coulson's students, and he has tagged the car she was driving. After Jemma saying she isn't a part of HYDRA, the kid gives her a different car to drive.
Daisy, meanwhile, takes Vijay to somewhere where she can speak to him, but he tries to make a run for it. He gets stopped though, with some taser-like darts.
Daisy finally pays a visit to the park bench, and is disappointed to see that the device is gone, but luckily Gemma had been around waiting for her.
The two aren't sure what to do, but they try the device to get out of the Mainframe, in hopes to get some back-up. It doesn't work though, and so they are stuck inside.
As for other team members, we see that Fitz has turned into a mad scientist, seemingly having a major leadership role in HYDRA, and is also quite taken by AIDA herself. I assume she is still a robot in this world, but we have not been given definitive proof either way yet. Either way, Simmons doesn't know about the romance yet, and I am sure she will eventually.
Oddly, things take a big turn when Grant Ward finds Daisy and Jemma, and reveals he is a double agent (because of course he is!). The trio are found though, and a car chase ensues, as Grant explains he is a part of a resistance, and that seems to be where this trio is heading.
Meanwhile, we see that Coulson has some files locked away that seem to be aspects of his forgotten past. Perhaps Coulson is not completely lost after all.
Panel Wraps Up With Surprise Guest
After the episode ended, we figured the panel was done, but the cast came back out for a little bit more Q&A. Another obvious plant hits the mic, and asks Iain (Fitz) how it is for him to play the bad guy while Brett Dalton has to play the good guy this time. Iain then offers to call up Brett so they can talk about it together. Unfortunately, Brett can't seem to hear him though, and seems to be trying to move around to get better service. Well, Brett Dalton winds up walking onto the stage of Room 300AB, to everyone's applause.
An audience member asked if there will be a Season 5, and Jeph Loeb basically says that it is up to ABC if there will be a Season 5, but that they hope that there is.
The panel finishes up with Gregg and the rest of the panel thanking the audience for the support for the show, and that about wrapped up the panel. While the actual time with the cast was pretty minimal, it was a lot of fun, since we got to celebrate Clark Gregg's birthday with him and have a little fun along the way, I was pretty happy with the panel. As a side note, I think Agents of SHIELD is one of those shows that has gotten better over the seasons, and really am hoping we get to see a Season 5!
After the Agents of SHIELD panel, Violet and I made our way to the Arena for the Warner Bros. Pictures panel. Click here for our recap and photos!
Check out more photos from the Agents of SHIELD panel below!