Unfortunately, we weren't able to attend on Thursday, but luckily we were prepared with our badges, picking them up on Tuesday!  Also, Josh was able to watch the exciting J.J. Abrams/Kathleen Kennedy Panel.  Check out our recap for the start of Star Wars Celebration after the jump!
So, Star Wars Celebration started on Thursday, but Violet and I opted to be prepared, and decided to pick up our Media badges on Tuesday evening so that we didn't have to worry about picking them up during the show. We haven't been to Celebration before, so we wanted to be as ready as possible when we could finally get there on Friday.  We parked at Garden Walk around 6:30pm Tuesday evening, since the first hour is free there, and it is a pretty short walk to the Anaheim Convention Center. So we walked over, and saw a sprinkle of people who had just finished picking up their badges and were heading back to their car or hotel. These people were easy to spot not only by their badges, but the various Star Wars apparel everyone was wearing.
The Convention Center was pretty empty, and picking up the badge took no time at all. We stopped to take a few pictures outside the Convention Center where the banners and signs were already up for the coming event.
Celebration kicked off Thursday with probably the most exciting panel, featuring J.J. Abrams and Kathleen Kennedy. Unfortunately, due to work requirements, Violet and I were not able to attend. Luckily, I was able to catch the live stream for the event, however. Mark Daniel was getting the crowd ready for the actual panel, and finally J.J. Abrams and Kathleen Kennedy came out. Kathleen provided some interesting tidbits about how she became involved with overseeing Star Wars, which was a meeting with George Lucas about his retirement from the franchise. Kathleen remarked how she thought George was just going to ask her who she thought would be the best to oversee the Star Wars, and was shocked to find out that he actually had her in mind.
J.J. Abrams also talked about how he at first said no to directing Star Wars. He knew it would be a daunting task, and it would have a lot to live up to. He doesn't seem to regret it though, as the fans are hoping that he won't when the movie comes out!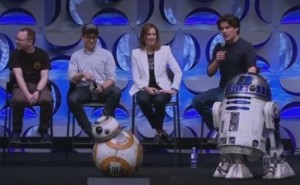 Then a few other guests were brought out on the stage, one of which was the new droid, BB-8. It was amazing, because if you haven't seen this droid, it is basically a ball with a head on top that remains relatively stationary on top. A lot of people, including me, thought at least a bit of BB-8 was CGI, but they had a fully operational BB-8 rolling around on stage! That was exciting to see even for people like me watching the stream on a small 8 inch screen. R2-D2 also showed up, along with the droid engineers who are making these robots for the movie. J.J. and the crew seem to pride their use of practical effects for Episode VII. Also, we got to see the new Stormtrooper outfits. They seem a lot more sleek than the original films, but still close enough to appease the most hardcore fans, I think.
Also brought out were some of the members of the cast for Episode VII–Oscar Isaac, who is playing a man named Poe Dameron, Daisy Ridley who will be playing a "scavenger" named Rey, and John Boyega who will be playing a Stormtrooper named Finn. Of course, the cast couldn't talk about a whole lot regarding their part in the movie, but we got one confirmation–the planet from the first teaser isn't Tatooine, it is actually a planet called Jakoo (spelling on that might be off?). This appears to be the planet Rey is from, and Daisy also hints that she might be going on an adventure with the new droid, BB-8.
But then a lot of the rest of the cast was brought out–Mark Hamill, Carrie Fisher, Anthony Daniels, and Peter Mayhew. Unfortunately, Harrison Ford couldn't make it due to his recent plane crash injury. It felt pretty historic having all of these people on stage together. It certainly made me envy a little bit those people in attendance. On the bright side, I didn't have to camp out overnight on hard concrete, so that is a plus. Although I did miss out on free pizza! I heard that J.J. Abrams and Kathleen Kennedy bought pizza for the entire line to get into this panel. That certainly is pretty awesome of them.
But finally, after feeling teased for just over an hour, the big drop comes–another teaser for Star Wars: The Force Awakens! Although we don't get a lot of substance as to what the movie is actually about, there sure is a lot to take in, especially for those with deep nostalgia for the original trilogy. You get a lot of X-Wing action, Desert scenes reminiscent of Tatooine (although it is not Tatooine, as mentioned earlier), Darth Vader's crushed helmet, Mark Hamill's voice, Sith and Stormtroopers galore, an Imperial Star Destroyer, the Millennium Falcon… Oh, and don't forget Chewie and Han!
The crowd was going nuts after seeing the trailer, as expected, and I would probably be just as excited as everyone in that room if I could have been there. Ah well. Unfortunately, I had to spend the rest of my day working, and wouldn't be able to attend until Friday afternoon. Violet was able to attend Friday morning, and was able to attend a couple interesting panels.