San Diego Comic-Con 2017 took place at the San Diego Convention Center Wednesday, July 19 through Sunday, July 23. Follow along as we recount our experience at SDCC 2017!
Following a one hour intermission after the Warner Bros. panel in Hall H on Saturday, July 22 was Entertainment Weekly's Women Who Kick Ass panel, which began at 2 pm. When Eddie Ibrahim came on stage to introduce this annual panel, he spoke about how it is close to his heart, and about its importance. He then introduced the moderator, Entertainment Weekly's Sara Vilkomerson. Usually this panel features several women, but for the first time this year, it focused on one woman, Charlize Theron, who came on stage and talked about her past roles, as well as her upcoming role in Atomic Blonde as a British spy in 1989.
Sara announced to the audience that once the director of Atomic Blonde found out what Charlize could do, he went back and re-choreographed her fight scenes.
Once Charlize came out on stage, Sara started things off by asking her who were some women who kicked ass that she looked up to while growing up. Other than her mother, Charlize looked up to Sigourney Weaver.
Charlize then spoke about her production company developing Atomic Blonde. She had only read the first few pages of the graphic novel, which was unpublished at the time, but she could already see potential in the character to have the ability to "play by the same rules that men get to play," which was something that she really loved. Charlize went on to express her dislike of female characters being portrayed as needing a reason to become a warrior, such as revenge, but "we really are warriors, and it's time for us to be shown that way." She loves that in Atomic Blonde, her character, Lorraine, just exists, and it's not overexplained why she is good at her job.
We also got to watch a clip from Atomic Blonde, where Charlize's character brutally and unapologetically fights off several men in a stairwell. She takes them all down, such that one man is so afraid of her that he lets her know there are two more men coming after her — which she then also takes them down.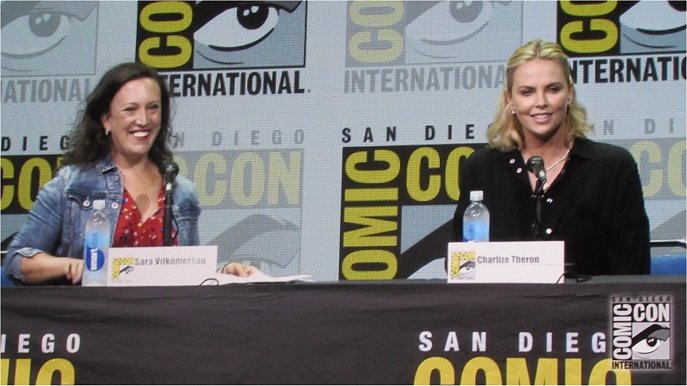 When the clip was finished, Sara let us know that the clip was actually only a part of the scene, and that the scene actually keeps on going. Charlize talked about shooting that scene, which they knew they wanted to do early on, but weren't sure if they were going to be able to pull it off. It was shot in continuity and took 3 and a half days. She also talked about the physical shape that she had to get in. Additionally, Charlize revealed that there is a gun battle scene in the movie that was actually never scripted. The decision was made to turn that scene into an action scene just 5 days before it was shot. Before, she would have been nervous at such a suggestion, but by this point, she was very confident and enthusiastically agreed. Atomic Blonde allowed her to do a lot of things she never thought she would do, which was "super empowering" to her.
It was very important to Charlize that Lorraine would fight like a woman actually could, as she wanted to keep it grounded. She didn't want people to come up to her and tell her that a girl couldn't do that, so now she can say, "A girl can do that." For example, she only punched with her fists once in the movie, because women can't do that, as they would break every bone. Instead, she uses her elbows, knees, or entire body, but just because she can't fight the same way as a man could, it doesn't make her any lesser than a man.
Although she did most of the stunts herself, one thing she regrets not doing is jumping out of a building. However, it was very early in the movie, and the producer in her was worried that something would go wrong, and they would have to shut down the movie.
Charlize talked about the sex scene between her and a female French operative. She commented, "This is not your grandpa's spy thriller," and that they wanted to turn the genre on its head. Charlize went on to say that she could have hooked up with a guy, "but it's great that I hook up with a girl" and she also thinks that the story gets more furtherance through that relationship than it would have gotten if she had a relationship with a man.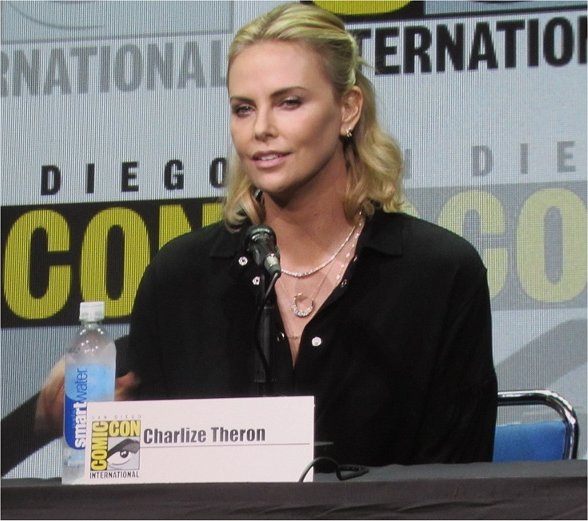 Sara read a quote from Chris Hemsworth that he thinks Charlize should be the next James Bond. Charlize said that she thinks her character Lorraine could take up the same format and do a few more movies, and that she'll let Daniel and Idris be James, while she'll be Lorraine. But if she were a female James Bond, she would make her Bond Boy a Bond Girl. She mentioned that Jimmy Fallon had already thrown his name into the hat, wanting to be "Dicky Galore." But she said she was open.
Next, Sara brought up how good of a driver that Charlize is in her movies, such as The Italian Job. She recalled driving on the track and seeing Mark Wahlberg puking in the back, while Jason Statham was pouring water all over his face. "I love driving. By the time I was five, I could drive a tractor. That's growing up on a farm for you," she said.
We then watched a clip from Mad Max: Fury Road. It was the scene when Max encounters Furiosa for the first time. Charlize said she loved playing that character and that George Miller supported who she wanted the character to be, so she would be up for playing the character again, saying, "I'll be waiting, George, but I'm going to be 42 in August, so let's get to it!" She went on to express her gratitude to filmmakers who have allowed her the opportunities to explore outside the lines when it comes to a woman.
The panel was then opened up to audience questions. One person asked about what she thought about the future success of female action movies. Charlize talked about the success of Wonder Woman, and not-so-subtly hinted that she hoped Atomic Blonde could ride those coattails come July 28, and went on to say, "We need to have more women making these movies, for sure."
Another audience member asked about her being on Arrested Development again. She replied that one of her proudest moments was that she won an Academy Award and then 5 days later did a 5-episode arc on the show. "If they called, of course I would make myself available."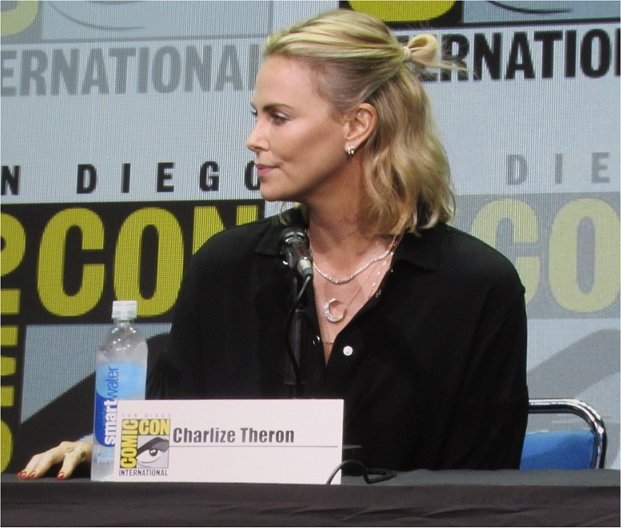 The man asking the next question was supposed to be the last question, but Charlize protested, saying that she needed a girl up there to ask a question. The man went on to ask his question, which was what is the favorite role of her career where she played a hero and where she played a villain. She didn't feel like she had ever played a hero, but she loved how conflicted her character in Monster was. As for villain, she enjoyed playing Ravenna, especially the wardrobe. Charlize confessed that she still has the crown and still wears it every once in awhile, adding, "My kids don't like it at all."
The final question was in fact asked by a female, who asked how we as fans can help support equal pay in Hollywood. Charlize told us how she had put her foot down for the second Snow White and the Huntsman movie, and Universal quickly agreed with her, that she was just as much a part of the success of the first film as Chris Hemsworth was. However, she admitted that she is at a place in her career where she has the luxury to be able to put her foot down, but that other actresses aren't, because if they do, the producers will just move on to the next girl. She encouraged the audience to keep the conversation going on social media, and to go see those female-driven movies. "We need you guys to understand we're just as good as the guys! Plus we have boobs! They don't have boobs."
With that, the panel wrapped up. Up next in Hall H was Stranger Things. Click here to continue to our recap and photos of that panel!
You can view more of our photos from Entertainment Weekly's Women Who Kick Ass: Icon Edition with Charlize Theron panel below.