San Diego Comic-Con 2017 took place at the San Diego convention center Wednesday, July 19 through Sunday, July 23. Follow along as we recount our experience at SDCC 2017!
After the Women Who Kick Ass panel featuring Charlize Theron in Hall H on Saturday, July 22, it was time for the Stranger Things panel. The panel began with a video, showing us various scenes from the first season. After the video warmed up the crowd, Patton Oswald came out to host the panel, and he introduced the creators of the show, the Duffer Brothers, and the producer/director Shawn Levy.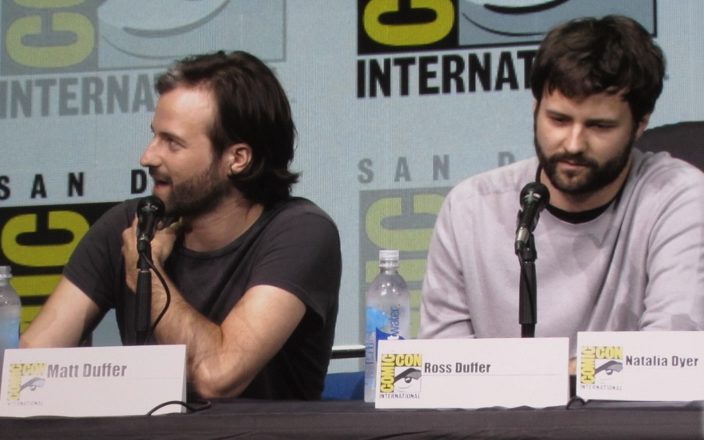 The Duffer Brothers talked about making the show, and how TV in genre became more cinematic. They said that they wanted to keep a Spielberg-esce movie in a television show. Shawn Levy told us that he read the script and immediately was in, and wanted to do whatever he could to help out the Duffers.
A funny topic that came up about the show was the font of the Stranger Things title, which apparently was used as a place holder, but then decided as the best option in the end, because they could not find anything else that captured what they were looking for.
The Duffers also talked about the synth-band music used in the show, and apparently the band was just doing music part-time until they were approached by the Duffers for the show.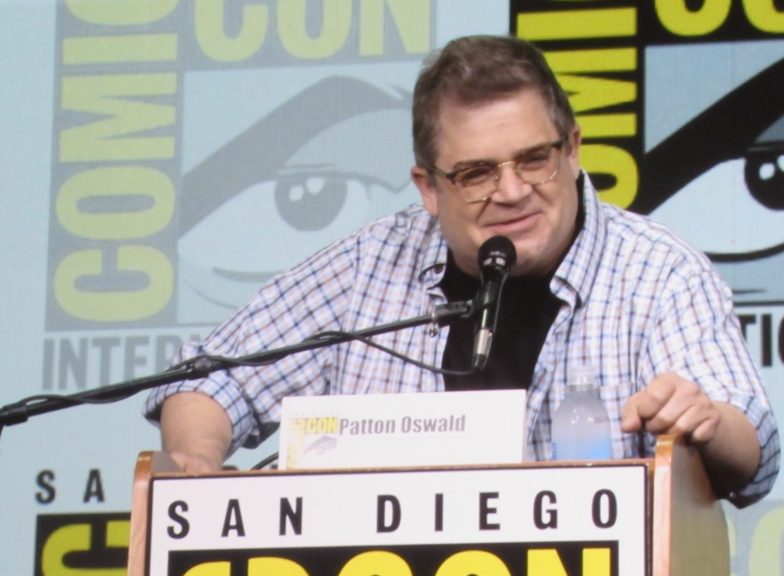 After this chatter, Patton Oswald introduced the cast of Stranger Things, including David Harbour (Sheriff Hopper), Finn Wolfhard (Mike), Millie Bobby Brown (Eleven), Gaten Matarazzo (Dustin), Caleb McLaughlin (Lucas), Noah Schnapp (Will), Natalia Dyer (Nancy), Joe Keery (Steve), and Matthew Modine (Dr. Brenner).
Finn Wolfhard and Patton Oswald seemed to have it in for each other the entire panel, starting off with Patton making things awkward, saying that Wolfhard's name is a good porn name. Patton moved on though, asking the panel about playing their characters. Patton Oswald seemed to struggle with his "A.I." questions, as he described them, as most of the questions he had to ask seemed to lead to potential spoilers. David Harbour talked about his character, Jim Hopper, who seems to have changed since the beginning of season one, and now is leaving waffles for Eleven. But Patton Oswald complimented Millie Brown's ability to act without using many words. Millie said it came down to using facial expressions.
The cast continued talking about their experiences in filming the show. We also learned some more characters that will be joining the show, which will be played by Paul Reiser, Dacre Montgomery, and Sadie Sink, all of whom joined the panel on stage.
After this introduction, The Duffers then introduced a clip giving us some scenes from Season 2. We see that Will is still being haunted by demons. We also see various other characters in the show, which seems to be a continuation of the storyline of Season 1 with a few more characters added in. We see the group playing an old school game called Dragon's Lair, as Will begins to freak-out because of a strange vision. Will also seems to be the subject of some testing. We also see that it will be Halloween time when the season takes place, and the kids will be "Ghost-busting". We see Eleven doing some weird stuff, putting her hands through a wall, and such. It's all a bit…strange. I think that is the correct word for it.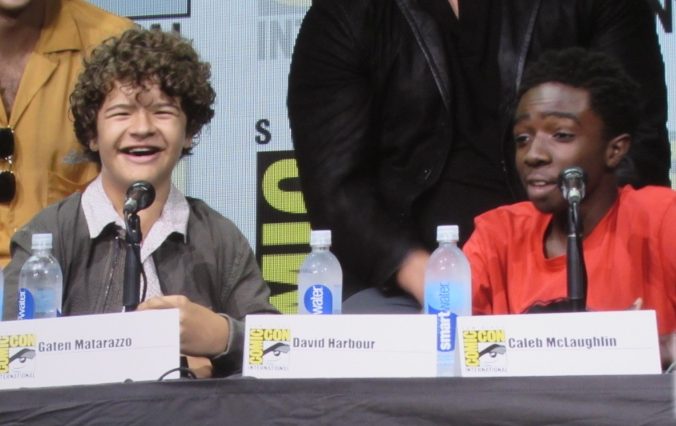 As part of the audience Q&A, an audience member asked the panel to describe a funny moment with a fan, and Gaten had a couple. One was kind of awkward, and one was pretty funny. Apparently there was a time where Gaten was "hugged" out of a car by a fan, being forcibly hugged, and taken from the car. The other story apparently took place with Gaten at dinner, and a young fan wanting to take a photo with Gaten. Gaten said that he would after he finished eating, and according to Gaten this caused the mother of the fan to give him a stern talking to for not taking a photo with her child. It felt kind of awkward, and Caleb McLaughlin seemed to echo that sentiment to Gaten.
Shannon Purser, who played Barb in season one, (and — spoiler alert — died) decided to show up to the audience question microphone to ask the panel a question — if her character will be back. It looks like the answer is no, but she will be avenged. However, Shannon was then invited up on stage to take part in the panel.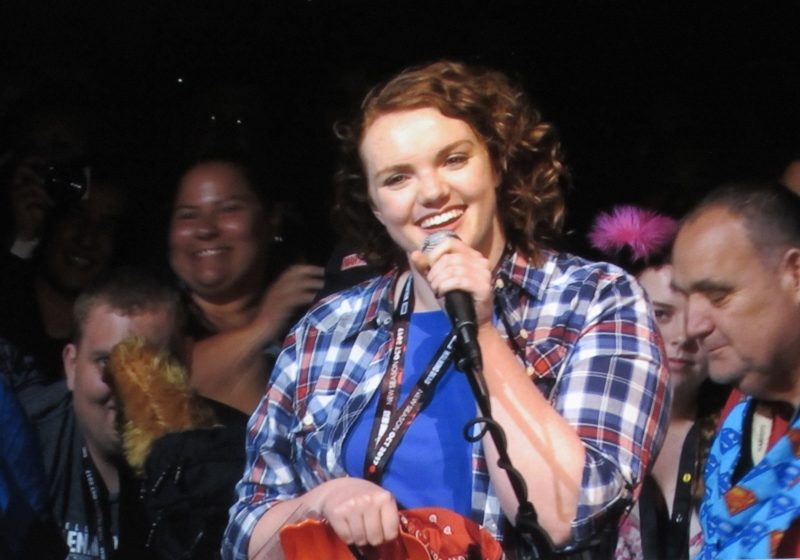 After a few more audience questions, the Stranger Things panel wrapped up, and we moved on to the next panel, which was Westworld. Click here for our recap and photos of that panel.
As for when we'll see the next season of Stranger Things, it is set to release on Netflix October 27th. If you would like to see the trailer for Stranger Things Season 2, you can see it here:
You can view more of our photos from the Stranger Things panel below.