San Diego Comic-Con 2017 took place at the San Diego Convention Center Wednesday, July 19 through Sunday, July 23. Follow along as we recount our experience at SDCC 2017!
Following the Stranger Things panel in Hall H on Saturday, July 22 was the Westworld panel. Reggie Watts was the moderator, and kicked things off with a blooper reel from Season 1, after which the panelists were brought out. It was a packed stage with husband-and-wife executive producers/writers Jonathan ("Jonah") Nolan and Lisa Joy, plus cast members Shannon Woodward (Elsie), Luke Hemsworth (Stubbs), Angela Sarafyan (Clementine), Ben Barnes (Logan), Jimmi Simpson (William), Jeffrey Wright (Bernard/Arnold), Evan Rachel Wood (Dolores), Ed Harris (Man in Back), James Marsden (Teddy), Thandie Newton (Maeve), Rodrigo Santoro (Hector), Ingrid Bolsø Berdal (Armistice), Simon Quarterman (Lee Sizemore), and Tessa Thompson (Charlotte Hale).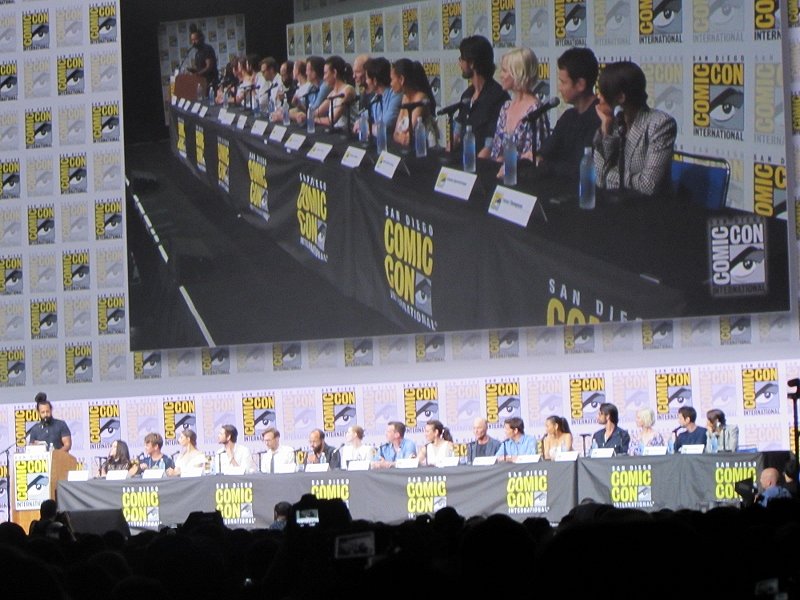 Reggie Watts then asked some questions of the panelists that he claimed were "generated by an AI." One question asked if they could change one thing about their personality at the touch of a button, like Maeve did, what would they change? Answers included being able to eat mushrooms, surf, being sporty, and being smarter.
As for inspirations for the show, Lisa Joy said that Jonah used it as an excuse to get her to play the video game Red Dead Redemption. They also played Grand Theft Auto quite a bit. Additionally, Lisa likes a lot of poetry, which she feels spoke to a lot of what the protagonists were going through.
Jonah said that his perception of reality has shifted significantly since they started the show, saying, "I've concluded we must be in a simulation of some kind. I just did a tequila shot with Ed Harris in the parking garage!"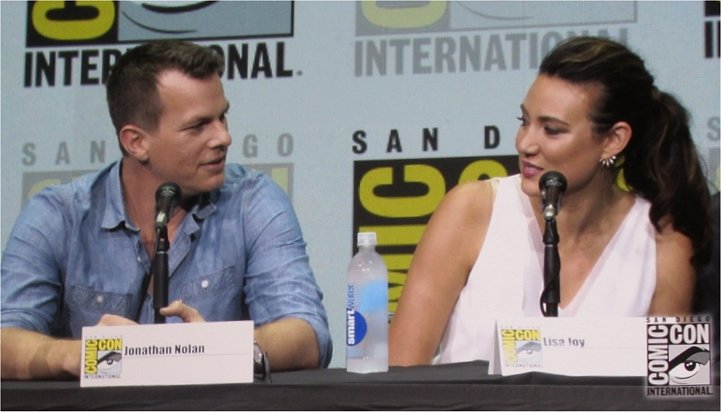 Lisa also talked about the music on the show, saying that the player piano was the "perfect encapsulation of what the show is about," which they used to repurpose and recontextualize contemporary music in an "old timey" kind of way that lulls you into something familiar. Jonah spoke about when you use a familiar piece of music, it's a way to quickly bypass other things and evoke a certain emotion. He joked, "What we're trying to do on the show is slowly reprogram the entire human population."
Jonah went on to talk about using practical effects, rather than CGI, because it made the world more real. Lisa praised the actors' skills and commitment to their roles, including Evan Rachel Wood, who rode a horse for the first time, but did so very gracefully, and Ed Harris, who had been inches away from the precipice of a high cliff.
Reggie brought up the guns in the show being able to shoot robots to cause damage, and asked what prevents them from shooting each other to cause damage. Lisa and Jonah avoided answering the question, though, saying that Reggie was just trying to test his theory he mentioned earlier about the robot guns having a nub on them.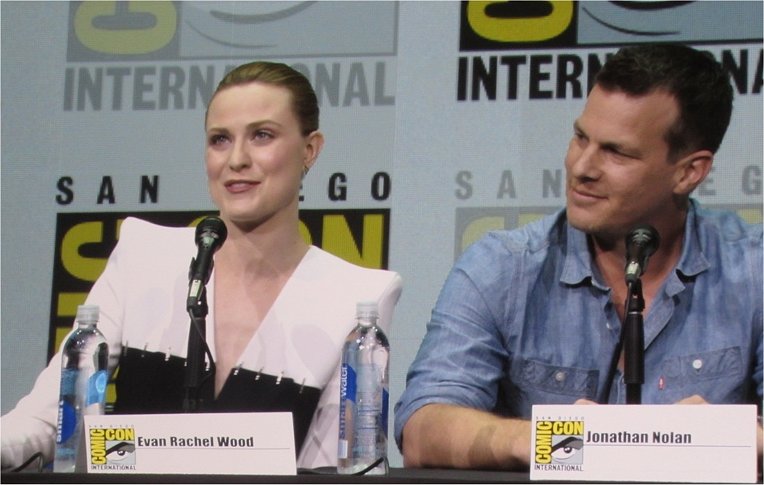 As for challenges in revealing character arcs to actors in stages, Evan Rachel Wood said that she respects Jonah and Lisa more for doing so. Lisa recalled how Evan and Jimmi figured things out and "busted" her about their characters. Evan kept going up to Lisa, Jonah, and others and asking them questions to see their reactions. At one point, she went to Jonah, frustrated, and said it was driving her crazy that she couldn't figure out who Wyatt was, that she had gone through every character and asked around if he had been cast, and the only rock she hadn't turned over was her own. In response, Jonah had just laughed and walked away. Thandie chimed in that it was altruistic of them not revealing everything to the actors because "if we had known everything, it would have been too much." Jeffrey Wright said, "I just went on Reddit." Jimmi said he thought it was the greatest acting lesson he had ever been given, because it allowed them to focus on what was going on in the moment, and that he wants to cut off the end of his scripts going forward. Jonah replied, "This year we're giving you fake scripts!"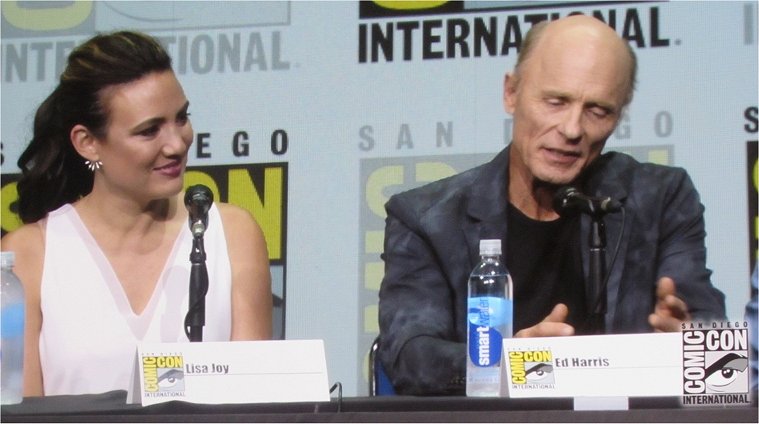 When Reggie asked Ed Harris why he thinks this show has such wide appeal, he praised the efforts of Jonah and Lisa, who had been developing the show for years, and said that it was kind of its own genre. He went on talk about how specific the show is, even though it's confusing, and said that anything that is paid attention to, to the extreme that this show is, is worthy of attention, and people get that. Ed pointed out that some people enjoy trying to figure everything out, while others just sit back and enjoy the show episode by episode.
Reggie then asked Thandie if Maeve's decision to get off the train and go find her daughter was her first conscious choice. Thandie countered, mysteriously asking, "Is she going back for her daughter?" to which Jonah replied, "She better be. That's what we wrote!" But Thandie said her first conscious decisions were to get the clinicians to upgrade her.
Evan Rachel Wood talked about her approach to playing Dolores, saying that it's hard to talk about, because she gets very emotional, as the show changed her life in many ways. She knew she wouldn't stay the damsel in distress, she knew she would become strong, but she didn't know just how deep it would go, or how profound it would be finding her strength. Around the fourth episode, she had a panic attack realizing just what was on her shoulders, but then she got excited and embraced it. Evan teared up talking about how sometimes as women, you feel that "your wings have been clipped" and you're not being represented in the way that want to, but with this role she felt like she had been given "condor wings" and was allowed to "take off and fly."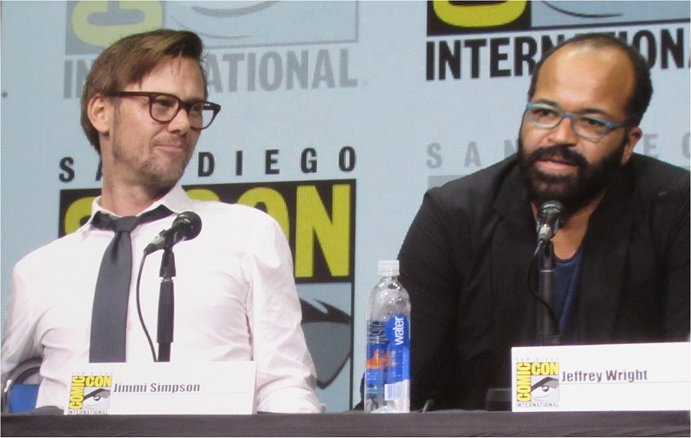 Jeffrey talked about finding out that Bernard was a host, admitting that he knew a little more than the rest of the cast. Although he didn't know for the pilot, Lisa informed him when they came back to start production for episode 2. However, he said he's still learning exactly who Bernard is.
James Marsden said that he likes to think that Teddy's devotion to Dolores was more than just his programming. He talked about Teddy and Dolores's relationship representing a romantic core of hope and purity, but then Lisa and Jonah take that and slowly start to turn it on its head. James also mentioned that sometimes the hosts can be more human than the humans that come to the park.
Reggie pointed out that in the show some of the hosts seem to become more human, while William's character seemed to become less human over time, and asked Jimmi when he thought the tipping point was for his character. Jimmi countered that hosts will never fully know what it's like to be a slave to emotion, arguing that his character is very fragile inside, so he actually is becoming more human. He thinks that it started the first time he fell deeply in love and had his heart broken.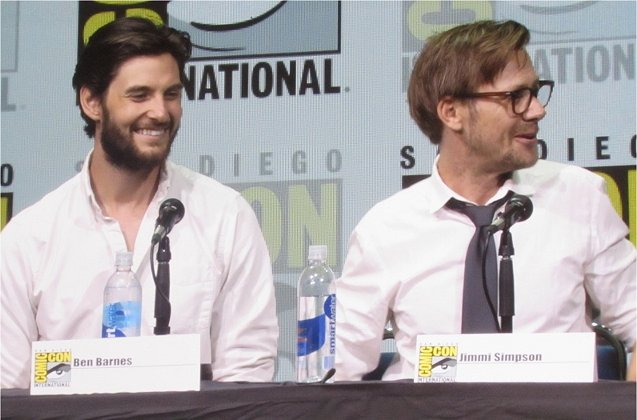 As for most challenging scenes, Evan said that one of the hardest scenes for her was when Jimmi put on the black hat, and Jimmi agreed. It was very emotional for them as they had built up this love story around the characters. Evan recalled, "We couldn't even look each other in the eye that day." They had heard rumors, but both had been so invested in the love story and thought that nothing bad would happen to them. "We were so naive," Evan mused.
For Jeffrey, the hardest thing was being tortured by Anthony Hopkins over the course of a week after Bernard was revealed to be Arnold, and going back into those memories — but at the same time, those were some of his most enjoyable scenes. As for Ben Barnes, he answered, "Until you've ridden a horse balls to the wind, as it were, you will not know true terror or true joy." Jonah joked that Season 2 begins with Ben riding that horse, still naked. Luke exclaimed, "I want to ride a horse naked!" to which Jonah replied, "Duly noted," though Ben told Luke, "Mate, you don't."
Reggie asked the panelists when they knew they were part of something special. Jimmi mentioned an SNL skit. Evan said that she thinks it was when she was in Target and someone yelled, "Freeze all motor functions!" Shannon recalled being at the Atlanta airport after the third episode had just aired, and someone was sitting at the piano playing the Westworld theme song. Ben said that he was on the train after a football game in New York, and there were some drunk guys in football jerseys who said, "Hey guys, we're on the train to Westworld!" and randomly shouting Westworld-related nonsense like "Violent delights!" and "Violent ends!"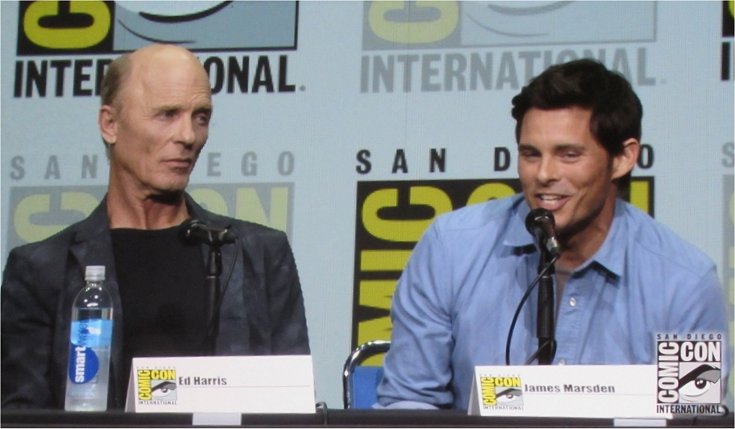 That ended the "AI" questions, so it was then opened up for a few audience questions. One audience member pointed out that James Marsden has died quite a few times, and asked what his favorite death was. But he said that he loves all of his deaths equally. Lisa said that she liked when James was hosed down in the intake room on the pilot. James recalled that he had been laying in about 3 inches of water with around 40 other background players — who were all fully nude, "so we got to know each other really well that day!" He went on to say that it's always very tragic when Teddy has to say goodbye, "because it's the first time for him every time." Reggie joked that he's like the Kenny of Westworld, which Evan said that's what she always says.
Another audience member asked how much the Samurais we saw in Season 1 would play a role in Season 2, if any. Jonah replied, "How much do you want it to play a role in Season 2?" then added, "It doesn't look like anything to me."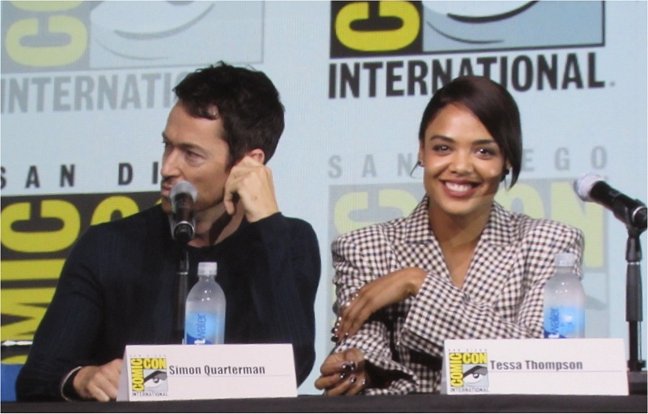 When the actors were asked if there were any scenes that when they read the script, they excited to do, or not so excited to do, Ed Harris said that when he read the scene where Dolores beats him up, he was tremendously excited, and that was one of the most joyous experiences he's had because of how excited Evan was to do it. Tessa said she was nervous about shooting the scenes in cold storage, because there's a combination of fake nude people and real nude people, and she would accidentally point the flashlight at people's crotches, and they would ask her to point up a little. After Angela read the script where Clementine is in the lab and beats up the guy, she wrote Jonah and Lisa to thank them for it.
Although they had only been shooting for a week, the panel ended with a trailer for Season 2, which you can watch below:
After the Westworld panel wrapped up, it was time for the final panel of the day, Marvel Studios! Click here to continue to our recap and photos of that panel.
You can view more of our photos from the Westworld panel below.