San Diego Comic-Con 2017 took place Wednesday, July 19 through Sunday, July 23 at the San Diego Convention Center. Follow along with us as we recount our experience at this year's con!
After we had made it from one end of the Exhibit Hall to the other, taking in the major sights, we headed over to Ballroom 20 to see what the line was like for the Battlestar Galactica Reunion panel, which was scheduled to start at 2:30pm. It was about 1:30pm at this time, and took us a few minutes to make our way over. The line wasn't too bad, and was flowing into Ballroom 20 fairly steadily. By the time we got into the room and found our seats, it was about 1:50pm. The room was fairly full, with scattered single seats around the room. It was difficult to find two seats together, but we finally did.
SYFY Hosts the Great Debate
The "SYFY Hosts the Great Debate" panel was underway, having already started at 1:15pm, and we had been handed paddle fans upon entering. On one side was a green thumbs up, and on the other was a red thumbs down. It reminded me of the Rotten Tomatoes: Your Opinion Sucks panel that we've attended in the past.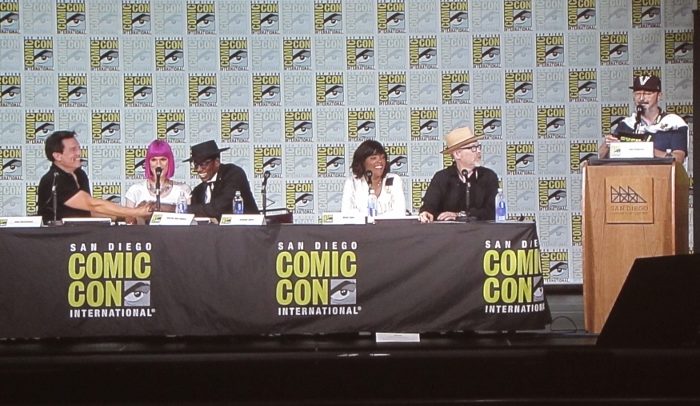 John Hodgman was hosting the panel, which included John Barrowman, Aisha Tyler, Orlando Jones, Adam Savage, and Charlie Jane Anders. The panelists were addressed with random debatable questions, such as "Who is the best captain?" (Captain Jack, according to John Barrowman!) and "Would you reboot Firefly?" Additionally, there was a numbered list with two columns, featuring heroes and villains. The panelists would roll a die to get a random number and debate who would win a fight between the two, such as Hulk vs. the T-1000 and Wonder Woman vs. Predator. Audience members would be asked to weigh in with their opinion using the paddle as their vote. It was pretty funny, and I'm glad we got to see John Barrowman, since we always miss his annual Anything Goes panel (which we also missed earlier that morning because it took place at the same time as the Kingsman: The Golden Circle panel). He's hilarious.
At the end of the panel, Aaron Douglas came up to the microphone to ask a question, which was a great way to transition into the next panel, since he played Chief Galen Tyrol on Battlestar Galactica!
Battlestar Galactica Reunion
After the Great Debate panel ended, a small number of people left the room, allowing those waiting outside to come in. I'm not sure how long the line was out there at this point.
The panel began with an intro video with highlights from the show, then Maureen Ryan with Variety came out on stage to moderate the panel. She announced that there would be a complete Battlestar Galactica marathon in Sept on SYFY. Then she introduced the panelists to the stage, which included Michael Trucco (Sam Anders), Aaron Douglas (Chief), Tahmoh Penikett (Helo), Grace Park (Boomer), Mary McDonnell (Laura Roslin), Tricia Helfer (Six), and Executive Producers Ron Moore and David Eick.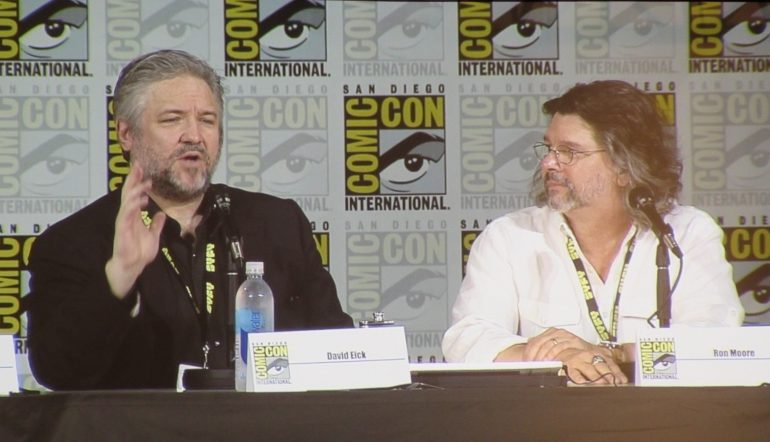 David Eick and Ron Moore talked about how the show came about. David said that Ron was one of first guys he thought of to bring in to work on the remake of the original. They first met to discuss the show in December 2001, so it was shortly after 9/11, and soon it felt like they were talking about the news rather than BSG. David commented that in the 70s, when the original BSG aired, TV didn't do things like that in those days. Instead, they took cues from Star Wars, Lost in Space, and other sci-fi tropes. However, David and Ron tried to stay true to the premise of the original.
David explained that just because Ron didn't know there was a plan didn't mean there wasn't a plan. He wanted enough of a plan for the writers to know where they were going, but also wanted to leave door open, for things like the Final 5. David told us that they usually had a goal season by season.
Ron recalled that there were so many things about the show that they discovered along the way, so it was a good thing they weren't locked into a plan, and instead learned things about the show as they were doing it.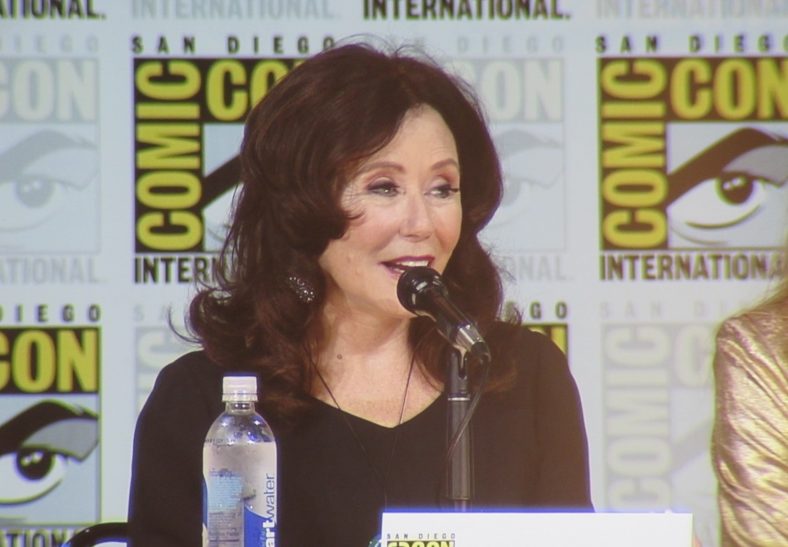 David brought up when Tigh was down to his last bottle of booze, and he was marking how much he had left. They realized, "Does anyone really want to see Tigh not an alcoholic?" and miraculously made more booze be found.
Going down the line talking to the cast members, Mary McDonnell talked about how one of the ships that were promised was supposed to have a mall, so she thought Laura Roslin would have more than one suit — but it never happened! She also remembered there being a lot of tension waiting to find out who was a Cylon.
Aaron Douglas told us the story of how he found out he was a Cylon.  He had gone over to his friend's house, who was a writer for the show, and stumbled upon outlines, which he took and ran to bathroom to read! He must have been in there awhile, because his friend came knocking on the door to ask if he was okay. He hid the outline in his pants, but he wasn't fooling anyone. Aaron couldn't tell anyone for 4 months, which was really tough on him. After finding out, he frantically talked to Ron, because he was so upset about it. However, Ron pointed out how he had never steered his character wrong, and asked Aaron to trust him moving forward.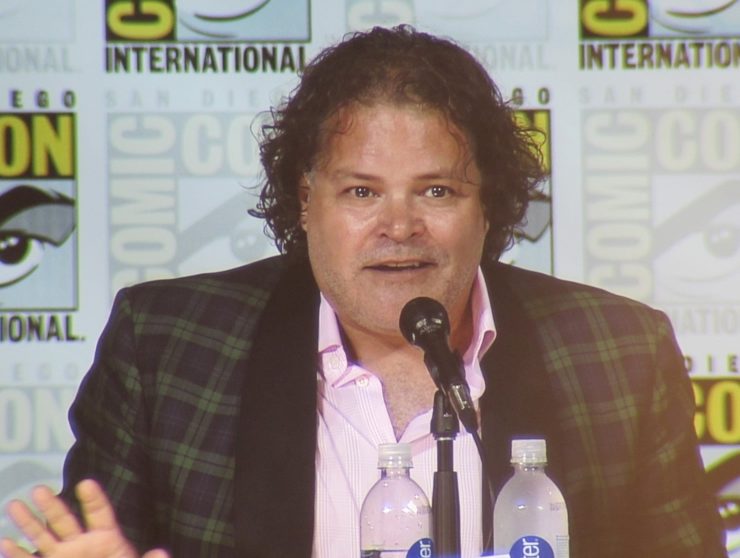 Ron recounted a story about when he was invited to Galacticon, a Battlestar Galactica convention, to talk about the new BSG, where he showed them footage from the upcoming miniseries. They booed, and it got really ugly. Richard Hatch stood up and asked them to respect Ron's vision. Later, Richard talked to Ron and said he didn't agree with what he was doing with the show. Ron asked him to do a guest role on the show, which Richard declined at the time, but eventually came around. In a similar vein, David Eick remembered going to the TV Critics Association, where fans were very bitter and angry, especially toward Katee Sackhoff, since her character, Starbuck, had originally been a male.
We then watched a video message from Edward James Olmos (Admiral Adama), who was unable to attend SDCC due to being in Spain for another engagement. He expressed his regret for not being able to be there with everyone, but knew we were "laughing our asses off" with the group, especially Aaron Douglas.
Grace Park, who played Boomer, as well as Athena, told us that she had originally gone for the roles of Dualla and Starbuck, so "it got confusing" for her, but she felt lucky she had 2 different characters to work with for a number of years.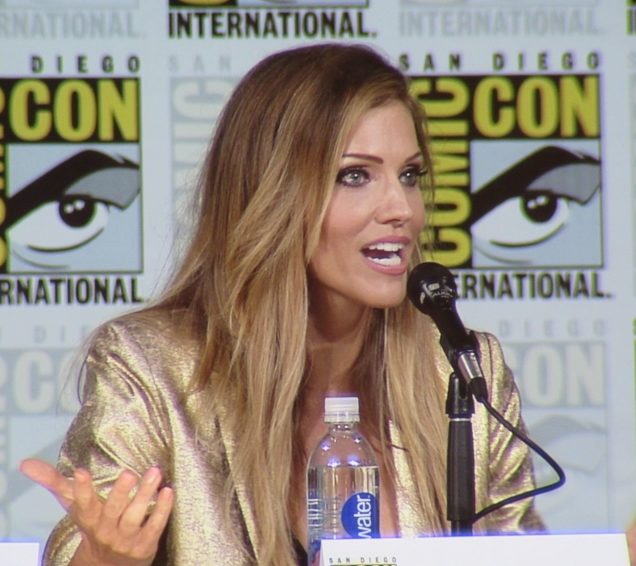 Tricia Helfer also played multiple roles. She remembered that her character, Six, was given a backstory that consisted of one line: "The machine is woman." Meanwhile, Edward James Olmos had gotten a 3 page backstory! Tricia said that it was easy keeping the characters separate. For her character Gina, she wanted to toy with the idea that a robot could suffer PTSD. Her hair was falling out because she had been dyeing it platinum blond so much. Tricia had wanted to shave her head, but the producers didn't want her to do that, so instead she went back to her natural color and used a wig. Tricia had wanted to bring across that Cylons could also suffer. She also added, "I really liked Natalie, and then you shot her!" (talking to Grace Park).
Tricia told us about the photo doubles that often appeared in the background. She would personally explain to them how they should act, such as "No, you're not a model, you're a worker Six." Ron Moore then wanted to bring attention to the audience of how much acting experience Tricia had under her belt before starting BSG. Tricia revealed that had been a dead body in CSI: Las Vegas finale, and was also in an indie film with Judd Nelson, Jeremiah. She was a nobody before BSG.
Mary McDonnell realized she was going to go through a very different journey than she thought she was going to play when David and Ron brought up Geroge W. Bush in relation to her character. At that point, she had a slow letting go of feeling like this is going to be fun, and it started to become very hard and isolating. The biggest thing she felt was isolation, because her character was stuck on Colonial One, and also because that meant that she often couldn't be part of the camaraderie. She hadn't experienced that in a role before. Fortunately, her relationship with Adama began to grow her out of that.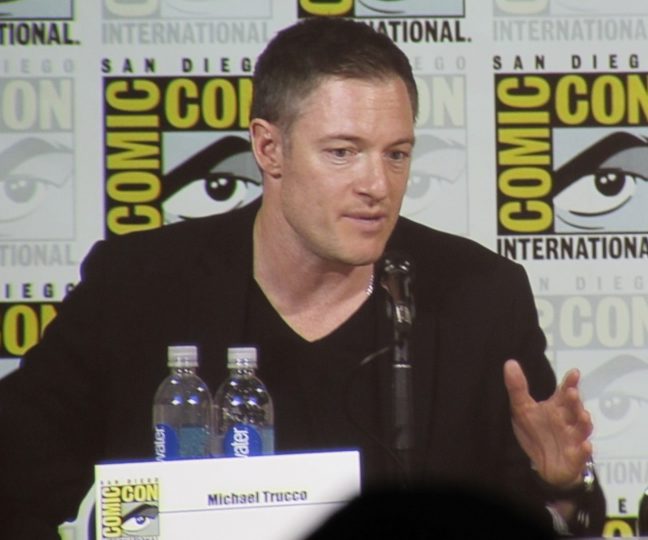 Tahmoh addressed how Helo was always off on his own in the mud and the rain at first. He recalled, "It was almost like our own separate storyline" (with Grace Park's character). Tahmoh said that they shot the scenes up north, and the show would use rain towers every chance they got, but he loved it! He spoke about the beautiful chemistry he had with Grace, and the fact that his childhood hero was Edward James Olmos. "You couldn't wipe the grin off my face." He had spent so much time away from the rest of the cast, that when he actually did go on set, no one ever knew who he was, and they kept trying to put him in the extras tent!
Michael Trucco recalled that it was a tough hill to climb, because a lot of people didn't like his character at first. As for whether there was a plan, he said his plan was to stay on the show!
Speaking of plans, Tricia pointed out that her character kept saying the line that she had a plan, but she herself didn't know what it was!
David Eick knew that the show was a success at its second Comic-Con, when someone had made trading cards of his and Ron Moore's caricatures.
Ron told us that when he wrote the character Gaius Baltar in the miniseries, he was a lot of things, but Ron never thought he was funny. However, James Callis brought a sense of humor to the character, so the writers started writing to that. Ron also recalled how the network wanted them to reduce the "tonnage" and that the show was too heavy.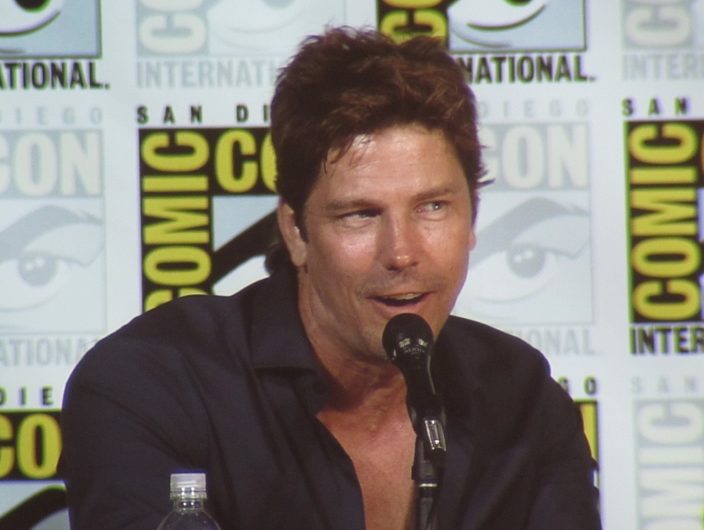 Moving on to audience questions, the first person asked Michael Trucco if he was drafting pyramid team, who would be his first first pick? Michael answered that he would take Baltar, because he was conniving, and had the mental capacity. Michael also admitted, "We largely made that game up entirely on the spot." They had been told to "shoot around," and there wasn't a set of rules they were given to follow.  He also revealed that it had been a real tackle when ex-pro football player Tommy Europe tackled him on the beach.
When the panelists were asked if there was anything on the show that they wanted to do, but didn't get to do, Tahmoh said that he didn't get to work with a lot of actors. Mary said that she would have hoped to live. Tricia replied, "I never got to say frak!" She always tried to slip it in, but it always got edited out. She took it upon herself to yell "FRAK!" on stage. David Eick wondered about all the roads not taken of versions of who were the Final 5 Cylons. He pondered, "What if Mary was one?" To which she replied, "Oh no!" Aaron joked that he wanted to be on the "sex ship" with James and all the girls.
An audience member asked what themes would be discussed now if show was still going on, to which Ron Moore answered, "The crazy unqualified captain." He further elaborated that it would be fundamentally different, because the show was made at a very specific time. They would have to find a way to talk about what is going on today that is different. He talked about the show having ways of coming at issues that are all around but as an interesting analogy. David Eick added, "Colluding with an enemy would apply."
Aaron pointed out how BSG was one of first serialized shows. At the time, most shows were episodic, and BSG broke down that barrier. Now the vast majority is serial.
As for favorite fight sequence, David said his was Six vs. Starbuck. Tricia agreed, and said it was very fun.
When asked about Leoben's character, the producers replied that there was never really a plan, but that the waterboarding episode established a connection between him and Starbuck, and they knew he would run with her for the entirety of the show.
Regarding whether she ever felt claustrophobic, Mary answered with a resounding YES, as she was stuck on the mini plane. It took her about 10 days to find her own way out to lunch, and that she had needed someone to guide her out. She referred to it as "a vast maze of intrigue." She recalled that being on Colonial One was really odd because they would sit there and look at the stars all day, but there was nowhere to go and nothing to do, then she would come outside, and it was completely disorienting.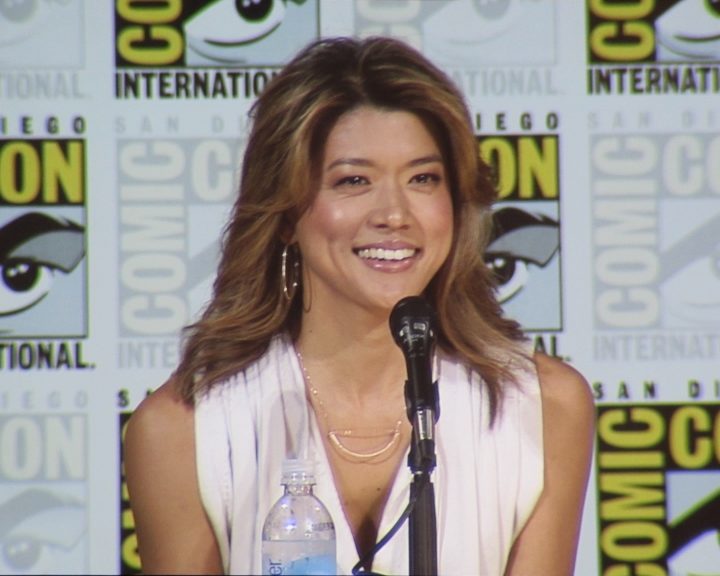 Grace shared a story about one time she saw Tahmoh at his trailer, and he looked like he was in really bad shape, but she realized it was because the makeup he was wearing was supposed to make him look that way. However, 15 hours later, he took makeup off, and he looked the same! The two recalled how they were given suits that were supposed to protect them from the elements, but that when they got sprayed down with cold water, the water got stuck in their suits and made them cold.
Tricia and Grace recalled going in the Cylon resurrection tub, where the goo was so heavy on them, and when they would get out they had to have costume people wipe them down, and streams of slime would come off of them.
The final question was about the names of the pilots, since in the original series, pilots only had call signs for names, but here they had real names. Ron Moore explained that he wanted them to be real people, and that Apollo and Starbuck didn't sound like real names to him.
To close out the panel, we watched one more video message from Edward James Olmos, in which he honored Richard Hatch, who died earlier this year. The video ended with Edward saying, "So say we all." To which the crowd replied, "So say we all." He said it again, a little bit louder, "So say we all!" The crowd responded in kind. Then finally, even louder, "SO SAY WE ALL!" Just like in the show, the crowd responded back even louder, "SO SAY WE ALL!" It was amazing.
With that, we headed over to Hall H to see if we could catch Netflix's Bright panel with Will Smith. Click here for our coverage of that!
You can view more photos from the Battlestar Galactica Reunion and SYFY Hosts the Great Debate panels below.