San Diego Comic-Con 2017 took place at the San Diego Convention Center Wednesday, July 19 through Sunday, July 23. Follow along as we recount our experience at this year's con!
After some setbacks and delays earlier that morning, Thursday properly started once Violet and I got into Hall H, where we saw 20th Century Fox's panel for Kingsman: The Golden Circle. We got in line at about 10:30am, and managed to get into the panel right at 11am. Also pretty nifty for the panel, we received an orange tuxedo shirt, and fidget spinner.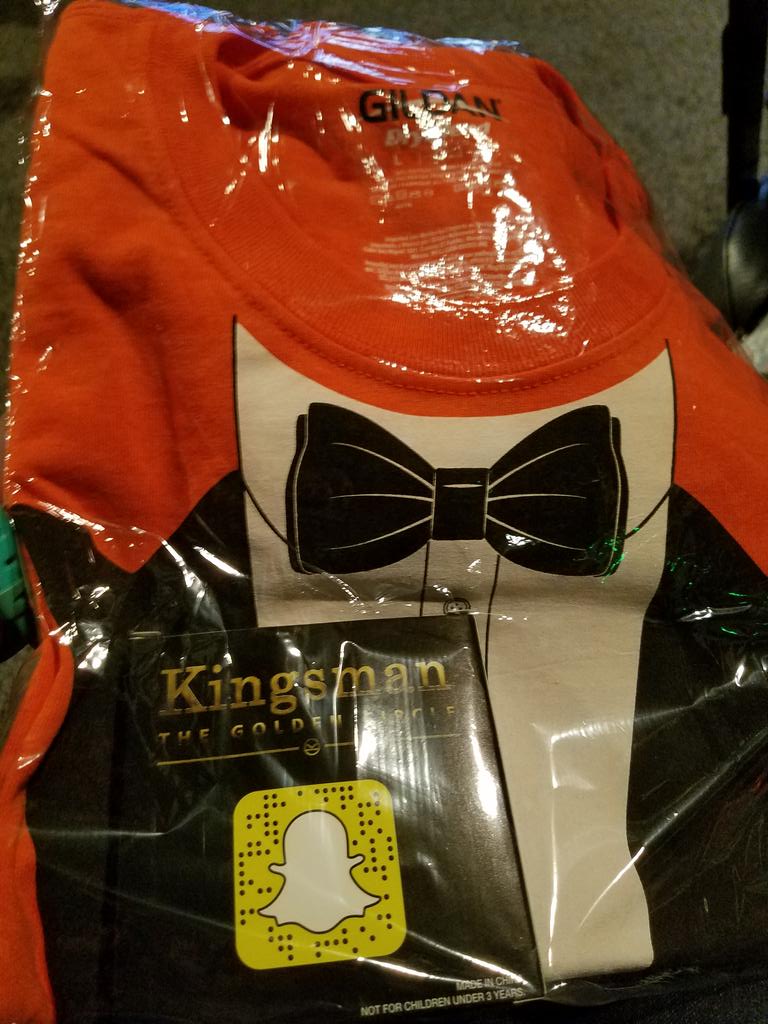 The loading into Hall H took a bit of time though, and when we got into the Hall, it had only been about halfway filled at that point. We went to our usual spot, towards the far right side of the seating, which puts us pretty close to the restrooms, and a good view of some of the screens.
The panel began at about 11:09am, with Eddie Ibraham kicking things off. The panel began with an animated clip, which had Eggsy doing some parkour, making his way to the Kingsman HQ, where Archer apparently is hanging out.
Eddie then introduced Jonathan Ross, who would be moderating the panel. He introduced the panelists, which included a message from Matthew Vaughn. He then introduced a clip which showed the entire opening scene, which consists of a crazy car chase, combined with fisticuffs, then more car chase, and then seeing some James Bond moments with the car being driven having some interesting gadgets, including some vents that allow the car to shift laterally for escape, and the ability to become a submarine.
The panelists then came out, which included artist Dave Gibbons, Jane Goldman, who wrote the Kingsman 2, and the cast of the movie: Colin Firth, Taron Egerton, Channing Tatum, Halle Berry, Pedro Pascal, and Jeff Bridges.
Jonathan Ross announced that Dave Gibbons would be drawing Egerton as Eggsy during the panel and giving away that drawing at the end to the person with the best question asked from the audience questions.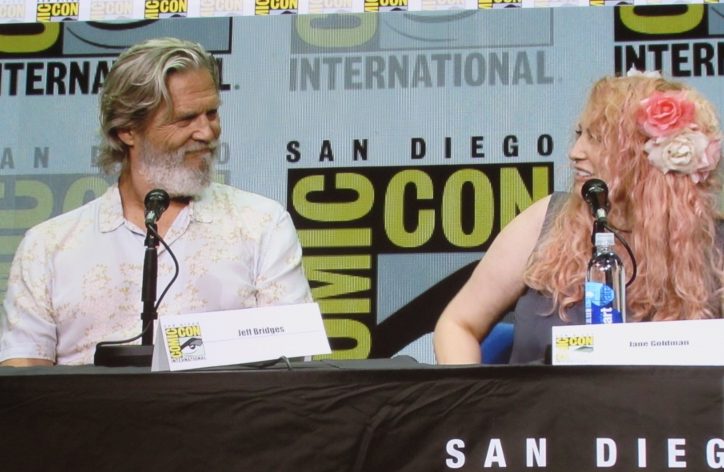 Jane Goldman began the panel talking about how it became an idea to introduce the Statesmen, thinking it would be interesting to see the American version of the Kingsman. Apparently the cover company for the Statesmen is alcohol sales, which is pretty interesting. Jane also talked about how they went with the stereotype of cowboys for the Statesmen.
Taron talked about having to hold his breath in the scene we saw, because the car goes underwater. Taron said that he actually had to hold his breath for the scenes, and that it is pretty scary. Taron then complimented Channing Tatum on his impressive strength. Channing then chimed in complimenting Taron on his skills, jokingly saying the exception was his strength.
Colin Firth then talked about his return to the movie, but said he can't talk much about his part, other than saying that he has to shave a lot in the film. Moving on, Jonathan Ross talked to Halle Berry about her role. Her character, Ginger Ale, is the techie, brainy character for the Statesmen. Halle Berry said her character has "hidden depths."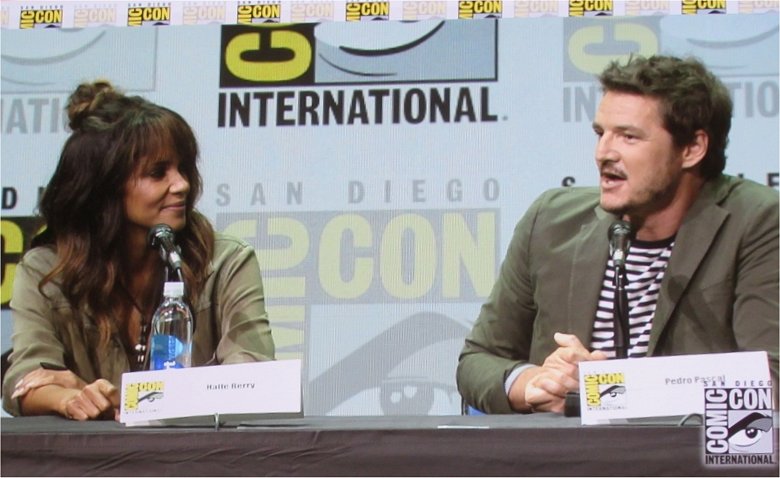 Continuing through the panelists, Pedro was up next, and Jonathan asked him about his work with the bullwhip, and lasso. (Apparently there was a controversy over how to pronounce the word lasso in England). Pedro talked about how entertaining using the whip was, and said that he felt pretty good at using it.
Jeff Bridges then talked about his character, which apparently is named Champagne. His character apparently doesn't drink much, but likes to smell it and be close to his vices.
We got to see another film clip next, and we saw Eggsy and Merlin investigating the Statesman headquarters in Kentucky, and the two wind up running into Channing Tatum's character, who soundly takes Eggsy and Merlin down after a brief fight.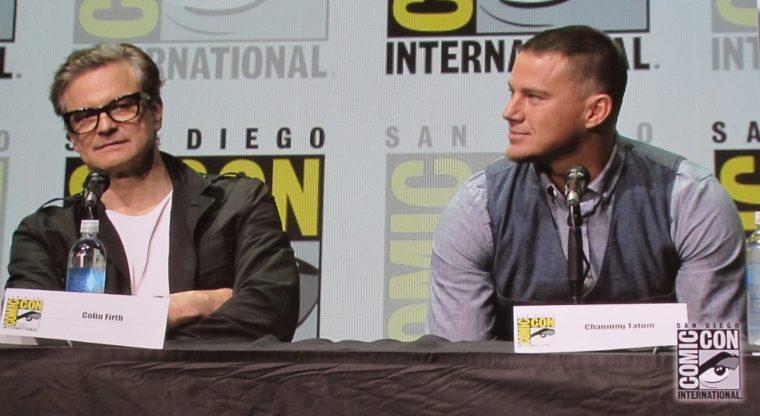 Back to the panel, Colin Firth talked about how people want to be invested in the characters in the film, and he remarked that there are some tearful moments as well.
Jonathan Ross then got some alcoholic beverages for the cast enjoy. Channing Tatum made sure that Halle Berry had a full pint to drink, while everyone else merely had shot glasses.
Meanwhile, Ross called up Matthew Vaughn on Facetime, and the two had a brief chat.
The panel then moved on to audience questions, which I'll go over quickly below:
The first one asked the panel if the movie was fun to film, and if there are some moments that stand out. Taron Egerton said it was a lot of hard work, but Matthew Vaughn creates a fun atmosphere, and they all enjoy working with each other. Taron also went into how he had some physical moments. Channing, meanwhile, jumped in and said that he was a big fan of the first film, and enjoyed working on this one.
Halle Berry was then asked if she felt James Bond or Kingsman feels more British, but Berry said that she had to pass. Channing Tatum then egged Berry on to drink her massive glass of booze, which she then proceeded to chug—until it was empty.
Up next, the panel was asked how long the movie is, which Colin answered, saying about 2 hours and 15 minutes.
Channing was then asked about his most memorable scene in this movie, and we noticed Halle Berry looking a little woozy. Channing then said any scene with Halle Berry was amazing.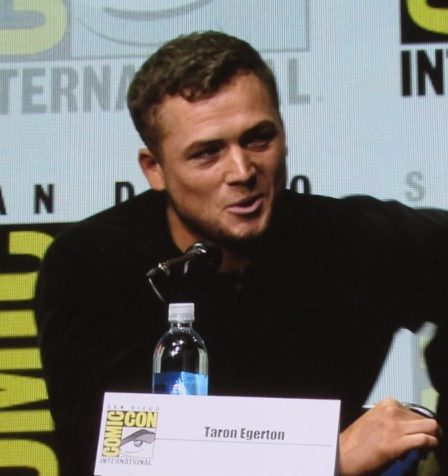 The next question asked about the differences between the two movies, and Taron answered that they were very similar, with a lot of choreography, fight scenes, holding his breath, etc. Firth jumped in saying that he had a lot of different things with his character. He said he did a lot more athletic things in these movies than he has done in his entire life beforehand. Jane Goldman also talked about how she was happy to see that there is a fan-base for the movie coming in to this film. Samuel L. Jackson also came up, and was complimented on his good work on the first movie.
Jeff Bridges was asked how "The Dude" would handle the movie. He replied that The Dude would be drinking more of a vodka, because he likes his drinks clear.
The final question for the panel asked what makes a good Kingsman or Statesman. Taron answered impeccable manners, and the ability to right hook, and having some nice clothes. Firth added a good umbrella. Channing said that drinking and fighting is what a Statesman needs. A Statesman needs to be able to put down a pint of Bourbon, according to Halle Berry. Pedro said cracking whips, and Bridges finished up saying a good pair of boots.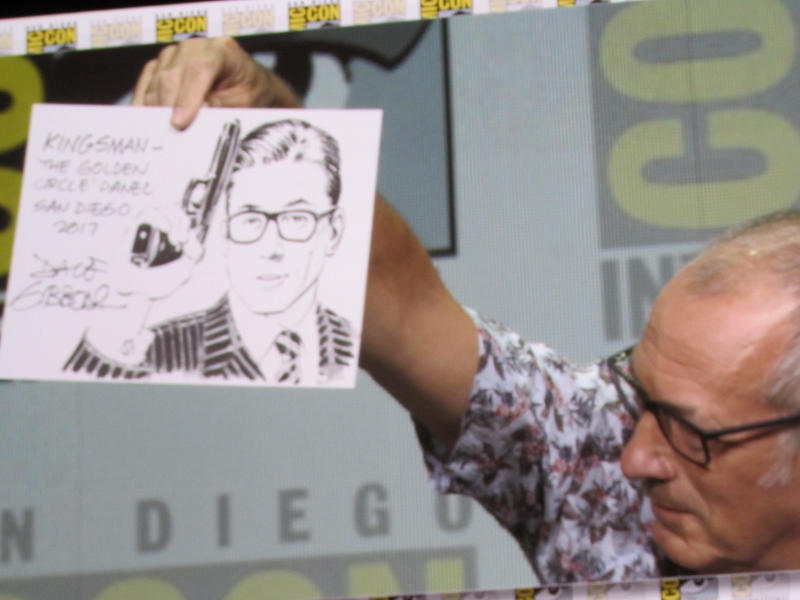 The panel then gave away the drawing Dave Gibbons drew during the panel of Taron Egerton as Eggsy.
The panel finished up with Jonathan Ross taking a photo of the audience with many of the people wearing their Kingsman T-Shirt that was given away during the panel. Taron got his fancy orange suit jacket on for the shot as well.
Then finally, we watched one final clip for the panel's end. We got to see Julianne Moore, who is the villain of the film. She is a drug dealer, living in some South American country in some "undiscovered ruins" that she has updated to add some 50s looking aesthetics to it. We learn what the "Golden Circle" refers to in this clip, as we see one of Poppy's (Julianne Moore's character) henchmen has a golden circle tattooed to his chest. We then see that she doesn't like people working against her, and to have the other, presumably newer, henchman prove himself. Proving himself has the man toss the other into a meat grinder, so that Julianne Moore can have some hamburgers. Julianne Moore then tells the new recruit to head to the salon next door for his "makeover." This makeover is a robot which burns off his finger prints, tattoos the golden circle to his chest, among other things. The man then returns to Poppy/Julianne Moore, who has made a human-burger for him to eat. He does so begrudgingly and Poppy welcomes him to the Golden Circle.
With that, the panel ended, and we headed over to the Exhibit Hall floor. Click here to continue to the next part of our coverage of San Diego Comic-Con 2017!
See below for more of our photos from the Kingsman: The Golden Circle panel.