Brace yourselves, SDCC 2016 Preregistration is coming! Yesterday, Comic-Con International posted some interesting information on their Toucan Blog which suggests that Preregistration for San Diego Comic-Con 2016 could be happening very soon! Read on for more details…
Yesterday's Toucan Blog post instructed potential SDCC 2016 attendees to log in to their Comic-Con Member ID account and confirm or update their mailing address. The reason? Because CCI is considering the option of mailing badges to attendees prior to SDCC and WonderCon, rather than requiring attendees to wait in line on site (or travel off site to Town & Country) to pick up their badges.
At the end of the post, CCI "strongly" encourages those eligible to participate in SDCC 2016 Preregistration to "update your address today!" As you may or may not know, CCI tends to close down the Member ID site for a few days prior to Preregistration and Open Registration. The Toucan Blog post reminds attendees of this fact, and tells them to update their mailing address before participating in Preregistration.
As previously announced, SDCC 2016 Preregistration will occur "sometime after October 31, 2015." That's this Saturday, and considering that SDCC Preregistration and Open Registration traditionally occur on Saturdays, it is entirely possible that SDCC 2016 Preregistration could occur as soon next Saturday, November 7! Remember, last year SDCC 2015 Preregistration took place on Saturday, November 8, 2014, so that would make this year line up with last year. It's also worth noting that CCI tends to give short notice before Preregistration occurs, only giving 4 days notice last year, so be ready!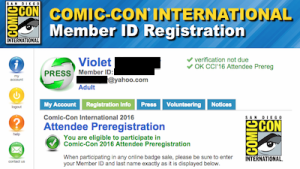 How do you know if you're eligible for SDCC 2016 Preregistration? Well, you had to have attended SDCC 2015 as a paying attendee, validated your badge number before September 15, 2015, and have the "OK CCI'16 Attendee Prereg" check mark appear in the upper right corner (and within the "Registration Info" tab) when you log in to your Member ID.  If that does not apply to you, don't worry, you'll still have a chance at SDCC 2016 Open Registration, which should occur in early 2016. Just make sure you sign up for a Member ID if you have not already done so. For reference, SDCC 2015 Open Registration took place on Saturday, February 21, 2015. CCI gave about a week advance notice for that.
You can read yesterday's Toucan Blog post in its entirety below:
"COMIC-CON INTERNATIONAL REGISTRATION UPDATE!
Confirm Your Mailing Address in Our Member ID System!
As October quickly turns to November, Comic-Con International would like you to update your autumn to-do list! Somewhere between "Knit a new Jayne beanie" and "Practice lightsaber moves for the December 18th premiere," please add "Update your Comic-Con mailing address" to the most critical tasks of fall 2015!
As we continue to evaluate our registration and badge fulfillment process, we are constantly on the lookout for ways to make the experience easier and more enjoyable for our attendees. We are currently researching the option of mailing out Comic-Con and WonderCon badges prior to the event, which should make your arrival at the Con fast, easy, and convenient. No more waiting in line to pick up your badge!
To ensure we have your most current information on file, please log in to your Comic-Con Member ID account today and confirm your mailing address. This information is found on the "My Account" tab under the "ADDRESS/PHONE" section. If your address is incorrect, simply click the "ADDRESS/PHONE" link, enter your password and new zip code, then complete the address update process.
If you are eligible to participate in Comic-Con 2016 Attendee Preregistration, we strongly encourage you to update your address today! The Member ID system will close for changes—without notice—in advance of Attendee Preregistration. Make sure you have updated your mailing address before you participate in preregistration."