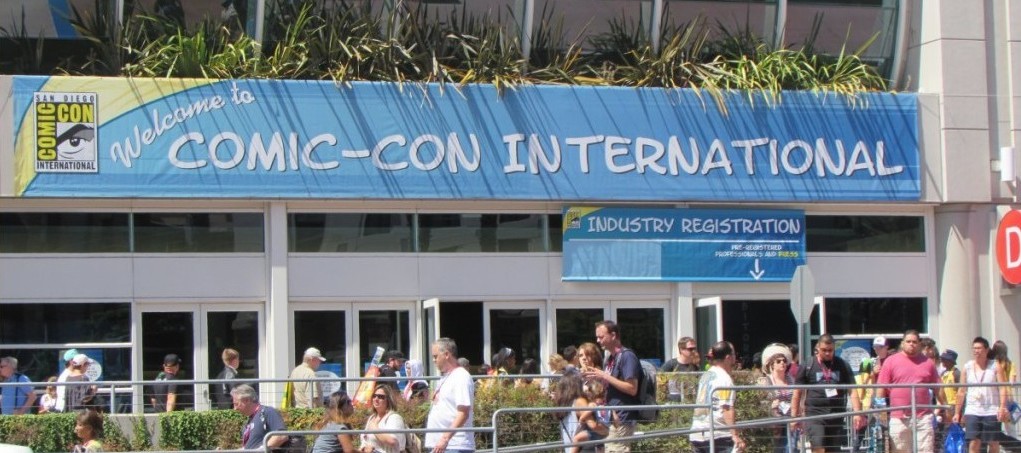 Comic-Con International announced today that Preregistration for San Diego Comic-Con 2015 will take place this Saturday, November 8, at 9:00am PT! This Preregistration sale is open only to those who purchased badges and attended San Diego Comic-Con 2014, and validated their 2014 badge ID by the October 15 deadline. If this does not apply to you, don't worry, you will have a chance to buy SDCC 2015 badges in the General sale, which will take place at a later date. Read on for all the details!
If you are eligible for SDCC 2015 Preregistration, you should have received an email alerting you about the Prereg date. Like last year's Preregistration, you will be able to log into a Waiting Room starting at 7:00am, though it doesn't matter what time you arrive in the Waiting Room, as long as it's before 9:00am, when the Preregistration starts. At that time, you will be placed in a random order to buy tickets, and if it's like last year, you will not be given a number letting you know your place in line, like attendees had been given in previous years.  Last year, there were people who logged into the Waiting Room right at 7:00am who ended up not getting a badge, and people who logged in at 8:59am who ended up getting 4 Days with Preview Night, and all variations in between, so it truly does not matter what time you log into the Waiting Room, as it is all random.
You will need your Badge ID in order to enter the Waiting Room. When you make it into a registration session, you will be able to buy badges for yourself and 2 others. You'll need to know the last name and Member ID of anyone you buy badges for, and anyone that you buy badges for must also be eligible for Preregistration. You can only use one credit card for the transaction, for which you will have 15 minutes to complete.
CCI will email the Waiting Room link to eligible attendees at least 24 hours before Prereg starts, so keep an eye on your email!
Check out Comic-Con's website for more information, and Comic-Con's Toucan Blog for Prereg tips.
Below is the email that was sent out today:
"Comic-Con International 2015 Attendee Badge Preregistration will begin shortly after 9:00 AM Pacific Time (PT) on Saturday, November 8, 2014.To participate in Attendee Preregistration, we strongly encourage you to read the instructions at: http://www.comic-con.org/cci/2015/2015-attendee-preregistration
You will need your Comic-Con 2014 Badge ID, your Member ID, last name, and credit card information. You can access your badge ID by logging in to your Member ID account and clicking the "Registration Info" tab. We recommend that you do this well in advance of the sale.
You will be able to enter the EPIC Registration waiting room starting at 7:00 AM PT on Saturday, November 8. The link to enter the waiting room will be sent to you via email at least 24 hours prior to the start of the sale. Remember, there is no need to rush to the waiting room at 7:00 AM! Attendees may enter anytime between 7:00 AM and 9:00 AM. Once inside the waiting room, you will be selected randomly for a registration session after 9:00 AM. Your arrival time does not give you an advantage. The waiting room will close to new entrants at 9:00 AM PT sharp.
We suggest you add do-not-reply@comic-con.org and registration@epicreg.com as an approved/authorized sender to your email account.
For important Attendee Preregistration technical information, please read Toucan, the Official Blog of Comic-Con International and WonderCon Anaheim.
Please keep in mind that not all eligible attendees will be able to purchase a badge during preregistration. There are more eligible attendees than badges available. You can increase your chances of obtaining a badge by reading all of the instructions carefully and having your personal information ready on the day of the sale. If you are unable to acquire a badge during preregistration, an additional sale to the general public will be held at a later date.
Good luck and we look forward to seeing you in July!
Sincerely,
Comic-Con International"
Will you be trying to buy badges for San Diego Comic-Con 2015 in the Preregistration this weekend? Let us know in the comments below!