Dick Van Dyke made his first ever comic convention appearance at Phoenix Comicon on May 27, 2017 — and I was lucky enough to be in the audience for it! Check out our recap and photos of this memorable panel.
As Neal McDonough's panel began to wrap up around noon in West 301A, I headed over next door to West 301BCD for Dick Van Dyke's panel, which was scheduled to begin at 12:15pm — or so I thought. Although listed on the Programming schedule on Phoenix Comicon's website and app as 12:15pm to 12:45pm, it apparently was actually 12:30pm to 1:00pm. But that was fine, it just allowed me to get a decent aisle seat in general admission seating.
The Dick Van Dyke panel was handled differently than the other celebrity guest panels at Phoenix Comicon in that in order to attend, you had to have either purchased reserved seating ($45 for front row or $30 for "front of house" seating) or general admission seating ($15), or won the lottery for a general admission seat. This was so that there wouldn't be massive crowds of people lining up for the panel, since the convention center setup didn't have a way to accommodate the anticipated large crowds. Considering the long lines for autographs and photo ops with Dick Van Dyke, this was probably a good call.
Knowing that this legendary guest was a pretty big deal, I didn't want to take my chances in the lottery, and went ahead and purchased general admission seating for myself. Josh wasn't very interested in this panel, so he opted not to buy the ticket.
When the panel started, Dick Van Dyke came out on stage to a standing ovation, to which he responded, "This is a bigger crowd than Trump had!"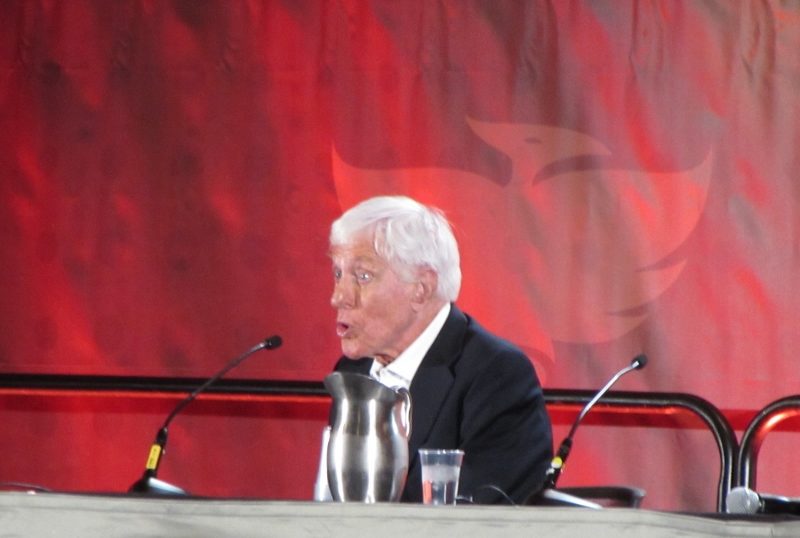 Before handing it over for audience questions, the moderator asked a question of her own about a certain surfing trip that Dick Van Dyke had been on. He told us that it had happened a long time ago, but he was in Virginia Beach learning to surf, and had gotten tired, so he was floating by the breakers. Then he fell asleep, and when he woke up, there was no land in sight. Suddenly, fins started appearing all around him. Thankfully, they turned out to be dolphins, and they bumped the bottom of his board, pushing him all the way to shore!
Three microphones were set up in the various aisles for audience members to come up to stand in line to ask questions. The first audience member asked how his approach to acting has evolved from when he started to today. Dick answered that he never planned anything that happened to him. He started out as a radio announcer at the local radio station before television. Someone asked him if he could dance, and he said, "Sure." Then one thing after another happened, none of which he ever planned, "It just happened to me!" he said, attributing it to serendipity.
Another audience member asked if there was anything that sticks with him from Chitty Chitty Bang Bang. Dick said that his favorite song from the movie was "You Two." He also mentioned that the hardest thing he ever did in his life was the "Me Ol' Bamboo" scene because when they had to jump over the sticks at the end, every take somebody would miss! He recalled that it took over a year to shoot that movie, while it only took 3 months to shoot Mary Poppins. Dick then brought up that he had just gotten back from London from shooting the Mary Poppins sequel — which garnered a huge round of applause from the audience. He said that he plays the son of the old banker, and that when they were putting the makeup, wig, and mustache on him, his response was, "You guys are making up a 91-year old to look like a 91-year old!" Dick then clarified that it's actually being called an "homage" rather than a sequel, and told us that he got to do a dance number on a desk.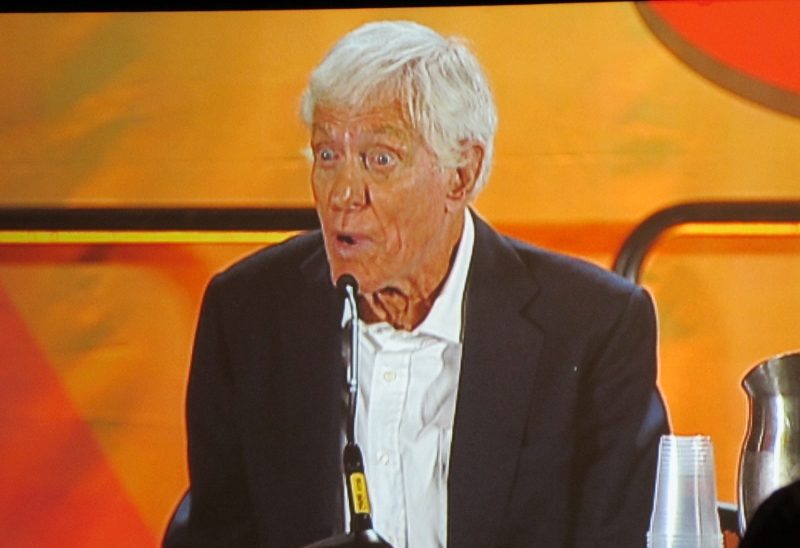 He also mentioned that he had lived in Cave Creek, AZ, and that it still looks like it did 100 years ago!
Dick loved working with Walt Disney. He said everyone called him "Uncle Walt." Dick told us that he wasn't initially cast as the old banker, so he went to Walt and told them that he would love to do that part — and that he wouldn't even charge him anything! So he made himself up and did a screen test in front of the Banks' house. Dick thinks that what got him to agree was that at the end of the screen test, he went over and peed in the bushes! He also recalled that he and Walt always said they were two children looking for their inner adults.
As for advice to high school kids wanting to get into his line of work, he said they should do what he didn't do: plan, and that they should be a triple threat, knowing how to sing, dance, and act. He then recounted a story from his high school days. Dick was a freshman and lived in Indiana across the street from Wabash College. He was on the track team at his school, and would go watch the college track meets, where his track coach was one of the officials. One day he was sitting in the stands, and the anchor for the Purdue team hurt his ankle, so his coach asked him if he wanted to run anchor for Wabash. He didn't have any shoes, so he ran barefoot — and ended up winning the race! His father never believed him.
Dick Van Dyke said that he never got a chance to work with Julie Andrews again after Mary Poppins, but that she's just who she seems to be: a sweet, lovely lady — but that she has an ornery streak! He was happy to see her win the Academy Award, because she didn't get My Fair Lady, so it was sweet revenge. Dick recalled that the crew of Mary Poppins made him an award out of nuts and bolts so that he could have his own award.
He loved working with his son on Diagnosis Murder, which was on the air for 9 years, even though he was told the show would never make it, since it was a 50s kind of sitcom. Dick also recalled doing a play with his brother, and he came in to rehearsal with a cane, to which his brother told him, "Dick, you don't have to act old anymore!"
He commented that he doesn't recognize Phoenix at all anymore, and can't find his way around! He had moved there in 1969, at which time the airport was one building, and Scottsdale was a little village. But he still loves Cave Creek. He remembers going to Harold's Corral. All the cowboys would come there on the weekend, and they had to check their guns at the door. It was known as a drinking and fighting club, and he would just sit there and watch. One night, some golfers came in to eat, and one of them called Harold over, saying, "This steak is too tough." Harold took a bite of it and replied, "That steak is good, you eat it!"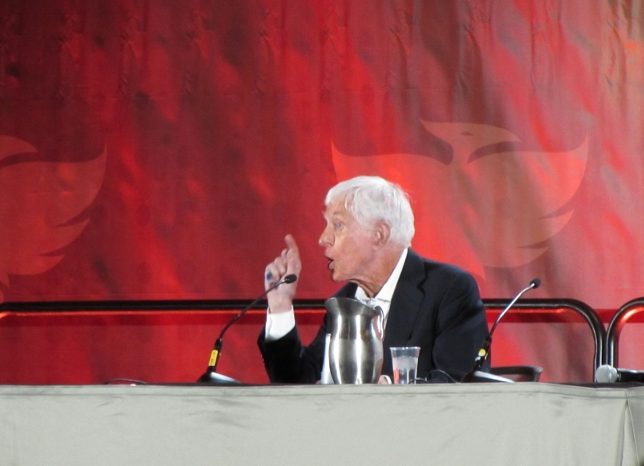 One of the biggest setbacks in his life was in 1955, when he got a contract with CBS, and moved his whole family to New Orleans, where he was an anchor on the CBS Morning Show, and his newscast was with Walter Cronkite. But he didn't know what he was doing, so after 3 years they let him go. Then he started doing a game show called Mother's Day, where they did things like diaper changing contests. After work, he would go over to the theater district and audition for everything. He finally got into a show called The Girls Against the Boys and that eventually led to him getting to audition for Bye Bye, Birdy. He got the part on the spot, and this changed his life because that's how he got The Dick Van Dyke Show. He recalls that Carl Reiner had written it for himself, but was told, "We like the script, but you're going to have to get a better actor to play you." Dick then sang the words to the theme song that Morey Amsterdam wrote for the show. He also said some kind words about Mary Tyler Moore, who passed away earlier this year, saying that "We all loved her."
Dick recalled that all throughout his career, there was always someone to pick him up and take him on. He recently did a show called If You're Not in the Obit, Eat Breakfast, which features people over 90, including Mel Brooks, Ed Asner, and many others. Dick wanted to call it What to Do While Circling the Drain. 
He then shared with us his most embarrassing moment, which was in high school. He had a crush on a girl, who he wanted to ask to the prom. She was sitting at the drug store having a Coke with her friend. When he walked up to her and said, "Hi," she replied, "Your fly's open." In response, he laughed — which caused him to blow snot all over. But she went to the prom with him anyway!
He didn't have a favorite scene in Mary Poppins in particular, because he loved every bit of it. However, he shared with us the news that the Philharmonic is doing a tribute to Broadway next month, and he is going to do Happy Face and Jolly Holiday. 
As for what role he played that was the most emotional when it ended, he said he hated all the endings, because you make a lot of friendships, and then you may never see those people again. But one good thing that came was when he did a TV movie called The Morning After,  where he played an alcoholic, and which is now being shown in rehab across the country, so he's glad that he gets to help people turn their lives around.
He then shared a few more memories about The Dick Van Dyke Show. Dick recalled that they shot in front of a live audience at the end of the week, so all week they were rehearsing and rewriting. Carl Reiner was open-minded and would take into consideration anything they wanted to do. Reiner knew that Dick loved physical stuff, so he'd always find a reason for him to fall down. The biggest, longest laugh he ever heard in his life was in the episode where he thought the babies were mixed up. They had to cut the cameras because they all just kept laughing forever! There was also a time where he came in and threw his hat like it was supposed to land on the coat hook by the door. Of course, he missed every time. But then in front of the live audience, he actually got it! He spoke fondly of his time on the show, saying, "It was the most fun I ever had."
With that, the short 30 minute panel ran out of time, and the crowd again gave Dick Van Dyke a standing ovation. As he walked off the stage, he pretended to trip!
It was such an honor to be able to be in the audience for Dick Van Dyke's first ever comic convention appearance, and not only hear him share stories about his life and his amazing career, but also to hear him sing! I had actually seen him in person before, when he was signing autographs at a table at D23 Expo in 2015 (I didn't actually get an autograph, just saw him upon passing by), but this was way better than that small glimpse.
Stay tuned for more of our recaps and photos from Phoenix Comicon! Next up: Ciara Renee and Teddy Sears from The Flash and Legends of Tomorrow!
See more photos from Dick Van Dyke's panel at Phoenix Comicon below: