After the Child's Play/Cult of Chucky panel finished, it was time for what we had been waiting for: Keanu Reeves! As I mentioned in other New York Comic Con 2017 articles, seeing this panel was one of my three main goals for our one day at NYCC 2017. The convention took place at the Javits Center Thursday, October 5 through Sunday, October 8, but we only had a badge for Thursday.
The Replicas panel with Keanu Reeves was in a small room, Room 1A06, at 6:30pm. We had been in the room since 2:45pm for the Artemis panel with Andy Weir and Rosario Dawson to make sure we would make it into the Replicas panel, since NYCC does not clear any rooms between panels, except for the Main Stage.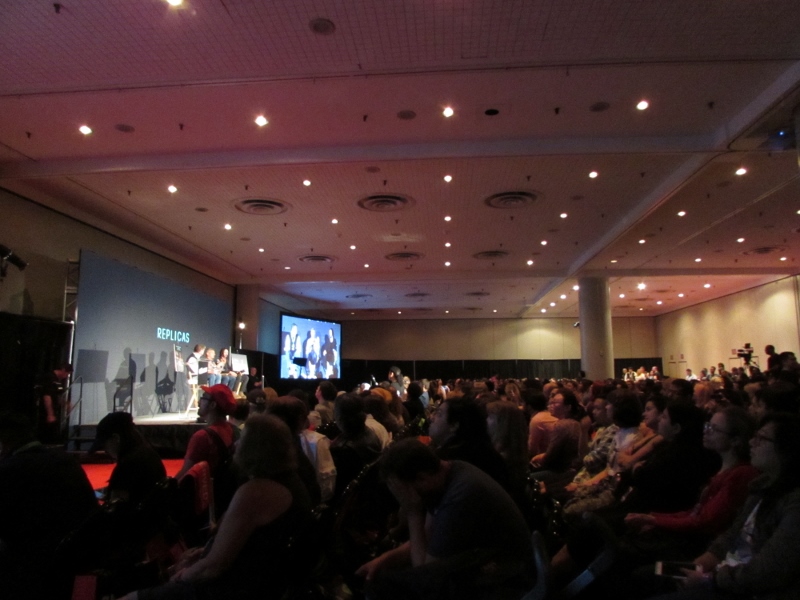 Clark Petersen moderated, one of the many executive producers on the film. The movie is not yet finished, and will be out sometime next year. First the movie's director, Jeffrey Nachmanoff came out on stage. Then finally, the moment we had all been waiting for: Keanu Reeves!
Keanu Reeves came out on stage greeting the audience with, "New York Comic Con!" as the audience squealed with delight. He thanked everyone for being there and said they would soon discuss just "What the hell is Replicas?" He talked about how the movie came about — he had worked with his producing partner Stephen Hamel, who then worked with writer Chad St. John to develop a story about what would happen if a scientist's family died and he tried to bring them back. Lorenzo di Bonaventura also came on board as a Producer for the film, who introduced them to director Jeffrey Nachmanoff.
When Jeffrey heard about the project, which sounded great, he wondered, "What's the catch?" The catch was that they were on a tight schedule, would have a tight budget, and would have to shoot the whole movie in Puerto Rico during hurricane season, where there was a bit of a Zika virus outbreak. But Jeffrey accepted the job immediately.
Before watching the world premiere of the Replicas trailer, Jeffrey set it up for us, explaining that Keanu Reeves plays a scientist working on a secret project in Puerto Rico where he is on the verge of transferring human consciousness to a computer. When he goes on vacation with his wife and three kids, there's an accident in which his whole family dies. He then works with a friend, played by Thomas Middleditch, to bring his family back.
We then watched the trailer for Replicas, which you can watch below:
Jeffrey explained that one thing that drew him to the movie was that it wasn't just one genre. It's made up of many different elements other than sci-fi, such as gothic horror, humor, and family drama. Keanu joked about the family drama coming about "because I don't tell them. Oops!" His character brings the family members back to life, but they don't know that. Keanu didn't want to give too much away about the movie, but he did mention that it dealt with moral and ethical questions about bringing people back, recreating life, and how we should use technology.
As for why Keanu keeps coming back to the sci-fi genre, he said that he loves science fiction, and that all kinds of genres can fit within science fiction.
Jeffrey spoke more about the ethical and moral dilemmas within the film, which addresses, "Just because we can do something, should we do it?" He mentioned Black Mirror as an example of exploring that question. Regarding research that they did for the movie, Jeffrey mentioned the Human Connectome Project, which is working on mapping the connections in the human brain. Keanu commented that when his character brings his family back, he has to manipulate their memories so that they don't remember their accident. Then the question becomes whether they are who they are when they come back.
The moderator then posed the question to Jeffrey and Keanu: what conclusion did they come to regarding whether your family is still your family if you clone them? There was a long pause, during which audience members voiced their opinions, the resounding response being, "No!" Keanu then broke in with a joking voice saying, "Yeah, but as long as there's love…" Jeffrey responded that you have to go see the movie and see for yourself.
Moving on to talk about the other characters in Replicas, the moderator brought up Alice Eve, who plays the wife of Keanu's character. Keanu said that there were several conversations that came up about how she should act before and after she was brought back to life. Thomas Middleditch, having been on Silicon Valley, a comedy, was skeptical at first about coming into a drama. However, Jeffrey said that he provided comedic relief, and praised his comedic timing, saying that there were even several lines that Thomas came up with on the fly that they kept in the movie, and enhanced the relationship between the two scientists.
Jeffrey also talked about the bad guy, played by John Ortiz, who happens to be Puerto Rican. He said that they'd be walking down the street and people would come up to them saying, "Can I have your autograph?" then walk right by Keanu and go up to John Ortiz! Jeffrey described John Ortiz's character as "the CEO from hell," while Keanu said that the character is "smiling, but you still feel a threat."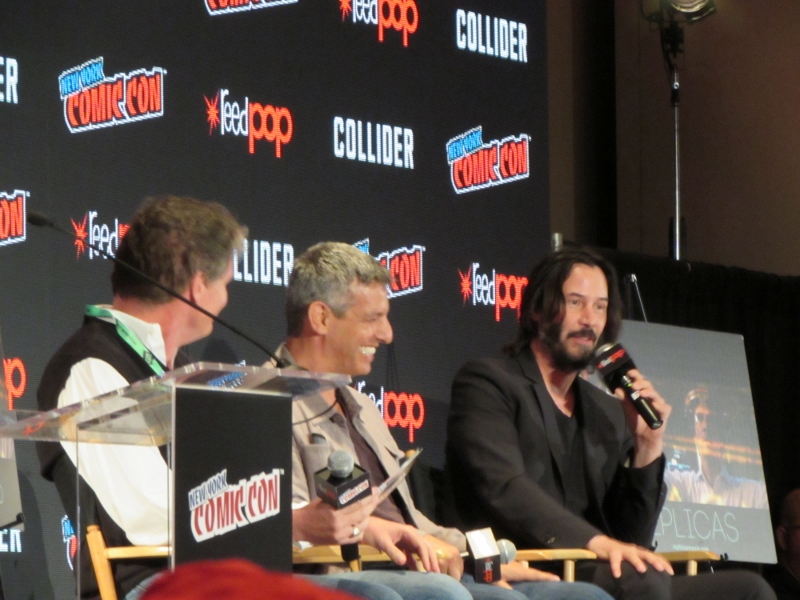 Keanu said that one of the major differences between his character in Replicas as compared to other characters he has played is the relationship with his family. He commented that he's fought demons and time traveled, "But a family! I've never had a family!"
The moderator pointed out that Replicas is an original movie, and is not based on anything. Jeffrey said that he could understand the studios' rationale to use already existing properties, so as to get the name recognition, but that he knows that fans are also "hungry for new things once in awhile."
Jeffrey went on to talk about the difficulties of filming in Puerto Rico during hurricane season last year, saying that if something breaks down, it's more difficult to get a replacement. Additionally, there was a power outage that lasted for 4 days. But they made a lot of friends down there, as their entire crew was Puerto Rican, and had a great experience. Jeffrey announced that they were trying to raise money on their website for those affected by the devastating hurricane in Puerto Rico. This was met by a huge cheer from the audience. He said that they have people in Puerto Rico making sure that the aid gets to those who really need it.
Wrapping up the conversation about Replicas, Jeffrey didn't want to give away the ending, but commented that the film does not fall into the common sci-fi trap that "science is all bad" because "it's not all bad." However, he pointed out that "there's always a price to pay when you start messing with mother nature." Keanu added that he hoped people would come out of the film feeling that it gave them something to talk about, think about, and enjoy.
The moderator then moved on to asking Keanu Reeves about his other projects. Keanu started off talking about Bill & Ted. He said, "We're trying," and revealed that there's a script called Bill & Ted Face the Music. Keanu told us the basic plot: Bill & Ted were supposed to have saved the world, but when we see them, they're older and haven't saved the world. Their children are grown up and their wives are wondering what's going on. The future comes and tells them that they have to write the song to save the world, "and so begins facing the music." Keanu said that they're still trying to work everything out, and joked that he hoped the movie would happen by the time he was 60. (He's currently 53.)
Keanu also mentioned that people have been talking to him about remaking The Matrix. The moderator asked the audience if anyone liked that idea, and got a resounding "NO!" as a response. However, Keanu said that he didn't know anything about it.
As for John Wick, Keanu said they've been working on it and thinks they have some really good ideas. He hoped they would be able to start shooting the third film next year. Keanu commented that he loves the character and the world, and that he's really excited for the opportunity to tell the next chapter.
He said that was about all he had going on right now though. An audience member shouted Man of Tai Chi, which Keanu commented that he had a great experience making that film and working in China.
At that, the panel ran out of time, despite the audience's protests, and so ended our day at New York Comic Con 2017!
You can view more photos of the Keanu Reeves Replicas panel at NYCC 2017 below.