Following the Artemis panel in Room 1A06 on Thursday, October 5 at New York Comic Con 2017, was the VIZ Media panel, followed by the Child's Play/Cult of Chucky panel.
Admittedly, we're not really into Manga and Anime, so the VIZ Media panel was more of a sit through panel for us.
The two Viz Media moderators gave the audience updates on what was going on with their various titles, such as Boruto, Naruto, Sailor Moon, and Homestuck. Every member of the audience was given a Sailor Moon poster. Additionally, there were prizes given out intermittently to audience members who could answer trivia questions.  Plus, the creators of the Legend of Zelda: Twilight Princess manga, Akira Himekawa (made up of two women, A. Honda and S. Nagano) were brought on stage. The moderators asked them questions through their translators, mostly about their experiences in NYC.
Following the Viz Media panel was the Child's Play/Cult of Chucky panel, which was to celebrate the October 3 DVD and Blu-Ray release of Cult of Chucky, the seventh film in the franchise. The panel kicked off with a viewing of the red band trailer of the film.
Then the moderator brought out the panelists, which included the film's writer and director, Don Mancini, plus stars Jennifer Tilly, Fiona Dourif, Brad Dourif (voice of Chucky for all of the films), and Alex Vincent. Oh, and Chucky himself was on stage as well, and got his own chair.
Don Mancini then talked about why this film is the "Cult" of Chucky: because there are several Chuckies in the film, which is something he's been wanting to do for awhile, but it took him some time to convince Universal to let him do it. Jennifer Tilly chimed in that the "Cult of Chucky" was also metaphorical, referring to the dedicated fans of the franchise.
Brad Dourif talked about voicing the various Chuckies, and how Don Mancini had attempted to voice Chucky at one point. Apparently, Don didn't do a very good job, and Jennifer assured Brad that he didn't have to worry about retiring anytime soon. Brad had to go in and re-voice all the Chuckies that Don had voiced.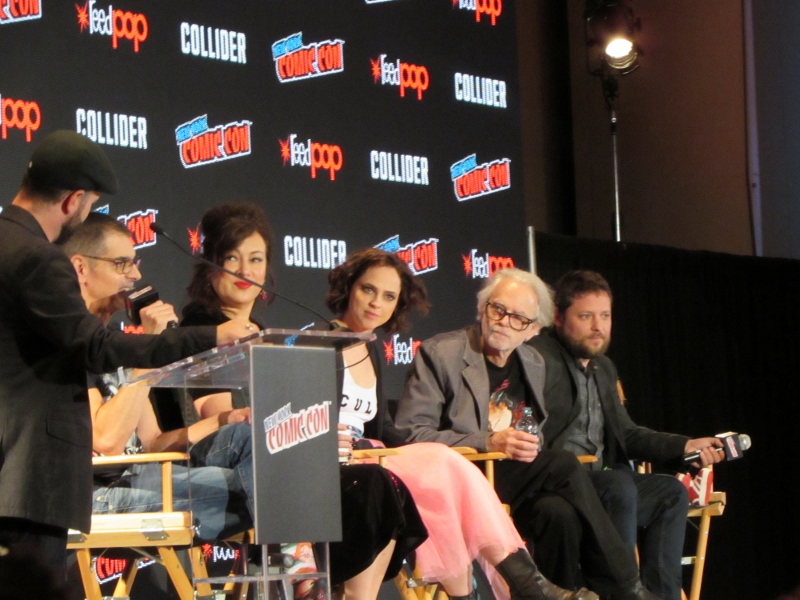 Alex Vincent, who had played Andy in the first two Child's Play films, returned as Andy in Cult of Chucky. After we watched a clip of Andy interacting with (and burning) a Chucky head, Alex commented that he had been waiting a long time to do that, and that it was 25 or 26 years in the making. Don talked about how bringing back Andy had been planned for awhile, and that in an ironic way, Chucky is Andy's "best friend till the end."
Fiona Dourif spoke about being the daughter of the voice of Chucky. Brad would do the Chucky voice on birthdays, and then when Fiona was around 13, she figured out it was really cool, and that boys liked it, so she used it to her dating advantage.
We then watched a clip of Fiona's character, Nica, who has been in a mental institution for the past few years, where she gets a surprise visit from her niece's guardian, Tiffany Valentine, played by Jennifer Tilly, who gives her a Chucky doll to help with her therapy.
After watching the clip, Fiona pointed out that you could tell which one of them had more fun making the movie — Jennifer. Meanwhile, Fiona had to cry a lot. However, Jennifer said that whenever someone cries, they get a longer close up, so Jennifer told Don that in the next movie, she wanted to be the one who cried, to which Don replied, "I'm on it. I can think of all kinds of ways to make you cry."
But Fiona admitted she wasn't just crying the whole time — she did get to do a sex scene. They started getting a little too detailed about that, at which Fiona then turned to Brad and said, "Sorry, Dad!"
The moderator asked Don about striking the balance between humor and horror, which Don said he's still working on perfecting, and might get it right by Child's Play 17, but that he thought this movie came pretty close. We then watched a clip of Chucky killing someone in the mental institution, which Don described as the film paying homage to itself, the Child's Play franchise.
The panelists then talked about working with the Chucky doll as a co-star. Brad pointed out that he's not there, since he just does the voice, while Jennifer talked about the technical aspects. As for Fiona, she spoke about how disconcerting it was to hear her father's voice saying such disturbing things. Don talked about the logistical problems of having multiple Chucky dolls, but said that it was fun.
We then watched a clip from the movie that is only available on the Blu-Ray. The scene revealed the return of Christine Elise as Kyle.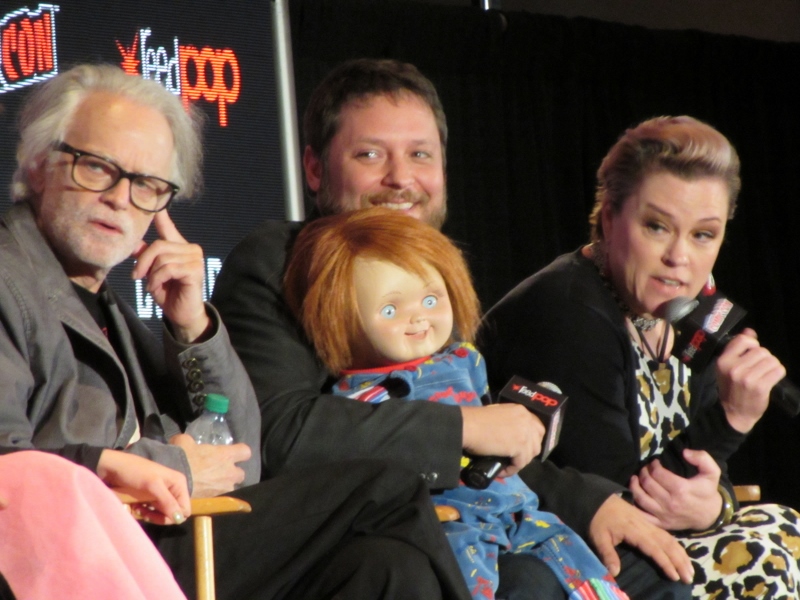 After the clip, Christine Elise then came out and joined the panelists on stage. Christine revealed that Don almost brought her back in Curse of Chucky as a different character, but she's glad it didn't work out because it's "much cooler" to come back as Kyle. Don said that the intention was to set Kyle up to have a bigger role in the franchise — if people want that. The crowd cheered in response. Christine said that when she was first in the Chucky movies, it was a very early job for her, but she's stayed friends with Don and others ever since, so to her it feels like family.
Alex talked about how grateful he is that the fans have embraced Chucky for the past 30 years. Brad said that he has enjoyed seeing the rise of Don Mancini from the first film through now, as Don slowly evolved over each film. Fiona commented that she's been associated with the franchise ever since she can remember. She had Chucky dolls in her house her whole life, and no matter what she does, she'll forever be known as "The Chucky Girl." Jennifer talked about how she's been involved with the franchise for 20 years, and 9 times out of 10, when someone recognizes her, it's Chucky fans. She went on to say that she thinks Chucky is going to last forever, and joked that when she's 90, Don will have Chucky chasing her around in her walker!
Don then spoke about how making the movies is a "collaborative experience" because they've all known each other for so long, and it's very personal to all of them. Fiona agreed that the movies are really fun to make. Don revealed that there had been some resistance to the title Cult of Chucky, and that people were saying, "Shouldn't it be called Revenge of Chucky?" However, Don thought that was boring, and he wanted a title that went outward and referred to "all of us" including the fans.
Brad weighed in, saying he thought Chucky is iconic, and that it's "Don Mancini's fault." He praised Don for making all the Chucky movies great (except for the third one). Brad recalled his experience of making the movies, remembering that initially he would be stuck in the booth doing Chucky's voice, while everyone else was outside enjoying themselves, eating sandwiches. Then Jennifer came in for Bride of Chucky, and she didn't say one line she was supposed to! It was at that point that Brad started to have fun. Jennifer revealed that in Bride of Chucky, she had ad-libbed, "Do you have a rubber?" and Brad had ad-libbed back, "Look at me baby, I'm all rubber!"
To wrap up the panel, the panelists gathered together at the front of the stage and took a selfie with the audience in the background, calling the audience the Cult of Chucky.
Next up in Room 1A06 was what we had been waiting for: the Replicas panel with Keanu Reeves! Stay tuned for our recap and photos of that panel.
You can view more photos from the Child's Play/Cult of Chucky panel below.