Long Beach Comic Con 2017 took place at the Long Beach Convention Center September 2-3, 2017. Check out our recap and photos of our experience at this year's Long Beach Comic Con!
Although Long Beach Comic Con typically takes place in September, it doesn't usually occur on Labor Day Weekend, but it did this year. We only had a limited amount of time that we were able to attend on Saturday, but we made the most of it.
This year's biggest celebrity guest at Long Beach Comic Con was William Shatner of Star Trek fame. His panel was scheduled first thing on Saturday morning at 10:00am, which luckily fit our schedule.
We live about a half hour drive away from Long Beach, and made it to the area around 9:00am. We opted to park at the nearby Pike parking garage, as there have been parking problems in years past when people try to park at the convention center, so we decided it was best to avoid all that.
For the first time, likely in response to the incident at Phoenix Comicon a few months ago, there was a security check you had to pass through before entering the building, where they check your bag and wave you down with a metal detector wand. At that time, the line wasn't very long, and moved very quickly. We were in within 5 minutes. That story would change as the day went on, but more on that later…
Once inside, we picked up our Press badges and headed upstairs to get in line for William Shatner's panel in Room 203A. There were only about 20 people in line. Down below, we could see the people lined up waiting to go into the Exhibit Hall, which was scheduled to open at 9:30am for advance ticket holders, and 10:00am for everyone else.
William Shatner
We were let into the room a few minutes after 10:00am. There was a separate section in front for those who had bought the VIP ticket package. The room and stage placement was a bit odd, as it seemed like most of the chairs were located to the side of the stage. We took our seats in the section of chairs that were in front of the stage.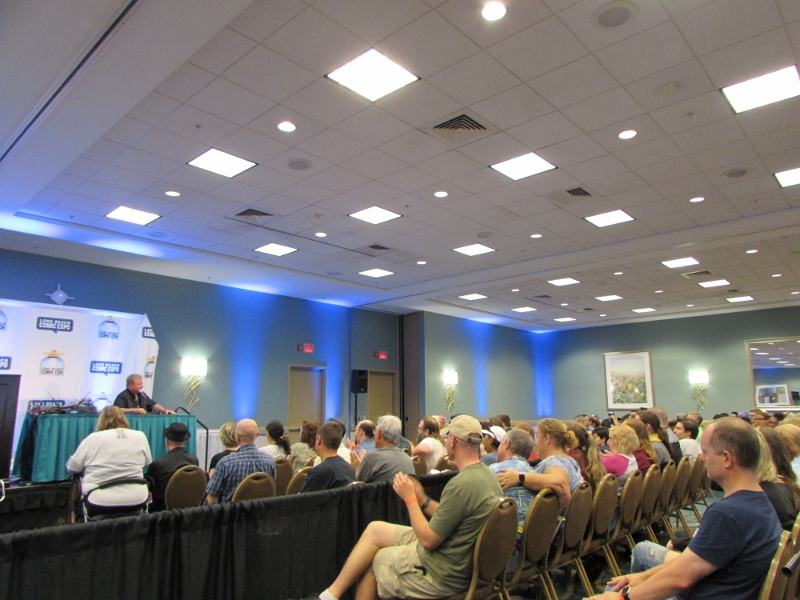 William Shatner took the stage to a standing ovation, and commented about how hot it was outside. He didn't have a moderator, and called for questions from the audience. People raised their hands and he called on them.
Shatner was first asked about his experience working on Twilight Zone with Rod Serling. He pointed out that he did Twilight Zone before Star Trek, so it was a long time ago. Shatner talked about the writers on the show, and tried to recall the name of one he had starred in a movie with and that had wrote a book. As he struggled to remember, he joked about himself, "You're wondering whether the old guy has lost his mind!" An audience member helped him out by looking up the info and informing him that the man's name was Charles Beaumont, and the movie was The Intruder. Shatner and Beaumont had lived near each other, so they used to go to lunch together. About a year later, Beaumont died of old age — at the age of 38. Shatner pointed out how ironic it was that a Twilight Zone writer had died a Twilight Zone-type death.
When asked if he had any idea when he did Star Trek that he would be sitting in a room 50 years later talking about it, Shatner responded by joking that 50 years from now, people would be talking about this very meeting because it was so legendary. Then he compared that to how he and his co-stars had felt working on the show, which was canceled after 3 years. Shatner recalled how the show struggled and that the budget was cut during the last year. For the last show, Shatner had the flu and had a cot near the set so that he could lie down between takes. He then went on to talk about how fun it was to do the show, and that they had great people on it.
He also spoke about the influence that Star Trek had on today's technology, as he had worked on a documentary called The Truth Is in the Stars, where scientists and astrophysicists talked about how they had been influenced by Star Trek. Shatner remarked that you never know when it's going to pop up, and shared a story with us about when he was working on a documentary called The Captains which would feature all of the actors who had portrayed Star Trek captains. He had needed an airplane to fly from Los Angeles to Toronto, New York, and London to meet with all of the actors, so he cold called Bombardier, an aircraft company in Canada (as Shatner is Canadian) and asked to speak to the President of the company. The President agreed to let him use a plane, and when they met, he revealed that the reason why he let Shatner use the plane was because Star Trek had influenced him to become an aeronautical engineer, and in turn, the President of Bombardier.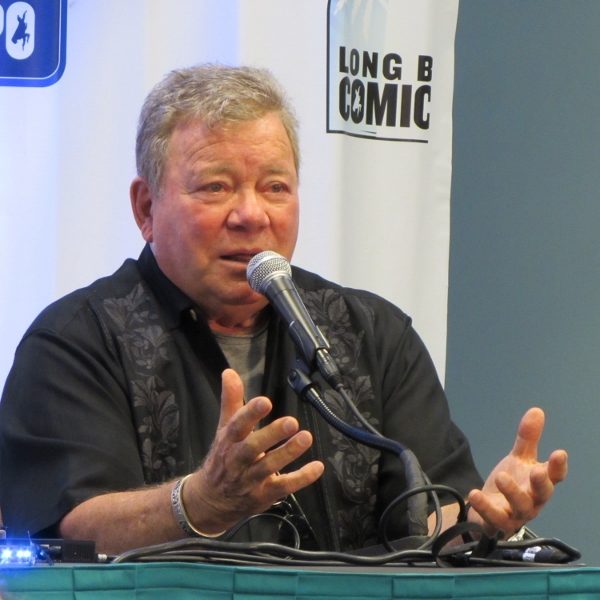 Shatner also talked about how scientific theories often change, such as Stephen Hawking's black hole theory. He also recalled an argument he had gotten into with Neil deGrasse Tyson and how it was "so much fun" to argue with him. Shatner joked, "Deep in their eyes you see this twinkle, because they know next year, they're going to be proven wrong" — because it's always changing.
William Shatner called upon a rocket engineer in the audience with whom he had met earlier. (Side note: Shatner called on him by saying, "Red Shirt," which caused the audience members to make various jokes in reference to the infamous Star Trek lore of those wearing red shirts always dying!) The rocket engineer, who works at Virgin Orbit, confirmed that he had done theoretical work. Shatner then shared with us a story about when he met with Elon Musk at SpaceX, and there were huge tubes that were glued together on a rocket engine — and he noticed that there was gaffer's tape on one of the tubes, just like you would do at home! He was aghast.
He often gets asked if he wants to go into space, to which he replies, "No, I want to go to bed." Shatner said he could not imagine anyone wanting to go to Mars, and for two years always having to wonder what every little sound is. He shared with us a story about when he went paramotoring and flew over the Ohio River, with power lines nearby, and he began to lose his grip on the throttle. It was terrifying wondering where he was going to land and whether he was going to survive. He eventually landed safely. Shatner then commented that the way NASA recruits is that they look for people who can think outside of the box. For example, the guy that is working on the parachute that will slow the rover that lands on Mars used to work on skateboards.
Another audience member asked about Shatner's reality TV show Better Late Than Never, which also stars Terry Bradshaw, George Foreman, Henry Winkler, and Jeff Dye, where they travel around the world and have adventures experiencing the various cultures. One of the places they visit on the upcoming season is Sweden, where they were asked to taste fermented herring, a Swedish dish. Apparently, it smells horrible, even worse than dead bodies. When George Foreman tried to open the can, it exploded, and the liquid went everywhere. One of the cameras caught another cameraman projectile vomiting! Terry Bradshaw, a former football star, screamed like a child, and ran away. Meanwhile, William Shatner ate some of the herring, which didn't taste anything like it smelled, but still tasted really bad. He then ran after the screaming Terry Bradshaw, who fell over, and Shatner wiped him down with the fermented herring. According to Shatner, Bradshaw later said that the worst thing that ever happened to him was Shatner running him down!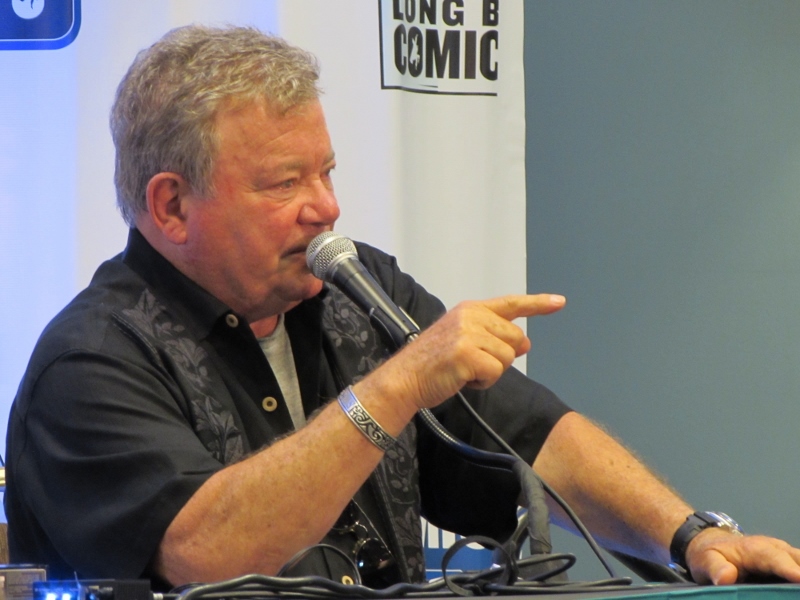 When asked if he had ever worked with Adam West, Shatner said they never worked together, but there is an upcoming Batman animated film where Adam West voices Batman and in which he voices Two-Face. But as is the nature of animated films, they go into the studio and record their voices separately. However, Shatner told us about the various times he would sit and talk with Adam West in the green room at the conventions at which they appeared. He recalled how gentle and soft-spoken Adam West was.
The panel wrapped up with Shatner talking about a concert he had played in Los Angeles with Ben Folds and Joe Jackson. They ended the show with Lucy in the Sky with Diamonds, and apparently there was applause for half an hour afterwards, but they had already left the building! He said it was one of the greatest moments of his life — just like this panel was one of the greatest moments of his life! William Shatner then thanked everyone and left the stage.
It was quite a humorous and enjoyable panel. Even Josh, who hadn't really had any interest, seemed to enjoy himself. I was glad that they extended the panel's time, since it was scheduled for 10:00am-10:30am, but started about 10 minutes late, and ended up going until almost 11:00am. It was nice to see him in such an intimate setting, as it seemed like the room only held about 250 or so. I believe everyone who wanted to see the panel made it in.
Exhibit Hall
After William Shatner's panel ended, we headed down to take a stroll around the Exhibit Hall, which included a large Artist Alley, a Makers Market, a Cosplay Corner, celebrity signings, and lots of vendors selling comics, clothing, and collectibles. There was also an area with large inflatable screens upon which you could play video games.
Additionally, there was a laser tag area set up for $2 per game. When we walked by, some scary clowns were playing!
One of the cool things about Long Beach Comic Con is that it always teams up with Columbia Memorial Space Center to bring a Space Expo to the Exhibit Hall floor. This includes interactive exhibits and even a real life astronaut suit.
Right next to the Space Expo was a chance to play the VR game Raw Data, where you fight off robots trying to attack you.
Around the corner from that was an area where they build R2-D2 and other droids, which were wandering around nearby.
One of my favorite booths at the convention was the Ozobot booth. They were showing demos of where you draw a line (that curves in different directions) and then you put the small Ozobot robot down on the paper, and it follows the line. It was pretty cool to watch.
Another interesting concept that I hadn't seen at conventions before was 3D scanning. They have a 360 degree area that you step into and they scan your image. Then you can purchase a 3D figure of yourself, which they print out for you using a 3D printer. It was not cheap, but could be a neat and unique keepsake.
Of course, there's always that one booth that seems like it doesn't belong at a comic convention. Another year it was kitchen knives. This year it was a booth advertising for free Lasik surgery…
Once we finished making our rounds of the Exhibit Hall, we walked outside and took a stroll past the themed cars, which included Jurassic Park Jeeps, a DeLorean, and more.
At this point, it was early afternoon, and it was not only hot — probably in the 90s — but humid as well. The line for the security check was really long, extending past all of the themed cars and wrapping all the way back. Our limited time at Long Beach Comic Con 2017 had come to an end, but we felt bad for the people who had yet to begin their day at the con, due to having to wait in that long line in the sun. And the line wasn't getting any shorter… We hope that they figured out a way to speed the line up and that people didn't have to wait too long in the heat.
Long Beach Comic Con 2018 takes place September 8-9, 2018, which is not Labor Day weekend next year. But before that, the convention also puts on a smaller sister show, Long Beach Comic Expo, which will take place February 17-18, 2018, on President's Day weekend.
Below you can view more of our photos from William Shatner's panel: