Our Sunday at LA Comic Con, which took place October 27-29, 2017, was going to be another long day after the Saturday we had spent there the day before. Violet and I decided to get up early again, so that we could prepare for our first serious cosplay at a con. Previously we had done some basic ones—Violet had done Agent Carter from the Marvel show, and we both had dressed up as Marty McFly and Jennifer from Back to the Future, but those were essentially clothes that happened to look like those characters.
This year, Violet would be cosplaying Wonder Woman, while I would be cosplaying Link from The Legend of Zelda. For those curious on specifics, Violet's Wonder Woman took most of its inspiration from the recent movie, and my Link cosplay was mostly from Twilight Princess. Deciding how best to transport ourselves, and the costumes to LACC for wear was a bit of a process. We had to decide what can be worn now, and what should be taken with us. The majority of my costume was fabric, and therefore could be worn without much damage to it. I also had to contest with a wig (I have much to be desired when it comes to hair resembling Link) and Elvish ears, and figured putting those on in the comfort of our home would be easier than trying to do that in the middle of the parking lot.
Violet, on the other hand, had to contend with foam armor, which is not conducive to sitting at all. The majority of her costume would have to be put on at the Convention Center. That was going to be a process too. So, I got dressed, put my ears and wig on, then loaded up the vehicles with the rest of my costume, and basically all of Violet's.
We arrived at LACC a little bit past 9am, and found a pretty good parking spot that would allow for our dressing. I basically just needed to apply accessories for my costume—put on my "boots", belts, hat, wrist bracers, gloves and a couple other parts. Violet, on the other hand, had to essentially change in the parking lot. Luckily, we came up with a system—she was able to slide on her Wonder Woman skirt, then while wearing one of my button-up shirts, slide the chest plate on underneath, while I fastened it in the back. Then it was a matter of putting her shoes on, shin guards, bracers, tiara, belt and other accessories. While it sounds easy when I write it, it took about 45 minutes for us to be fully operational, and ready to head to the Convention Center. We finally were able to make our way to the entrance. On the way, a Captain America cosplayer was getting ready, while staring down Violet. Eventually he asked Violet what her costume was made of, and seemed to like it. Apparently, he had been commissioned to make a Wonder Woman cosplay and was asking all the Wonder Woman cosplayers what material their costumes were made of.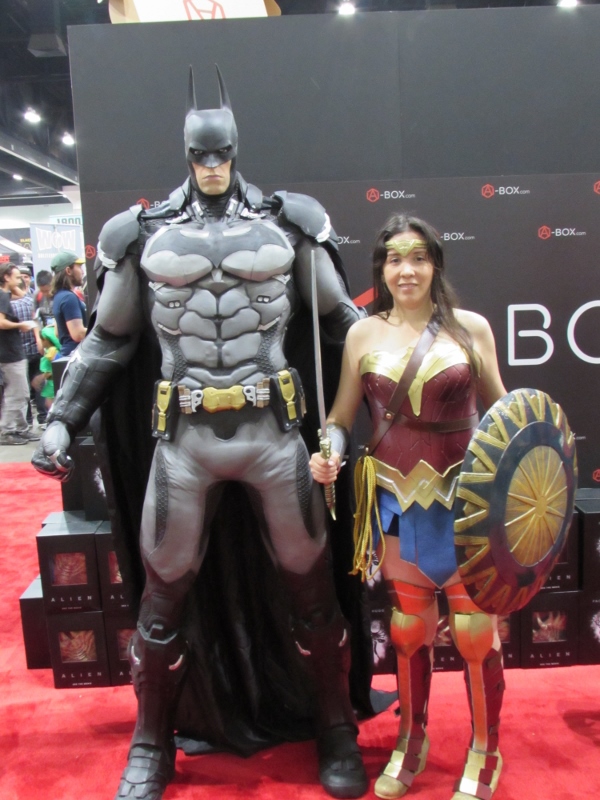 Luckily, the way we went in, we discovered the "weapons check" area, and it was basically not crowded at all. The two men had to inspect our weapons to ensure they weren't metal. They "thumped" our shields a few times to make sure. After they tagged them with a wristband-looking paper, we were allowed into the Hall.
It was pretty easy to get into the Exhibit Hall. No traffic-jammed crowds today.
Once inside, Violet and I made our way to the Main Stage to see Stan Lee. He was doing a panel with Todd MacFarlane, which seemed to be a biography panel for Stan Lee. Stan was his usual self, but seemed to be a little under the weather. He said he was getting over a cold, sadly. But he was as sharp as ever, and both he and Todd MacFarlane had some banter back and forth. We'll have a recap and photos of the panel up on the site soon.
After the panel, we walked around a bit, and Violet decided that she wanted to do the Thor: Ragnarok booth one more time, this time in her Wonder Woman cosplay. Meanwhile, I had to stand around and hold Violet's shield and camera while she waited in line. This was right by the entrance. This resulted in people wanting to take a photo with Link quite a bit. That meant me. While standing there, I had about 7 or 8 people want to take a photo with me, which is not something I am used to. I also had a kid walk by with a musical device playing the Zelda theme song. It was very awkward for me, but it was fun.
Violet and I wandered around a bit more, and people definitely noticed our cosplay. We had several photo requests, and people asking how different aspects of our costumes were made. I appreciated the compliments on the costumes, as I was pretty nervous about how they turned out. Luckily, they seemed to turn out pretty well I guess, based on the requests for photos, and compliments people gave. We took a few photos in front of the Main Stage, and happened to catch a bit of Rob Liefeld's panel, who is the creator of Deadpool.
After a couple hours, getting tired of wearing her costume, Violet thought it was time to change. So we migrated back to the car, and decided to go back to our normal selves.
We headed back to the Convention Hall again, and checked out a few more booths, and took a few more photos.
One thing Violet could not miss was the Price is Right booth. First, they gave her a price tag name tag, just like the ones they wear on the show. Then she got a photo op on the Showcase Showdown set with two models from the show, James and Amber. Finally, she got to spin the wheel! The first spin was 20 cents, then the next spin was 50 cents, for a total of 70 cents. No dollar this time! Oh well.
Before leaving, we decided to stop by the Hero Within booth one more time, as I had really been wanting to get a couple of the shirts they make. Tony Kim, the founder and CEO of the company, was at the booth, and Violet and I got to talk with him face to face for the first time. We had talked in various circles before on Twitter and social media, and seen him at SDCC and other cons, but this was the first time to actually talk with him in real life. He was very nice, and helped me with choosing a size on the shirt. (I was very excited to get these shirts, and wound up wearing the two shirts I got to work the following Monday and Tuesday!) These are the two shirts I wound up picking up:
Hero Within Batman Woven Shirt
Hero Within Wonder Woman Woven Shirt
It was a pretty good deal, too. On the site, the shirts are $49 each, but at the show, they were $40 for one, or $35 each for two.
After picking up the two shirts, Violet and I decided it was about time to call it a day. We made our way out of the LA Comic Con Exhibit Hall, and dropped our stuff off at the car. It was time for some lunch, so we decided to head down to El Cholo, a Mexican restaurant pretty close to the LA Convention Center. After lunch, we headed back to the car again, and made our way back to home.
Upon arriving home, we had to unload all of the cosplay gear. LA Comic Con was over, and this was likely our last Con of the year. I had fun at the Con, and the cosplay experience was pretty fun. There will be some articles coming soon on the cosplay, explaining how the costumes for both Violet and I came together. The costumes aren't perfect, and there is a lot I would like to improve, but it was a fun experience.
You can view more of our photos from Stan Lee's LA Comic Con 2017 in the photo gallery below.