Our journey to Stan Lee's Los Angeles Comic Con 2017 began pretty early Saturday morning, October 28th. Coming from Fullerton, it would be a journey, and there was something else we had to take care of—SDCC tickets. San Diego Comic-Con decided to have their "Returning Registration" that Saturday morning. So Violet and I decided that the best course of action would be to head down to LA Comic Con early.
We got in the car a little after 7am, and drove up to L.A. We decided to pick up our Press badges first, to see how that looked, and it was pretty straightforward. We did have to get our bags checked before entering the building, which seems to be becoming the norm at conventions. It is pretty unfortunate that because of a few idiots who decide to get violent in public events, every con has now taken the "better safe than sorry" approach. Sadly, I think security can only do so much, and if people really wanted to, they could find a way to get their weapons into whatever event they are trying to, but I understand the staff's reasoning—at least they are doing something in terms of trying to prevent issues. But anyway, that is a topic for another article.
After picking up our badges, Violet and I decided to find the closest Starbucks, and wait out the SDCC waiting room while Violet enjoyed a good cup of coffee. I don't drink coffee, but I did get a couple of pastries to tide me over. It would be a long day.
As for how SDCC tickets went, we had a pretty successful morning. Violet used her laptop to hook up to the Starbucks wi-fi, while I opted to use my phone's hotspot for my laptop's internet connection. I was able to get in first, and we were able to get 4-Day with Preview Night badges, and also got our buddy Pablo a ticket, too. Then some time later, Violet managed to get in as well. Unfortunately, Preview Night had already sold out, but she was able to help others get their badges for the 4 days at least.
After having a successful morning, Violet and I decided to finally get to the Convention Center and see what LACC was all about. We returned to the Convention Center a little after 10am to see that the line for getting into the convention had gotten pretty long. The Press line wasn't too bad, but once inside the foyer area, we had to wait in "chutes" to enter the Exhibit Hall. Luckily, that didn't take too long.
Once inside, Violet and I decided to wander a bit. I was checking vendors for a foam Master Sword for my Link cosplay (there will be an article related to that coming up). I have a metal Master Sword, but unfortunately that would not be allowed into the convention center per LA Comic Con's rules. I did find one, and decided to return that to the car real quick, so I didn't have to carry it around all day. Link cosplay would be coming Sunday.
Violet also decided to do the Thor: Ragnarok promo event that was going on at the Disney booth. It was a pretty clever bit. In the movie's trailer, there is a scene where Thor is in an arena, and has to fight the Incredible Hulk—but the booth takes out the Hulk and puts in a recording of a person in its place—so Violet has a small clip of her cut together with that brief scene from Thor: Ragnarok. They were giving out free Thor: Ragnarok posters, as well as paper Thor helmets and Hela headpieces at the booth as well, so she opted to wear the Hela one for the photo op. She did another trip Sunday in her cosplay which turned out pretty cool.
After wandering around a bit, we migrated over to the Hot Topic Main Stage, which is a stage that people stand and watch panels. I have never really liked this stage, because I hate standing for panels. So rather than stand, I decided to sit back against the curtain, and watch from afar, while Violet tried to stand closer to the stage.
The Sabrina the Teenage Witch cast reunion panel was scheduled for 11:30am, but it seemed like they were running behind schedule, because the Stretch Armstrong panel, which had been scheduled for 10:30am, was just finishing up around that time, and the Powerpuff Girls Reunion panel that had been scheduled for 11:00am started around 11:30am.
Stan Lee and the Bullpen, where Stan Lee was supposed to talk to other comic creators, was supposed to go on at 12:00pm, so people crowded in to see that panel. However, the Sabrina panel went on at 12:00pm instead. Then at 12:30pm, instead of Stan Lee's panel, it was the Katee Sackhoff panel, which had originally been scheduled for 12:30pm. The rest of the panels seemed to get back to their regularly scheduled times, but this meant that Stan Lee's panel was completely skipped. Violet said that the people around her had started getting upset, as some stuck around for a couple hours, thinking they'd come back to Stan Lee at some point.
Other panels we saw on the Main Stage were Drew Carey, Chloe Bennet, an Adam West Tribute which included Burt Ward and Lee Meriwether, and was moderated by Kevin Smith and Ralph Garman, and a Quantum Leap panel with star Scott Bakula and creator Don Belisario. We'll have some recaps and photos of each panel up on the site soon.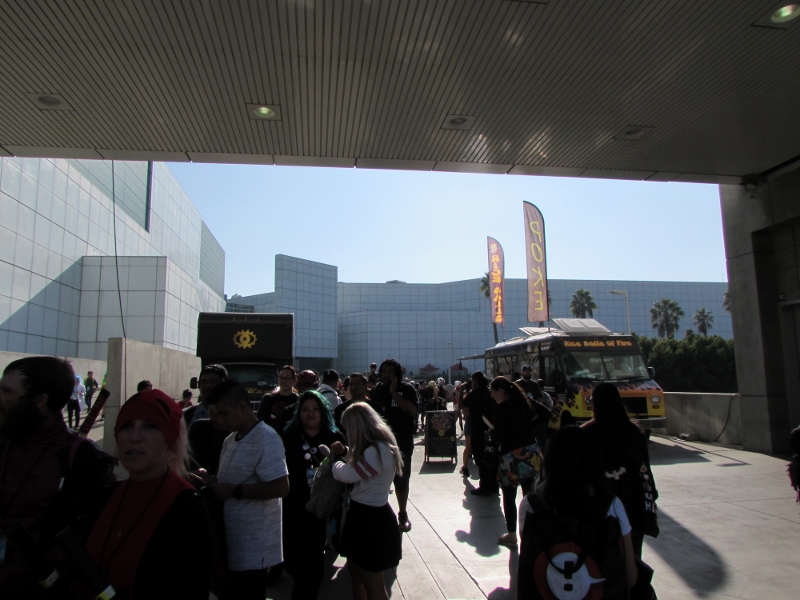 By time all those panels wrapped up, it was 3pm, and we hadn't eaten anything since our Starbucks trip earlier that morning! So we went in search of food. Everything at the food court was packed. We went outside to the food trucks, and everything had long lines. We ended up back where we started, a food stand on the show floor, not too far from the Main Stage, which only had about 10 people in line. We decided to split a taco plate with 3 tacos, rice and beans, which cost $13.00. Then we wandered back over to the Main Stage and caught the end of the Cosplay National Championship while we ate.
We wandered around the show floor for a little bit, then came back to the Main Stage yet again. The Black Eyed Peas had been scheduled to go on at 4pm to talk about their Masters of the Sun comic book, but they didn't go on until 4:30pm – right as we were heading back to the stage, so there was a rush of a crowd of people. Flava Flav and Rosario Dawson were on the panel as well, and at one point, Stan Lee himself even came out and joined the panel briefly. We got to see examples up on the big screen of how their AR comic book works.
At 5pm, Stan Lee came back out on stage to announce the final panel: Dwayne "The Rock" Johnson. At that point, it suddenly became even more crowded. The Rock answered a few questions, including a couple from the audience, and talked a bit about the new Jumanji movie he's starring in. We also got to see a new clip from the movie. We'll post our recap and photos of the Rock's panel on the site pretty soon.
After the final panel, it was time to head home. After all, there was a USC football game to watch at 7:45pm! Traffic going home wasn't too bad, so we got home with plenty of time to watch the game, and prepare for Sunday at LA Comic Con 2017.