Coinciding with New York Comic Con 2017, Warner Bros. Pictures and DC Entertainment teamed up with AT&T to bring some pretty cool Justice League displays to Times Square in NYC October 5-8, 2017.
Though we had read about it beforehand, it wasn't something that we sought out. We just happened to stumble across it while wandering around NYC. That's because this Justice League takeover was kind of hard to miss if you went to Times Square. (For reference, Times Square is a little over a mile from the Javits Center, where NYCC 2017 took place.)
First we saw an AT&T store dressed up with Justice League advertising on the outside. When we went inside, the lobby had statues of the Justice League members — Batman, The Flash, Wonder Woman, Aquaman, and Cyborg — with clips from the movie playing in the background. Upon entering, you were given a wristband, and instructed to go downstairs. That is where the actual AT&T store was located.
Downstairs, there were mannequins wearing costumes of the Justice League characters. We made sure to take a good close up look at Wonder Woman, since we were getting close to finishing up my Wonder Woman cosplay.
Then you could stand in line to have your picture taken in front of a green screen. Before having the picture taken, you choose a Justice League character and enter your name. A few minutes later, after the photo was done processing, you were given this cool little keepsake: your photo with the Justice League in a plastic protected lanyard to wear! Additionally, we were each given a Justice League poster.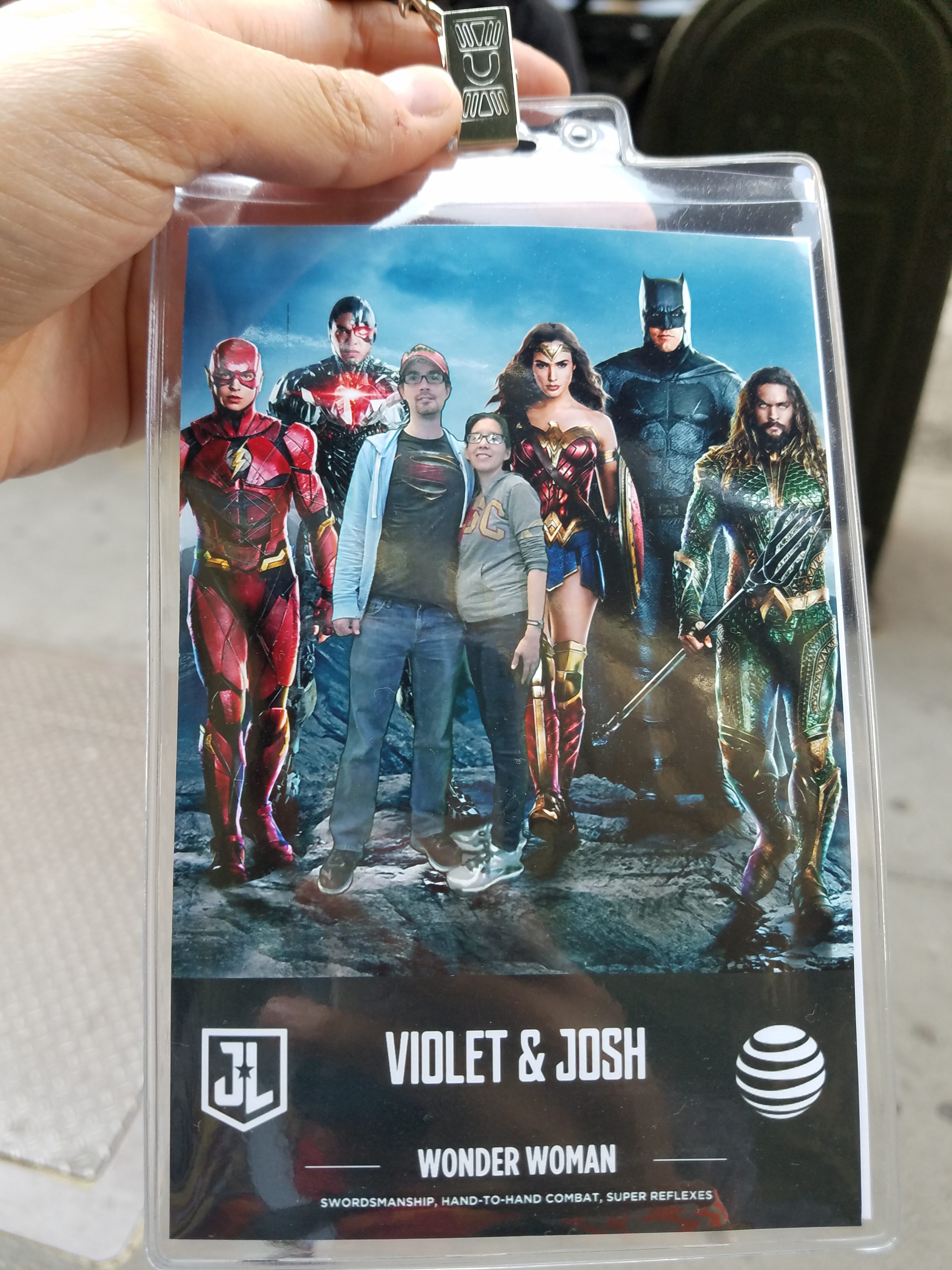 But that wasn't the only Justice League promotion going on. Just a block over, there was another Justice League promotion, this one right out in the open in Times Square!  You could get your picture taken with the Batmobile and Bruce Wayne's fancy Mercedes-Benz AMG Vision Gran Turismo.
Justice League is now in theaters, as of November 17, 2017.