We got lucky this year and scored 3-day tickets to Gallifrey One, as well as a hotel room in the host hotel, the LAX Marriott. This was our second year attending the annual Los Angeles Doctor Who convention, which took place February 12-14, 2016. Read on for Part 1 of Violet's recap of Day 1!
Getting There
Josh had to work on the official first day of Gallifrey One, but I was able to get the day off from work, so that meant I was on my own for all of Friday. Although the convention unofficially starts on Thursday night with the ever popular Lobby Con, we did not attend that, as we went to see Deadpool on its opening night. At Gallifrey One 2015, we drove back and forth each night to Fullerton, about a 45 minute drive (depending on traffic), but decided to get a hotel room and stay on site for this year's convention.
Josh wasn't able to go on Friday last year either, but our friends David and Tamara went on Friday last year, so I rode out there with them. Unfortunately, they did not obtain tickets this year, so that meant I would be alone all day. There's also the problem that I don't drive. However, I am comfortable with taking public transportation, as I take it to West Los Angeles for work every day, so I plotted out a course that would get me there, taking the Metrolink train from Fullerton to Norwalk, then a bus to the Metro Green Line train in Norwalk, then a bus to the Marriott. Surprisingly, I didn't have to wait long for each connection, and I made it there in an hour and a half — shorter than my commute to work!
Kaffeeklatsch Signups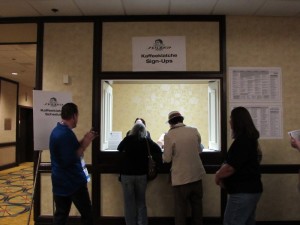 It was about 9:00am when I arrived, and I quickly checked in with Registration and got my badge. There were several people working the Registration table, so I had no wait at all. I knew Kaffeeklatsch signups were to start at 9:30am, so I headed over to get in line. For those unfamiliar, a Kaffeeklatsch is a small session limited to 12 attendees that takes place in a conference room, with one or two convention guests, such as a writer. I've heard so many good things about these sessions, and I didn't really know about them last year, so I decided to try for one this year.
The helpful staff members directed me to where the line was, and I was pleased to see that it wasn't all that long, so I was pretty sure that unless everyone in front of me decided to sign up for the two that I was interested in, that I would easily make it into one or the other. When it's your turn, you can put your name down for one session, and as an alternate for another session. My first choice was the Kaffeeklatsch with writer Jamie Mathieson (who has written three episodes of Doctor Who:  Mummy on the Orient Express, Flatline, and The Girl Who Died) and casting director Andy Pryor. This session was still open when I got up there, and I put my name down as number 9. I decided not to put my name as an alternate for any others. In case you're curious, my second choice would have been the Kaffeekatsch with writer Sarah Dollard (who wrote the Face the Raven episode) and writer Tony Lee (who has written several Doctor Who comics).
Good Morning Gallifrey One and Radio Free Skaro: Gallifrey One is Required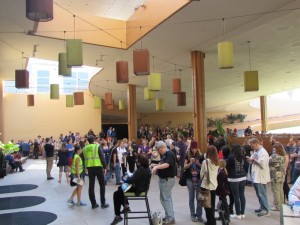 By the time I got through the line and finished signing up for my Kaffeeklatsch, it was about 10:00am, so I went to get in line for the Good Morning Gallifrey One "Opening Ceremonies," which was scheduled to start at 10:30am. The line was quite long and winding in the middle of the patio. I had a little trouble figuring out where the end of the line was. It turns out the end was in the middle of the patio area, marked by a small 8″ x 11″ piece of paper that read "This is the end of the line." Then the last person in line would pass it on to anyone who came behind them. It was a bit hard to see, and might have been helpful to have a larger sign that could be extended into the air.
Anyway, after we got in, as we were waiting for the Opening Ceremonies to start, the people sitting on either side of me were ribbon trading, so I got my ribbons out and joined in. Last year we didn't really know about the ribbon trading culture of Gallifrey One, so we didn't bring any ribbons, and therefore ended up with very few ribbons by the end of the convention. This year, before the Opening Ceremonies even started, I already had a longer train of ribbons than last year!
The Opening Ceremonies started a little after 10:30am in Program A, the main room, kicking off with a slide show of photos from last year's Gallifrey One. Then the Board of Directors of the convention introduced themselves and explained their various functions, and made various announcements about would be going on throughout the weekend.
After this short 30 minute session, some of the crowd dispersed, moving on to the various other events scheduled for the day. I had planned to stay for the Radio Free Skaro: Gallifrey One is Required podcast recording which was to take place in the same room immediately following the Opening Ceremonies, so I just stayed put, since I was fine with my spot.
As people filed past me, I recognized Twitter/Instagram friends Kim and Sage from Head Over Feels, so I stopped them to say hello, as I had never met them before. I had posted a photo of my ribbon, and Kim had replied that she wanted it, so we traded ribbons real quick before they had to rush off to another panel.
If you're unfamiliar with Radio Free Skaro, it's a weekly Doctor Who podcast hosted by three Canadian guys: Warren Frey, Steven Schnapansky, and Chris Burgess. It seems like it's become a tradition for the convention to kick things off with a recording of their podcast.
The panel started off with a funny video, which you can watch below:
I won't go into too much detail about the panel, since it was a podcast recording and you can download and listen to it in its entirety by clicking here, but I'll give a short rundown of what each guest talked about in their interview.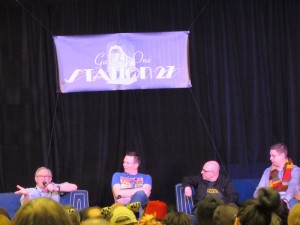 Starting off the hour and a half long panel was the Fifth Doctor himself, Peter Davison, who spoke about The Five(ish) Doctors Reboot, which he wrote and directed. He said it was originally envisioned as a 5 minute thing, but the cast just grew. At first, the BBC said that it was too long, but he eventually got them to buckle. At this time, he doesn't have any plans for a sequel. Davison also talked about participating in the special in which Peter Capaldi was announced as the Twelfth Doctor, during which Davison whispered to Capalidi, "You've got no idea what you've got yourself in for." Davison still watches Doctor Who, and commented, "I was pretty damn good, looking back at it." He quickly clarified that he was referring to his understanding of the scripts, and said that he often had to explain the plots to the directors! However, he finds it harder to follow now.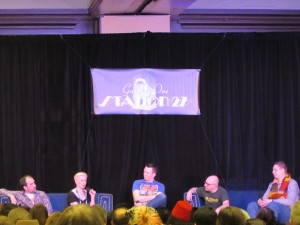 After Peter Davison left the stage, next up was writer Sarah Dollard, who wrote Face the Raven, who briefly talked about how she came to write for Doctor Who. She was supposed to go in for "just a chat," but was asked if she had anything to pitch. Luckily, she had some ideas in mind, including the "Trap street" idea. She was upset when she was asked to kill Clara off, but figured if Clara had to die, then she would be the one to do it. Writer Jamie Mathieson was also brought out a few minutes later to join the interview. Speaking of Steven Moffat, Mathieson praised him, saying he was "like a spell checker, but for ideas." He spoke of his frustration with trying to pitch ideas, because everything he came up with, it seemed like it had already been done. When he pitched The Girl Who Died, it was originally as if they had the budget of a Jerry Bruckheimer film, complete with sea serpents and flying longhorses, ultimately crashing into Valhalla. When asked if he knew what Ashildr's role would be, he said he knew that she would continue for an episode. Sarah chimed in that she also had to consider the budget when writing her episode, based on what creatures they could afford to bring in, and which ones made sense to be there. Neither Sarah nor Jamie know if they're writing any episode for Season 10 yet, though Jamie said he has received a general email from Steven Moffat.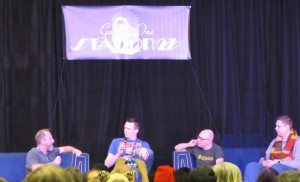 After that, casting director Andy Pryor was brought on stage. Apparently he was the first person hired for new Doctor Who. Andy mentioned that Christopher Eccleston was the only choice for the Ninth Doctor, though also told us that every time a Doctor has been cast, it's always been unanimous. He spoke a little about casting the modern Doctors and companions. As for the casting of the new companion or Doctor, all he could say was that they've started talking about new actors.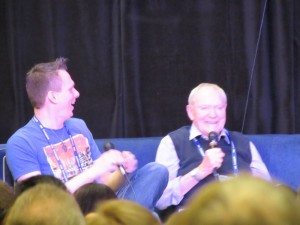 Next was Julian Glover, most recently known as Maester Pycelle on Game of Thrones. He talked a little about filming Game of Thrones in Northern Ireland, then briefly touched upon his 1960s episodes of Doctor Who. He also mentioned being in Indiana Jones and the Last Crusade, and that his wife played the part of his wife in the movie. He told us something to watch for in the credits: his wife is billed as "Mrs. Glover." When asked about working with First Doctor William Hartnell, Glover admitted that he wasn't a very nice man, who had a "chip on his shoulder." Although Glover was in awe of Hartnell, he was not very pleasant, and was snappy. We also learned that Glover had been up for the parts of the Doctor and James Bond, but sadly didn't get cast in either role. He said Roger Moore beat him out for Bond, but Glover pointed out that Roger Moore isn't working anymore!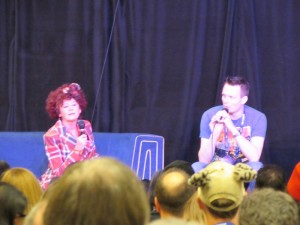 The last interview was with Patricia Quinn, better known for starring as Magenta in Rocky Horror Picture Show. She was very quirky, and seemed to be a little confused about what a podcast was. She mentioned that she did Doctor Who because "every actress in England worth her sod has to do Doctor Who." Much of the rest of the conversation centered on her grandkids, who are big Doctor Who fans. She said that it was her birthday, and she encountered a Dalek at the convention, which sang "Happy Birthday" to her in its Dalek voice, and she sent a video of it to them. She also talked a little about her role as Belazs in Dragonfire on Doctor Who.
Hospitality Suite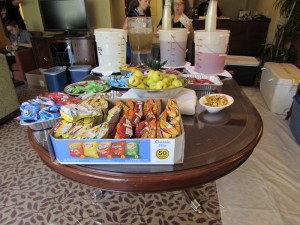 The Radio Free Skaro podcast recording wrapped up around 12:30pm, and I was feeling a bit hungry, so I went down to see what the Hospitality Suite had to offer. There was a nice spread of chips, cookies, candy, crackers, and various beverages including sodas, water, lemonade, iced tea, and punch. So I grabbed a couple of snacks and sat there for a bit since I had a little time. While there, apparently there was something going on that had to do with the Nerder Mysteries convention wide game, which reminded me that I needed to go see what that was all about, so I went back upstairs to the Nerder Mysteries table. However, upon arriving there, I was told that they had gotten a much bigger response than expected, and that their game was already full for the day! I was told to come back the next day and sign up then. (I never made it back over there to sign up for the game, unfortunately, so I have no idea what the game was about! Hopefully someone can enlighten me about it.) I also signed up for their mailing list, because they are planning another Doctor Who themed murder mystery! (They did one last year, but I was unable to make it.)
Do You Believe in Ghosts?
My next panel was scheduled to start at 1:00pm in Program E, which was the Do You Believe in Ghosts? panel with psychic/medium Michael Kouri. I had gone to this panel last year and enjoyed it, so I was glad that they brought it back this year. Last year, he had mentioned that at the end of the panel he would read our auras, but then he ran out of time and never got to it. He said the same thing at the top of the panel again this year, so I was hoping that this time around it would happen.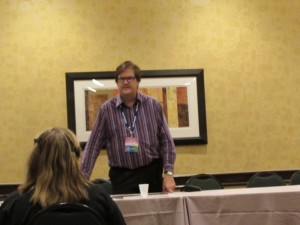 The panel was mostly him telling us about his experiences seeing ghosts, starting from when he was 4 years old when his uncle appeared to him in the middle of the night. He screamed and told his parents that his uncle was dead, and sure enough, the next day they found out that his uncle had died in a car accident around the same time that Kouri had seen his uncle appear to him. His powers got even stronger after he himself was in a car accident at the age of 8. Kouri also told us about his experiences of working on movies and TV shows, including Doctor Who. Usually he's brought in to show actors how to properly act as a medium.
We also learned that he had given a reading to Princess Diana — which lasted 9 hours. Usually readings last no longer than one or two hours. He spoke about meeting with Prince William, who had known that Kouri had given his mother a reading. They got on the subject of Doctor Who, and William mentioned that they like to watch the show with "Granny" — in this case, "Granny" being the Queen, of course.
Kouri has also been to the White House, where he got special permission to view Abraham Lincoln's bedroom. Although he didn't see the ghost of Abraham Lincoln, he did hear and see a ghost dog — which turned out the be Theodore Roosevelt's dog. Even a secret service guy heard the dog bark, as he rushed over to ask who brought a dog there. Kouri had to explain that there was no dog, and that he was hearing a ghost dog. Kouri has sung in Ford's Theater, and while there he saw Abraham Lincoln sitting up in the balcony, in a chair that's no longer there.
As promised, after a bit of Q&A with the audience, Kouri did get around to reading a few auras at the end of the panel, though he had randomly been reading a few people's auras throughout the panel. In this case, he used quartz crystals and divining rods to help with the readings, and he did seem to succeed in accurate readings. Unfortunately, to my disappointment, I was not chosen to have my aura read, though the guy sitting next to me was chosen. Oh well, maybe next year.
Lunch
It was 2:00pm when this panel ended, so I had an hour break before my Kaffeeklatsch at 3:00pm. I figured this would be a good time to grab some lunch. The bus had dropped me off near a Carl's Jr. down the street, so I walked a block and a half or so over there. The line to order was quite long, but not because of Gallifrey One attendees — there was some sort of running team there, which makes sense, being that the LA Marathon was going to take place on Sunday. However, I'm not sure that I would want to be eating Carl's Jr. just before I run a marathon! Anyway, so the line didn't take too terribly long to get through, and it didn't take all that long to get my food.
Kaffeeklatsch with Jamie Mathieson and Andy Pryor — and Chase Masterson
By the time I got back to Gallifrey One, it was about 2:40pm. I wasn't sure how soon I was supposed to check in for my Kaffeeklatsch, so I sat against the wall across from the Kaffeeklatsch room and waited to see when other people showed up. After a few minutes, a woman showed up with a clipboard, and a few attendees checked in with her, so I did as well. One person showed up and said they were an alternate, but the clipboard lady said she doubted he would be able to make it in, as this seemed to be a very popular panel. While standing in line waiting for the previous Kaffeeklatsch session to finish up, I noticed Kim and Sage from Head Over Feels get in line a couple people behind me. This was a surprise, as I didn't realize they were going to this Kaffeeklatsch. I wanted to say something to them, but there was a person in between us, and also I wasn't sure if they remembered me from our very brief meeting earlier that morning. They never said anything to me, so I guess either they didn't remember me, or there was never really a good time to say anything.
As we're about to go in, we learn that we get a bonus — Chase Masterson (who played Leeta on Star Trek: Deep Space Nine) is one of the attendees. The clipboard lady commented to us that it was very unusual for the guests to sign up for a Kaffeeklatsch. So anyway, right when you go into the room, there's a little nook where all they have all the attendees assemble for a group photo with the Kaffeeklatsch guests. I'm short, so I was in the front. I guess Chase Masterson, who was wearing heels, decided that I was the perfect height to stand behind, so she came and stood right behind me, with her hands on my shoulders, so that was kind of cool. Then Andy Pryor and Jamie Mathieson came and got in the front of the group. Jamie, being very tall, knelt in front, and as he put his back toe down, it happened to land on my toe! He promptly apologized. I'm not complaining in the least, I just find it amusing, as I wasn't expecting so much physical contact!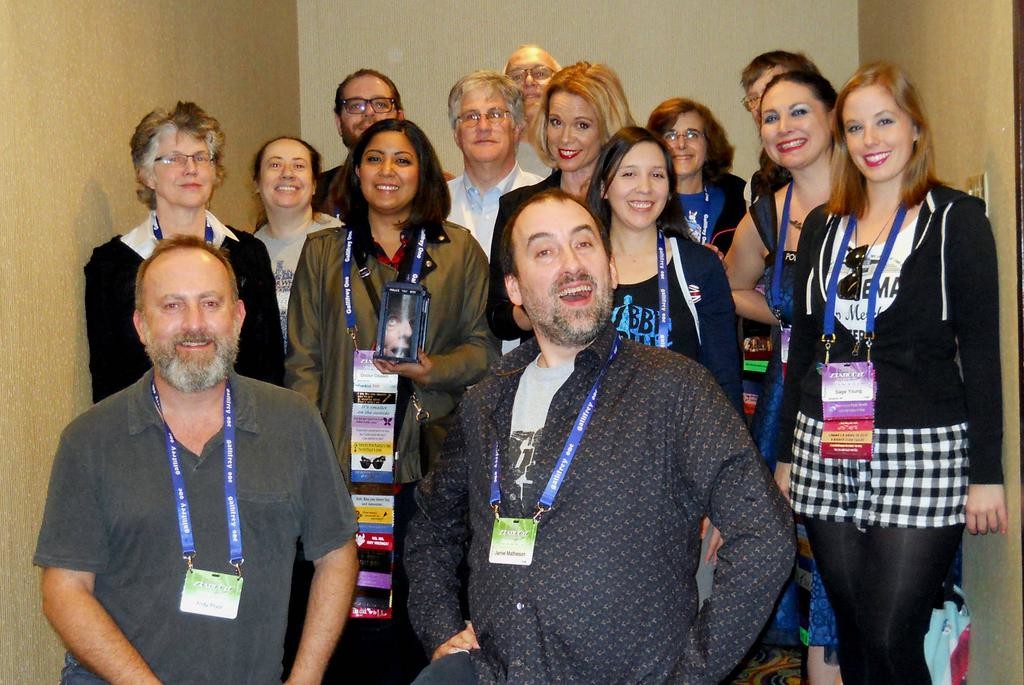 It was pointed out to us that there was water, hot tea, and coffee available for us. I saw that there were various syrups for the coffee, and got a little excited. However, to our dismay, they were out of coffee! Chase Masterson, who had offered to get Jamie and Andy some coffee, had to report the bad news, and commented on the irony of being out of coffee in LA. The coffee didn't end up getting refilled until there was about 5 minutes left in the session. By that time, I had resigned myself to water. There were several pitchers of water out on the table (which someone came and refilled in the middle of the session, which was kind of distracting), and little dishes of candy as well.
The table was a big long table, with nice comfy conference room chairs surrounding it. Jamie Mathieson and Andy Pryor sat in the center chairs, across from each other. I ended up near the end of the table. They asked if anyone had ever been to one of these before. There were a few, so they explained that usually it's just a "free for all," and Jamie joked that usually the person with the biggest ego speaks first!
The opening question was what is going to happen in Season 10, but both said they didn't know. As for filming, Andy said it was supposed to start within the next month. We also learned that the Christmas special is almost always shot in July.
There was some discussion about Jamie's episode The Girl Who Died, and the reveal of why the Twelfth Doctor chose the face that he did. Jamie informed us that it was actually Steven Moffat that wrote that part, not him. Another interesting thing that Jamie told us was that, although it's not mentioned anywhere on the show, apparently Moffat considers it canon in his mind that the character Frobisher from Torchwood, also played by Peter Capaldi, is a descendant of the character on Fires of Pompei.
Jamie talked a bit about how he pitches stories. Initially, he was in a room with Steven Moffat and some producers, where he presented his pitches, along with pictures of monsters, and even acted some of it out. However, he now has an established enough relationship with Steven Moffat that he's able to just email him when he comes up with ideas. As for how a person gets to write for Doctor Who, he said that they must have established that they have experience, such as Jamie's experience writing for Being Human. He also said that spec scripts helped him.
One interesting question that came up was whether Jamie knew going into this season that it would be primarily two-parters, and he confirmed that he did, as this had been established pretty early on. As for whether that would be the case again for Season 10, Jamie talked about how each season they try to come up with some sort of "event" to base it on, and the two-part episodes were Season 9's "event." For example, a previous season's "event" was movie posters for each episode, so Season 10 will probably have its own special thing.
Jamie talked a bit about the writing process and how sometimes he'll get a note from Steven Moffat – which, although will make him have to go back and re-write a lot, will make the episode 10 times better. As for the Writer's Room, he said that it's a much smaller model than for American television. He said that it's usually the writer of the episode in there with executive producer Brian Minchin, if you're lucky Steven Moffat will be there, and a couple of script editors. The writers don't really have a relationship with the directors of their episodes. The writers aren't really needed on the set, or consulted for input, and if he does show up on set, it's just to watch things come to life that he's written.
Andy Pryor also fielded his fair share of questions about casting. He spoke a bit about the difference between casting for American shows versus for British, and that he knows that often with American shows they going for a certain look, but commented that he thinks that's begun to change. The question came up of how the casting of Maisie Williams came about. Andy said that the person they were going to cast in the role of Ashildr could have been younger, like in her 20s, or older, in her 50s, and the idea of casting her came up later in the process. Coincidentally, when Andy called up executive producer Brian Minchin, asking him what he thought about Maisie Williams for the role, it turned out he had been thinking the same thing.
Andy confirmed that they do have sort of a running list of actors that they want to star on the show, though he explained that it's rare that an agent will call up the show and say that their client is desperate to be on the show. In the beginning, it was a bit more difficult to get certain actors, but now that the show has established itself once again, it's a lot easier. Now it's more of an honor to appear on the show, even though it apparently doesn't pay as much as other shows with bigger budgets.
He was asked how far out they seek replacements for Doctors, specifically for the transition from the Ninth Doctor, Christopher Eccelston, to the Tenth Doctor. However, he said he couldn't really remember. They already knew that the next Doctor would be David Tennant, so it wasn't really an issue.
When asked about how he felt about other writers writing for a character he created, Jamie joked that in his mind it's not canon, and it's "fan fiction" as far as he's concerned. He went on to talk about how it is difficult for him when he sees that character in a later episode, and something happens, but then he realizes that although something he wrote and in his head is canon, is not actually canon because that scene was cut.
Regarding how long a writer has to write an episode after pitching it, Jamie explained that part of the process is writing an outline first. Jamie said he likes to write long outlines, but that he thinks the producers like short ones they can go through real quick.
As for Mummy on the Orient Express, he said that when he wrote it, he was not aware at first that it was supposed to be the Doctor and Clara's "last hurrah," and had to go back and do some rewrites in a later draft.
One of the few criticisms Jamie gets about Flatline is that his secondary characters aren't very developed. However, Jamie said that the characters were actually more developed, but those scenes were cut for time. For example, Jamie told us about a scene that had been cut from Flatline, in which a phone was passed around for the workmen to call their families to say goodbye. The grumpy guy, Fenton, said he didn't have anyone to call, and Rigsy said he didn't either. So they made a deal to call each other's people. Cut to Rigsy on the phone saying, "He says he loves you," etc., and Fenton commenting, "She hung up, didn't she?" This was just before the hand came out of the ceiling. At the end of the episode, when Rigsy makes a phone call and says "Hello Mum," it was supposed to be referencing back to that scene that was cut.
Usually the biggest change between what you see on screen and what the writer has written is because scenes were cut for time. Jamie gave us another example of a scene that was cut, this time in The Girl Who Died, of Ashildr training to be in the army, and it was a big feminist point with the men freaking out that she could wield a sword, and the Doctor telling them to get over it. Additionally, originally Ashildr was supposed to have been married, and then she lost her husband when the Vikings were taken up in the spaceship, and it was supposed to be a bonding point between Clara having lost Danny and Ashildr having lost her husband. But that ended up not furthering the plot, so they cut it.
Jamie also spoke about his comedy background and how it relates to how he writes now. For example, with comedy, you hide your intent, saying one thing at first, making you the audience a certain way, and then you deliver the punch line, which is in an entirely different direction that you didn't see coming. He uses this same formula in his writing.
Another question directed to Andy was whether there had been a surprising moment in an actor's audition where it seemed like a perfect fit. He said that Karen Gillan probably came closest, as she hadn't really done a lot of acting before. He commented that it's "dangerous" casting characters who are quirky, but he said Karen was naturally quirky, so it worked.  When they cast Arthur Darvill, they did not have him do any chemistry reads with Karen Gillan, but Andy commented that if they knew Rory was going to become such a big character, maybe they would have!
Before we knew it, a staff member came in and told us our hour was up! That seemed like a very quick hour.
Neve McIntosh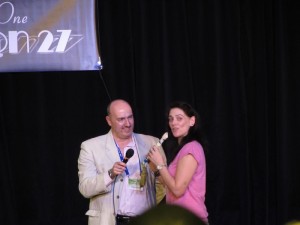 Upon finishing up at the Kaffeeklatsch, I headed over to Program A to watch the live commentary on Flatline. Neve McIntosh's panel was nearing its end (she plays Madame Vastra, the lizard woman), as audience members took turns getting in their last minute questions before time was up. Neve grew up watching Tom Baker, so that's her Doctor, but since she worked with Matt Smith, she considers him "My Doctor." It somehow came up that Neve had played the recorder in her high school orchestra, and someone in the audience happened to have a recorder, so they brought it up to her and she played it for us! Another question was whether there was any discussion about what it could mean to have a lesbian/interspecies relationship on the show, but Neve said there was no discussion, they just did it. The final question was how Madame Vastra would interact with Captain Jack, and she answered, "I'd kick his a**."
Check out our photo gallery below for more pictures!
Click here for Part 2 of the Friday Report, which includes the Flatline episode commentary with Jamie Mathieson, Julian Glover's panel, and evening activities!