Josh continues our coverage of the "Worlds, Galaxies, and Universes: Live Action at the Walt Disney Studios" panel at D23 Expo 2015. This portion of the panel includes all the non-Marvel and non-Lucasfilm Disney live action movies.
Worlds, Galaxies, and Universes: Live Action at the Walt Disney Studios (continued)
After Marvel was Disney's live action panel. Alan Horn returned to the stage, and discussed some of their previous live action films of recent times–Alice in Wonderland, Maleficent and Cinderella. Alan Horn then introduces the President of Production of the live action part of Disney Studios, Sean Bailey.
The Finest Hours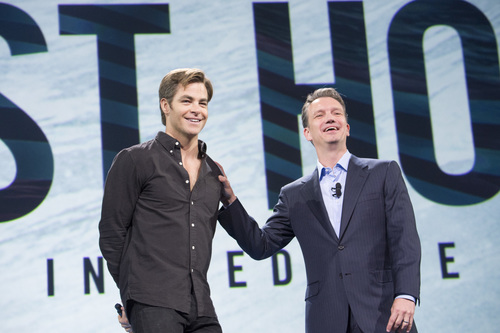 So, Sean Bailey came out, and continued the conversation about the live action success that Disney has had as of late. Then he moves into the movies coming out soon–starting with The Finest Hours. This film, as described by Sean Bailey, has a "back up" coast guard having to go out to rescue a ship that is missing at sea during a huge storm off the coast of Massachusetts. Bernie Webber, the main protagonist (played by Chris Pine) and his crew head out to what seems to be certain death, and when they find the boat, they have to deal with the issue of their boat being too small to carry all of the shipwrecked crew.
The movie is directed by Craig Gillespie (best known for the Fright Night remake and Mr. Woodcock), and stars Chris Pine, Ben Foster, Eric Bana, and Holliday Grainger.
After the quick introduction, Sean Bailey brings out Chris Pine, who talks about the honorable service these men did, and how courageous and humble these ordinary "9-5" guys were. He also talks about the filming of the movie, which was primarily done in a "giant bath tub" where he would have thousands of gallons of cold water dumped on him. He also talks about one particularly bad day where he was getting frustrated with the cold water, but one of the actual rescuers portrayed in the movie was on set that day and he realized what that guy went through, and that made him realize what he is doing isn't all that bad.
Then we get a quick scene from the movie, which shows Eric Bana's character sending Chris Pine out to sea, searching for the ship while Holliday Grainger's character pleads with Eric Bana to not send Pine to his death.
The Finest Hours has a release date of January 29th, 2016.
The Jungle Book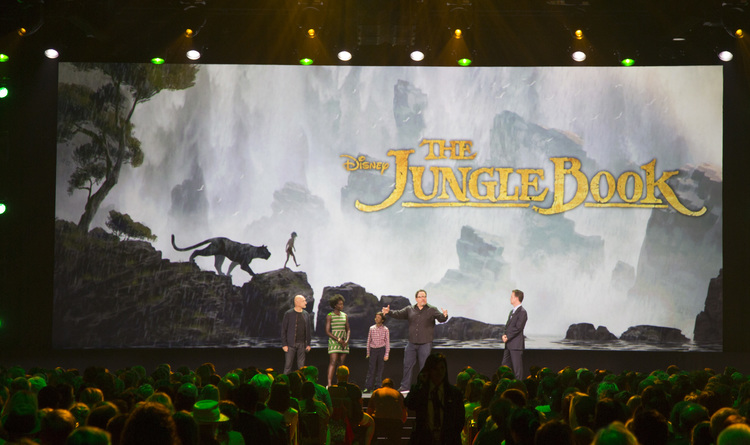 Sean Bailey then moves on to discussing The Jungle Book, and the 1967 version, and the actual book. He talks about how when they do a remake, Disney strives to honor what's come before, while saying something new, so with this new live action version of The Jungle Book, they're digging a little deeper into Rudyard Kipling's original tale. Then Jon Favreau is brought out, as he is directing this live action version. Jon Favreau tells us about when he first discussed this film with Alan Horn, and that they talked about how Favreau grew up with the characters from the 1967 animated film, while Horn grew up with the book, so they had different perspectives, and had to consider how to find the balance between the two, and how to combine them. Favreau also talks about working with Richard Sherman, who scored the animated movie, and will be assisting with this movie. Then Jon Favreau discusses that the best CGI for movies is to make it "disappear" into the movie.
Jon Favreau then invites some of the cast to the stage: Ben Kingsley (voicing Bagheera), Lupita Nyong'o (voicing Raksha, the Mother Wolf) and Neel Sethi (playing Mowgli). Then Jon Favreau shows some images of the movie, and shows us a poster that we'll all be given when we exit the panel, then gets ready to leave the stage. But Sean Bailey asks if he has any footage to show. Jon Favreau says it is pretty unfair to ask for any this early in the making of the movie, but he does have a sneak peek to show…
In this teaser, we get a good look at a lot of characters. We see Raksha, Bagheera, Baloo, Shere Khan, Kaa, and a brief look of King Louie. We see Mowgli on his journey back to humanity, and we even get a brief auditory taste of some of the music, for "Bare Necessities," which sounded amazing to me. I think the most intriguing part of the movie was the music that was heard. It certainly peaked my interest in the film after the music started playing.
The Jungle Book has an estimated release date of April 15, 2016.
Alice Through the Looking Glass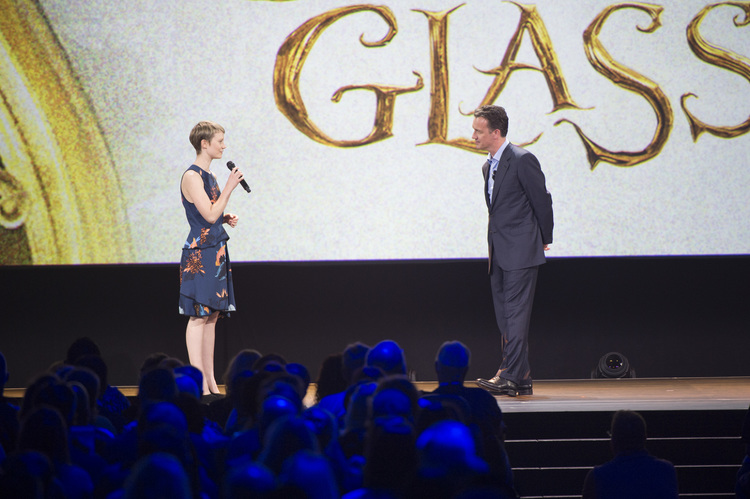 Up next was Alice Through the Looking Glass, the sequel to the Alice in Wonderland movie directed by Tim Burton (known for Beetlejuice, Edward Scissorhands, Batman (1989)) in 2010. The new movie will be directed by James Bobin, and has most of the original cast returning, including Mia Wasikowska as Alice, Johnny Depp as the Mad Hatter, Anne Hathaway as the White Queen, Helena Bonham Carter as the Red Queen, and Michael Sheen as the White Rabbit. The film is described as Alice returning to Underland, but meeting the various characters in various points of time, and she will be meeting Time himself (played by Sasha Baron Cohen).
Mia Wasikowska shows up, and discusses how she is excited to return to the role of Alice after these 5 years. We also get to see a "sizzle reel" of the movie, showing Alice returning to "Underland," where she has to go back in time to save the Mad Hatter, and glimpses of the various characters from the world, including her interaction with Time.
Alice Through the Looking Glass has an estimated release date of May 27th, 2016.
Pete's Dragon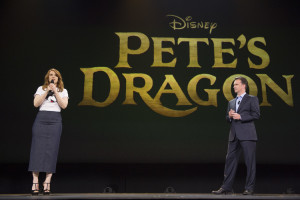 Petes Dragon was next, another remake of an older film from 1977, which was a combination of live action and animation. The new film, which takes place in the Pacific Northwest, but was shot in New Zealand, will be live action/CGI. It will be directed by David Lowry, and star Bryce Dallas Howard (from Jurassic World), Karl Urban (Star Trek: Into Darkness), Robert Redford (Spy Games, among a bunch of other films), and Wes Bentley (Hunger Games). The story seems to take place in a rural area, where a kid is claiming to have a dragon friend, while the adults in his life are less than inclined to believe him. Bryce Dallas Howard, who plays a forest ranger who finds the kid, is brought out to briefly talk about the movie, and we are shown a brief clip of the movie, and just a very small glimpse of the dragon.
Pete's Dragon has an estimated release date of August 12th, 2016
Queen of Katwe
This is a movie I did not know was being made, and it is the true story of a woman named Phiona Mutesi, who grew up in Uganda, and was a very good chess player. So good that she begins to compete internationally. The story of this film is her struggle with the rough neighborhood she is from, and her success in the field of chess. Lupita Nyong'o, who plays Phiona's mother, Harriet, comes out and discusses this film a little bit, and with her being from Kenya, she talks about she relates to this character, knowing that the neighborhood she comes from is a pretty rough one. Lupita also talks about meeting Phiona and her mother, and how much of an honor it was. We are also shown a quick sizzle reel for this film, which features Phiona's teacher getting her into chess, and then shows her rise to chess fame, traveling internationally to play.
The Queen of Katwe has an estimated release date of 2016. Not specific date has been given yet.
Beauty and the Beast
Beauty and the Beast (directed by Bill Condon) is the next movie in the lineup, and it is a pretty brief panel. The cast is shown of the film, but unfortunately none could make it in person to D23 Expo. Emma Watson (who plays Belle) provided a video message though, and she talks about the excitement of the movie, which she is currently filming in London, and confirms that it is a musical. She also then introduces another video which has Luke Evans (playing Gaston) and Josh Gad (playing Le Fou), and they sing a few bars of Gaston's song from the film. It was a pretty short and sweet panel, but I am pretty excited for this movie, as the animated version is one of my favorite Disney movies of all time.
Beauty and the Beast has a release date estimated at March 17, 2017.
Pirates of the Caribbean: Dead Men Tell No Tales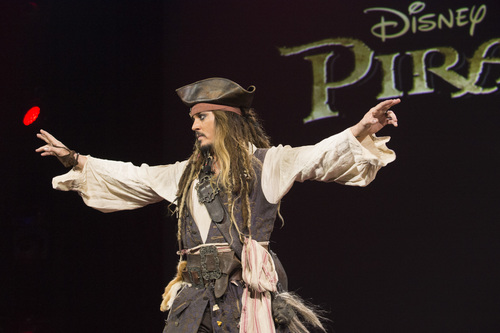 Finally, rounding out the Disney Live Action portion–Pirates of the Caribbean. Sean Bailey talks about the cast, which includes Johnny Depp again, as well as Captain Barbossa (Geoffrey Rush), and includes new cast such as Javier Bardem who plays Captain Salazar, the antagonist of the film. Kaya Scodelario and Brenton Thwaites are also starring in the film. Then as a surprise, Orlando Bloom is revealed to be returning as Will Turner. The film with be directed by Joachim Ronning and Espen Sandberg, neither of whom have much US directorial credits other than a couple episodes of the Netflix series Marco Polo.
Unfortunately, there was no footage shown for the film, but we did get to see Jack Sparrow. Johnny Depp came out on stage, in full costume, and tossed grapes to the audience. He was in full character, and seemingly drunk. I could not tell if he was acting or actually inebriated. Regardless, it was probably the funniest part of the panel, despite feeling a little bit awkward.
Pirates of the Caribbean: Dead Men Tell No Tales has a release date estimated at July 7th, 2017.
But that wrapped up the Disney Live Action films. Up next was the Lucasfilm portion, which Violet will be getting into next! Click here to continue to our recap of Lucasfilm!