Ace Comic Con Arizona took place at the Gila River Arena in Glendale January 13-15, 2018. Here's how our day went on Sunday, January 14.
Our Sunday at Ace Comic Con Arizona was a later start for us than Saturday had been. Interestingly, Sunday had longer hours than Saturday, with the show open 10am-7pm, rather than 12pm-7pm. However, the first panel we were interested in attending was Hayley Atwell's panel, which started at 1pm. We checked out of our hotel at 11am, then drove over to Ace Comic Con, about a 15 minute drive.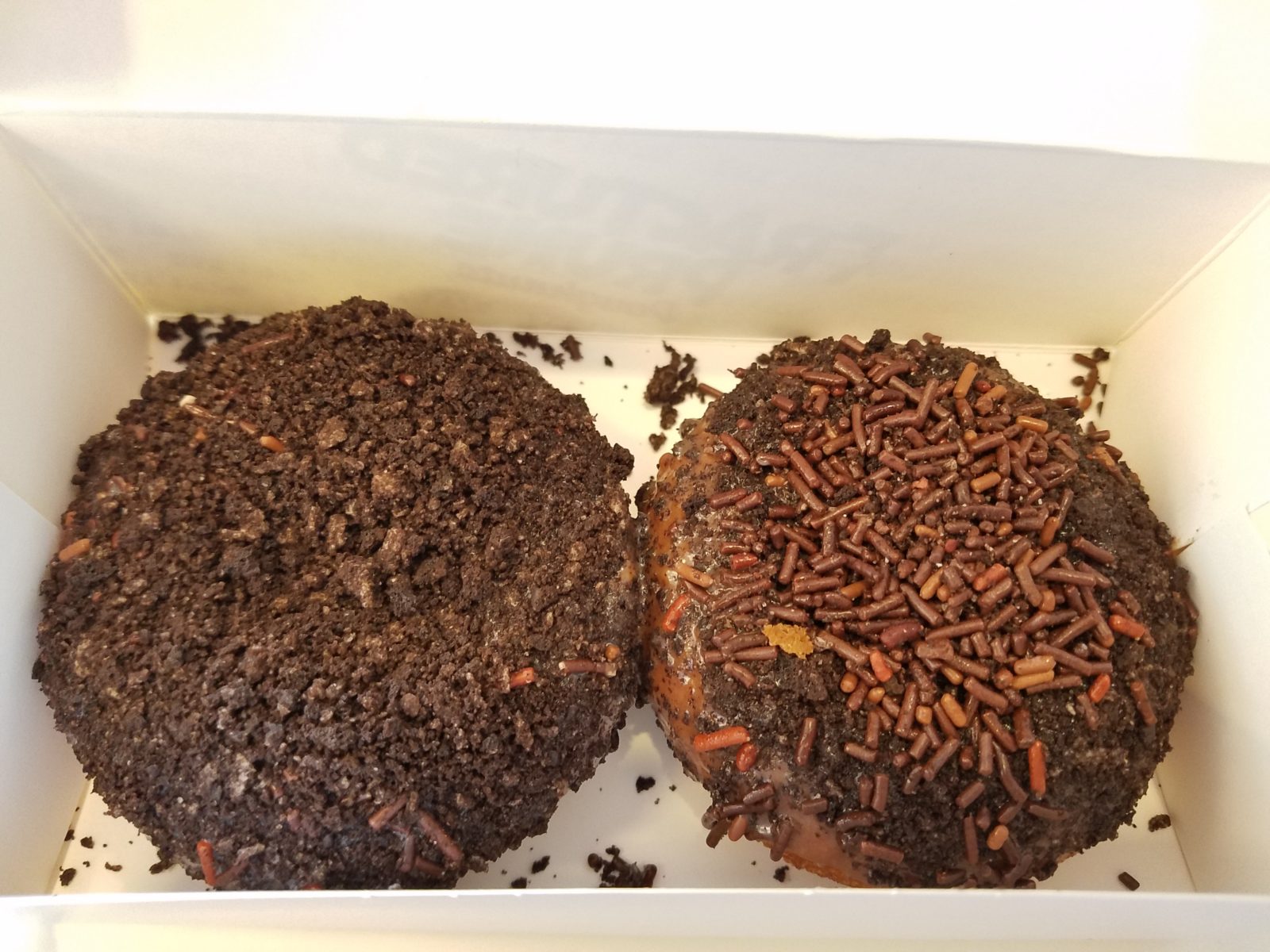 We hadn't taken the time to explore the entertainment district right next to the arena the day before, so we went ahead and walked around. It was a nice area, with several shops, restaurants, a Dave & Buster's, and an AMC movie theater. We weren't too hungry, as we had eaten breakfast at the hotel just a couple hours prior, but we knew we wouldn't want to wait until after Hayley Atwell's panel to eat. So we ended up trying out a fancy doughnuts place called Fractured Prune. We got a Cookies and Cream doughnut and a Death by Chocolate doughnut.
Then we decided it was time to head in to the con. The lines to get in were very short at this point. Oddly, the metal detectors went off when Josh went through, even though he wasn't wearing anything different from the day before, and hadn't had any trouble then. But they soon figured out it was just his belt, and we got in very quickly.
Beyond the Page: Spider-Man
We went ahead and took our seats (up in the nosebleed section, which was the only place General Admission was allowed to sit) and caught the Beyond the Page: Spider-Man panel with Mark Bagley, John Romita Jr, and Adam Kubert, where they talked about their various experiences with drawing Spider-Man and the different versions of him that they drew.
At first, it was just Mark Bagley and John Romita Jr. up on stage with the moderator. They spoke about how Spider-Man was basically a response to Superman. It was no accident that Spider-Man's suit was red and blue, just like Superman. In contrast to Superman, Spider-Man was an imperfect teen who had flaws. Additionally, he was a more realistic character. What also made the Spider-Man comics more realistic was that they took place in a real city, New York City, as opposed to a fictional city like Gotham or Metropolis. John recalled his father, John Romita Sr., who had worked on Spider-Man before him, driving him around the city when he was a kid and pointing out buildings where the comics took place.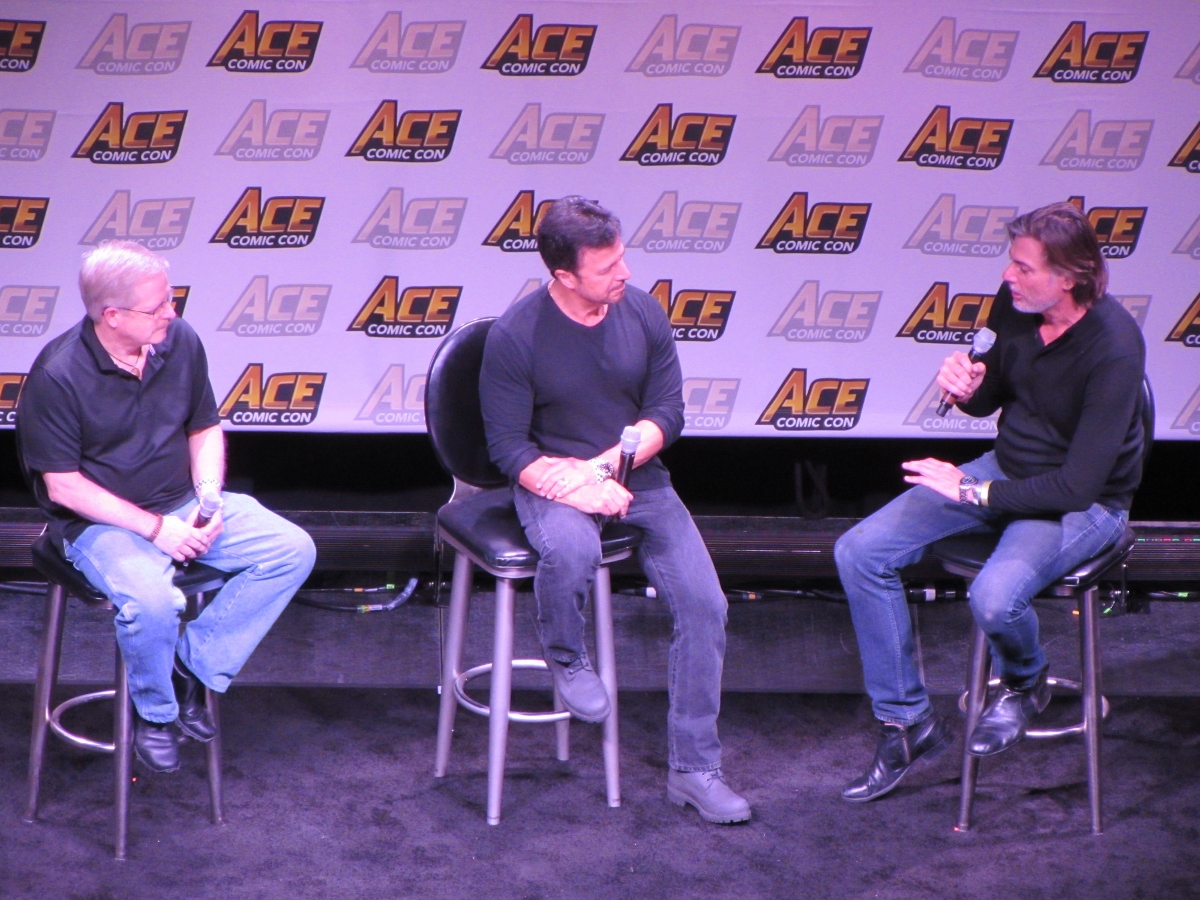 Mark Bagley grew up reading Spider-Man, and it was THE character he wanted to draw. Oddly, his own twin brother was never into comic books. By the time Mark visited New York City for the first time at the age of 30, he felt like he had been there before because of the Spider-Man comics. Mark talked about having recently worked on a Spider-Man comic that takes place in Las Vegas, which was odd for him, because there aren't very many tall buildings in Las Vegas that Spider-Man can swing from like there are in NYC!
The two recalled the editors emphasizing to them that the city itself is one of the characters. John remembered back when there was no way to find pictures of the NYC rooftops, so he had to take his own pictures. However, now you can find those pictures with the click of a button.
John talked about his father having started working on Spider-Man in 1964, and the animated series in 1966 or 67, when John was a kid. As a result, Peter Parker was like a part of the family. He remembered when they would go on a long drive, they would talk about Spider-Man, and his father would make fun of Stan Lee's ridiculous plots. Apparently, all the plots were delivered by Stan Lee verbally, and he would do things like jump on a couch. Meanwhile, John Romita Sr. had to listen and take notes!
Regarding the physicality of Spider-Man, Mark Bagley said it had been impressed upon him that Daredevil's silhouette should look distinctively different from Spider-Man's silhouette, so that was something he had to work on. John commented that one thing his father told him that has always stuck with him is that Daredevil is elegant and balletic, while Spider-Man is awkward.
The two also talked about the different approaches that Spider-Man artists have had in regards to web slinging as well as webbing, and they praised Todd McFarlane for his contributions.
Adam Kubert then joined the panel, and they gave him a hard time for being late, though joked that they thought he might have been "throwing up with Chris Evans" somewhere (see below Chris Evans Announcement for more on that). Adam chimed in regarding Spider-Man's physicality, saying it takes years to understand the way he moves.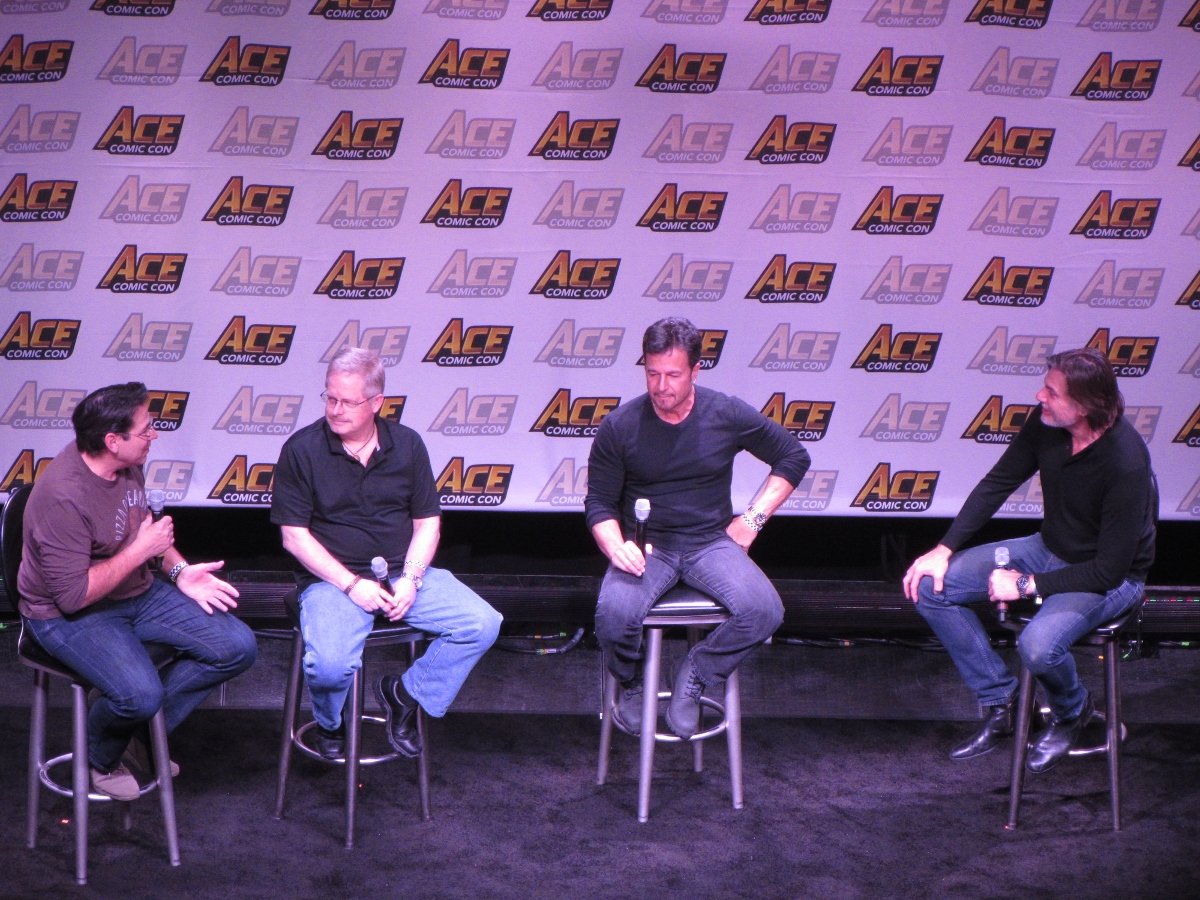 Adam and John talked about growing up in their fathers' shadows (Adam's father being comic artist Joe Kubert). Neither of them went straight into comics, and in fact, were discouraged from doing so. John said he was forced to go to college for advertising. He was told he needed to go for at least 2 years, and he ended up going for 3 before he got a job.
As for their favorite villain to draw, all three of them named Kingpin. John commented that Kingpin was actually based on actor Sydney Greenstreet, known for his role in the film The Maltese Falcon. Kingpin was not meant to be fat, he was powerful, and with no superpowers. This is why John likes Kingpin so much, because he prefers street-based, back-alley characters to "cosmic" characters. Adam enjoyed drawing Kingpin because he's such a contrast to Spider-Man's physique.
Speaking of Spider-Man's physique, they discussed how Spider-Man was meant to be a small, skinny 15 year old kid, and at one point when Spider-Man started to look too muscular, Stan Lee stepped in and said that he looked "too glamorous." They agreed that Tom Holland had the right body type that's representative of the ideal Peter Parker. Back to the subject of villains, John revealed that one villain he always hated was Rocket Racer.
As for what the three would like to see on the big screen in any upcoming Spider-Man movies, they didn't have a specific answer, but Adam Kubert commented that Marvel was doing the movies right, and John agreed that "you can't argue with success." John also liked that they were going for "less glamour."  Mark Bagley said, "Aunt May does look good in the movie, though!"
The subject of Sam Raimi's Spider-Man movies making the webs come out of Spider-Man's wrists came up. John explained that it came from James Cameron's vision, as Cameron had originally been considered for directing the film. Apparently, Cameron didn't like the mechanical aspect, and wanted it instead to come out of Spider-Man's veins, so Raimi used that idea.
The panel soon finished up at this point. It was interesting hearing these three comic book legends talk about Spider-Man, because as Mark Bagley had pointed out, between the three of them, they had about 100 years of experience!
Chris Evans Announcement
After the panel wrapped up, there was an announcement made on stage. Apparently, Chris Evans had gotten sick, and they were unsure if he would be able to make it for his autographs and photo ops. This seemed a little odd, as he had seemed just fine at the Captain America panel the day before. But, then again, I had been just fine on Friday, then woke up vomiting very early Saturday morning, so it seemed plausible that he could have gotten food poisoning like I did, and might be able to make it later on if the sickness cleared up, like it did for me. They posted an information screen stating what would happen if he was able to make it later, and said they would provide updates. More on that later.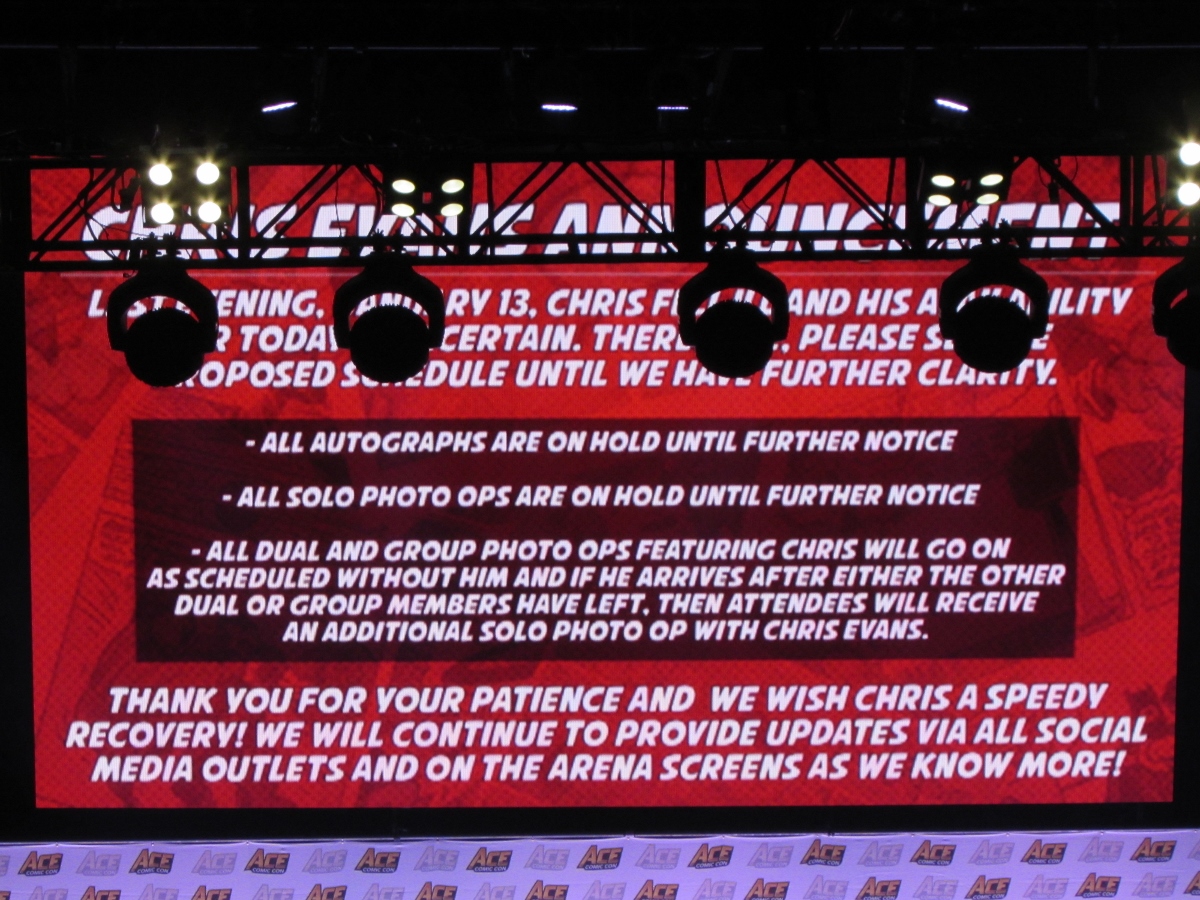 Agent Carter Cosplay
Prior to Hayley Atwell's panel, the hype woman went out and found a few Agent Carter cosplayers and brought them up on stage. I, myself, had worn my Agent Carter cosplay that day, but of course, since I was in the upper section, I wasn't selected, but that's okay.
Spotlight on Hayley Atwell
Finally, the moment we had been waiting for! Hayley started out by telling us how she came into the role of Peggy Carter. She started out at the Royal Shakespeare Company in London, and had been doing plays when the audition opportunity came up. She made it to the final round of the audition, where she had learned eight pages of dialogue, had twenty minutes to learn an unarmed combat scene, and they wanted to see how well she could load and unload a gun. She recalled that part of her audition was the scene where she's saying goodbye to Steve Rogers over the radio at the end of the first Captain America movie. She had looked over and saw a "big, strong alpha" assistant director weeping — at which point she knew she had nailed it.
She first met Chris Evans and Sebastian Stan at Shepperton Studios in England after they'd all been cast. She remembered walking in with an air of superiority, being English and classically trained, and not knowing who these "American kids" were. But they quickly developed a sibling vibe and got along well.
One thing she's learned from doing action scenes is the skill of selling a punch, as opposed to actually punching someone. Hayley confessed that in the first season of Agent Carter, there were quite a few men she had actually harmed. She even has a slo-mo video of her accidentally kicking a stuntman in the "delicate area." Her favorite fight sequence was from Episode 5 of Season 1, because she liked the music and the energy from turning it into almost a dance scene.
After filming Captain America, she went back to doing plays and thought it was a one time experience. However, Louis D'Esposito championed her being his Peggy for the show. Hayley spoke about the "tag line" that was developed at the end of the first season: "I know my value," and how that summed Peggy up for her, that it was sort of her "manifesto" in life that allowed her to be in a male dominated world, but not feel like she had to prove herself. Peggy understood how she was going to be treated, but she continued anyway, because she loved her job. This aspect really appealed to Hayley.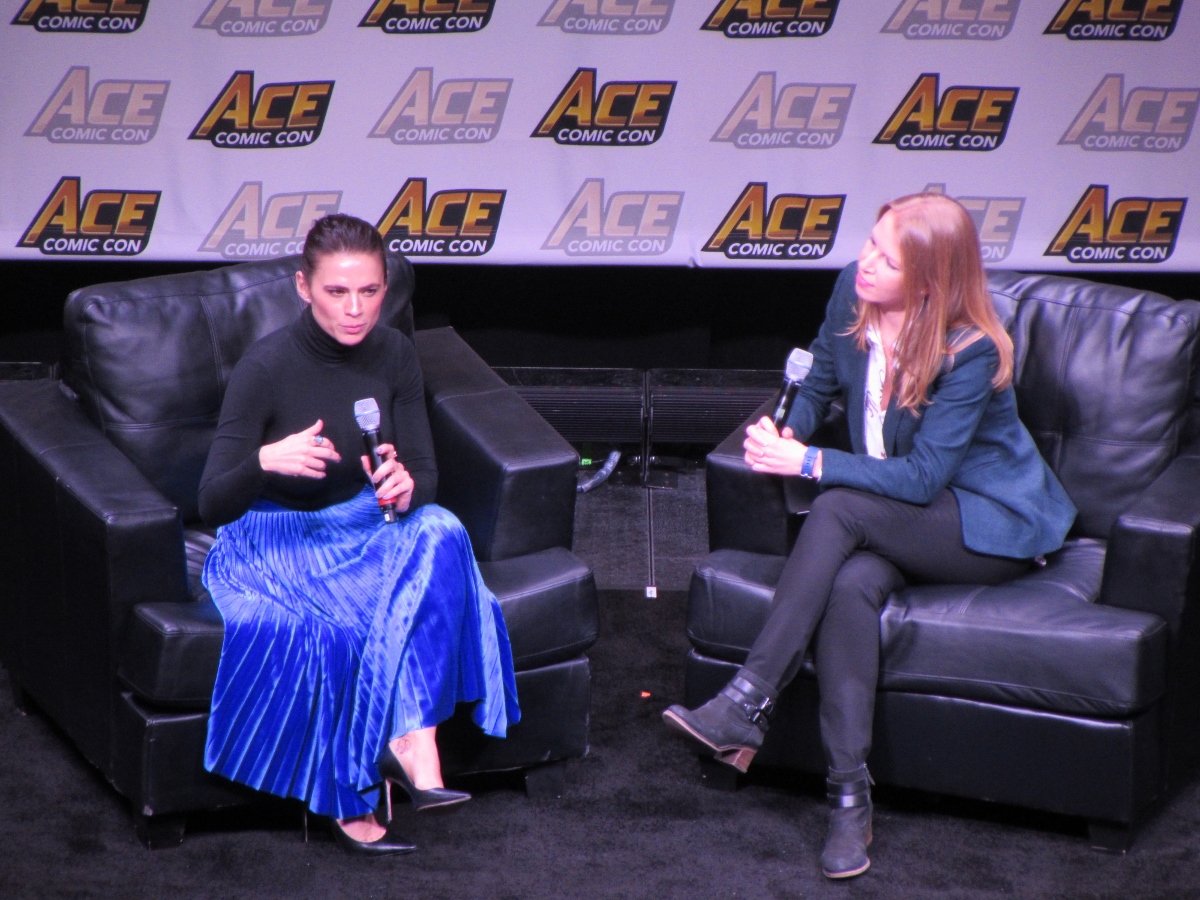 Hayley remembered reading the script for the second season of Agent Carter with James D'Arcy (who plays Jarvis) and how it took such a different turn with things like "zero matter." She spoke about how the first season tied things in with Cap and provided a satisfying conclusion, so then it was a matter of figuring out where they went next. However, she herself didn't really have any input.
Hayley mentioned that she was very surprised by the clever British dialogue between Peggy and Jarvis, thinking, "That's more British than I am!" and wondering how the writers knew about such things. Over time, Jarvis became the comedic relief, and James D'Arcy finally let go of trying to be cool, and instead embraced the other side of Jarvis. Hayley also mentioned the bromance that James D'Arcy and writer Eric Pearson developed, and that Eric had used his power to do things like make James wear a singlet! James and Hayley had known each other beforehand, which Hayley said added to their chemistry on set.
The moderator asked Hayley what she thinks happens to Peggy after the end of Season 2, to which Hayley said that fans have expressed their opinions on that, such as wanting to see her found SHIELD. Hayley also brought up the fact that Peggy is very old by the time we see her funeral, and joked that at that rate, "I could be employed for the rest of my life!" She added, "I'd like to see Peggy in a power suit, like Melanie Griffith in Working Girl." Hayley also would like to see Peggy's "Summer of Love" era and seeing her be a part of the Civil Rights movement, which she's sure Peggy would have been a big part of, as well as the Women's Rights movement. She pointed out that there were so many social issues going on from the 50s to today that Peggy would have loved to be a part of. Hayley commented that there would be plenty to fill another season, which fans cheered about.
As to how Hayley finds out that she's going to make appearances in Marvel movies, she said that they're very secretive, because they know she has a big mouth! Even the titles of the films while they're filming have different names, and they change scenes as they go along. She brought up how she was at a photo shoot recently for Marvel's 10th anniversary, and she felt like she was at the Oscars because of all the big name actors that were there. Hayley hoped that there would be another place for Peggy in the future, and said that she would be happy to get the call.
When asked how much notice she got for Age of Ultron, Ant-Man, and Winter Soldier, she said that they're so "blasé" about it when they notify her. She imitated a very bored, American accent asking her, "Hey, can you film next week? We'll send you the outfit you're going to wear." Hayley commented that although they're very passionate about what they do, they're very relaxed about it, because "they don't want to get anyone's hopes up" as you don't always know if you're going to make it to the edit.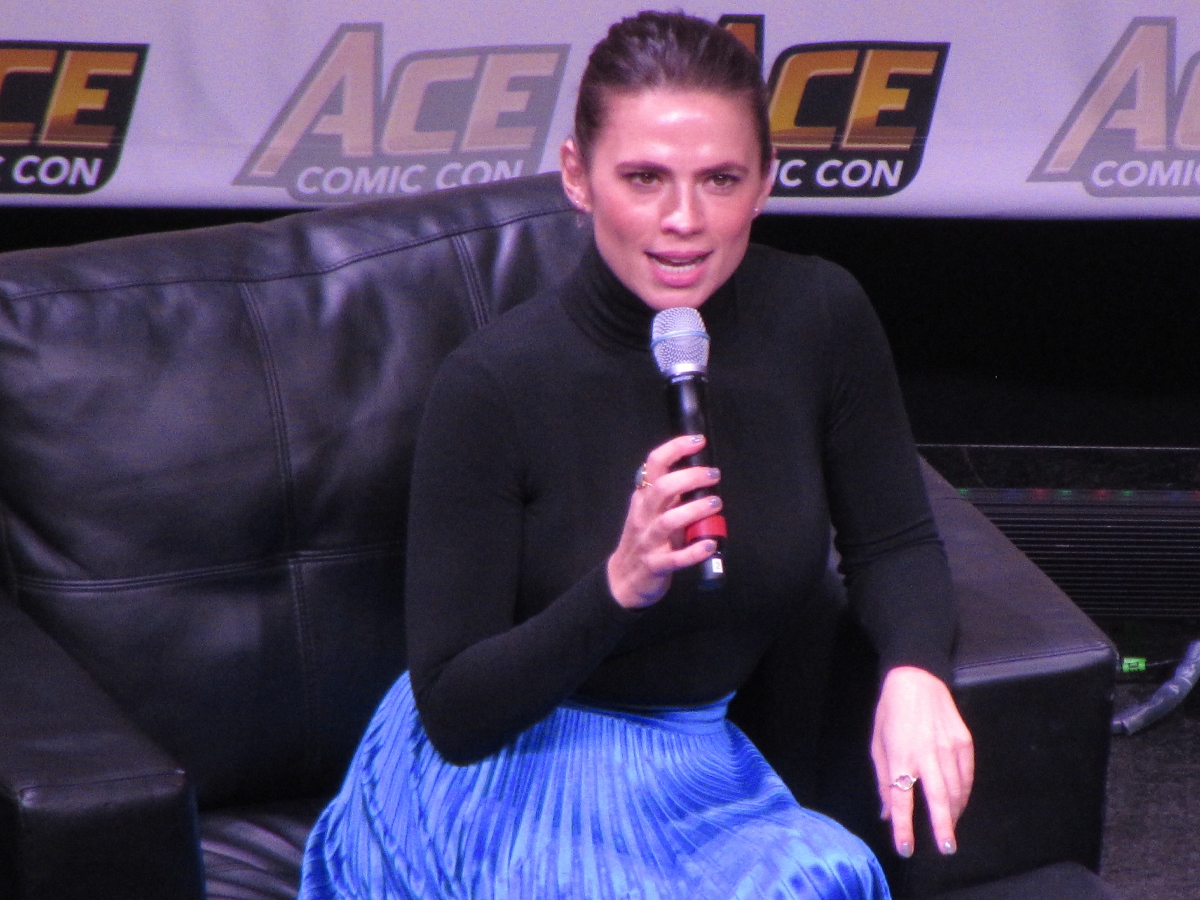 As for any props that Hayley has kept, she said she has the wig from the first season in her attic. She told us about her fascination with props, and things like how you can express anger just by the way you stir your tea! The prop master on the show knew about her fascination, so he created a cabinet for her in which he put all the props in there that he had noticed her playing with, including a rubber gun, Jarvis's business card, a picture of "Skinny Steve," and her key.
The moderator asked about her favorite scene or memory from the first Captain America movie, to which Hayley answered, "grabbing his boob." Hayley explained that she hadn't seen Chris Evans's body yet, until they shot that scene, so she was very surprised to see how "massive" he was!
As for Agent Carter, Hayley confessed that she hasn't actually seen the second season, as she doesn't usually like to watch her own work. However, she said she likes the banter between Jarvis and Peggy, and would like to see more of that. She also likes that Jarvis and Peggy's relationship doesn't have to be romantic for it to be interesting. Further, she liked Peggy and Angie's relationship, and how they are two women who support each other rather than being pitted against each other.
Hayley always knew she wanted to be an actor. She grew up going to the theater and feeling the "magic" when the lights would go down. Hayley named Judi Dench and Helen Mirren as women she saw on stage who inspired her.
Since finishing up Agent Carter, she has been able to take on more mature roles. She told us about her role in Howards End, which will air on Starz, as well as her role in Disney's Christopher Robin movie. Regarding the latter, Hayley talked about working with the stuffed animals the first time, then the second time they took away the heads, and by the third time, it's just a rod with a light on it, and whenever the light goes off, that's when she's supposed to respond!
Currently, Hayley is working on a play in London, which she flew 10 hours from to be at Ace Comic Con, and would be flying 10 hours back to go straight into rehearsal!
The moderator brought up the fact that Hayley sang in Cinderella, and asked if she was trained. She said no, but she had been taught how to take care of her voice, and said, "I'm no Adele" but said that she can "act a song." Hayley remembered being in the car on the way to set, when she suddenly realized that the lines in italics meant that she would be singing those lines! It was a nursery rhyme, and she couldn't remember the tune, so she quickly Googled it to help her remember, and she ended up just winging it.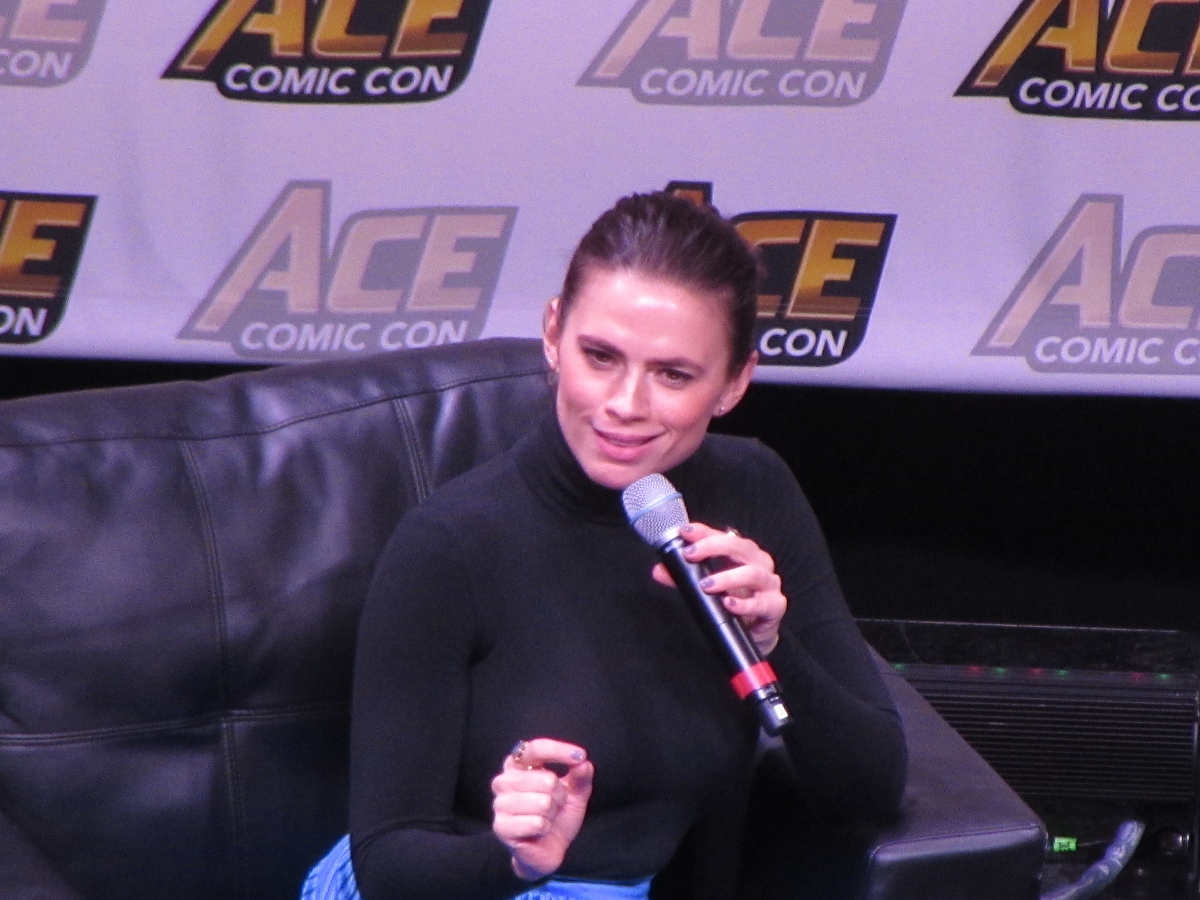 Hayley has not had the opportunity to meet with many of the women from the Marvel Universe. However, she commented that when they are together, it doesn't feel like a "woman in a man's world." As for forming a sort of "women's coalition" Hayley said that if Scarlett gave her a call, "I would be happy to be her sidekick." The moderator, who has had a chance to speak with several of the women in the Marvel Universe, said that a few of the women went to Kevin Feige asking to do something with all the women together.
It was then opened up to fan questions. A microphone was set up on the floor for people to line up to ask questions.
One question was how Hayley would write a reunion between Peggy and Steve. Hayley said that it would be a big screaming match, as she thought it would be funny if people got all excited for a big romantic reunion, but instead they had a "massive epic domestic."
As for the love triangle in Agent Carter, Hayley liked that they kept it to where you don't know until the end. She also spoke about Peggy's connection with Jason, as well as with Sousa, and compared it to how she fell in love with Skinny Steve because of his spirit.
When asked about the empowerment that she gave to women, Hayley said that she didn't know about it until she started going to conventions. She was especially moved by women in the military that she met at conventions, as well as women who were having trouble at work because of their gender. Hayley talked about how she hadn't set out to make Peggy "this amazing woman." She just had been an independent woman herself, and her parents had encouraged her to challenge her limitations. Hayley revealed that she hadn't come from privilege, and had grown up in social housing in inner city London in a single parent family. She spoke about the struggles of paving her own way, and the hunger that led her to do so.
Regarding whether she is recognized when she's back home, Hayley said that she's left alone mostly, which she prefers. At this point, she knows if she doesn't go certain places, she won't get noticed. She would rather concentrate on making good work than being a celebrity.
The final question was what the future would have held for Steve and Peggy. Hayley said, "They would have been very happy, and had lots of babies, and she would have made him stay at home with them."
Another Chris Evans Announcement
After Hayley's panel ended, the hype woman came back on stage and delivered the bad news: Chris Evans would not be making it to the con that day after all. She then began to read off various solutions they had to remedy his absence, such as those who paid for a Chris Evans solo photo op would instead get a Tom Holland solo photo op. But this didn't really concern us, as we didn't have any photo ops or autographs with Chris Evans. However, a lot of people at the con did, and this must have been a big disappointment to those people, as well a big problem for Ace Comic Con to figure out what to do about it, since he was involved in not only his solo photo ops, but also dual and group photo ops.
The End of the Line
Following Hayley Atwell's panel was the panel with Mark Guggenheim, executive producer for Legends of Tomorrow and Arrow (which seemed a little odd since this was DC, and pretty much all the other Main Stage guests were Marvel). We would have liked to have stayed for it, as well as the other big name panels coming up later that evening — The Punisher with Jon Bernthal and Ebon Moss-Bachrach at 4pm and Spider-Man with Tom Holland, Laura Harrier, and Jacob Batalon at 6pm — but both Josh and I had to work on Monday, so we needed to go ahead and start the 6 hour drive back to Orange County, California. So our time at Ace Comic Con Arizona had an unfortunate early end. But we enjoyed what we were able to see! If Ace Comic Con has another event in Arizona, or preferably somewhere closer to home, like Southern California, with such big name stars, we would definitely be interested in going.
You can view more of our photos from Hayley Atwell's panel at Ace Comic Con Arizona below: