Violet gives a full report of Saturday at Wondercon Anaheim 2013! Josh and Violet spent most of their day in the Arena, where they saw the Warner Bros. and Legendary Pictures panel (which covered The Conjuring and Pacific Rim), the Revolution panel, and the Sony Pictures panel (which included Mortal Instruments: City of Bones, Evil Dead, and This Is The End). Violet and Josh ended their evening at the panel for Under the Dome, an upcoming TV series based on the Stephen King novel of the same name. Read all about it after the jump!
The first panel we wanted to see, the Warner Bros. and Legendary Pictures panel, was scheduled to start at 11:30 am.  Considering that not only had 3-Day Badges sold out ahead of time, but so did Saturday badges, we decided that we should get there pretty early to ensure ourselves a seat. We had gone to Wondercon last year on Saturday only, where we got in line for the main room about one hour before the first panel was scheduled, and were able to secure twelfth row seats in the middle section. However, none of the badges sold out ahead of time last year, so we weren't sure what sort of crowds to expect with the sell outs this year. Badge pickup was scheduled to start at 8:30 am, with the Exhibit Hall to open at 10:00 am. Josh still needed to pick up his badge, so we figured we should get there around 8:30 am. We carpooled with our friends Davey and Tamara, who have Disneyland annual passes, and therefore free parking at Disneyland lots, so we parked at the Disneyland Toy Story lot for free. We left our house around 8:00 am, and by the time we parked at the lot, walked to the convention center (probably about a 2 block walk), and got in line for the Arena, it was about 8:45 am.

While, Davey, Tamara, and I headed to get in line for the Arena, Josh went to go pick up his badge. There was no line to get into the convention center by this time, and we were funneled into a holding room next to the Exhibit Hall where we waited in line for the Arena. I would estimate there were about 150 people in front of us. The above picture is what the line looked like around 9:00 am. Oh, I forgot to mention that on the drive to Wondercon we all of a sudden realized that Josh had not printed out his confirmation email to pick up his badge. But considering that the day before I had seen someone show the email on their phone, we decided to take our chances and hoped that Josh would be able to do so as well. It worked! So Josh came and met us in line, where we then passed the time by playing on our phones (there was actually pretty good service there, in contrast to San Diego Comic-Con), reading through the Program, and playing Cards Against Humanity.  Around 10:30 am, after they kept emphasizing that there was to be no running, Staff decided to start letting us into the Arena, which they informed us seats about 4,000 people. We were able to get about eighth row in the left middle section of the floor seats. The Arena had a pretty good setup, with several rows and sections of floor seats, then slightly higher, stadium type seating behind those, and balcony seating above that.
The Conjuring
First up was The Conjuring panel, during which Director James Wan (Saw, Insidious) informed us that the movie was based on a true story, and even brought out members of the family that the film is based on.  The movie is about a haunted farmhouse where a family lives in the 1970s, and paranormal investigator Lorraine Warren, also in attendance at the panel, tries to help the family get rid of the evil ghost. We got to see two rather substantive clips from the movie, during which any time something scary was happening or about to happen, there was a bunch of nervous laughter from the audience. Andrea Perron, one of the family members, commented how she was surprised that so many elements of what happened to her family were captured on the film, and that the movie kept the theme of love and their family bond. Regarding the fact that the film took place in the 70s, Wan said that he relied on an "old school" approach when he made the movie, but he still wanted to give it a contemporary feel; though you still get sucked into the time period. When asked why the film is rated R, Wan said that he had set out to make a PG-13 film, but when it went to the MPAA board it came back with an R rating, for which the board's reasoning was that it was "too scary." The film as a whole was so scary that the MPAA was unable to recommend any specific moments or scenes Wan could take out to make it PG-13.

Pacific Rim
Next up was the Pacific Rim panel, for which director Guillermo Del Toro (Hellboy, Pan's Labyrinth) was on hand to talk about the film and answer audience questions. Del Toro said that the movie was now 85% done, and then the audience got to watch a new trailer which Del Toro had put together exclusively for Wondercon. For those who don't know, this movie is basically about giant robots, known as "Jaegers," which fight giant alien monsters, known as "kaiju," who have invaded Earth. In the trailer (which we ended up getting to watch twice, in true Comic-Con style), we got to see a lot of the two "robot jockeys" working together to control a robot, and part of a fight scene between a robot and an alien monster. Every robot is driven by two robot jockeys: one controls the right side, and the other controls the left, while they are linked together through a neural bridge. The only exception is the Chinese robot, which has three pilots.
Del Toro spoke about how while making the movie they built 6 or 7 city blocks in Hong Kong and then destroyed them. In making the movie, Del Toro was inspired by the visuals of World War II, making things look rusty and decayed, and using kaiju warning and refuge signs and pamphlets.  He also spoke about the casting of Charlie Day, saying that he wanted a Buddy Holly looking "punk rocker" scientist that thinks he's hip, but he's really a geek. Del Toro said that there were several designs for the monsters and robots, and that they had narrowed them down American Idol style to decide which ones they were going to use. They ended up using 12 monster and 9 robot designs. In the making of the film, Del Toro intentionally did not use motion capture, as he wanted the animators to figure it out. The robots are about the height of a 25-story building.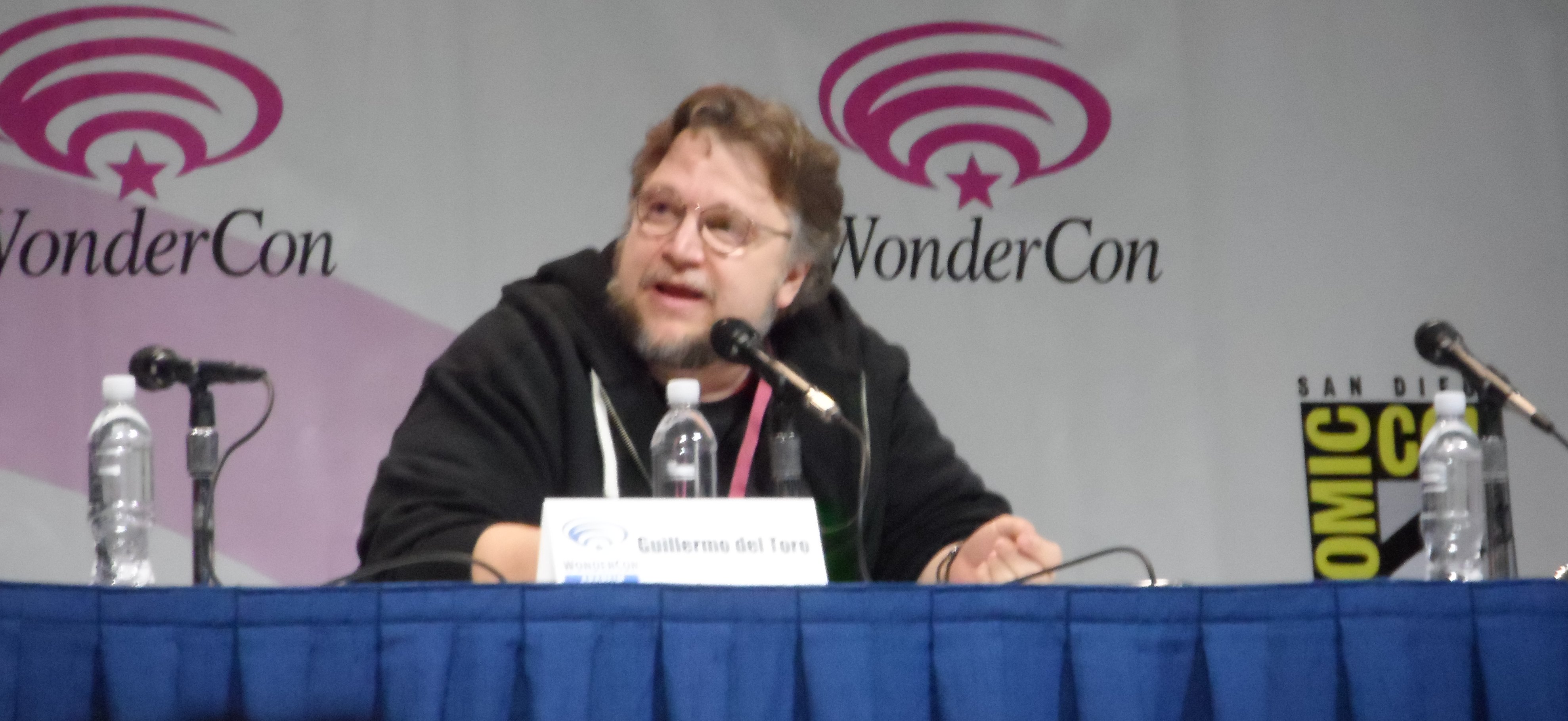 An audience member asked about the Justice League Dark movie, Dark Universe.  Del Toro said that they have finished "the bible" for the movie, and revealed that the lead character would be a blond Constantine. Each of the members have a mystery to solve, and you find out their origin stories throughout. Del Toro also spoke about his experience working with movie studios, saying "The buck stops with you," and "Better not to make a movie than to make a movie for the wrong reasons." His worst experience was working on Mimic, because the studio wanted Alien. However, his most harmonious and free movie-making experience has been working on Pacific Rim. He commented that "Any movie you don't like that I've done, my fault." Del Toro then revealed that a graphic novel has been created to set up the mythology of the movie, where the kaiju are sent by an alien race that consumes planets. We got to see the cover art for this prequel, entitled Pacific Rim: Tales from Year Zero.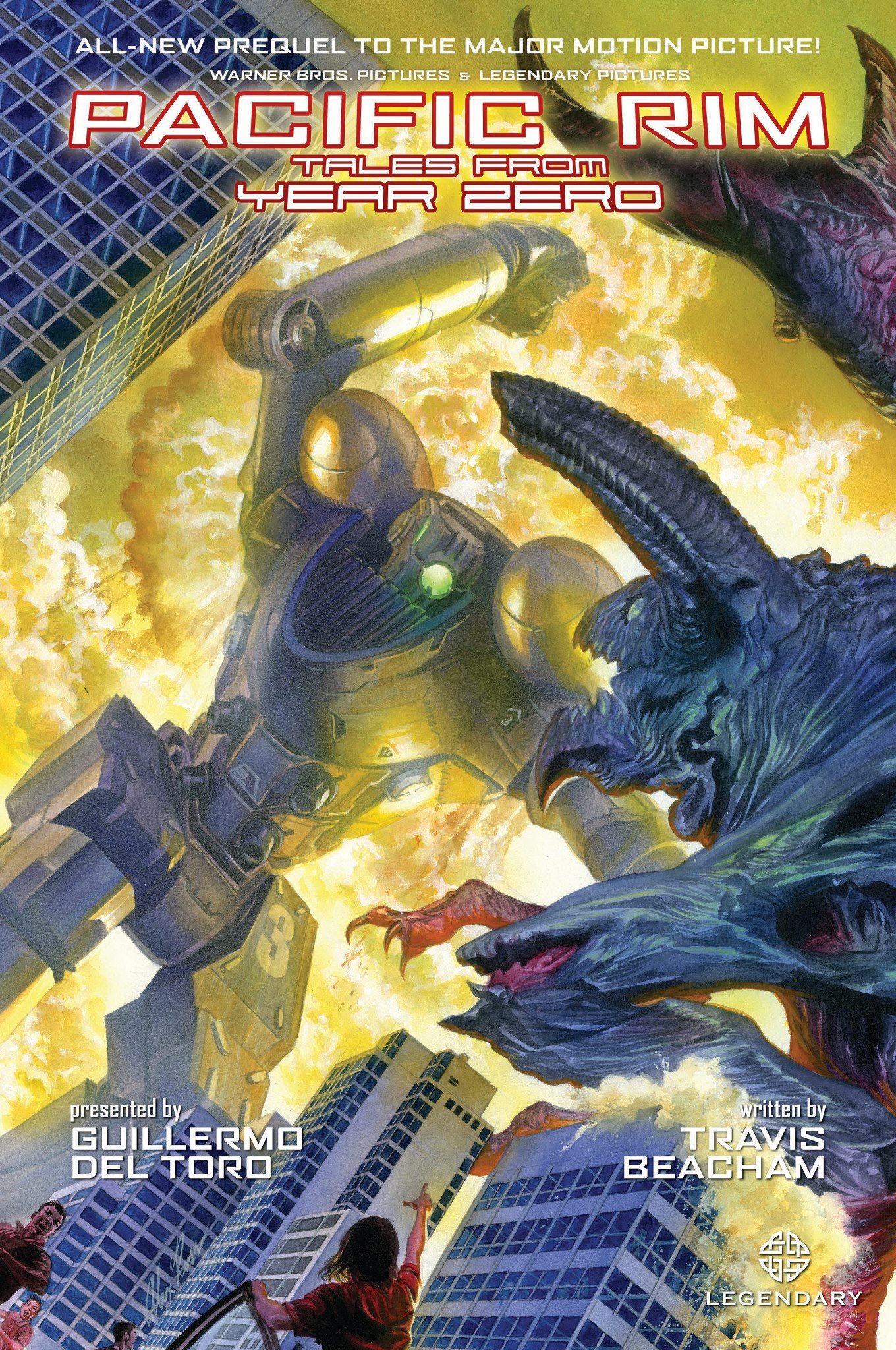 Trailer Park
Following the Pacific Rim panel, we got to watch Wondercon's edition of Trailer Park, where were saw trailers for the following upcoming movies:
1.            It's a Disaster, starring Julia Stiles, a dark comedy about friends meeting up for brunch, only to discover that the world might be ending.
2.            Much Ado About Nothing, Joss Whedon's adaptation of the classic Shakespeare play, which was shot in black and white.
3.            Zero Charisma, which I hadn't heard of before, where an adult nerd lives with his grandma and plays a role playing game with his nerdy friends all the time. He's supposed to be taking care of his grandma, but it's more like she's taking care of him.
4.            Iron Man: Rise of Technovore, an animated film soon to be released on Blu-Ray and DVD.
5.            Pacific Rim (yes, right after the Pacific Rim panel)
6.            Showrunners, a documentary film about just that — showrunners.
7.            Man of Steel, the much anticipated Zack Snyder Superman movie starring Henry Cavill
Revolution
Next on the agenda was the panel for Revolution, the new NBC TV series created by Eric Kripke (Supernatural) and produced by J.J. Abrams and Jon Favreau. The panel started off with clips from the rest of the season, where we saw that Randall is building more amplifiers for Monroe, Nora gets captured, Neville's son Jason joins the group, Aaron and Rachel are using the glowing pill Rachel had pulled from Danny's body, and the group captures Neville and disagrees over what to do with him.

In attendance were co-executive producer David Rambo, Zack Orth (Aaron), Elizabeth Mitchell (Rachel), Billy Burke (Miles), Tracy Spiradakos (Charlie), David Lyons (Monroe), Daniella Alonso (Nora), and Tim Guinney (Ben). We learned that while the first half of the season was about finding Danny, the second half is about getting Monroe and making him pay. When questioned about what the glowing pill was, it was revealed that it is at the center of things and that we would find out more about it in about two episodes. There is a particular word used to describe it, but they were not allowed to say what that word was. But they did tell us that the glowing pill would open the door to some new, big, exciting weapons.
We also found out that Aaron's wife, whom we saw through flashbacks that he had abandoned, would be coming back in the next few episodes, and that their reunion "goes well." When Billy Burke was questioned about how Miles felt about sharing the power with Rachel now that she has returned, he commented that Miles would love to have the responsibility off his shoulders, but that they keep pulling him back in.  In the clip, we saw a hot and heavy kiss between Miles and Rachel, and apparently we will learn more about their relationship fairly quickly. Elizabeth Mitchell commented that Burke was a "wonderful kisser, really and truly good!" Danielle Alonso was asked whether there would be a cat fight between Nora and Rachel, and she said no, because Nora doesn't know anything about Miles and Rachel! As if Miles didn't have enough love interests on the show, it was revealed that Leslie Hope from 24 would soon be coming on the show as Miles's first love interest from high school. We also learned that Monroe would be involved in a "messy triangle" (a love triangle?), but they couldn't tell us anything about that. When asked if Nora would be okay after being captured, Alonso said that "Nora is a survivor" and told us that she gets to do a really cool stunt.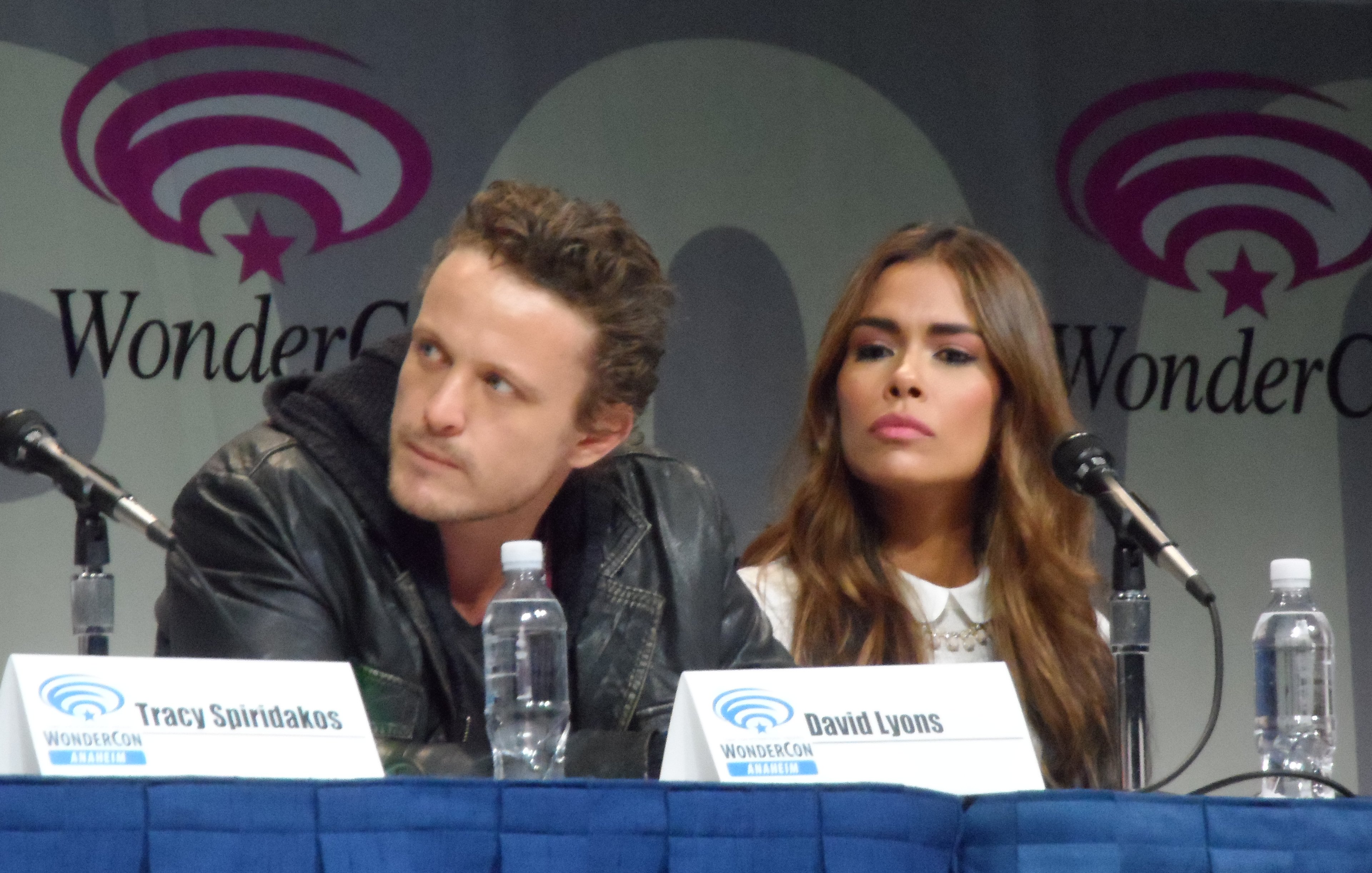 The panel revealed that in Episode 13 we would finally learn why the power went out, a revelation which just unlocks more mysteries. When the show makers consulted with physicists about reasons the physicists thought the lights went out, the physicists didn't mention the reason that the show had come up with. However, when the show revealed their reason, the physicists approved, saying it was quite possible.
This half of the season, we will see other parts of the country outside of the Monroe republic, including parts that are now like the Wild West, and see how the blackout affected more people. Interestingly, the panel revealed that 80% of the world's population died almost immediately after the blackout. (This was a big reveal to me, because it doesn't seem like there has been any evidence of that happening through any of the flashbacks.) The panel teased who might be in charge of California, commenting that many people share the name of the person in charge, and it might not be who you think it is. Soon the group will travel to the Georgia Federation, of which a woman is president, and we will see how much better Atlanta looks than Philadelphia. The season finale will be an ultimate showdown between Monroe and Miles.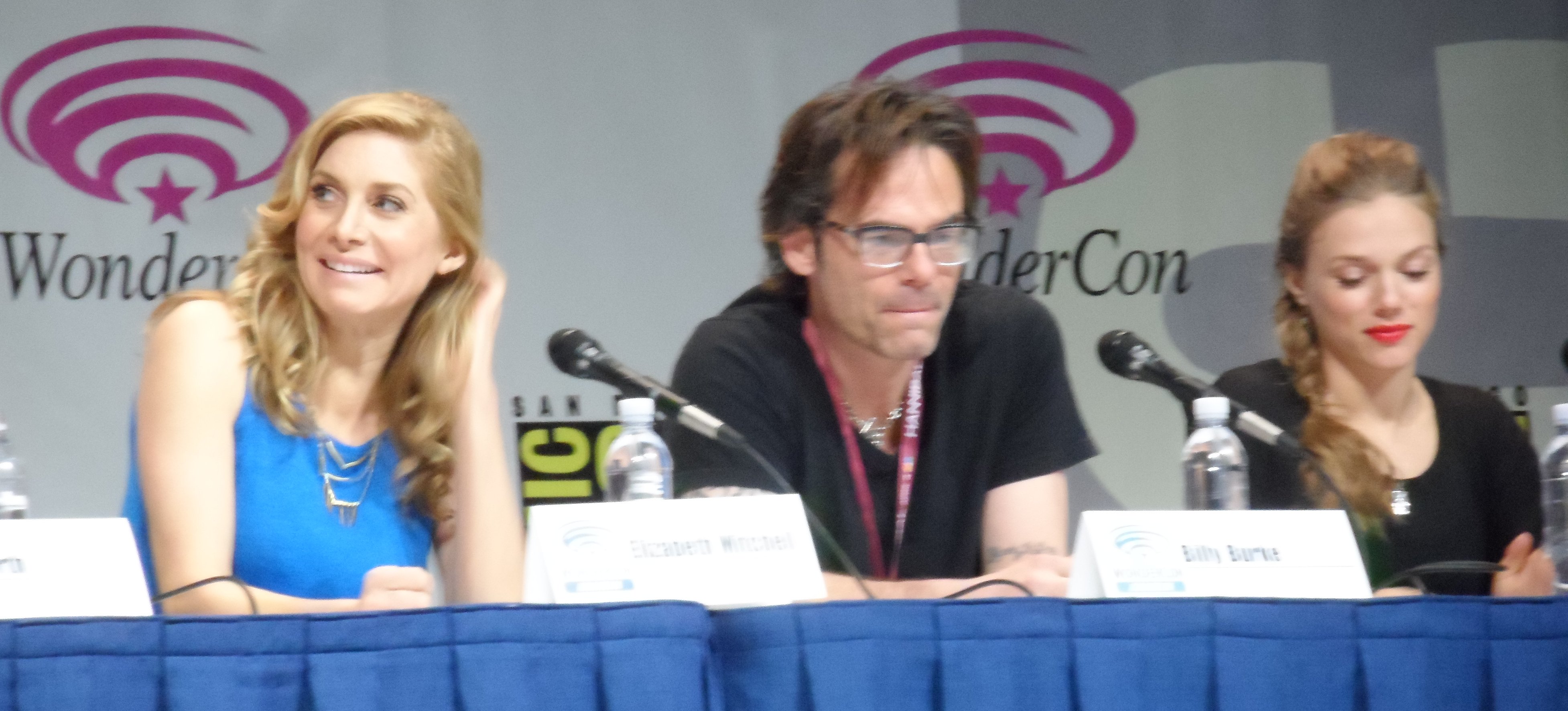 When an audience member asked Burke about his transition from Twilight to Revolution, he commented that he was in the dark a lot during Twilight, and that it's nicer to be a lot more heavily involved in Revolution. However, the actors don't know the back story of the characters, they get it as they go along. Another audience member asked if the actors get special weapons training, which Spiradakos answered that it's more "on the spot" training, and that they learn right beforehand. The panel also emphasized that Revolution is NOT a "post-apocalyptic" show, and that "it's kinda nice" not having power. Burke teased, "Do we really want the power back?" Power attracts, and this half of the season we'll see just how attractive power is and how destructive power is.
When the panel was asked if they called up J.J. Abrams to get a part when they heard he was directing the new Star Wars movie, Burke quipped, "Oh, he didn't call you guys?"
The Mortal Instruments: City of Bones
After the one hour Revolution panel was a half hour panel for The Mortal Instruments: City of Bones, a film based on the supernatural young adult novel by Cassandra Clare, who was in attendance at the panel. Also in attendance were Lily Collins (Clary), Jamie Campbell Bower (Jace), and Kevin Zegers (Alec). After watching a clip of scenes from the movie, which is basically about a teenage girl who is a "shadow hunter" and can see supernatural beings in our world that others cannot, the panel was quickly opened up to audience questions. When asked whether the film stayed faithful to the source material, Clare admitted that she hasn't seen the final movie yet, but from what she has seen it looks like the filmmakers tried to keep it in the "spirit of the characters" and by the looks of the set, they were trying to stay close to the books. It is yet to be determined whether there will be any sequels made, but Collins hinted that she was willing to be a redhead for awhile if they'll keep her as Clary for future movies.

Clare was excited about the fact that the filmmakers wanted her involved in the filmmaking process at all. She gushed about how she was able to obtain the casting director's phone number, and got to watch all of the auditions, and how she was also involved in the set designs and costumes. An audience member asked Clare what age group would she recommend to read the book and watch the movie, and Clare replied that it depends on the individual, and could range from 7 or 8 to 92. She did comment that the monsters might be scary if you are very young, however. Another audience member asked whether Brother Zachariah would be in the movie, and Clare said no, because he's not in this book, but that they do get into the Silent Brothers. When the panel members were asked what it was like working with the runes tattoos, they replied that it was brutal, especially for Bower, who already had tattoos that needed to be covered up, because they had to put them on and take them off every day, and they were a pain to get off. When asked who their favorite characters were, besides themselves, Collins said hers was Magnus, while Bower said his was Isabelle, his character's sister, and exclaimed, "I love my sister!" Clare's favorite is Simon because he is the most like herself. Collins spoke about how she grew up a lot during the making of the film, because she took a lot of risks and learned a lot about herself. The panel ended after an audience member brought forth her baby, which she told the panel she named Jace, after the character in the book.
Evil Dead
The next panel was a half hour panel for Evil Dead, a remake of the 1981 cult classic horror film, which started off with a trailer for the movie. On hand for the panel were actors Lou Taylor Pucci, Shiloh Fernandez, Jessica Lucas, and Jane Levy, as well as director Fede Alvarez and producer Bruce Campbell (who was in the original). Campbell spoke about how they had originally talked about this movie being a sequel to the other Evil Dead movies, but they ended up making it a remake, and he hinted that there would be others to follow, saying he would like a total of seven including the old ones. When asked how they were able to get an R rating [as opposed to NC-17, due to all the blood and gore], Campbell said that the MPAA was helpful with letting them know what to change. Levy commented that the hardest thing about making the film was getting buried alive and having to breathe through an oxygen tube. Alvarez emphasized that everything you see on camera is real, and that all of the actors were really scared. Pucci admitted that he didn't know what he was getting into when he agreed to be in the movie, and went on to praise the Evil Dead franchise as the best cult trilogy, at which point Campbell got up and walked over to Pucci, handing him some money. Campbell kept up his humorous, witty banter throughout the panel. Alvarez said that his dream was to connect the Evil Dead  world with Sam Raimi's Army of Darkness.  He told us that the remake has several nods to the original, and that it was important to make the film for both old fans and new. The film was made with an old school approach, with things done on the spot instead of post production. For example, when Levy projectile vomits, they use an "umbrella tube."  We then got to see a very graphic clip from the movie, introduced by Sam Raimi, in which Lucas's character cuts her face off with a piece of glass, then repeatedly stabs Pucci's character in the face with a needle, and Pucci bashes her head in.

Then it was opened up for audience questions, where we found out that there is a possibility of seeing Campbell in this movie or future sequels. Campbell was glad to pass the carnage to others, and enjoyed seeing them "in the soup." When Levy was asked what drew her to Evil Dead, she said it was the fact that it was the opposite of Suburgatory and other genres she has done. It was revealed that the film answers WHY they are at the cabin, and clean up plot holes that existed in the original. Campbell also spoke about Freddy vs. Jason vs. Ash, saying "If you can't kill those two losers, what's the point of being in it?" Ending the panel, Campbell commented that the new Evil Dead "might get promoted enough that you might actually see the movie when it first comes out and not 15 years later."
This Is the End
The final panel in the Arena was a half hour panel for This Is the End, with Danny McBride, Craig Robinson, Seth Rogen, and Evan Goldberg in attendance. Rogen came out dressed in the comic book Wolverine costume, while Goldberg was dressed in S&M gear. We got to watch the "Green Band" trailer, where they're all at James Franco's house for a party, with several real-life celebrities all playing themselves, when it appears that aliens begin to take over the world, and celebrities get killed off left and right. When asked how many celebrities they killed, they said it was in the double digits. They thought it would be funny to kill famous people in super graphic ways, so they kill most of their favorite stars.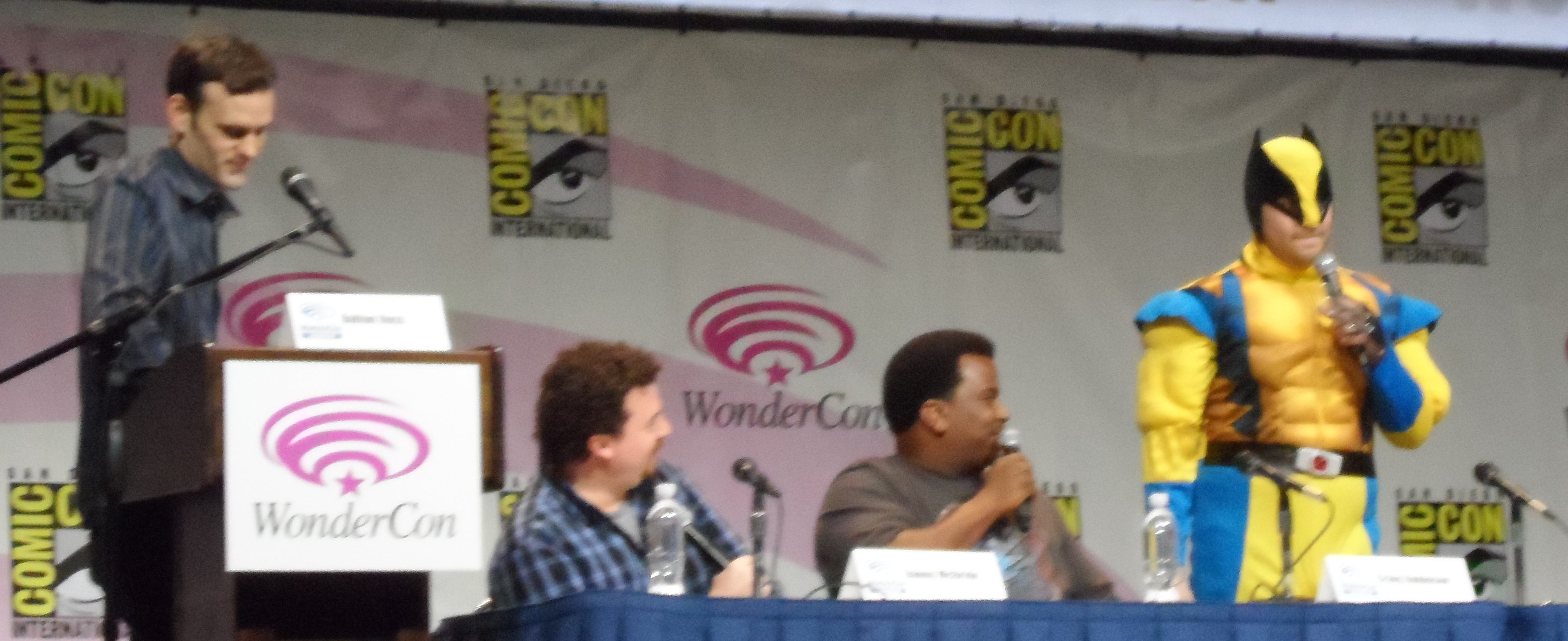 We then watched a clip of the initial invasion, where we witnessed the over-the-top, graphic yet humorous deaths of Michael Cera, Aziz Ansanri, and Kevin Hart, among others, and Paul Rudd was also in the clip. Rogen commented, "If you liked the Avengers, you'll like this movie." They encouraged improv on set, and apparently feelings got hurt because they didn't limit what people said. We then got to watch another clip where the group is trying to perform an exorcism of Jonah Hill, and they pretty much parodied the movie The Exorcist.
When asked about his show Eastbound and Down, McBride said there would be one more season. Rogen commented how he's been trying to do this film for about seven years, and that he made a short in 2006 with a similar plot. He brought up the part in the clip where Aziz Ansari's arm gets ripped off, and told us that James Franco said, "An arm would never come off that easy, take it from me," of course referring to Franco's movie 127 Hours where he had to cut off his own arm. Rogen said when they brought the movie to the studio, the studio kept asking "Do you have to play yourselves?"

An audience member asked Rogen if he would ever do a Freaks & Geeks reunion, to which he replied he would love to, but no one's called. He also pointed out that this movie was halfway there, considering the number of former cast members that are in this film. Rogen also shared with us a little behind the scenes info about the part in the clip with Michael Cera and Rihanna at the party, where Cera smacks her butt and she slaps him. Apparently Cera had said to Rihanna beforehand, "I'm actually going to slap you on the a–," to which Rihanna replied, "I'm actually going to slap the s–t out of you."
Dinner Break at IHOP
And so ended programming in the Arena for the day. Everything wrapped up pretty early – by 4:30 pm. That is because staff had to start getting the Arena ready for the Masquerade that would be held there later that evening. We decided to go walk around the Exhibit Hall for a little while, then walked over to the IHOP across the street from the convention center for dinner. Warning: the prices at this IHOP are much higher than a typical IHOP. However, our host shared with us some secret info: that we could get 10% off of our bill if we showed our convention badges when we paid up front. Our waitress didn't seem to know anything about the discount, but when we asked the manager about it upon paying our bill, she gladly gave it to us. Even with the discount, it was still more expensive than a normal IHOP though. By that time, it was 6:30 pm, and we started heading back to the convention center for our final panel of the night, Under the Dome, which was scheduled to start at 7:00 pm in Room 300AB.
Under the Dome
Under the Dome is an upcoming TV series on CBS that is based on the 1,000+ page Stephen King novel of the same name. We started off the panel watching a clip made up of scenes from the show, which is about a small town in Maine which finds itself cut off from the rest of the world when a glass dome mysteriously appears over the town. In attendance at the panel were Executive Producers Neal Baer and Jack Bender (who is also the Director), writer Brian K. Vaughn, and actors Rachelle Lefevre (Twilight) and Dean Norris (Breaking Bad). We learned that the book was merely used as a jumping off point for the show, which was helpful to making the series, because they could use the characters and themes, but didn't have to be afraid of doing other things. The series was described as a "character show with a sci-fi element." The show tackles conflicts such as dwindling resources and democracy, as well as other issues such as whether the sun can shine through the dome or if it can rain inside the dome.

Dean Norris was questioned about his transition from a good guy in Breaking Bad to a bad guy here. Norris spoke about how it was so opposite, and commented how bad guys often don't think they're bad, because they're doing it for good reasons. Norris said he felt sorry for his character, and talked about the back story of how his character got the nickname "Big Jim," when his character was a child and was made fun of.
The producers spoke about how they wanted the show to be as cinematic and as big as possible, but intimate and character driven. Apparently, after the dome appears, it only takes about 36 hours for civilization to fall apart. This season is divided into thirds: (1) Faith, (2) Fear, and (3) Fascism. It is NOT a miniseries, it is a series that will go on. The show explores discovering the limitations of the dome, such as the fact that high frequency can come through, but low frequency can't. The series makers researched the science of the dome, wanting to follow the rules and make it as real as possible, even trying to figure out the exact dimensions of the dome, to which Stephen King had commented, "You know you can just make it up too."
Stephen King and Steven Spielberg are both behind the series, and both have very American ideals, but different sides, in that King is a pessimist and Spielberg is an optimist. The panelists talked about how King has been a part of the approval process, and how he visited the set and spent time there, saying that he was "just a guy in a T-shirt" and "very humble." Lefevre took a picture with King, and asked if she could send it to him on twitter, to which King replied, "Homie don't twit." The cast has been shooting for about a month, on location in a small town in North Carolina.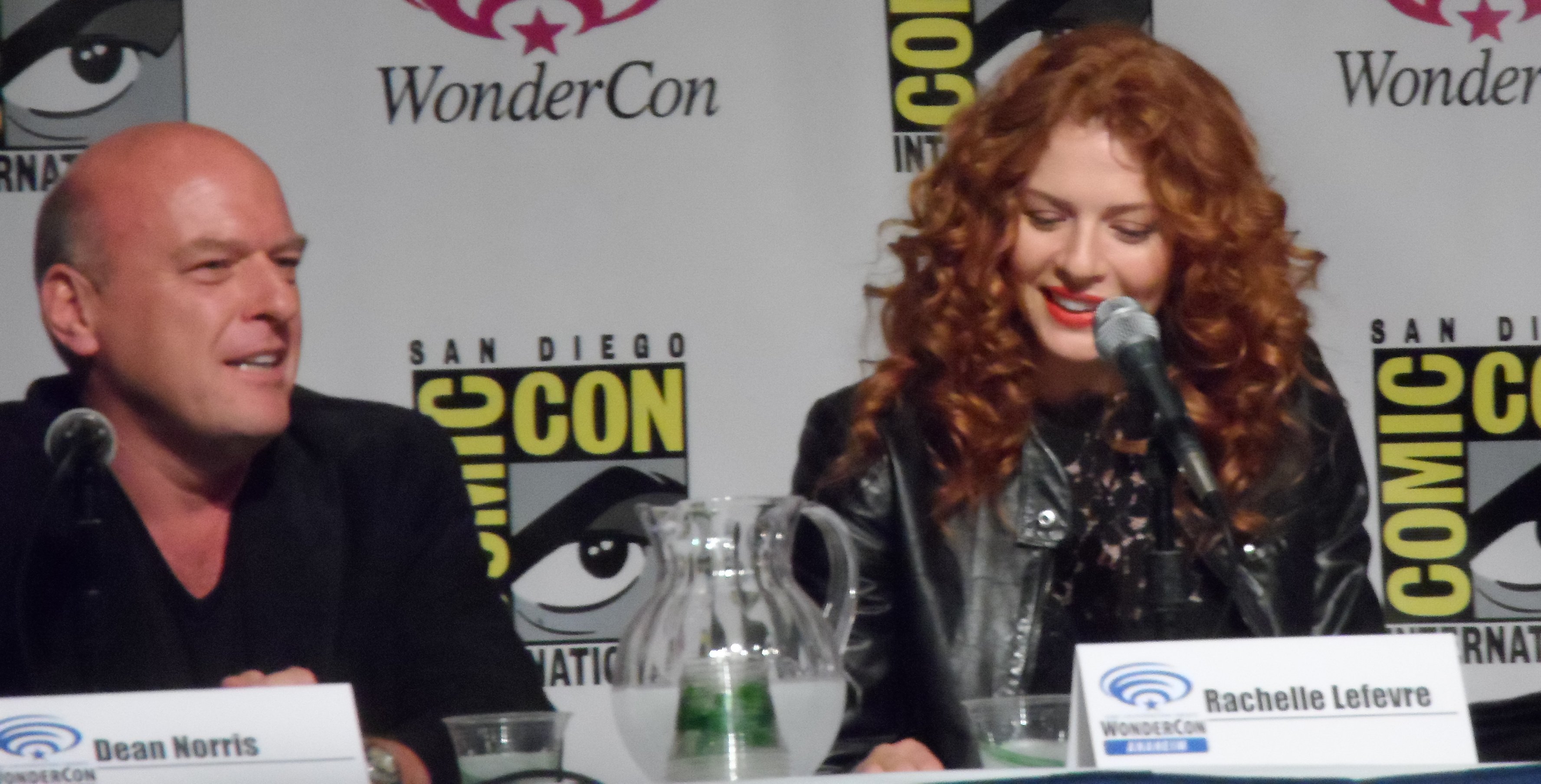 There are a few Lost veterans on the show — Jack Bender (Director and producer of Lost) and Brian K. Vaughan (writer and producer of Lost), as well as actor Jeff Fahey (who played Frank Lapidus). Compared to Lost, which the panelists would say supernatural elements were medium, the supernatural elements in Under the Dome are low. However, like Lost, the show is about the characters. Baer commented that it's a lot like ER, in that they reveal how characters interact with different characters. However, there are quite a few changes from the book. For example, Lefevre's character in the book is 50, while in real life she is 34! Vaughan commented that this show will hopefully be something new, and that "deep down all of us want the apocalypse to happen." Under the Dome will air this summer, with 13 weekly episodes in a row. Unlike Lost, there won't be many flashbacks, because we don't need to know about the characters' past lives. The producers said they are avoiding a "post-apocalyptic" description of the show.
Baer, who was a physician before he became a producer/director, spoke about his transition to showbiz, where he started out as a staff writer for ER. When an audience member asked if there would be any references to King works in the show, the producers said yes, we should look for Easter eggs. The final episode they have in mind for the show is different than the book, as they probably will be keeping the dome down for 10 years. Anyone who has read the book, such as myself, knows that the dome wasn't down nearly that long, so it sounds like they will really be taking this series and making it their own.
During the panel they handed out cards with content on them which you could access by scanning the bar code with your phone. A few of the cards had a special mark on them, and anyone who got a card with that mark won an autographed copy of the novel.
Thus our Saturday at Wondercon came to an end around 8:00 pm. We then went home and watched the mid-season premiere of Doctor Who, then rested up for Day 3.
If you missed our Wondercon Friday Report, featuring Battlestar Galactica 35th Anniversary, Geek & Sundry, The Most Dangerous Women at Wondercon, GEEK Magazine Star Trek Summit LIVE, and Hemlock Grove panels, you can check it out here.
To read our Wondercon Sunday Report, featuring panels for Joss Whedon's Much Ado About Nothing, Chris Hardwick's The Nerdist, and CW's hit series Arrow, click here