There are so many conventions and geeky events going on these days that it's hard to keep track of them all! Sure, we attend and report on some (click here for our personal calendar of conventions), but there are way more than that going on during any given weekend. So we've decided to give you a monthly list of comic, pop culture, fandom, gaming, etc. conventions and events taking place in the Southern California area, since that is where we are based. Read on to find out what geeky conventions and events are going on in So Cal for the month of April 2017!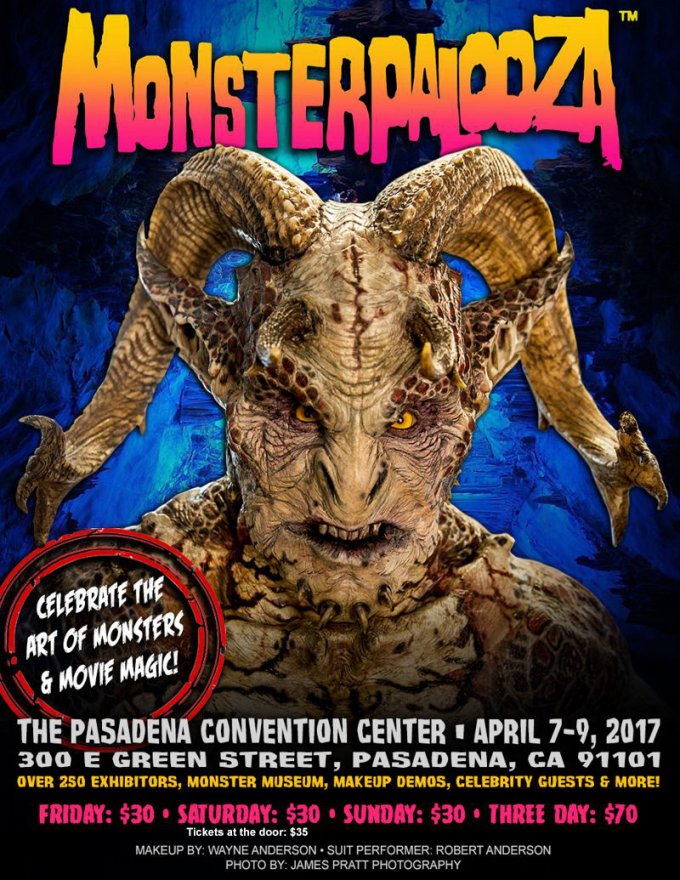 Monsterpalooza
When: April 7-9, 2017
Where: Pasadena Convention Center, 300 E Green St, Pasadena, CA 91101
Cost: 1-Day Ticket $30 (Saturday 1-Day $35 at the door); 3-Day Ticket $70
Description: Celebrate the art of monsters and movie magic! Over 250 exhibitors, monster museum, makeup demos, celebrity guests, and more!
6th Annual Harry Potter Roller Skating Night
When: April 8, 2017, 8pm-11pm
Where: Moonlight Rollerway, 5110 San Fernando Rd, Glendale, California 91204
Cost: $15 (includes skate rental)
Description: Enjoy a night full of Harry Potter music from the films, wizard rock, costume contest, merchandise, games and raffle prizes and roll up to the snack bar for a frothy cup of Butterbeer!
The Original Renaissance Pleasure Faire
When: Saturdays and Sundays April 8 through May 21, 2017
Where: Santa Fe Dam Recreation Area, 15501 E. Arrow Highway, Irwindale, CA 91706
Cost: Adult single day $29.95; Senior (62+)/Military $27; Child (ages 5-12) single day $15; Adult Season Pass $150; Child Season Pass (ages 5-12) $60; Children 4 and younger FREE
Description: Begun in 1963 in Agoura, near Malibu, to create "living history" for school children and their families, the Original Renaissance Pleasure Faire has grown into an annual interactive playground and gallery for over 200,000 participants and guests. Our Faire is 20 acres of pure fun! 13 stages offer variety entertainment all day long. In addition, we dazzle you with a fully armored joust, the Queen and her glittering Court, amazing arts and crafts, delicious food, fine spirits, music, dance, parades, rides and games. Join us for a day of play!
Claremont Packing House Comic Book & Collectibles Show
When: April 9, 2017
Where: Claremont Packing House, 532 W 1st St, Claremont, CA 91711
Cost: FREE
Description: A cozy, fun, family-friendly affair, with a variety of Vendors and Exhibitors featuring Comics and Collectibles! Every show is different, with special guests, and events, live music, and more. Costumed attendees are encouraged!!

Hanadoki Con
When: April 14-16, 2017
Where: Town & Country Resort, 500 Hotel Circle North, San Diego, CA 92108
Cost: Full Weekend $45 ($50 at the door); Child (6-12) $20; Youth (13-17) $25; College Student/Military/Educator/Member of Fan Club with at least 10 Attending Members $30
Description: Hanadoki Con is for the fans and by the fans focused on anime and Japanese culture in American popular culture. We are dedicated to bringing the best possible fan convention to San Diego that we possibly can.
OC Fair Imaginology
When: April 21-23, 2017
Where: OC Fair & Event Center – All Grounds (Enter at Gate 8 off Arlington Dr.), 88 Fair Drive, Costa Mesa, CA 92626
Cost: FREE
Description: The OC Fair & Event Center invites students and their families to go "Full S.T.E.A.M. Ahead" for three days of competitions, exhibits and activities all designed to explore the fun of S.T.E.A.M. (Science, Technology, Engineering, Arts and Math.) Exciting workshops, build-your-own scarecrow contest, scavenger hunts, hands-on activities and more will fuel imaginations. Orange County students, grades pre-Kindergarten to high school, can showcase their talents in a variety of competitions for woodworking, digital media, gardening, photography and more.
Inland Empire Science Festival
When: April 22, 2017
Where: Western Science Center, 2345 Searl Parkway, Hemet CA, 92543
Cost: $8.00 for Adults, $6.50 Seniors 62+,  Students 13-22 w/IS $6.50, Youth 5-12 $6.00, Under 4 years old is free, and Active Military (individual) w/ID is free (Includes admission to the museum)
Description: 3rd Annual Inland Empire Science Festival hosted by Western Science Center! Multiple Museums, STEM companies and agencies will gather in one spot to share information about science!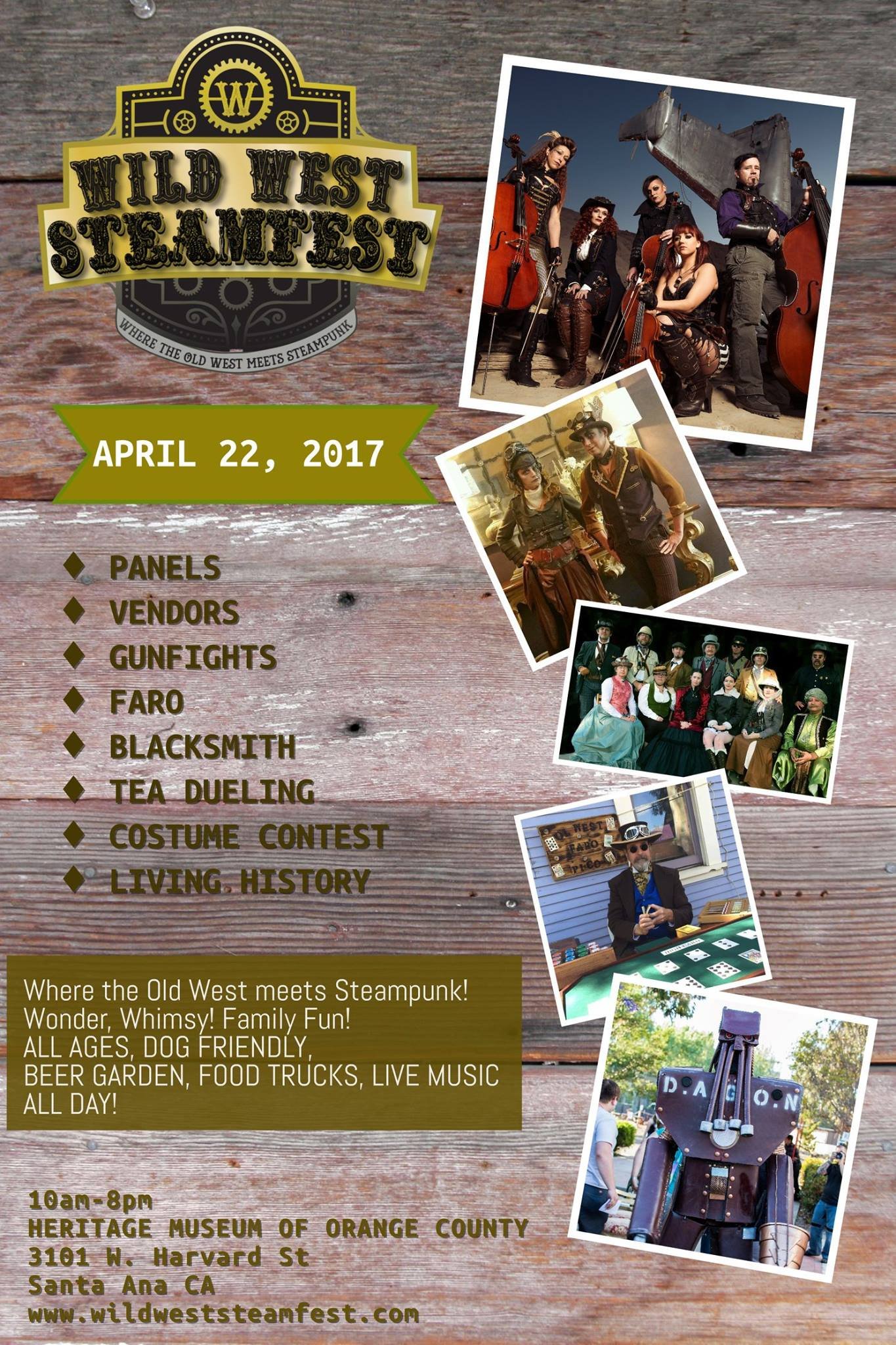 Wild West Steam Fest
When: April 22, 2017
Where: Heritage Museum of Orange County, 3101 W Harvard St, Santa Ana, CA 92704
Cost: Adult Event Admission + Concert $35; Concert only – all ages $10; Youth Event Admission + Concert $25; Adult Event Admission Only $30; Youth Event Admission Only $20
Description: Where the Old West meets Steampunk! Featured programming includes: Panels, Vendors, Gunfights, Tea Duelling, Blacksmith, Faro, Costume Contest, Gold mining, Living History Tours, The Atlantean Foundation.
Los Angeles Times Festival of Books
When: April 22-23, 2017
Where: University of Southern California, University Park Campus, Los Angeles, CA 90089
Cost: FREE
Description: The Los Angeles Times Festival of Books began in 1996 with a simple goal: to bring together the people who create books with the people who love to read them. Since then, the festival has grown into a vibrant celebration of all of the arts, and of our dynamic, innovative and unique metropolis. Each year, over 150,000 people come to the University of Southern California campus to experience a gathering of writers, poets, artists, filmmakers and musicians like no other. The Los Angeles Times Festival of Books is the largest festival of its kind in the United States and is The Times' annual gift to our city.
FantasicKon
When: April 23, 2017
Where: College of the Canyons, 26455 Rockwell Canyon Rd, Santa Clarita, CA 91355
Cost: General Admission $12; Student $8; Family Pass $30
Description: FantasicKon will feature a day full of vendors, artists, makers, panels, discussions, cosplay, toys, collectibles, comic books, clubs, video games, demonstrations, music, and more!
StokerCon 2017
When: April 27-30, 2017
Where: The Queen Mary, 1126 Queens Hwy, Long Beach, CA 90802
Cost: Day Pass $60; Full Weekend $175 for HWA Members ($200 at the door), $195 for Non-Members ($220 at the door)
Description: Presented by the Horror Writers Association. Horror University Writing Workshops, panels, author signings, Final Frame Film Festival, Dealers Room, Gala, The Ann Radcliffe Academic Conference, Librarians' Day. Guests of Honor include George R.R. Martin, Elizabeth Hand, Chuck Wendig, and more.
Kingdom-Con 2017
When: April 27-30, 2017
Where: Crowne Plaza San Diego, 2270 Hotel Circle North, San Diego, CA 92108
Cost: Full weekend $50 ($60 at the door); Single Day badges $20
Description: Kingdom-Con is a TableTop Gaming Convention, full of Board Games, Miniatures Games, Role-Playing games, Vendors and much more! Kingdom-Con is a fun party environment, that brings the fun of a local board game night or game store tournament to a convention. We are family friendly and have lots of demos and open gaming for people to learn and play games the entire time. While certain rooms close after their events are over, there are many rooms that are open almost the entire time at Kingdom-Con so that you can get lots of gaming in!

Hollywood Show
When: April 28-30, 2017
Where: The Westin Los Angeles Airport Hotel, 5400 West Century Blvd, Los Angeles, CA 90045
Cost: Friday Preview $15; Saturday $25; Saturday with Early Bird Admission $35; 2 Day Pass $40; 3 Day Ticket with Early Bird Admission $55; Sunday $20; Sunday with Early Bird Admission $30
Description: Started in 1979, The Hollywood Show is the best known autograph and movie memorabilia show on the west coast. It is held four times a year at The Westin Los Angeles Airport Hotel with actors, writers, performers, collectors and celebrities coming together to meet fans and autograph pictures and merchandise.  While visiting with your favorite celebrities, you can explore the vintage movie memorabilia that dealers from across the country have available.
Corflu 34
When: April 28-30, 2017
Where: Warner Center Marriott, 21850 Oxnard Street, Woodland Hills, CA 91367
Cost: Full Weekend $115; Saturday Only $40
Description: Corflu is a small, annual convention of science fiction fanzine fans. Other conventions with a strong fanzine aspect are held across the US, Australia, and the UK, but Corflu is now the only one which keeps fanzines as its primary focus. Corflu typically moves its venue from year to year. The name "Corflu" is derived from CORrection FLUid, a substance that allowed typing errors in mimeograph stencils to be corrected, which was in much demand during the low-tech, pre-computer days of fanzine publishing.
CSUF TitanCon 2017
When: April 29, 2017
Where: Titan Student Union, 800 North State College Blvd, Fullerton, CA 92831
Cost: FREE
Description: Titan Con is a student-run convention at California State University of Fullerton designed to showcase our appreciation for the arts and pop culture. Featuring panels, Artist Alley, Exhibitor's Hall, Video Games/Esports, Cosplay, Food Trucks and more!
Will you be attending any of these Southern California April conventions or events? Let us know in the comments below!