by Violet



WonderCon, which takes place at the Anaheim Convention Center, is this weekend, Friday, April 3 through Sunday, April 5! Are you ready? Violet has broken down some tips and tricks to survive the weekend if it is your first time. From locating your confirmation email to parking strategies, you will find some valuable information here! Read on for all the info!
1.  Buy your badges now if you haven't already done so. 3-Day badges and Saturday badges are already sold out, but if you want to go on Friday and/or Sunday, badges will not be sold on site, so you must buy them online ahead of time! Last year, Friday badges sold out on the day of, and Sunday badges had sold out by Saturday morning, so don't wait!
2.  Locate your confirmation email. The email contains a barcode which you will need in order to pick up your badge. You don't have to print out the email, you can just show it on your smartphone.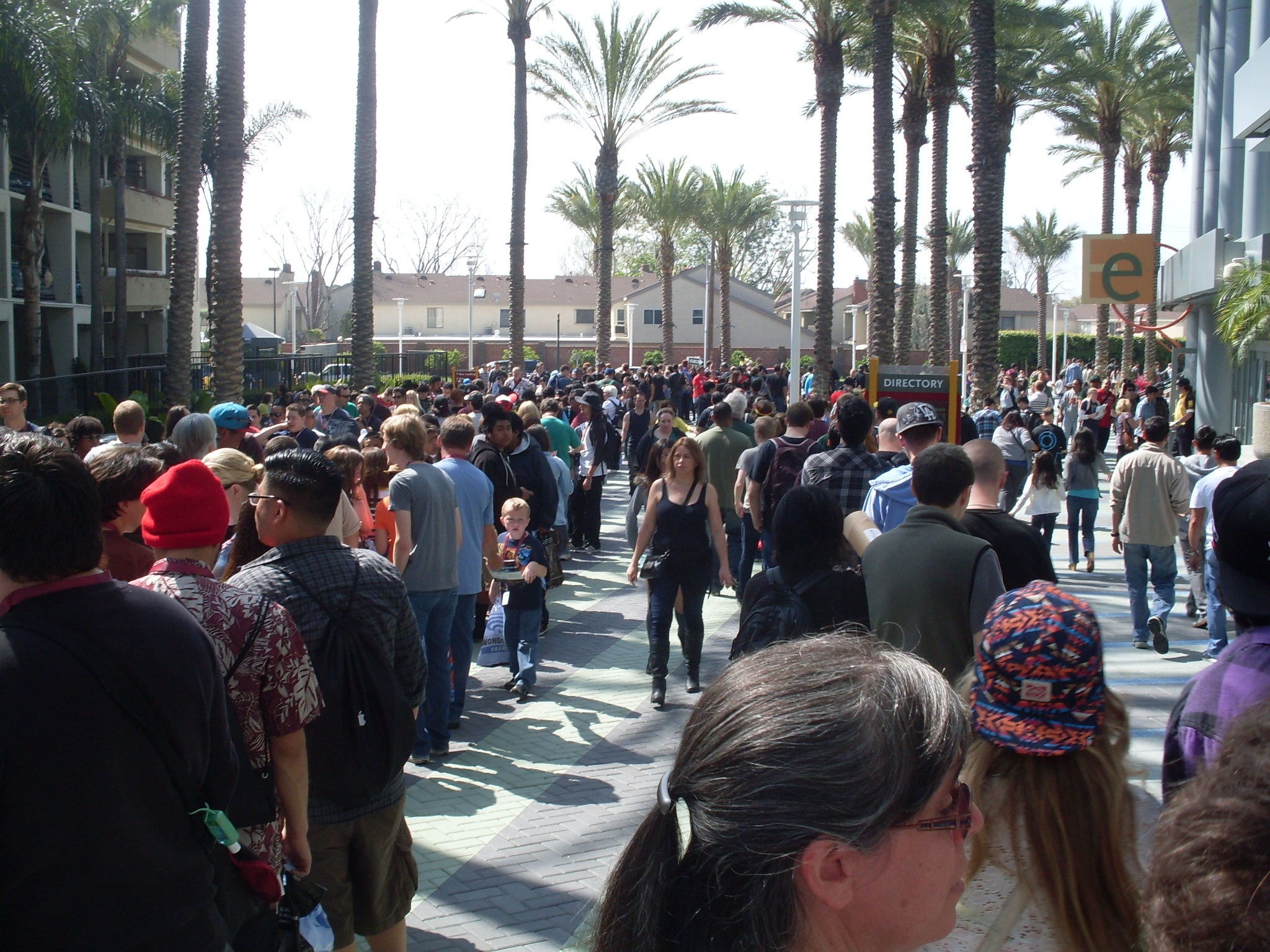 3.  Pick up your badge on Thursday if you can. If you have a 3-Day badge or a Friday single day badge, you will be able to pick up your badge on Thursday between 12:00pm – 7:00pm. This will save you the hassle of waiting in line to pick up your badge Friday morning, when things will be a little chaotic. To the right is a picture of how WonderCon looked when I showed up at 11:15am on Friday morning in 2013. Although the lines look pretty crazy, they move pretty fast, and it took me less than 20 minutes to get my badge. Note that badge pickup is in Hall A, whereas it was in Hall E in 2013, which is on the opposite side of the Anaheim Convention Center. If you're facing the front entrance of  the convention center, Hall A is all the way to your right. If you cannot pick up your badge on Thursday, here are the remaining badge pickup hours: Friday 10:30am – 7:00pm, Saturday 8:30am – 7:00pm, and Sunday 9:30am – 5:00pm. Be on the lookout for people holding "End of Line" signs, and ask what line you're getting into. You don't want to waste time standing in the line to get in when you were trying to stand in line to get your badge, or vice versa!
4.  Know where to park. Like last year, it looks like this year WonderCon is the only event at the convention center (according to the calendar on the convention center's website), so parking shouldn't be as horrible as it was back in 2012. You may access a map of the Anaheim Convention Center parking here. On site parking, which is $15, usually fills up pretty early, so the next best thing is to park at the Disneyland Toy Story Lot located at Harbor Blvd and Convention Way, just South of Katella Ave.  The Toy Story Lot costs $17,  but if you're a Disneyland Annual Pass holder with free parking, you could park there to save money! A third option if those lots are full is the parking garage at Gardenwalk, located on Disney Way, just off of Harbor Blvd, which costs $15. Try to park as close to Katella as possible so that you can minimize your walk to the convention center.
5.  Make a plan. Then make a Plan B. Considering the sell out crowds, you should consider the possibility that you may not make it into your first choice of panels. Just in case, you should always have a back up plan. Check out the WonderCon programming schedule here, or you can also access the Quick Guide here, which contains the schedule grid, as wells as maps, exhibitor lists, and more. You can also download the official Comic-Con app, which contains all of this information as well.
6.  Get there early. This is how to make sure that you do get into your first choice of panels. Be aware that they do not clear out rooms between panels, and many people sit through panels that they do not care about just so that they can ensure that they make it into the panel that they do care about. The question then becomes, how early should you get in line? In past years, we have gotten in line 3 hours early for the Arena panels on Saturday, and were able to get seats on the Arena floor, rather than in the stands. However, this year there's a much lighter schedule than previous years, so it's probably not necessary to get in line quite so early for the Arena. It's the smaller rooms like 300AB and 300DE you might have to worry about, considering that Orphan Black and Felicia Day have panels in those rooms. In any case, it's up to your own discretion how much time you want to spend in line to make sure you get to see that panel. You can use our handy seating capacity guide and the MySched popularity feature to help you decide.
7.  Bring your own snacks and drinks. Convention center food is expensive! Yes, there are other options, such as the Hilton food court right next to the convention center, or the food trucks that'll be on the front plaza, but you might get stuck in back-to-back panels all day and not have time to go out and buy any food. The convention center staff doesn't check your bags, so they don't care, or at least won't know, how much food you bring in. We recommend protein bars, apples, bananas, peanuts, almonds, wheat thins, granola bars, peanut butter sandwiches, and Gatorade or a water bottle, which you can refill at the water fountains inside.
8.  Dress comfortably! The weather will be warm during the day, and cool in the mornings and evenings, so dress in layers. Also, sometimes the convention center panel rooms can be on the cold side, so if you get cold easily, make sure to bring a light jacket or hoodie. Additionally, be sure to wear comfortable shoes! You will be walking around A LOT, so the last thing you want is for your feet to be hurting all weekend!
9.  Fully charge your phone and camera. You'll be using your phone and camera all day long, so your battery power will drain fast. Remember to charge your electronics the night before, and even the morning of, or if they have removable batteries, make sure you have fresh batteries installed, and have backup batteries on hand. Another thing that will come in handy is a portable charger. We bought one of those for San Diego Comic-Con a couple years ago, and it is put to good use daily at all the cons we go to!
10.  Have fun! We know it can be stressful at times attending a crowded convention, but remember why you're there — to have fun! Even if you don't get into your first choice panel, there's always something going on at WonderCon, with a wide variety of panels to choose from, and you can always explore the Exhibit Hall.
Need more tips? You can access Comic-Con International's Toucan Blog tips by clicking here. Additionally, Crazy4ComicCon has a list of his 7 Important WonderCon Tips! For a visual guide, check out this video from Shawn Marshall (@ParksAndCons) over on the SDCC Unofficial Blog.
Is this your first time going to WonderCon? Do you have any questions or concerns? Let us know in the comments below!