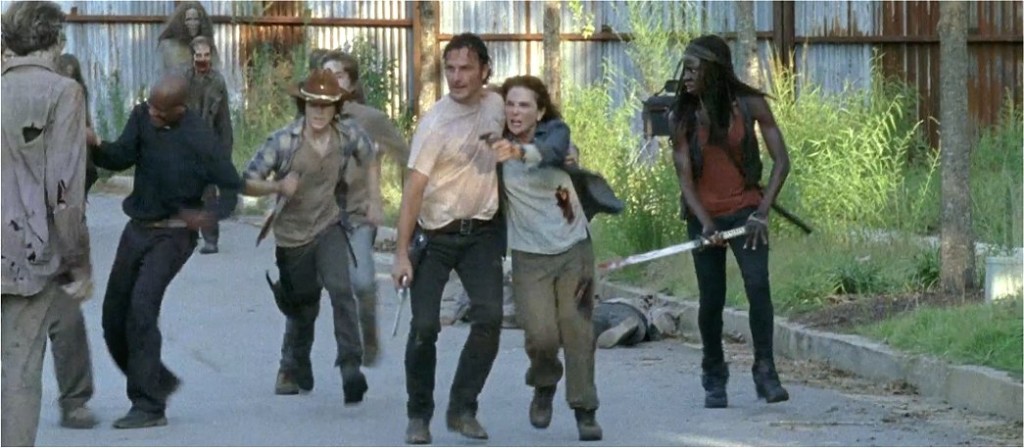 Check out Violet's recap of Season 6 Episode 8 of The Walking Dead, titled Start to Finish, where the walkers have broken through the walls of Alexandria! Following the recap, both Violet and Josh share their thoughts about the episode. 
Don't need the The Walking Dead episode recap for Start to Finish? Click here to jump directly to Violet's thoughts on the episode!
To see Josh's thoughts on this week's The Walking Dead episode, Start to Finish, click here to get directly there!
Episode Recap of The Walking Dead, Season 6 Episode 8: Start to Finish
Sam still doesn't want to go downstairs, so he comes out of his room, leaves his empty plate by the stairs, and returns to his room, where a record is playing old timey music. Then we see ants attacking a plate of food that Sam left in his room as he draws a picture.
Outside, we see the tower fall, knocking down a section of the wall, and the walkers come flooding through. Rick runs and tells everyone to get into their houses, as he shoots at the walkers. Deanna comes running to Rick, and shoots a few walkers as well. Deanna falls, but Rick helps her up. Meanwhile, Carol stumbles, and Morgan helps her to safety. Maggie desperately tries to fend off the walkers as she climbs up the ladder to the lookout. The ladder falls, but she is able to pull herself up to safety.
Eugene cowers, and hears Daryl through a walkie talkie. He picks it up and says, "Help?" But then Rosita and Tara find him and bring him with them, as they run into an open garage and shut the door behind them just in time.
Rick, Deanna, Michonne, Carl, Father Gabriel, and Ron find themselves surrounded by walkers. Luckily, Jessie comes out and shoots a few walkers, and Rick and the others run into her house, unharmed.
On the other side of the fence, Glenn plots how to get in, and reassures Enid that people are still alive inside.
Rick and the others come upstairs in Jessie's house, and Jessie tells Sam to turn off the music and stay quiet.
Morgan tries to take a look at Carol's head wound, but she waves him off. She says she doesn't trust him. Carol seems very weak when she tries to stand, but Morgan has her sit back down, because she may have a concussion.
Meanwhile, Denise has been left alone with the Wolf. He tries to talk to her, and tells her none of them belong there. He tells her he got his cut on a rusty bumper while breaking into a car. Denise has him show her the wound. She tells him that he wasn't born this way, and that he can change. Then she starts getting her supplies out to help him.
Back at Jessie's house, Michonne patches up Deanna and discovers that she has been bitten on her side. In another room, Rick and Jessie talk about Deanna, then Rick shares his plan with her. Michonne talks with Deanna and tells her that she understands her plans for expansion, and says that she wants this place to work.
Carl goes downstairs into the garage, where he finds Ron, who thinks they're all dead, and that Rick is just going to get more people killed. Carl tries to reassure him that they're going to make it. Ron locks the door, and then starts to pull a gun on Carl, but Carl jumps him before he gets a chance. They fight, and Ron goes after Carl with a shovel, and breaks the glass on the door that leads outside. This attracts the walkers to come and break through the door. Rick has heard the commotion, and has to break the knob and the lock off the door to get through, and rescues Carl and Ron just in time. They put a couch against the door to keep the walkers back. Carl covers for Ron. Carl confronts Ron in his bedroom. Ron apologizes, but Carl makes him give him his gun.
The noise has drawn more walkers to the house. Judith starts crying, so Rick goes upstairs to get her. He passes by the room that Deanna was in and notices that she's gone. He goes into the room where Judith's playpen is, and sees Deanna leaning over it. He starts to go after her, but she notices him, and tells him that she's still herself. Apparently she wanted to see Judith one last time and her legs went out. Rick picks her up and puts her on the bed, and tells her that someone needs to be with her from now on, and it can't be Judith. Deanna gives Ricks some notes she wrote for Spencer and Maggie, and Rick says he'll make sure they get him. She also asks Rick to look out for Spencer like he looks out for his people. Deanna then goes on to say that they're all his people now. Jessie calls for Rick, so he picks up Judith, and closes the door behind him.
Tara, Rosita, and Eugene are trapped inside the garage as the walkers bang on the door.  Rosita says it feels like Abraham's dead, but Tara insists he's not dead. Tara also believes that this place isn't over. Rosita is about to shoot out the lock on the door, but Eugene picks the lock instead.
Morgan watches over Carol, who rests her eyes. He starts to go downstairs, but suddenly, the light switches off. Carol takes advantage of the temporary confusion to push Morgan and run.
At Jessie's house, the walkers have managed to break through the front door. They fight them off, then run upstairs, blocking the stairway with the couch, preventing any walkers from getting through.
Carol goes over to Denise and the Wolf, and Morgan follows, blocking Carol from going after the Wolf with her knife.
Rick and Michonne each kill a walker and bring them upstairs. He tells the others to collect bedsheets on which to smear the walker guts on so that they can get through the walkers undetected.
Morgan tries to talk Carol down, but she says she'll kill Morgan to get to the Wolf. He says he won't let her.
Michonne goes to see Deanna and tells her what's going on. Michonne offers to off Deanna, but she says she's not ready yet, though she will be soon, and will do it herself. She has a gun. Michonne exchanges a tearful goodbye with Deanna, and thanks her for believing. Deanna tells Michonne to figure out what she wants, then tells her "Give 'em hell."
While Rick and the others are preparing the bedsheets with walker guts, Sam comes out of his room, and Jessie explains things to Sam.
The Wolf tells Carol she should kill him, but they're all going to die, and they don't belong here. Carol continues to try to get Morgan to step aside, but Morgan knocks the knife away with his staff, and they fight. Morgan grabs Carol and throws her to the ground, where she lies unconscious. The Wolf takes this opportunity to grab Morgan's staff and knocks him out, then gets the knife, which he uses to cut himself free from the ropes tying his hands. He pulls the knife on Denise, who calls him on his BS. Just then, Tara, Rosita, and Eugene enter, and the Wolf holds the knife to Denise's neck. The Wolf has the three of them slide their guns over to him, and he picks one up, holding it to Denise's head. Then he takes Denise with him outside, as the other three watch helplessly.
Rick and the others come downstairs wearing their walker guts bedsheets, and walk right through the walkers with no problem.
Meanwhile, Glenn and Enid climb up a tree, and Glenn sees Maggie trapped on the platform, surrounded by walkers.
Upstairs at Jessie's house, Deanna begins to point the gun at herself, but then she changes her mind. She gets up, opens the door, then opens fire on the walkers coming toward her.
Rick and the others hold hands as they walk outside and walk through the street crowded with walkers.
Violet's Thoughts on Season 6 Episode 8 of The Walking Dead: Start to Finish
I was quite a bit unimpressed by this mid-season finale. So many unbelievable things happened, and not in a good way, more in an unrealistic and annoying way.
We knew it was coming that Ron had a plan with that gun. He's pretty dumb to pick the worst possible timing to go after Carl with it, right in the middle of everyone being attacked by walkers. Plus, he also expressed concern about all of them going to die… Well, if that's what he believes, what's the point of shooting Carl? Wouldn't that be a more merciful death than getting killed by the walkers?
Then there's Carol and Morgan, duking it out when there are more important things going on. Sure, the chaos of the walkers attacking Alexandria was a good time for her to get her way and kill the Wolf while everyone was distracted, but she could be helping with the crisis at hand, rather than putting her efforts toward killing the Wolf.
I also don't understand why Tara, Rosita, and Abraham all surrender their guns to the Wolf. They're all good shots, so any one of them could have taken the Wolf out and easily saved Denise.
Oh, and Deanna's "legs giving out" and falling over on the playpen? That was so dumb. It's also dumb that no one was watching her, when they know she could turn at any minute!
This brings us to the walker guts costumes. While it's a good solution, which we have seen work before, it's like, why don't they use this solution more often? It kind of feels like it works a little too well though, since wouldn't the walkers be able to smell human flesh on their faces, which aren't covered in guts, since they're in such close quarters? I suppose when Rick and Glenn did this in the first season, their faces weren't covered in guts either, but maybe they should have been, in order to make it more believable.
Anyway, I'm wondering how many Alexandrians are even left after this attack. Is it just the people that we saw in this episode, or are there others still holed up safely in their houses? I'm hoping that the show makes a good comeback in the midseason premiere to make up for this weak midseason finale.
Josh's Thoughts: The Walking Dead, Season 6 Episode 8: Start to Finish
There was a lot going on in the mid season finale, and unfortunately most of it was bad. When I saw bad, I have two meanings. First, within the context of the story, there was some bad stuff going down for the characters. On top of that, I do think there was some bad writing as well, and I wasn't very excited with how this episode turned out in many ways.
One sad thing that happened was Deanna getting bit in her attempt to get away from the walkers. Deanna did give Rick and the group the chance to survive within their walls, and within a short amount of time, the place seems to be falling apart. Is this Rick and the group's fault? Hard to say–perhaps it was just horrible timing. Either way, the leadership in Alexandria is about to shift, likely to Rick. I wonder though–will the rest of the Alexandrians accept him?
One part that did bug me regarding Deanna though, was her being left completely alone long enough that she would be able to walk over to Judith. No one in their right mind should let her be alone, and on top of that, she should know better! That was a flub in the writing, which decided that the suspense of seeing Deanna at the crib was more important than staying true to the way the characters would actually be.
Ron also is a little punk, with his confrontation of Carl in the garage. The best time to try to take out Carl is when the walkers are surrounding the house? That kid should be left to die. That is harsh, but we don't know what other chaos this kid will inflict in the future, especially now that their lives have gotten a lot worse. I have to commend Carl though. He handled the situation, and recognized that this is not the time to be dealing with this stupid squabble, and let it go–for now. I do hope that Carl does eventually say something though, as it would be irresponsible not to.
Probably the most irritating thing this episode was how Morgan and Carol decided to handle the Wolf. "Let's fight each other, so that this Wolf can get the jump on is, sound good?!" is basically what it felt like they did. On top of that, Eugene, Tara and Rosita show up, armed with guns, and just let the Wolf go. Horrible decision. we have seen both Tara and Rosita make some good shots, and the Wolf was not doing a great job keeping himself covered by Denise. I think there easily was a shot to take.
But I am curious to see how well this zombie guts costume works again for Rick and company. They are basically shoulder to shoulder with walkers, and their faces aren't covered. Seems like a pretty easy way for these walkers to get a whiff of human flesh. I guess for the sake of TV they cannot cover their faces. This scene made me wonder though–why don't they have "zombie-ponchos" that are just permanently covered in guts in case they need them? Seems like a get out of jail free card if things go sideways.
Anyway, the season finale is coming up. I wonder how badly this Sam kid is going to screw everything up. We've already seen him start some trouble in their walker-walk….
Scenes from The Walking Dead, Season 6 Episode 9: No Way Out
Here are scenes from the next episode of The Walking Dead, titled No Way Out:

What did you think of Season 6 Episode 8 of The Walking Dead, titled Start to Finish? Let us know in the comments below!