Josh recaps Mark Hamill's panel at Star Wars Celebration 2015.  The panel was the second half of a "double feature" with James Arnold Taylor.  Check the details on this panel out after the jump!
Mark Hamill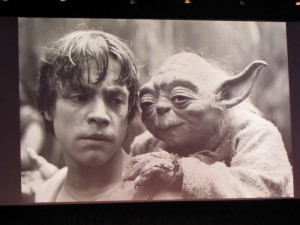 So it was finally time for the grand daddy of all Star Wars cast members– Mark Hamill. The panel started at 7pm, right after James Arnold Taylor had just finished his "Talking to Myself" performance, which you can read about here.
The panel starts with a Luke Skywalker montage played to Foo Fighters, "There Goes My Hero," which seemed fitting. Mark Hamill got a huge reception when he came out though, with thunderous applause and ovations from the crowd. You'd think these fans were at a Star Wars convention or something.
James Arnold Taylor talks with Mark Hamill about The Force Awakens, and Mark Hamill remarks that no one cared about the first film since it was so new, and there wasn't Twitter and the internet to worry about. Mark Hamill talks about how great the new cast is. He seems to feel very gracious working with the younger stars coming into the new movie. Mark Hamill then talks about his journey to returning to Star Wars, and oddly enough he heard about the movie from the internet. This might be a joke though, it is hard to say! Mark Hamill also talks about the voiceover for the teaser, and it turns out that the bit where Luke is talking is from Return of the Jedi, but he also recorded new stuff just recently, which was repeating the same line from ROTJ, but also adding the bit where it says, "And you have it too." All the while, he is making some funny wise cracks which is just driving the crowd nuts. But as had happened with Anthony Daniels, Mark Hamill gets to watch the trailer with us in the arena. Mark talks about how much there is to speculate about, which I am sure has been happening since this trailer started. I know that I have, at the very least.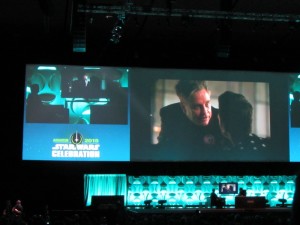 Then moving away from Star Wars for a bit, Mark Hamill talks about his other roles–in Kingsman and The Flash. Mark Hamill talks mostly about The Flash, and returning to his role as the Trickster. This actually surprised him, and he wasn't really looking forward to wearing a unitard again. He talks about how he thought the storyline was great, and Devon Graye was fun to work with (he was the younger trickster that showed up). Then of course, since this is a Star Wars convention, James Arnold Taylor shows us the clip of Mark Hamill telling Devon that he is his father. But Mark Hamill then talks about the crew for The Flash and talks about how collaborative they were with him, and allowed him to do some line changing even for his episode.
Mark Hamill talks about first doing A New Hope and how welcoming everyone was, and how new everything was. He also tells a funny bit about working with Alec Guinness, who played Obi Wan Kenobi, and how much of a sense of humor he had.
Then talking about what really comes to mind when he thinks about Star Wars, and that word is Yoda. He then talks about working with the puppet, which he says is quite difficult. He talks about at first the crew might use a trained monkey and a mask to make Yoda, but then moved on to the puppet. Frank Oz was the puppeteer who used Yoda, and Mark Hamill says working with him was great as well.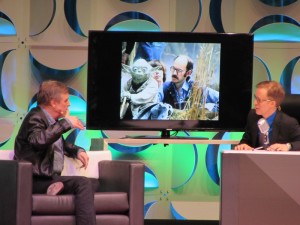 Talking about the actual mechanics of scenes with Yoda is quite a story. Yoda's lines weren't actually spoken by Yoda obviously, so Mark Hamill would use an ear piece. Unfortunately, he quite often picked up local radio stations, which had Hamill having to figure out how to work around that by anticipating his lines to get the take done. He also talks about having to talk to a stick with tape on it when the Yoda puppet was giving the puppeteers trouble, in order to prevent production from being slowed down.
Then talking about ROTJ, Mark Hamill remarks that working with Ian McDiarmid, he would never actually see what he really looked like because he was always in Emperor make up, so they decided to have a Sunday brunch with him. We get to see a couple photos of this meeting which was very 70s looking.
Mark Hamill talks about how everyone on the cast got along, and he tells a funny story about the medal ceremony in Return of the Jedi , and how the British extras were being a little mouthy under their breath when the cast walked up for their medals. He says that he spoke to them though, and told them a bit what was going on, explaining their roles in the movie, and that seemed to calm them down.
Then moving back to the Force Awakens, Hamill explains how he returned to the movie. He says he thought originally that the meeting he was going to have with Lucas was just going to be filming of some extras footage, but quickly realized that there was something more. He talks about the meeting being very private and that George told Hamill that he was moving on, but was asked if he wanted to return, and Lucas said he would be written out if he didn't want to return. Then Hamill says he tried to play it cool about his excitement, but actually was giddy on the inside. But he also comments that he felt "drafted" when asked as he knew fans would give him a hard time if he didn't return for the movie.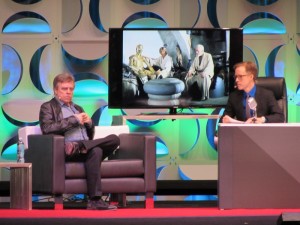 James Arnold Taylor then asks about using practical effects again in The Force Awakens, and Hamill remarks that this is the first time the movies have been in the hands of true fans. He also talks about how he was distrustful of Abrams at first, but warmed up to him pretty quickly, it seems.
Then Hamill talks about how he had to get on a workout regime, since being a voice actor is really nothing to do with physical appearance, and that voice acting is pretty easy. This of course yields laughter given that James Arnold Taylor just finished saying how hard it is to do voice acting. Of course, Hamill was really just trying to explain that voice acting doesn't require physical work, or extensive filming times.
Then Mark Hamill talks about his various voice work, and James Arnold Taylor remarks that Mark Hamill is up for an Emmy in his role in Clone Wars. Mark Hamill then tells a funny story about how he was up for a BAFTA award in England, but was up against Stephen Merchant, who he just lost to in the US for an VGA (which was for a video game voicing award). Mark Hamill tells the story that he didn't go to the BAFTAs figuring he would lose, but wound up winning, and found out from a call from his agent.
Mark Hamill then takes some audience questions. The first asks about his most awkward run in with a fan. He talks about how he has had people invite him to their childhood birthday parties, and these now 30-somethings are disappointed him in because he didn't show up 30 years ago. Pretty funny. He then talks about a time in Tahiti where he saw a motorboat being driven by Darth Vader approaching. He tells how he was freaked out and had to tell his wife. Turns out this was someone was filming a movie called Hurricane who thought the prank would have been hilarious. Mark Hamill says it was funny–in retrospect.
Another asks how to get into voice work, and he suggests that they watch cartoons. Seems like a pretty good idea. He also suggests for her decide what type of voice-overs to do, Commercial or Animation Voice Over. James Arnold also suggests that she should check out a website: howtobeavoiceactor.com.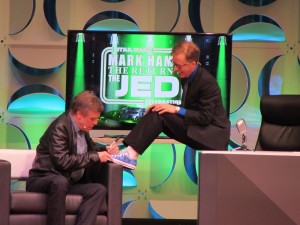 So the panel wraps up with James Arnold Taylor showing his shoes to Mark Hamill. They are Luke Skywalker shoes and a chant comes from the crowd to sign the shoe. Mark Hamill obliges, as long as they don't end up on Ebay. The panel ends with roaring applause, and that about ended our adventures at Star Wars Celebrations for Saturday night. David, Tamara, Violet, and I headed back to the car parked at Garden Walk, and decided to get some Olive Garden before going home. Of course, our conversations were filled with the fun we had at Celebration until we got home, and went to sleep to start over again Sunday morning!
Stay tuned for our Sunday Report!
Click here to see more pictures from Saturday at Star Wars Celebration!