Check out the evening report for Star Wars Celebration on Friday!  Josh talks about his experience arriving later than he had hoped, but how much fun was had wandering the Exhibit Hall and seeing Anthony Daniels in the Arena!  Let's get into it!
Violet had been at Celebration since it opened on Friday morning. Check out her recap of what she saw here.
Josh's Arrival to Celebration-Friday
After work on Friday, I was able to make my way down to Star Wars Celebration. I was bummed I missed the live viewing of the "opening ceremonies" with J.J. Abrams, but was excited to kick my weekend off at the Anaheim Convention Center. As I did for WonderCon, I headed to Garden Walk for parking. Oddly, there was plenty of parking there, and I was able to find a spot right away on the second level. I thought Garden Walk would have been full, especially since the renovations for the Convention Center had one of the parking garages there destroyed. But I found out from Violet later that Star Wars Celebration and Anaheim Convention Center were directing people to park at Angel Stadium and take a shuttle to the Convention Center. I am glad I didn't do that. That would have been a hassle. So, a helpful hint for those attending the next convention in Anaheim–Garden Walk does offer Convention Center parking for $15. Just keep in mind it is about a 10 minute walk from there to the Convention Center, so wear your walking shoes!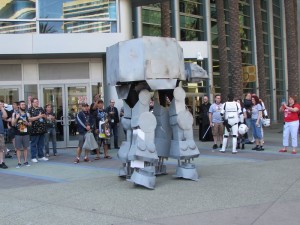 Upon arriving at the courtyard area, the familiar sights of food trucks lined the area, and the white Stormtroopers started popping up everywhere. As did the Darth Vaders, Darth Mauls, Han Solos, Boba Fetts, various other Jedis, Twileks, X-Wing pilots. You name any Star Wars character, and there was probably a cosplay of it somewhere in this courtyard, and a cosplayer who mashed a character up with something else, like Wolverine-Boba Fett, or Darth Santa Claus and his Storm trooper Elves. There was even a AT-AT that was "manned" by two people that was trying to fit itself inside the doors of the Convention Center because it was too tall.  Of course, there were dozens of R2s roaming about as well. After meeting up with Violet, we got some food at the food court because all of the food trucks were extremely busy, then headed into the madness!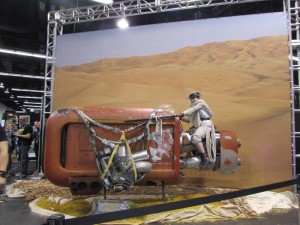 We headed into the Exhibit Hall, and it was pretty crowded. There were a lot of great exhibits though. A model speeder we have seen in the Force Awakens teaser was on display, various miniatures were also available for viewing. Of course, there were dozens of toy stores selling various vintage or new toys related to Star Wars, or other popular franchises in the same vein. There were plenty of booths also representing their cosplaying community, the 501st being a big deal as they are with anything related to Star Wars. There was also an art gallery, with various works from various artists on display and for sale. And even more exciting–there was a tattoo section on the Exhibit floor. Attendees could actually get a tattoo done at the convention, and people could even watch it be done! It seemed like every tattoo artist was working, so apparently it is a good idea!
After sifting our way through the Exhibit Hall, we decided to check out the Star Wars official store. The line was pretty long, but Violet said this was the shortest she has probably seen it. We decided to head inside and see what was there. They had a really cool Star Wars: The Force Awakens shirt that was for sale, but the key word is "was." They were sold out. I was pretty sad about that, but I got over it. Violet and I did find a funny Leia/Han Solo shirt combo though. The man's shirt has Han Solo's head saying, "No time to discuss this as a committee," while the woman's has Leia's head saying, "I am not a committee!" We thought it was funny, so we got them. $25 each. A little expensive, but worth it to us. Unfortunately, most shirts or hoodies only had large or extra large left, so that left us with just getting these shirts. I should mention they did have a cool custom T-Shirt thing going where you could pick the color and size of the shirt, then choose from several different images to have screen printed on that shirt immediately. We thought about getting one, but the line for that was very long, and we had places to go, and droids to see!
Anthony Daniels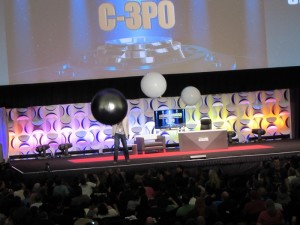 So we headed to see the droid, and that droid is C-3PO. More accurately, we were heading to see Anthony Daniels, who has portrayed the golden droid for every movie so far. We had to go through the Arena line, but it was pretty quick, and we were seated pretty quickly. Mark Daniel and DJ Elliott were prepping the crowd as the panel wasn't starting until 7pm, and we had about 30 minutes before it started. These guys were doing a pretty awesome job. It certainly looks like they enjoy what they do, which definitely adds to the experience. A few minutes prior to the panel starting, Mark Daniel decided to play a game–he put two "X-Wings" in the audience, white balloons that we were supposed to keep airborne, and then he added the "Death Star" to the mix, which was a bigger, gray balloon. The goal was to try to get the white balloons to "shoot" the 'Death Star" by running the balloons into it. Everyone seemed to have a great time with that. But the real fun was about to begin with Anthony Daniel's panel starting in just a couple minutes.
James Arnold Taylor, who will be a recurring moderator, moderated Anthony Daniels panel. Violet probably talked about him in her Friday morning post already, but he is a voice actor, and seems to have a real affinity for Star Wars. He seems like a very humble, nice guy, and I liked how he handled the panel. He came out to the panel with a musical number to, "Domo Arigato Mr. Roboto," which was a pretty funny watch.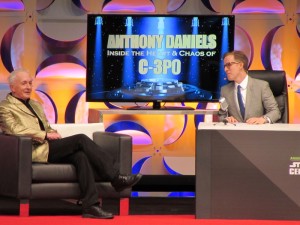 But finally, what we had been waiting for, Anthony Daniels comes to the stage after a quick montage of C-3PO movie moments, and of course he is wearing a golden suit jacket. I mean, how could he not? It was the next best thing to wearing the full C-3PO costume out on stage. This man is certainly a legend for Star Wars, being an iconic character for all 6 movies, and you never get to see his actual face! But he seems to enjoy every moment of it with how much enthusiasm he has come to the stage with.
So James has "something new" for Anthony Daniels to try–8 topics in 8 envelopes, and the envelopes are numbered. Anthony is to pick an envelope, and answer the topic inside. Anthony leaves it to the audience to help choose his numbers.
The first question is asking about the various commercials Anthony Daniels has done as C-3PO, and which is his favorite. His favorite is an underwear commercial. We then get to see this commercial, which is for "Underoos," which were all Star Wars related. These were actually pretty disturbing pieces of clothing. Parents actually bought these for their kids?!
Anthony Daniels moves on to another envelope, and this one is asking about his favorite and worst moments for filming Star Wars. He says his favorite place to film was in the desert, but oddly it doesn't seem very good when he talks about sand getting in places he can't get it out. He also says he likes the redwoods where Endor was filmed. Then moving on to favorite scene, it of course is when C-3PO is a "god" to the Ewoks, and his revenge on Han for giving a hard time for the past 3 movies.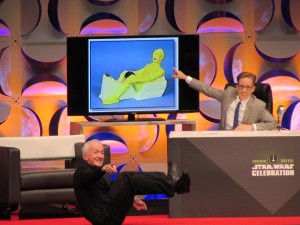 Then Anthony Daniels gets to answer a question about his favorite merchandise. This piece of merchandise is unbelievable. Whoever thought up it was really not thinking straight. It was a tape dispenser which basically had tape coming out of the crotch of C-3PO. Anthony Daniels provides an excellent demonstration of the tape dispenser, then even funnier, someone in the audience even has one, which Anthony Daniels holds up for everyone to see. I still couldn't believe that this thing exists.
Moving onto another envelope, which is about C-3POs mishaps. Anthony Daniels tells a great story that happened in the prequels (the mere mention of the prequels earns a groan from the audience, funny enough). He tells how he basically fell over as C-3PO was walking along in a green screen room. He explains that some of the crew decided to try to reduce some reflection off of C-3PO which involved putting some angled blocks on the ground. Lucky for us, James actually has the out take of this happening. It was pretty hilarious. He walks along, and basically slow-motion falls forward onto some black wedges. Then we can see some of the cast members snickering as he falls. Anthony is a great sport about it, despite it having to be very embarrassing.
Anthony Daniels then talks about his voice being used in Tom-Tom devices, and there is a pretty funny "outtake" where C-3PO basically insults the "driver" for missing the turn. Then Anthony talks about "Christmas in the Stars," where C-3PO and R2 have a Christmas song! It is really bad. So, so bad, that it is quite hilarious to watch. Jim Arnold and Anthony Daniels seem to be really into it though, singing along to the music.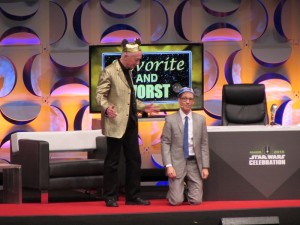 Moving on to another envelope, inside this one is the topic of The Force Awakens. Unfortunately, there are no bombshell secrets revealed, but they are fun nonetheless. Anthony talks about his returning to the C-3PO costume, which is a bit different than his recent work, which has been mostly voiceovers for various animated stuff. He also talks about how he was asked to get a call from Kathleen Kennedy, then from J.J. Abrams, and how he asked Anthony if he just wanted to provide the voice, but he insisted he would do the whole thing. Anthony talks about how this movie set had much more practical effects (the prequels was primarily green screens). Daniels also decides that we can see the teaser again, and up it went on the big screen, much to the excitement of the audience.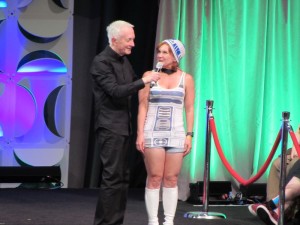 Moving on to another envelope, the last one of the evening, which opens up to audience questions. The first asks about Anthony's favorite part of Star Wars, and he has a great answer–he says it is when he can convince a child he plays C-3PO since his face is never seen on screen. Anthony then has a funny bit with a really nervous girl who is dressed up as R2-D2. But they talk a bit about BB-8, and based on what Anthony Daniels says, I kind of wonder if BB-8 might be a bit of a love interest for R2. Daniels didn't explicitly say anything like that, but it sort of felt like he was hinting.
The final question comes from the Emperor himself! He doesn't have much of a question, but provides some banter to Anthony about C-P3O. But the story about it comes out–someone made a mistake with C-3PO's Twitter hashtag, calling him C-P3O.
The panel closes out with a clip of a lot of the cast and crew, including George Lucas, showing their appreciation for Anthony Daniels and C-3PO, and some humor with the crew complaining that C-3PO doesn't show enough emotion in his face.
I have to say this was a really fun panel. Anthony Daniels and James Arnold Taylor both seemed to have a great time with it, and really got us fans in the audience laughing and having a great time. This was definitely a great panel to kick off Celebration for me. Unfortunately, this was the only panel I got to see on Friday night, and it was back to the car, then home to get some sleep to get up and do this all over again Saturday!