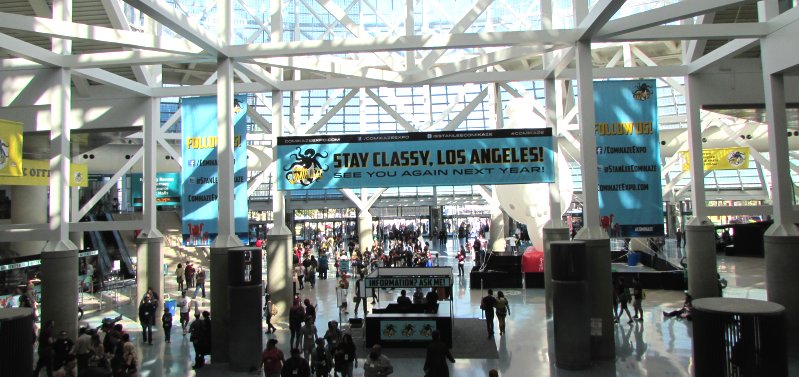 Sunday, November 2, was the final day of the 3-Day Stan Lee's Comikaze Expo 2014, and Josh and Violet were both there for a few panels! Below, Josh writes about the first few panels, and later, Violet takes over to write about their final panel. Read on for all the details and to see our photos from Day 3 of Comikaze!
Click here to see our coverage of Friday, October 31, at Comikaze!
Click here to see our coverage of Saturday, November 1, at Comikaze!
So back to Stan Lee's Comikaze again for this lovely Sunday morning for us. The extra hour sure was nice, even though I am an earlier riser (Josh that is, Violet–not so much). We headed down to the Los Angeles Convention Center, and decided to take the same route as yesterday. Getting to parking seemed simple enough that way, and if something works, I say don't fix it.
Power Rangers Megaforce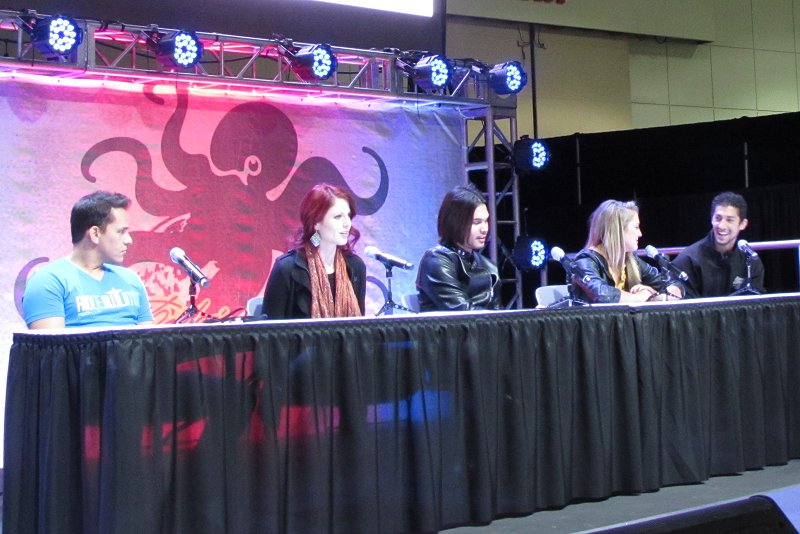 The lobby was pretty empty this morning, but there was still plenty of cosplay going on, which is always fun. Our destination this morning was to see Jewel Staite, Kaylee from the much beloved Firefly, who would be on the main stage at 10:30am. But the panel before hers was Power Rangers: Megaforce.
We caught the end of it, and the panelists looked to be the Rangers for this current iteration of the show. I am not much of a Power Ranger fan, so I didn't have any background on the show. A kid did have a pretty funny question though–asking why their characters seem to "lose their personality" when they "morph". One of the Rangers responded saying it is like they "turn into a different person". It got a pretty good chuckle from the audience.
Jewel Staite
So this was a pretty interesting panel to see because we haven't seen Jewel Staite, as she was unable to make the 10 year reunion at San Diego Comic-Con 2 years ago. She comes out on stage, and immediately you can tell that she is a completely different person than Kaylee is on Firefly. She talks about this too, herself, saying she doesn't have the sunny demeanor that Kaylee has, and describes herself as "sarcastic and sardonic". This definitely showed during the panel, which was actually a lot of fun to watch.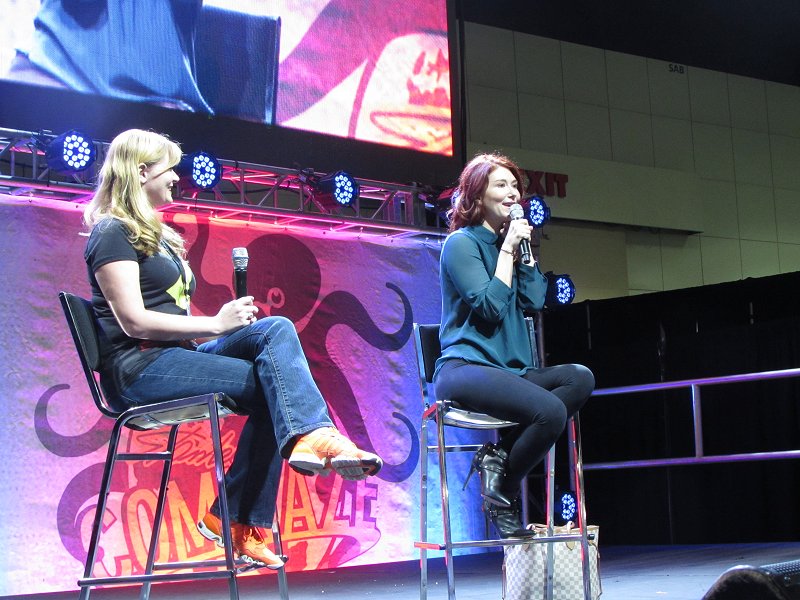 The entire 30 minute panel was fan questions, and there were some nice questions. Apparently, Jewel doesn't want to make out with any of the cast of Firefly as Kaylee, as they are more her brothers than interests. Simon might have a shot though, as Jewel did think about the possibility of children on the show, which she thought would raise the stakes.
Jewel also answered a question about TV today versus 2002 when Firefly came out, and if Firefly would be more successful today than its original airing. Her response is one we have heard a lot, specifically regarding Firefly with Nielsen ratings being an antiquated system to measure TV viewership.
She also got questions about fan fiction, which she admits she has seen some, and tries to avoid it at all costs, which is pretty funny, and I can't blame her for it, for obvious reasons.
The subject of keeping props from the set comes up, and she says she only got a couple items: the sign to to Kaylee's room, and her hammock from the show. But she says she gave those items away for a charity auction, which was kind of her. She does tell a pretty fun story about Nathan Fillion though, and the bandit he was. Apparently for both Firefly and Serenity, Fillion ransacked the sets for memorabilia.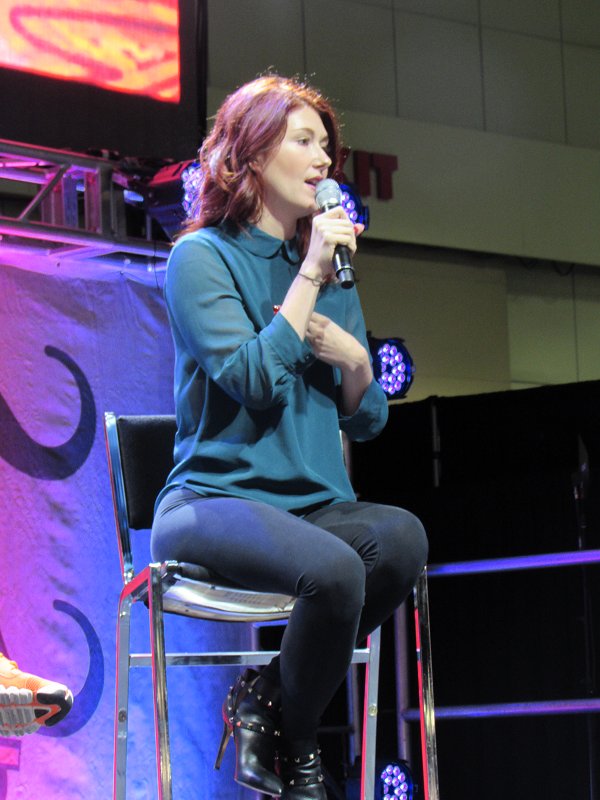 But when asked about missing Firefly, and if it would ever come back, Jewel has a very interesting response, and one that makes a lot of sense. She still is friends with the whole cast. She doesn't have a lot to miss, since they all hang out. She even tells us she was hanging out with Joss and a few other cast members the night before (which she says is the reason she seems a little tired). She does give a glimmer of hope about Firefly, saying "Never say never". My personal opinion is that she and other cast members say, "never say never" mostly to give the fans a glimmer of hope, but I guess we'll never know.
One fun question was about her working with the Supernatural guys. She describes Jensen Ackles as the more serious of the "brothers," who actually directed the episode she was in, while Jared Padalecki, on the other hand, was a jokester, trying to get laughs out of everyone he can.
A couple more questions asked were about her being asked to be in Star Wars. She finds the question humorous, because if she was asked it would be a no-brainer answer. Another questioner asks if Joss has invited her to anymore roles. Interestingly, she seems to play a little more coy with this question, but says she would never ask Joss for a part, as she would not want to ruin their friendship.
This was a fun panel. It was an example of one of the few actors where their personality seems completely different than their character counterpart. I actually would like to see Jewel in a role in the Marvel Universe. I would like to see her in a role different than the naive Kaylee.
Stan Lee's Hero Command
After Jewel Staite's panel, Stan Lee had a panel introducing his new game "Stan Lee's Hero Command". The designers of the game were there as well. Stan Lee was pretty candid about his involvement with the game–which is that he just wants his name as big as possible on it. Stan Lee made several comments about the "funny-looking" cartoon version of himself on the game, and reassured us players that if we do not save the world, he is going to let us know with sternness.



Stan Lee reminded us to get the game on our "mobile devices," and get to playing, and then exited the stage. Unfortunately for the designers of the game, this caused much of the crowd to disperse. Violet and I had to as well, as John Barrowman was coming up soon, and we knew that he was going to be a big draw to his room.
John Barrowman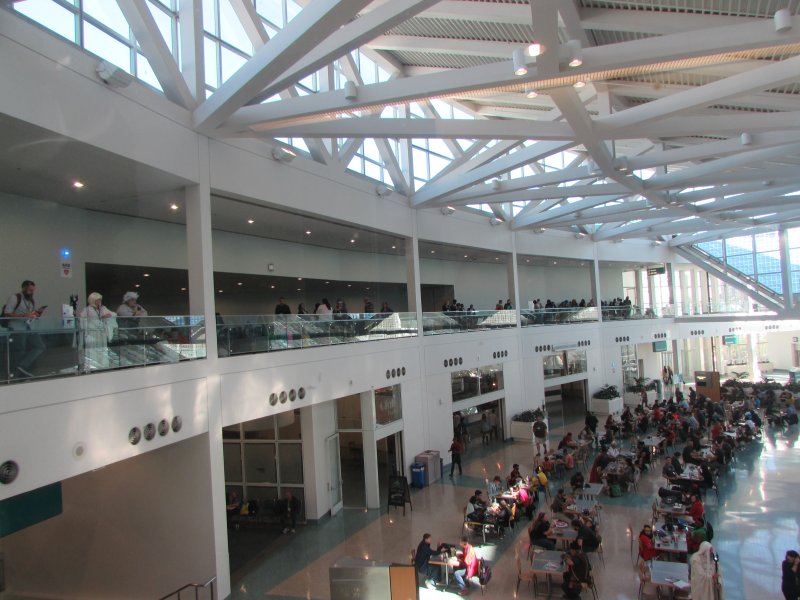 Hi, it's Violet taking over from this point! So yeah, it turns out it was a good idea to get in line for John Barrowman's panel at that point — which was about 11:15am — because by the time we walked over to Room 304ABC, the line was already extremely long, even though it wasn't scheduled to start until 12:00pm! The line went all the way down a long hallway, and we got in the line just before it turned the corner. Eventually, the line turned that corner and went down the long balcony above the lobby (seen pictured to the right), and snaked back around. It was amusing hearing the reactions of people as they passed by us and realized just how long the line was! When we got into the room, we noticed how much smaller it was than the room his panel was in with his sister Carole the day before — which is ironic considering that the line was probably about twice as long today. Staff made sure that every chair was filled, and then let in some people to stand against the wall, but there had to have been a lot of people who weren't able to make it in, unfortunately.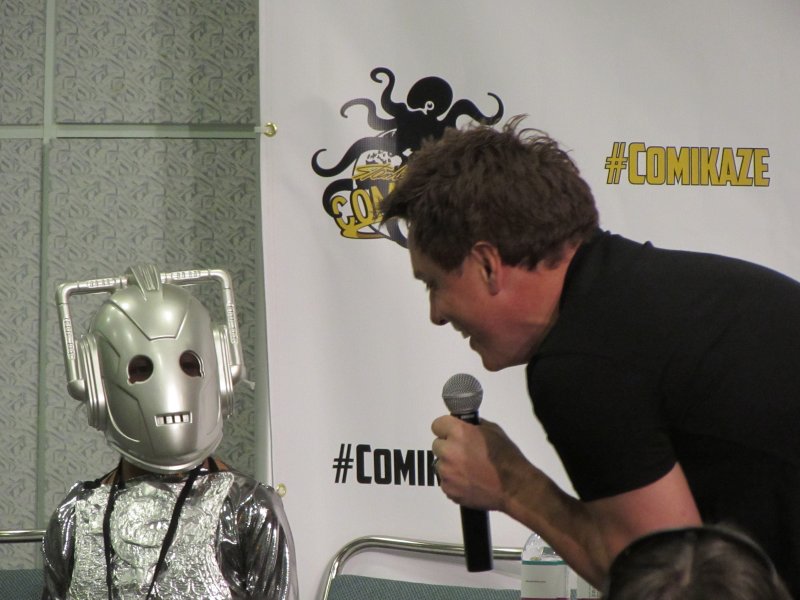 So John Barrowman came in to a packed audience, and immediately started things off in his normal fashion: with audience Q&A. The first person in line was a 9 year old girl dressed up as a Cyberman from Doctor Who. John immediately brought her up on stage for all of us to see. She didn't have a question though, she just wanted to let him know that she figured out that the letters in "Torchwood" can be used to spell "Doctor Who." He hugged her, and John made sure to let her know that many women and men in the audience were jealous of her because of that. In fact, a young man later asked John for a smooch, and a young woman asked for a hug, but John had to politely decline, because of "Ebola" (for the smooch), and as to the hug, he knew that if he gave out one hug, he'd have to give one to everyone.
One audience member reminded John of something he had promised us in the panel the day before: that in today's panel, he would tell us about about the craziest gift a fan had ever given him. He warned us that it was pretty dirty, but the audience of course encouraged him to go ahead and tell us, so he did. Someone dressed as a Klingon had given him a 15 inch "marital aid" (as he referred to it). He went in detail describing it to us. However, when he brought it home, his husband Scott threw it out because "Klingons are dirty."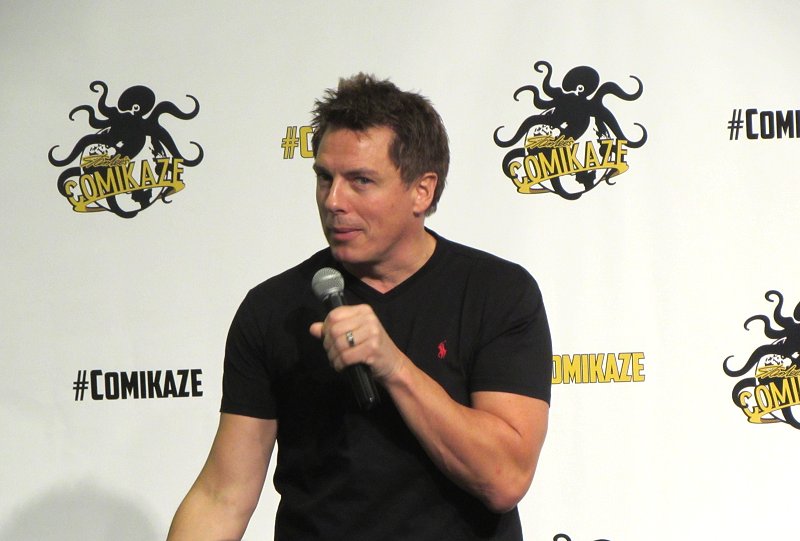 Another fan asked about a B-movie that John had starred in, called Shark Attack 3: Megalodon. John told us a funny story about filming a love scene with his co-star, and the director wanted John to say something just to cause a reaction from the co-star. Before he told the audience what the line was that he said, he made sure to warn parents to cover their children's ears.  So John had ad libbed, "Why don't I take you home and eat your p*ssy?" and they actually kept it in the movie! Apparently there still wasn't much of a reaction from the co-star, though. You can watch that scene by clicking here.
Another funny story he told us was about filming a scene on Torchwood where he was running around naked, and had used maxi pads with wings to cushion his feet. Unfortunately, he didn't realize how absorbent maxi pads are, so they kept absorbing moisture, and got surprisingly heavy!
When an audience member asked who his favorite character on Arrow was, besides himself, he said that he liked Merlyn's daughter, Thea, but that Stephen Amell's character, Oliver, is his favorite, and that somehow he always happens to be around when Stephen is barely wearing any clothes! One audience member asked about the possibility of Malcolm Merlyn showing up in an episode of The Flash, but all he could say was that he found an issue of The Flash comic books with Merlyn on the cover and took a picture of it and sent it to the producers.
Aside from outrageous, hilarious stories, John did offer some advice to people asking about how to go for their dreams, and how to play certain characters. He ended the 1 hour panel by singing a snippet from "The Doctor and I" (which you can listen to by clicking here). 

At that point, we decided to call it a day, and thus Stan Lee's Comikaze Expo 2014 came to a close for us.
Below is our photo gallery of pictures from Sunday at Comikaze.
Note: When you click on an image, it will open in a new window. Then you may click it again to enlarge it even more.