San Diego Comic-Con 2017 took place at the San Diego Convention Center Wednesday, July 19 through Sunday, July 24. Follow along as we recount our experience at SDCC 2017!
Sunday came too quickly, and our sixth SDCC was soon coming to a close. After doing The Gifted offsite on Sunday morning, where we were tested to see if we had the mutant gene, we headed into Hall H. At that point, it was a walk-in, and when we got inside, The Last Ship panel was just wrapping up.
BBC America had back-to-back panels lined up, starting at 1:00pm with Dirk Gently's Holistic Detective Agency, and Doctor Who to follow at 2:00pm. We've never watched Dirk Gently, but I have heard good things about it.
Dirk Gently's Holistic Detective Agency
Kevin Smith was the moderator, and the panel featured writer/executive producer Max Landis, showrunner Robert Cooper, and cast members Samuel Barnett (Dirk Gently), Elijah Wood (Todd), Hannah Marks (Amanda), Jade Eshete (Farah), Fiona Dourif (Bart), and Mpho Koaho (Ken). Additionally, the panel featured two cast members who will be joining the show in Season 2: Alan Tudyk, who will be playing Mr. Priest, and Tyler Labine, who will be playing Sherlock Hobbs.

As I mentioned, I've never watched the show before, so I didn't really know much about it, or follow the discussion very well. We were shown some footage recapping what happened on the show in Season 1, and also a clip from the upcoming Season 2, which was released shortly after the panel, and which you can view here:
Max Landis discussed the work he put into getting the show on the air, which Kevin Smith praised, as he knows just how much goes into the process. Robert Cooper mentioned that while Season 1's genre was a time travel genre, Season 2 will have a different genre, which he did not yet want to reveal. Additionally, each season will be its own self-contained case.
Kevin Smith went down the line, asking the cast members about their respective characters. Alan Tudyk told us a little about his character, who will be a bad guy. Apparently, his character uses machine guns, so he told us about his experience shooting a machine gun for the first time.
The show seemed really weird, but in an interesting, sci-fi/supernatural sort of way, so I'm pretty sure I'll be checking it out in the near future! Scroll to the bottom for more photos from the Dirk Gently panel.
Doctor Who
As it approached 2:00pm, the scheduled start time for the Doctor Who panel, Hall H started to fill up. From where we were sitting, it looked like every seat was full — and we were sitting all the way in the back! The panel began a few minutes after 2:00pm, as it was the final panel of the day, of SDCC, in Hall H, and they wanted to make sure they could get as many people into any empty seats as possible.
The panel began with Chris Hardwick coming out and introducing a teaser for the upcoming Christmas special, which you can watch here:
After watching the teaser, Chris Hardwick introduced the panelists and brought them out on stage: showrunner Steven Moffat, writer/actor Mark Gatiss, who will be appearing in the Christmas special, and cast members Pearl Mackie (Bill), Matt Lucas (Nardole), Michelle Gomez (Missy), and the Twelfth Doctor himself, Peter Capaldi.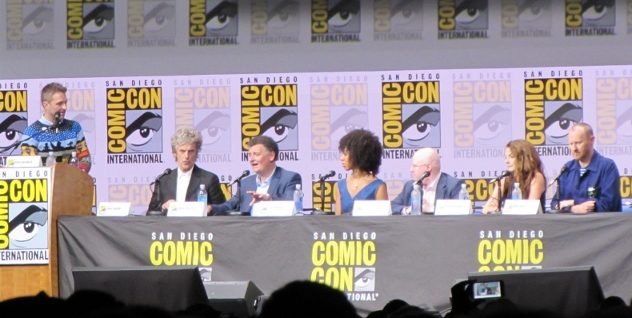 This was a bit of a farewell panel, as the Christmas special will be Peter Capaldi's last episode before the Thirteenth Doctor, the first female doctor, played by Jodie Whittaker, will be taking over. Additionally, the Christmas special will be Steven Moffat's last episode as showrunner before Chris Chibnall takes over.
Chris remarked to Peter that it felt he had just welcomed him as the new Doctor, and that now it's evident how much people love him. Upon asking him how the past few years have been for him, Peter replied, "Fantastic… Time ran away with me," which got a laugh out of the audience.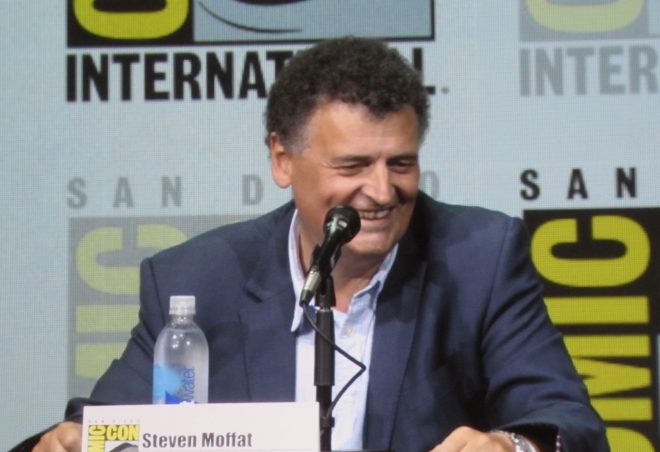 Steven Moffat told us a little bit about the Christmas special, saying that the Twelfth Doctor is refusing to regenerate, joking, "because he wants to stay Scottish." The Twelfth Doctor then runs into the First Doctor, played by David Bradley, who is also refusing to regenerate, but the Twelfth Doctor tries to convince him that he has to. The two then go on a "crazy adventure" with Mark Gatiss's character and Bill Potts.  Steven praised David Bradley's recreation of William Hartnell's version of the Doctor.
Pearl Mackie hadn't been prepared for how powerful the Doctor Who fandom is, and thanked the audience for having her. She then confirmed that she won't be coming back after the Christmas special. Pearl liked that Bill was "so real" and that she had a "childlike curiosity."
Moving on to Matt Lucas, he talked about how he was a Doctor Who fan growing up, so he felt very lucky to be a part of the show. He then spoke about the evolution of his character from the first Christmas special he appeared in, as the Christmas specials tend to be lighter than the regular season of Doctor Who.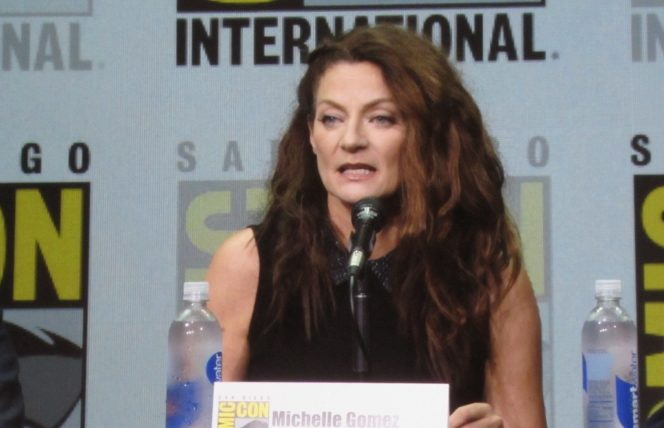 Michelle Gomez talked about Missy's struggle to decide whether she wanted to do something good or something bad. "Obviously, I'll do something bad," she said, as the pull to darkness was too strong. However, it was interesting for her to try on good and become more of a gray character than a black and white character. Michelle also talked about Missy's interactions with the Master, John Simm.
As for Mark Gatiss, he talked about being a part of the Christmas special and said that Peter Capaldi would have a "lovely exit."
Speaking of exits, Peter Capaldi told us that he thinks Jodie Whittaker will be amazing, as he just spoke to her recently, and she was so full of passion and excitement for the show. Steven Moffat chimed in that there were so many press articles about backlash among Doctor Who fans for the casting of a female Doctor; however, he pointed out that there has been no such backlash, and that fans have embraced it. He went on to say that he wishes journalists who are writing otherwise would "shut the hell up!" which got a loud cheer from the audience.
We then watched a clip featuring Peter Capaldi's time as the Doctor over the past few years, which caused the audience to give Peter a standing ovation. Peter then stood up and said, "I've never had a standing ovation before. Do I stand?" Peter went on to praise each of the panelists on stage for their part in making the show such a success.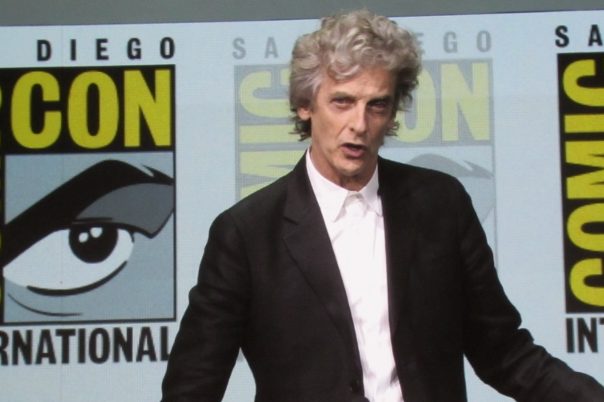 Chris Hardwick mentioned how this season brought up the debate about whether he is "The Doctor" or "Doctor Who." To this, Steven Moffat replied, "There isn't any doubt about this. It was established in The War Machines that his name is Doctor Who." However, Steven also said that if you take the stance that he is The Doctor and that Doctor Who is just the name of the show, then that's also equally true.
The panel was then opened up to audience questions. The first question was what Peter thinks is his iconic moment. Peter said he thought that his iconic moment was decided for him — when his eyebrows appeared in the 50th anniversary special.
Regarding writing for Doctor Who, Steven talked about the Doctor being "the man who fights monsters, and yet never becomes one."
When asked whether there were any improvised moments this season, everyone looked at Matt Lucas, who answered that he kept putting things in, such as "All of my best friends are blue-ish," and admitted, "I improvised too much." Also, after the Doctor says that the sky is made of lemon drops, Matt had improvised the line, "You can be very silly sometimes, you know" because people had been saying how silly Nardole was.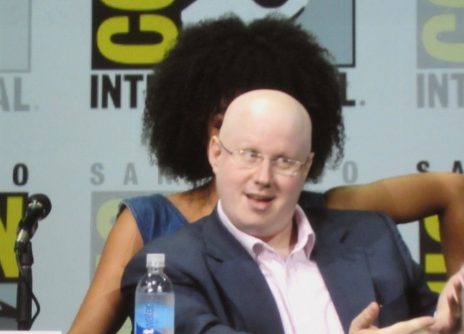 As for whether there were any monsters that the panelists had thought of for the show, Michelle Gomez answered rubber gloves that come alive and keep coming at you, while Matt Lucas joked that he had suggested a monster that makes everyone gay that doesn't kill any men between the ages of 21 and 28 — but they didn't go for that. Pearl had thought of a hair monster, due to there being a lot of hair on the show. She also demonstrated for us that when she goes behind Matt Lucas, it makes it look like he has her hair!
Chris asked Steven if there was anything he felt that was left undone, to which Steven answered that even though he loves the show more than anything he'll ever do, there comes a point when you've done everything you can think of, and "it's time for someone to come in that has much better ideas than me."
Back to audience questions, someone cosplaying as a Dalek asked the panelists what was their favorite scene to film. Peter Capaldi answered that his favorite was when he got to do Venusian Aikido. Matt said his favorite was when he ran around the corner and said "There's a rescue ship on the way!" because usually no one with his face is entrusted with a line like that.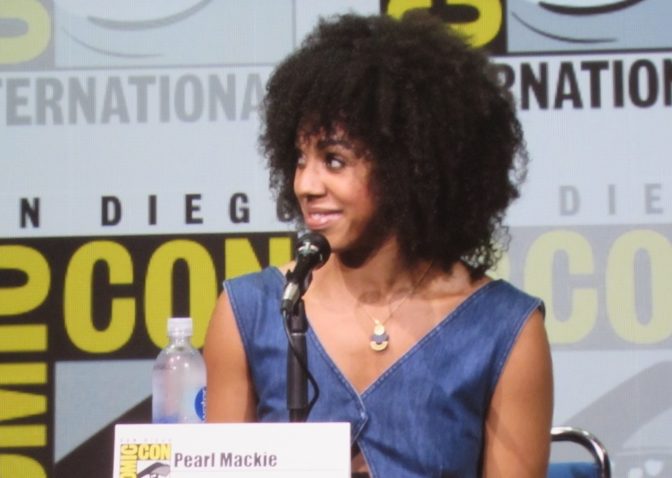 When the panelists were asked what was the hardest thing they did on the show, Pearl replied, "Well, I had to die twice in one day." To which Matt chimed in, "And I had to keep a straight face when that happened." Peter's answer was, "Leaving it," which got an audible "Awww" from the audience.
Another audience question was from a girl who had met Michelle Gomez previously, at which time Michelle had asked her to write a Missy spin-off — which she did. So she wanted to know if there was any chance of such a show being made. Michelle exclaimed, "Oh thank God, I'm going to work again!" and told her to see Mark and Steven at the end.
With that, the panel ran out of time, and the panelists took a selfie with the audience. On our way out of Hall H, it was odd — they turned all of the lights on, which I'd never seen before. They might as well have started playing "Closing Time"!
And so ended San Diego Comic-Con 2017 for us. We walked back over to the Manchester Grand Hyatt, where our car was still parked. Some of our friends were having a farewell meetup at the bar there, so we stopped by and said goodbye before heading out. Then on the way home, as is tradition, we stopped at the Olive Garden in Carlsbad for dinner. Can't wait until SDCC 2018!
You can view more photos from the Dirk Gently and Doctor Who panels below.