San Diego Comic-Con 2016 kicked off on Wednesday, July 20 with Preview Night, then continued with a full slate of programming Thursday, July 21 through Sunday, July 24. We're going to take you through our SDCC 2016 experience, starting with Preview Night!
Getting to SDCC 2016 Preview Night
Being that I work in West Los Angeles and don't usually make it home to Fullerton (Orange County) until after 6pm — which is when Preview Night was scheduled to begin — I took the day off of work. Josh works in Santa Ana and gets off work around 3 or 3:30pm, so I took the bus down and met him at work, that way we could head straight to San Diego from there, rather than have him waste time going North to Fullerton, then going back South. The bus didn't get me there as quickly as it was supposed to, but that turned out to be okay, because by the time I got there, just after 3:30pm, Josh still was wrapping things up at work, since he was going to be gone for the next 2 days and had to make sure things would be relatively under control while he was gone, since he's the Manager.
It was about 4pm by the time we got on the road. Traffic wasn't too bad until we got closer to San Diego and hit rush hour traffic. We opted to go straight to the convention center rather than check in at our hotel, which was out in Hotel Circle and would be out of the way. It was around 6pm by the time we got to downtown San Diego. We had purchased pre-paid parking at Horton Plaza, which is about 5 blocks away from the convention center. It's always a fun walk from there because even before you reach SDCC, you're already immersed in SDCC with all the restaurants and shops and street lamps decorated for Comic-Con.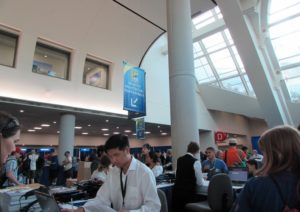 So we reached the convention center and went over to Lobby D to get our badges. This area was for Professionals and Press to check in. Originally, I had only gotten Thursday and Sunday badges for SDCC 2016, while Josh had only been able to get a Sunday badge. However, a very nice Twitter friend to which we are forever grateful (you know who you are!) stepped up and offered us his "guest of" badges (apparently if you are running a panel, you get this option), which provided all 4 days plus Preview Night. We still had to pay full price for them, and it was past the deadline for refunds, so we couldn't get a refund on the badges we already had, but it was a small price to pay compared to missing over half the con! These badges were not mailed like the attendee badges were, so we had to go pick them up. There was not much of a line though, and we were able to walk right in. Plus we didn't have to make a special trip to pick up our lanyards, WB bags, and SDCC program guides, since they handed them to us right there, so we were fine with that.
What WB bags did we get this year? Well, I got Fantastic Beasts and Where to Find Them, while Josh got DC Superhero Girls! I offered to trade, but he declined, and said it was fine, and wore the bag the rest of the night without any fuss. We then walked straight into the Exhibit Hall floor, after showing our badges to a couple of security guards.
Exhibit Hall
Just a few seconds after entering the Exhibit Hall, we saw our friend Jason, aka @CorgiKohmander on Twitter, just about to exit! We said a quick hello, and confirmed we would see him later at Tony Kim (aka @Crazy4ComicCon)'s Game of Bloggers party later that night. But that was pretty cool that we immediately ran into someone we knew!
Where we entered was smack dab in the middle of the Exhibit Hall floor. We ended up venturing to the right for a bit. It was close to 7pm by this time, so it was quite crowded. Going this way, we saw the LEGO booth, which had some life sized LEGO figures of Captain America and Wonder Woman. The DC booth was also on this side of the Exhibit Hall, and featured costumes on display from their upcoming movies Suicide Squad and Wonder Woman. We soon found the Marvel booth, and the Captain America 75th Anniversary statue on display, which will soon be displayed permanently in Cap's hometown of Brooklyn.
For some reason, we decided to turn around and head back the other way before getting all the way to the end. Along this way, we found the ever popular The Walking Dead booth, which Corgi had mentioned to us on his way out. There was an RV, with figures of the cast of the show kneeling on the ground, and Negan standing there with his bat, Lucille. You could stand in line to get your picture taken, kneeling alongside the others. Of course, there were roaming walkers in the area. The line was a bit long though, and we weren't able to get very close to the area, since it was always crowded with people.
We saw that the WB booth was handing out some swag, and that the line was not only short, but moved very quickly, so we went over there and got some swag. Then we continued on our journey around the convention center, seeing booths like Funko, Fox, and Nickelodeon. We also stopped by Geek Chic, which makes board game tables. Josh then mentioned that he wanted to find Blizzard, as he kept seeing people with Overwatch bags. It was all the way at the other end of the Exhibit Hall that we had never reached, so we had to go all the way back the other way. When we got there, there was a display case out in front, and a menu of prices. You could get the Overwatch bag free by spending a certain amount of money at the booth (I think it was $75?) or you could buy it for $8. Josh saw an Overwatch backpack that he wanted, which was $40. We went to take a look at how long the line was. It extended all the way along the back wall, and then into the aisle between the Resident Evil and XBox booths. So he decided not to worry about it.
I'm not sure what was going on inside the Resident Evil booth, but it looked like a haunted house type setup, and you had to have a ticket to go inside of it. There was a sign saying that all tickets had been distributed for the day, and there was a long line of people waiting to go in.
We wandered a bit more, and soon heard the announcement that the Exhibit Hall floor would be closing in 15 minutes, so we figured we should start heading out. On the way out, we passed through the Star Wars booth, which we had only passed by earlier, because it had seemed to crowded to go into. Inside, there were several costumes on display.
Then we headed out of the building, scanning our badges on the way out (at which point it occurred to me that we had never scanned in, because there hadn't been a scanner where we had entered… But luckily, it scanned green and there were no problems), then heading towards the footbridge next to Hilton Bayfront to make our way over to Dragon's Den for the Game of Bloggers party.
Game of Bloggers
This year was the 2nd annual Game of Bloggers party, put on by Tony Kim. It's meant to be a place for nerdy bloggers to meet up and exchange ideas, advice, and camaraderie. If you're a blogger and RSVP with Tony in advance, you got your blog's name put on the list, and 2 spots were reserved for each outlet. It wasn't just bloggers that were invited though, anyone else could drop by if space allowed. When we got there, it was shortly after 9pm, the scheduled start time, and the check in line was pretty short. When we gave the person the name of our outlet, he said he knew who we were, so that was pretty cool. We went in and were directed to the patio, where there was one small table available with two seats, so we sat there.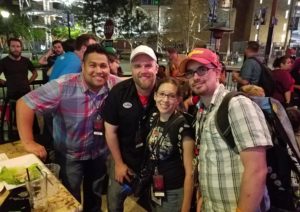 On display along the patio fence were the jackets from Tony's newly started clothing company, Hero Within. The patio quickly got more and more crowded, and the party seemed to spill out into the inside bar area. We kept wanting to go by and say hi to Tony, but it seemed like he was always surrounded by people! Twitter friends @yourfriendelle, @nerdsdoingstuff, and @consharknews each came by to chat for a few.  After awhile, Twitter friends Corgi, @cyberaug, @padricksalton (aka Cheezmo), and @thenerdfu showed up, so we hung out with them for a little while. It was fun to see so many of our friends, especially all in one place. But around 11pm, we decided to bow out for the night, considering that Josh had been up since 5am for work, and we still hadn't checked in at our hotel yet. On the way out, Twitter friends @nerdophiles stopped us to say hi. We had never met them before, so that was nice to finally meet them.
We made the long walk back to the car (it always seems longer at the end of the day when you're tired!), then headed out to our hotel, Best Western Seven Seas, to check in for the night. It was around midnight by the time we showered and got to bed. When we turned on the TV, that night's episode of Mr. Robot was just about to start, so that was a nice way to fall asleep before Comic-Con went into full swing the next day…
Click here to continue to our Thursday coverage, featuring DreamWorks Animation, Snowden, Luke Cage, Overwatch, and more!
See below for more pictures from Preview Night!