San Diego Comic-Con starts off tonight, July 20, with Preview Night, and goes through Sunday, July 24! Here are a few last minute tips to help you have a better SDCC experience.
1. Take precautions to avoid "Con Crud." We wrote a an entire article about this, but basically, if you haven't started taking Emergen-C Immune+ yet, start taking it now, and every day of SDCC. Also use anti-bacterial hand sanitizer, wash your hands frequently, and try to get as much sleep as possible.
2. Check the weather forecast and pack accordingly. As you can see below, it's going to be on the warm side, but inside the panel rooms can be cold, and if you're camping out for Hall H, it can be quite cold by the water, so a hoodie or light jacket is good idea. It's also going to be very sunny, so don't forget sunscreen!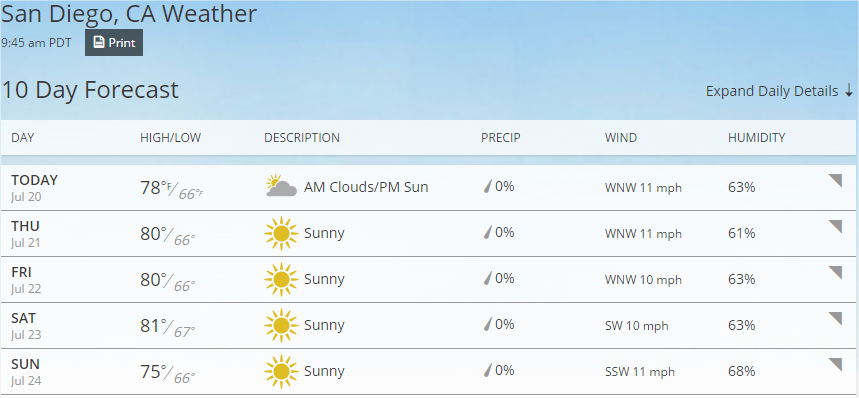 3. Wear comfortable shoes. It's a little too late to start getting in shape now for SDCC, but since you will be doing a ton of walking (the Exhibit Hall floor alone is pretty massive as you can see below), you should at least wear some comfortable, broken in walking shoes. Do NOT try to wear a brand new pair of shoes to SDCC. Your feet will regret it. Insoles are also a good idea.

4. Print out everything. Sometimes it might be acceptable to show the bar code on your phone, but service isn't always reliable, so you should print out everything just in case. If you'll be picking your badge up on site, print out the bar code. If you pre-ordered SDCC T-shirts, print that out. Did you purchase parking? Print that voucher. If you won or bought tickets to any other event, such as Conan, Syfy, or Nerdist, go ahead and print those out as well.
5. Be aware of the pickup times and locations. Attendees will pick up their badge in the Pacific Ballroom of the Marriott Marquis San Diego Marina Hotel: 333 West Harbor Drive, San Diego, CA 92101, while Professional, trade professional, and press badges may be picked up onsite in Lobby D of the San Diego Convention Center. In addition to your bar code, you'll also need a photo ID to pick up your badge. Your bar code confirmation email should have pickup times and dates, but you can also click here. If you already received your badge in the mail, you'll need to go to the Pacific Ballroom if you want to pick up your WB bag, program book, and lanyard. T-shirt pickup will be in Pacific Ballroom 26. You can find pickup times here. Note that you must pick up your T-shirt before 4:30pm on Sunday, July 24!
6. Bring cash and credit/debit cards; let credit card company know you are out of town. Some vendors only take cash, some only take credit/debit cards, so make sure you have both ahead of time. The line for the ATM can get long, plus you have to pay the ATM fee. If you're coming in from out of town, and/or planning on making big purchases with your credit card, let your credit card company know ahead of time about your plans. You don't want your card to be flagged for fraudulent use when you're trying to buy those exclusives!
7. Charge electronic devices and batteries now. Get those external batteries, laptops, phones, extra phone batteries, and extra camera batteries charged up ahead of time. If you don't have a portable external battery, you NEED to get one! Also, read our article "Keep Your Devices Powered Up" for more tips on this subject.
8. Bring your own snacks and water. You may find yourself stuck in panels all day. You don't want to have to buy Convention Center food, because it's expensive and not very good. Make sure to pack your own snacks, such as protein bars, apples, bananas, peanuts, almonds, wheat thins, granola bars, peanut butter sandwiches, trail mix, and beef jerky to help you make it through the day. Bring your own bottled water so you don't have to buy the Convention Center's overpriced drinks. Better yet, bring a sports water bottle with a filter that you can keep filling up at the water fountains. Don't have room in your luggage to pack snacks? Ralph's grocery store, located at 1st Ave and G Street downtown, is a great place to stock up on essentials.
9. Parking and Transportation. If you're driving in to SDCC each day and plan on parking downtown, you should buy a pre-paid parking pass from Ace Parking if you haven't done so already. Although the closest lots, the Convention Center and Hilton Bayfront, sold out long ago, there are still plenty of other lots still available that are just a few blocks away. If you don't buy a pre-paid parking pass, you could find yourself driving around for hours looking for somewhere to park.
Another option is to park at one of the further out trolley stops and take the trolley in. A third option is to take the free shuttles that CCI is providing. Click here for the shuttle routes and schedule.
10. Camping. If you're going to camp out overnight, be aware that there are rules about what you can and can't bring with you. Basically, you can only bring things that take up the sleeping space of one person. We recommend a sleeping bag, sleeping pad to put underneath it (that concrete is hard!), tarp (if you're on the grass, it tends to be wet), pillow, earplugs (it can be loud!), eyemask (if you're not under the tents, it can be bright), and a small portable fold up chair.
11. Hall H. If you're planning on trying to get into Hall H, make sure to review the wristband policy. If you have a wristband, you don't have to camp out, as long as you're back before 7:30am. You'll want to be aware of the wristband distribution times and location each day. What's the NDL? It's the Next Day Line, located behind the Convention Center, next to the marina.
Distribution Times:
Wednesday, July 20: 9:00pm in the general Hall H line in Plaza Park
Thursday, July 21: 7:15pm at the front of the NDL
Friday, July 22: 9:00pm at the front of the NDL
Saturday, July 23: 9:00pm at the front of the NDL
12. Seating capacity; backup plans. You'll also want to be aware of the seating capacity for each room. We put together an article listing how many seats each panel room has to help you with your planning. Remember, Comic-Con does NOT clear rooms between panels! Always have a backup plan. And a backup plan to your backup plan.
13. Have fun! We know it can be stressful at times attending a crowded convention, but remember why you're there — to have fun! Just make sure to go in knowing that you won't get to do everything that you want to do — it's impossible! Even if you don't get into your first choice panel (or second choice), there's always something going on at SDCC, with a wide variety of panels to choose from, and you can always explore the Exhibit Hall, or attend an offsite event!
Is this your first time attending San Diego Comic-Con? Do you have any questions or concerns? Let us know in the comments below!