Although we attended Preview Night at San Diego Comic-Con on Wednesday night, Thursday, July 9 was actually the official Day 1 of SDCC 2015. In Part 1 of our Thursday recap, Violet takes you through our Thursday up through the Open Road panel, which featured Rock the Kasbah, starring Bill Murray, then Josh takes over with a recap of the Hunger Games: Mockingjay — Part 2 panel, moderated by Conan O'Brien! Part 2 of the Thursday Report will feature the Doctor Who and Con Man panels. 
If you missed our Preview Night recap, click here!
Click here for our Preview Night Photo Gallery!
Below are just a handful of our pictures from Thursday! Click here for our Thursday Photo Gallery!
Thursday Morning
We woke up around 6:00am to shower and make sure we got back to the line by the 7:30am deadline. Josh, Davey, and I headed down, while Tamara and Bradley slept in, since their Call of Duty: Black Ops panel wasn't until much later. But we weren't exactly sure where to go for the end of the wristband line. As we left the hotel and headed down the marina, we asked a security guard, who tried to direct us to the general ("everything else") line! We knew that wasn't right, so we kept walking down the marina until we saw some people wearing wristbands, and went to the end of that line, which went to about the 5th Ave landing. It was about 7:20am. At that point, Line Staff asked us if we needed a wristband. To our dismay, they were still handing out C wristbands… which meant we hadn't needed to waste 4 hours in the wristband distribution line the night before! We could have just walked up at 7:20am and gotten a C wristband. I could have gone to the Game of Bloggers party that I had to miss due to wristbands taking so long to hand out. So frustrating.
Anyway, so we sent Josh to pick up some burritos they were selling in front of Hilton Bayfront, and it wasn't long before they started condensing the line into the tents. But then by the time we got into the chutes, we realized that we could see the end of the entire Hall H line — and it was only a couple of tents over. So yeah, basically you could just walk into Hall H for the first panel.
Open Road – Rock the Kasbah
The first panel of the day in Hall H on Thursday was Open Road. We didn't know what it was for, because it just said "TBA" on the schedule.  When we looked it up to see what potential movie it could be, the most logical choice was Max Steele. However, when the panel started up, a trailer for a movie called Rock the Kasbah was shown, starring Bill Murray, who plays a rock manager named Richie Lanz who discovers a singer in Afghanistan. The next thing we know, Bill Murray himself starts walking down the center aisle toward the Hall H stage, in character, then walks up onto the stage singing to "Smoke on the Water"!
Here's the trailer, if you'd like to watch it:
Turns out this was Bill Murray's very first Comic-Con appearance, about which he commented, "I feel like I fit in. I feel like I could fall asleep in any one of these aisles and be left alone till I awoke." Josh Horowitz moderated the panel. Also on the panel was Mitch Glazer, the writer of Rock the Kasbah, who explained after a misspent lifetime of being among rock 'n' roll promoters, he tells the story of a failing rock 'n' roll promoter, saying that this movie is "a long time in the making."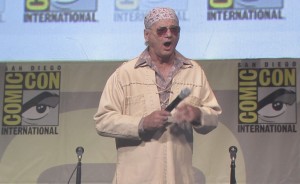 Bill Murray's character, Richie Lanz, is based on concert promoter Ron Delsener, and Murray commented that if you've ever tried to get in the side door of any venue, you've met a guy like this character. Murray went on to say that it was his job to cheer Van Morrison up before he goes on stage.
Glazer talked about shooting the movie in Morocco, and driving around during Ramadan. Murray recalled that in Morocco there's less drinking in public, people are very nice, there's cool places to stay, a lot of "off road" stuff to do, it's reasonable, it's thrifty, but "it's not Petco Park."
There was time for quite a few audience questions, one of which was whether other actors were intimidated by working with Murray. He joked, "I go to work with a knife strapped to my leg." But then he answered that he tries to be as relaxed as possible, which makes people feel comfortable. "You don't have to get tense while working," Murray explained. "Just worry about trying to make the other person look good."
Murray praised the others actors he worked with in Rock the Kasbah, including Zooey Deschanel, Kate Hudson, and Bruce Willis. Regarding Bruce Willis, Murray commented, "We own him," and that Willis had a great time with them. Murray then told a story about his old Saturday Night Live days, when Bruce Willis was a "slave" — his job was to refill the M&M and peanut bowls. Years later, when they got drunk together, Willis cried about his time working at SNL, telling Murray, "Only you and Gilda were nice to me!"
Another audience member asked Murray about writing, and Murray replied that you should just write the part that you want to write, saying that Glazer writes, and then Murray rewrites. Murray commented, "I'm in the guild, but I don't take the credit. You get away with a lot more if you don't take the writing credit." Glazer added that Murray's character is "like one of those REF fighter pilots after the fighting is over," and that he knew enough not to say to Murray, "I wrote this for you," he just gave it to him. Plus, it involved singing.
At that point, Murray tried an interesting experiment, telling the audience, "Let's all sing the song that you'd like to sing for 30 seconds." So for the next 30 seconds, everyone in Hall H just sang a random song, including Glazer and Murray! It was odd, but funny to listen to the chaos.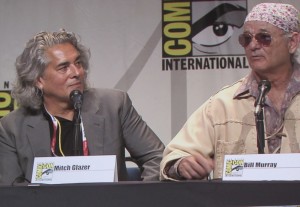 Glazer told us a little more about writing the script, saying that the Afghanistan version of American Idol, which is called Afghan Star, was the one thing that people in that country could unite around, and suited the theme of the movie.
As for Murray's taste in music, he said he still likes the music he heard when he was 20, but he just likes music, and doesn't care where it's coming from. "I just like what I like, it's a mood swing thing with me." He then talked about a goofy Christmas show that he did recently with several celebrity musicians, including Miley Cyrus, who he described as "really f*ckin' good. She can really sing. She floored everybody."
When asked if the rumors were true that he was ever up for the part of Han Solo, Murray replied that he "couldn't tell you for sure, but I am working out now in the hopes of getting this new thing," referring to the recently announced Han Solo Anthology film. "Lots of swimming and pilates."
Then it was time for audience Q&A. First, Murray was asked if he sings with Zooey in the movie, and Murray said that he sings in the shower, and that Zooey sings the song I'm a Bitch. He then told us about the cast doing karaoke one night, and Zooey chose the song We Are the World, which is a very difficult song because of the numerous singers that make up the song, but she hit all the different pitches.
The famous Button Lady, who regular Hall H'ers have seen throughout the years, asked Glazer if it was hard to get Murray to stick to his lines. However, Glazer said that he knows Murray's voice after writing for him all these years, that Murray is very respectful of writers, and doesn't change a word. Button Lady had also invited Murray to camp out overnight, and Murray joked, "How many people is she asking to sleep with her? Do they each give her a button after they leave?"
When asked about his favorite memory of filming this movie, Murray recalled a night in Marrakesh when he went to the roof of a building, and a 2 man band was playing. He said it was a reminder to take what we're given, and to take a part of yourself and pass it on.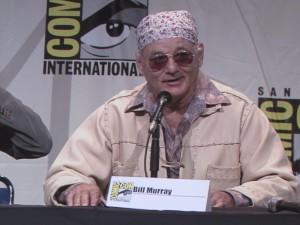 Next, a girl dressed in Ghostbusters apparel asked Murray what was his favorite role he has played. Murray answered, "Once upon a time, I did save the city of New York. I had the coolest car to drive around Manhattan."
As for the soundtrack of the movie, it will be a classic rock soundtrack. We also learned that the girl that Murray's character discovers sings only Cat Stevens songs, because she's Muslim.
Another audience member wanted to know what Bruce Willis is like on set. Murray said, "He's a movie star." He then elaborated that when you're a "movie star" sometimes you have to take matters into your own hands, explaining that sometimes movie stars get really loud in the name of protecting an integrity of the job, such as how the crew is treated, or the food, etc. Murray recalled that he also worked with Bruce Willis on Moonrise Kingdom, where Willis had a "dinky little trailer," which was a dusty little place, and he dressed in black.
One person asked about the funniest part in the movie, and Glazer said there is a scene where they're stomping around the desert, and there's a lot of physical comedy between Murray and Willis.
Someone else asked Murray if there was any truth to the stories that people tell about Murray doing crazy things, but then telling the people he does it to that "no one will ever believe you." Murray, of course, answered "I don't know what you're talking about. It sounds like fun though, doesn't it?" Glazer than told a funny story about when Murray called him from Russia while he was at a wedding and told him "Your wife is banging Patrick Swayze."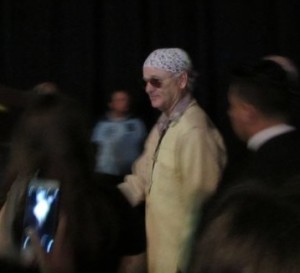 Murray was also asked where he fits in amongst the nerds, as in what nerdy things is he a fan of. Murray said that he'd been wondering that himself, and joked, "I brought a taser with me. I didn't know what to expect." He also said that he has a lot of dress up outfits at home, though he didn't tell us what they were, but he said they would surprise us. He went on to say that he likes when people get excited about something in particular, and that some of the best parties he's ever been to were with insane nerds. He then told us about a party he went to at Skywalker Ranch, commenting, "talk about nerds."
This seemed like a really random, out of place movie to bring to Comic-Con. I would have never guessed that this movie would be the TBA. But it was really cool to see Bill Murray in person! Oh, also after he left the stage, he exited out the back of the Hall H room, and Davey was able to run to the back of the room and snap a couple of pictures of him as he walked by.
The Hunger Games: Mockingjay – Part 2
by Josh
So after Open Road's panel, the next one up was Lionsgate with The Hunger Games: Mockingjay – Part 2. The panel opens up with the room going dark, and the stage having some men dressed in white playing some timpani (a type of drum for those who don't know), and it is a pretty epic sounding drum beat. After they have played for some time, additional percussionists file in to Hall H, elaborating on the beat already being played. Then the room goes dark, and the screens light up with some soldiers dressed in white doing what appears to be ROTC in District 13. It was a pretty awesome sight to behold. The clip ends with Katniss, all in red, coming to the front of the formation, seemingly prepared for war. The clip of the ROTC District 13 soldiers has been put on YouTube. You can view it here:

After the great intro, Conan O'Brien comes out to moderate the panel. He makes some great jokes about moderating the panel, including almost fighting with an audience member. Conan encourages the crowd to use Twitter and social networking to talk about the Hunger Games panel, but he acknowledges that he is middle aged and has no idea what any of this means.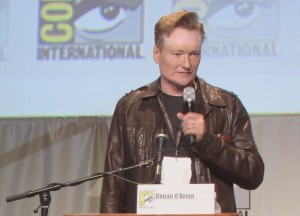 Conan brings out the director of the film, Francis Lawrence. The cast is then introduced, including Josh Hutcherson, Jennifer Lawrence, Liam Hemsworth, Natalie Dormer, and Willow Shields.
So Conan starts off asking the panel some questions, asking Francis Lawrence how it is bringing this last film to the screen. The producer, Nina Jacobson, who is also on the panel, talks about how they try to remain true to the story while also telling a good story. Conan acknowledges that this has been a long journey, and Nina says she wants to be sure to deliver an emotional finale.
Francis Lawrence talks about this film being back in action, and not sidelined like the past film. Francis then provides some footage for us to watch. It is the first full trailer for the movie. Lawrence says that it will still be some time before the footage is released, so we get a pretty good sneak peek of the film.
As for the footage, the finale looks to be very exciting. It will definitely have a lot more action than the last film, as we see the beginnings of the attack on the Capitol in this trailer. We also see Katniss fully embrace her role as leader, seemingly combat ready too. Also given away in the trailer is the fact that Peeta seems to get over his insanity that was a cliffhanger in the last movie. That is a bit of a disappointment, as in the book that is a big deal, and really uncertain if Peeta will recover.
Talking about the filming, Lawrence says that this film, unlike the previous films, was filmed in various European countries, rather than in Atlanta, as the previous films were. He also says the stunt work was much more work.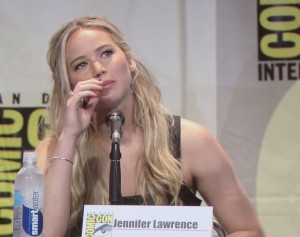 Conan asks Jennifer if there is a specific moment that sticks out to her, and she seems to get hung up on the question. The panel and the audience begin shouting out suggestions, and she gets pretty off topic. Someone suggests when Katniss first enters the arena is a big one, which she seems to agree with. Nina jumps in saying that when Katniss volunteered as tribute should be one of the most important moments to Jennifer, which Jennifer seems to be ok with accepting.
Conan moves to Josh Hutcherson, and begins mocking the questions that Lionsgate gave him, but essentially asks Josh about Peeta's arc, and Josh says that it is a "long road to recovery." Josh talks about trying to play a psychotic person, and seems excited to be able to play the role.
Moving to Liam, Conan asks about the stakes being raised, and Gale joining the fight. Liam talks about how his character comes up with ways to battle the Capitol, providing ways to ambush them.
Willow is the next questioned, asking about her character's relationship with Katniss, and she says that Katniss relies on Prim mentally more so than the previous films. Conan takes this opportunity to give Willow a hard time about trying to save the cat in the last episode, and realizes he will probably make some enemies with cat lovers.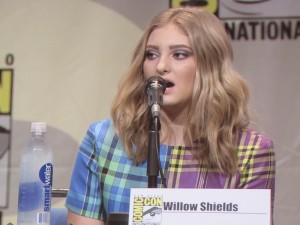 There is a lot of hilariousness and it seems to revolve around Jennifer's inability to answer any question whatsoever. Nina jumps in to try to keep some sort of sanity during the panel, and talks about Katniss constantly having the shots called for her, and in this film we will finally see Katniss come into her own.
Conan moves on to social media questions, the first asking Willow where she would like to live in Panem. She decides District 12 would be her answer because she thinks they stick together and get along. Conan gives his two cents, saying that the best place is obviously Snow's palace. I have to agree. He isn't wrong.
Another question is asking if Josh would like to see The Hunger Games told from Peeta's perspective. Josh says that it could be interesting, but since Katniss is the central figure, she makes the most sense. Liam is then asked by another social media user, what he would say to Gale if he could meet him in real life. His response is, "It's alright mate, there's plenty of fish in the sea." This is a pretty big spoiler for those who haven't read the book. It basically gives away who Katniss ends up with in the end. I am curious to know how many people caught on to that though.
The next victim is Jennifer Lawrence, who is asked what costume she would like to keep. The wedding dress is a first answer, followed up by the wetsuits because it would be funny to show up at the beach with it. Then she moves on to thinking about taking the orange backpack, but it is in a museum, so she can't have it. Conan then asks about taking stuff from set, and Katniss moves on to talk about her various bows for the film–the rehearsal bow, the shooting bow, and a bow for up close shots, but she did get to keep one of the bows.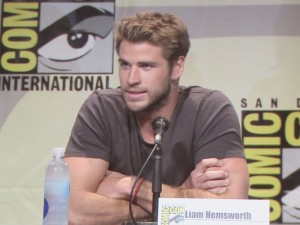 Another question for Jennifer: how her braiding skills are. She says she could braid in an emergency, but is terrible overall.
To all cast, the next social media question asks to have the cast whistle the Hunger Games theme. Liam admits when he does it sounds like the X-Files theme song. It then devolves into chaos, with various people whistling, and Josh making his cricket sound with his mouth. Unfortunately, the unison whistle never quite happens.
Moving to audience questions, the first person asks about filming the epilogue for the film. Jennifer says it was shot in the place the first scene was done in the first movie. She says it was fun, but also emotional. Josh jumps in and says that there was minimal cast there, so they didn't see most of the other actors there.
The next question asks about the epilogue and how true to the story it is. Josh warns her to not spoil the ending. Francis Lawrence jumps in and says that there might be some differences, but that this movie is the books. Another audience question asks Jennifer if any of the characters she has played in films have rubbed off on her. The short answer is no, but she says she would hope that Katniss would have some.
There are a few other fan questions, such as asking about filming certain parts of the final film, and Nina talks about how in the book that Katniss wasn't aware of certain events in the books until much later, and that in the movie, for it to make sense, things might have to be tweaked. I am not quite sure what she is referring to story wise, but my best guess would be involving the story revolving around President Coin. I am curious to see how that plays out in the film. On a more "serious" note, Liam is able to use his good looks and charm to embarrass a questioner.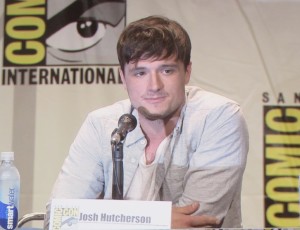 Another audience member asks the panel what message can be taken away from the film. Jennifer Lawrence takes the long way around with the question, but the basic answer is "the power of the future is in your hands." Josh Hutcherson gives her a hard time about her longwinded answers, but hey, at least she got it out. The panel also has a woman asking how Jennifer says goodbye to Katniss. Jennifer says she really hasn't said goodbye yet, and probably never will.
The final question asks about Josh, Jennifer and Liam playing their characters, and Josh says he had fun playing crazy, and had to figure out how to yell at people, since that was a part of his role. Jennifer talks about her frustration with Katniss not wanting to take on the hero role, but then says that following the story she starts to see why Katniss is the way she is. Rounding out the panel is Conan showing the trailer one last time, which gets the crowd in an uproar, seemingly very excited to see the finale.
The big take away from this panel was seeing the extended trailer, which looked really good, and that Jennifer Lawrence is terrible at interviews. Sadly, some stuff is ruined for those who haven't read the books, but I think that most of it could be overlooked if not paid too much attention to. I also take away that Josh Hutcherson seems very excited to be a part of this, and appreciative, as he thanks the entire crew for the movie for their contributions to the film. Unfortunately, the newest trailer has not been put on the internet yet, but you can see the original trailer here:

After the Lionsgate Panel was Trailer Park (a half hour where we watch trailers), followed by Doctor Who. Get ready to see what the Doctor is up to next season!
Click here to continue to Part 2 of our SDCC 2015 Thursday Recap!>>
Photos by guest writer/photographer David DeMesquita