by Violet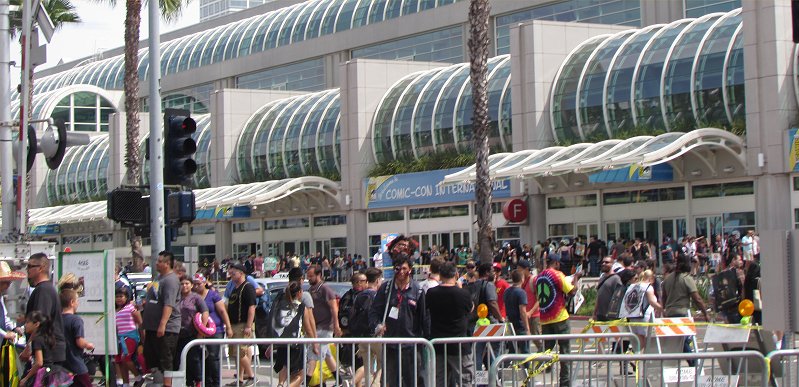 Sadly, all Comic-Cons must come to an end, and that end for us was Sunday, July 27. It was a much shorter day than the others, but read on as we recap what we did for our last day at SDCC 2014!
Click here for our Wednesday and Thursday recap!
Click here for our Friday recap!
Click here for our Saturday recap!
Sunday, July 27
I woke up around 7:30am in my nice hotel bed (instead of in a sleeping bag on hard concrete as I had the two previous mornings), and checked Twitter to see what the Hall H line was like. They were still giving out B wristbands, and the end of the line was still under the tents, so that sounded like a good sign. I got up to shower, get ready, and pack up our stuff since we wouldn't be coming back to the hotel. Davey and Tamara had said they didn't care about going to the Supernatural panel, since they weren't caught up, and would head out later to the convention center, but at the last minute decided that they wanted to go after all, because Supernatural panels are always a lot of fun. This worked out better, because then we wouldn't have to take 2 cars and pay double for parking, as we only had bought 1 parking pass for that day. So Josh and I walked over to check out of the hotel while they packed up real quick, then we left Josh's car at the hotel and we all took Davey's car to the con.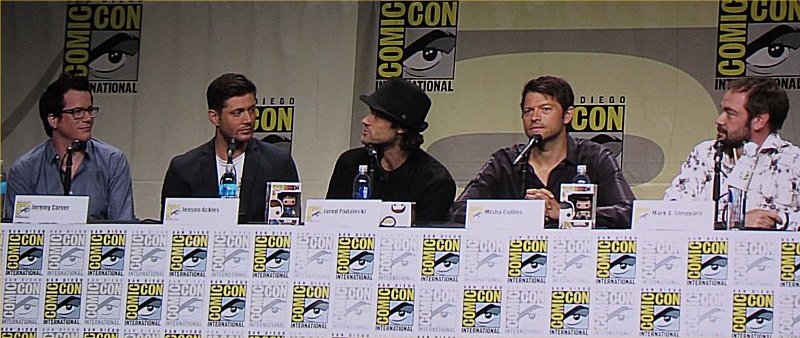 We left the hotel a little after 9:00am, figuring that would give us plenty of time to get there for the 10:00am Supernatural panel. We got downtown early enough that we stopped by IHOP Express to pick up some breakfast to go. They took a lot longer than expected, though, and it was almost 10:00am by the time we walked over to the convention center. Security was handing out D wristbands as we walked up, and we walked into Hall H right at 10:00am, with a few moments to spare to find our seats before the Supernatural panel started! If only you could do that for every panel in Hall H…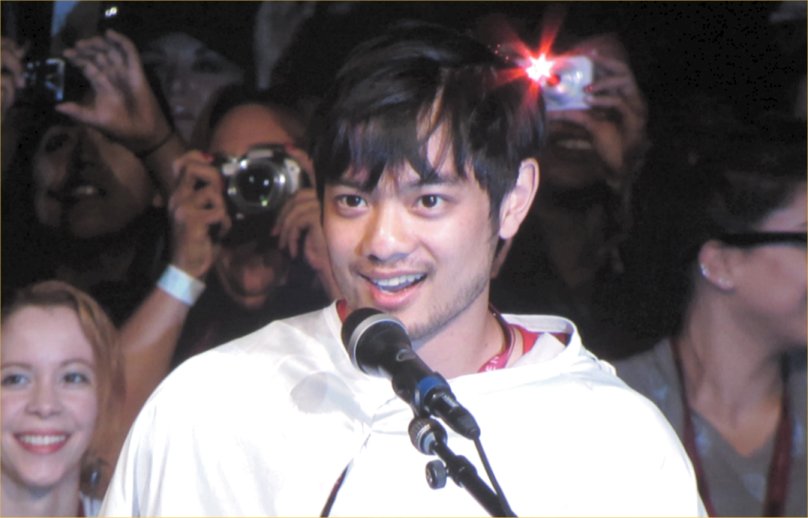 The Supernatural panel began with Jensen Ackles coming to the podium to tell us that he directed an episode in Season 10, and then we watched "The Road So Far" recap of season 9, followed by some footage from that episode he directed. Executive producer Jeremy Carver was brought out on stage, and Jensen came back out, as well as co-stars Jared Padelecki, Misha Collins, and Mark Sheppard. Later, during audience Q&A, Osric Chau, who played Kevin, came up to the microphone disguised in costume to ask when Kevin is coming back! The panel wrapped up with the traditional gag reel from Season 9.
At that point, Davey and Tamara decided to leave to go walk the floor, while Josh and I stayed in Hall H for the next panel: The Following. Executive producers Marcos Siega and Kevin Williamson introduced some special footage: an alternate ending for Season 2, where Mark kills Joe. New showrunner Jennifer Johnson was then brought out, along with actors Kevin Bacon, Sam Underwood, Shawn Ashmore, and Jessica Stroup. Johnson dropped a lot of information about what was to come during Season 3. As a result of an audience question, Kevin Bacon filmed a "movie" on his phone of him and the Hall H audience, and announced that everyone there now had a Bacon number of 1!


Our final panel at SDCC 2014 was Sons of Anarchy. We actually aren't caught up on the show, as we are only about halfway through Season 4 at this point, but we had never been to a Sons of Anarchy panel before, and thought we should at least sit in on it for a few minutes and get some pictures since this would be the last panel, with the show entering its final season. It was quite a full panel, including Drea de Matteo (Wendy), Niko Nicotera (Ratboy), David Labrava (Happy), Dayton Callie (Wayne Unser), Theo Rossi (Juice), Tommy Flanagan (Chibs), Mark Boone Junior (Bobby), Kim Coats (Tig), Katey Sagal (Gemma), and executive producer/creator/showrunner Kurt Sutter. Notably absent was Charlie Hunnam, who plays Jax, but he sent us a funny video message apologizing for not being there — due to a photo shoot for Vogue magazine!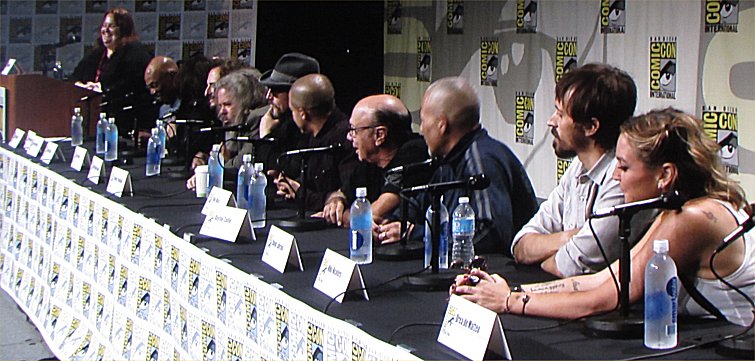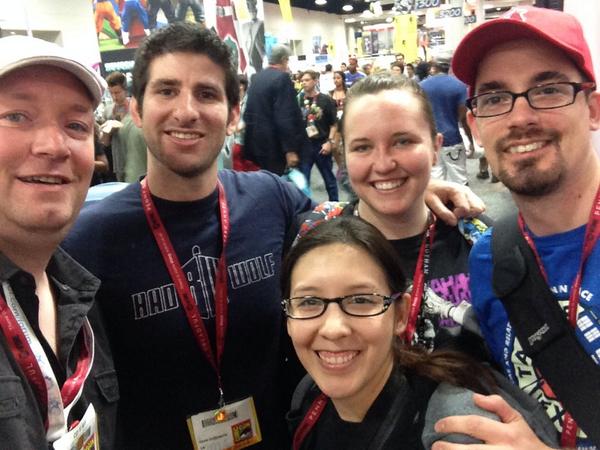 At that point, it was about 1:00pm, so we headed to walk the Exhibit Hall floor — which Josh hadn't even had a chance to see until then! It was much more crowded than it had been on Thursday. We had planned to meet up with our good Twitter friend @EnglishmanSDCC at 1:30pm at the Big Hero 6 booth, so we did just that, and met back up with Davey and Tamara there as well. It was so great to finally meet him after all this time! We chatted for a few, and he let us be on our way since we were trying to leave pretty soon.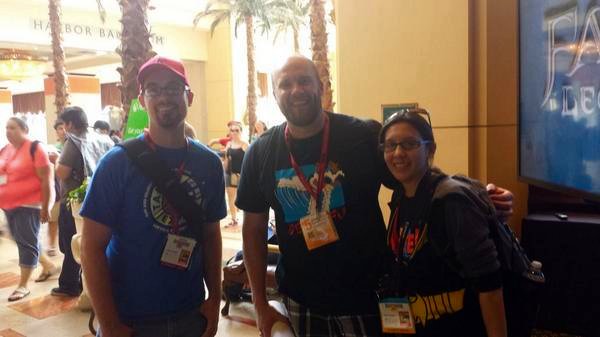 Before we left, Josh wanted to at least take a look at the Marvel booth, so we fought our way over there, where the broken Captain America shield which we saw in the Avengers: Age of Ultron footage the night before was on display. However, there was some sort of trivia thing going on, and the area was packed with people, so we couldn't even get close. At that, we decided to call it a day, and headed over to the Fulfillment Room to pick up all our swag. It was quite a hike being that it had been relocated from the Marriott to the Hyatt! Fortunately, there was no line and we were continuously moving. When we entered the hotel, Tamara noticed a guy wearing a Nerd Fu shirt, and when I looked, I realized it was our good friend Sully from @TheNerdFu! We had been trying to meet up with the Nerd Fu boys earlier, but it didn't work out, so this was a pleasant surprise. Unfortunately, Steve was not with him. Next time!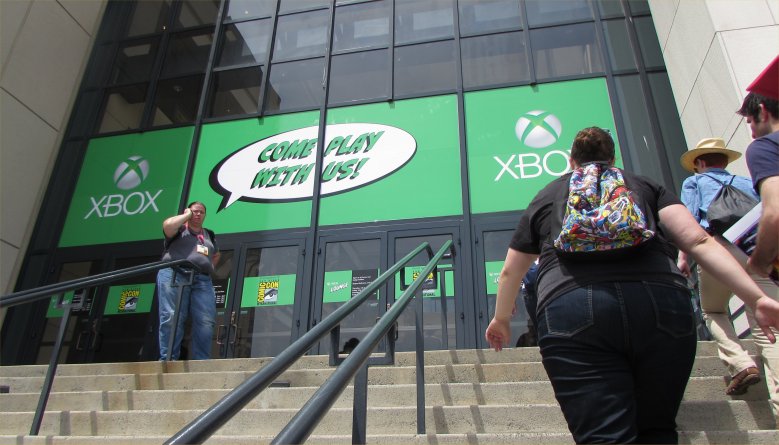 After we picked up our swag and hiked back to the car, it was about 3:30pm by the time we finally got on the road to head home. Well, after stopping back at the hotel to get Josh's car, of course. As what has apparently become a tradition since we started going to SDCC in 2012, we stopped and ate at the Olive Garden in Carlsbad on the way home.
Is it July 8, 2015 yet?