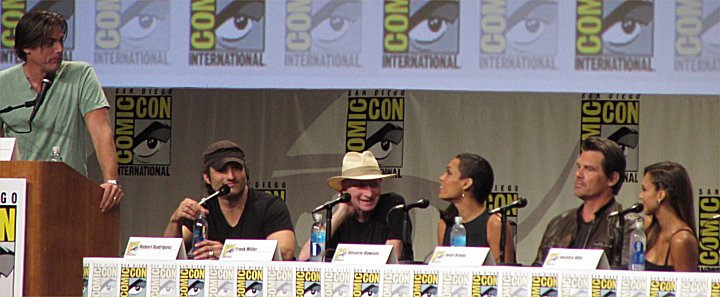 Following The Boxtrolls panel in Hall H at San Diego Comic-Con on Saturday, July 26 was the panel for Sin City: A Dame to Kill For, which took place 2:50pm-3:50pm. Read on to find out more about this prequel to the first Sin City film!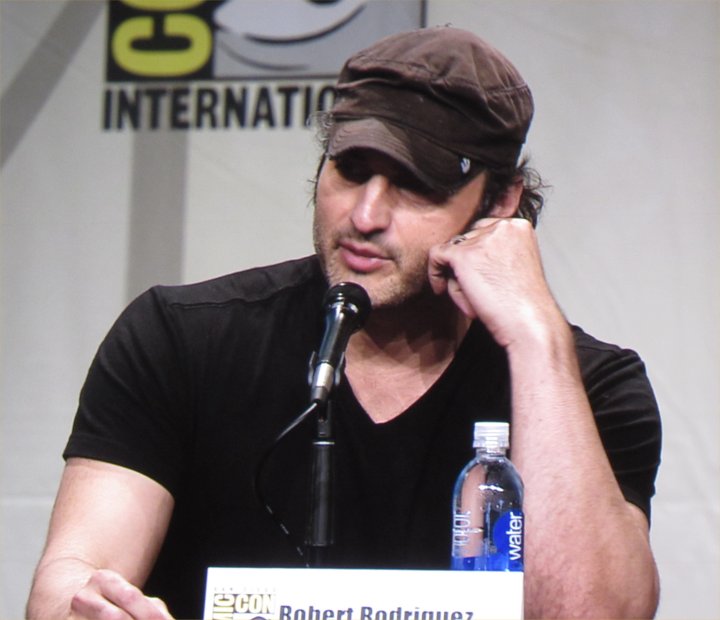 Sin City: A Dame to Kill For was moderated by Geoff Boucher.  He right away introduces Robert Rodriguez, director of the film, and Frank Miller, writer of the graphic novel the film is based on.  Robert Rodriguez discusses adapting the film from the graphic novel, and discusses making the scenes match up to the comic book rather than trying to figure out a different way. Miller discusses how working with screenplays for Batman was a difficult and annoying process.  Frank Miller remarks how he attempted to make a graphic novel which could not be adapted to film, which is what Sin City the graphic novel was supposed to be.  Yet Sin City the movie was still made.
Just Another Saturday Night is a portion of the Sin City graphic novel, and we in Hall H are shown some of the footage from that portion of the movie.  The scene involves Marv, played by Mickey Rourke, dealing with remembering an event.  He retraces his steps mentally, and we see him eventually end up confronting some no-do-gooders in an alley, and winds up chasing them down, tackling them through their windshield.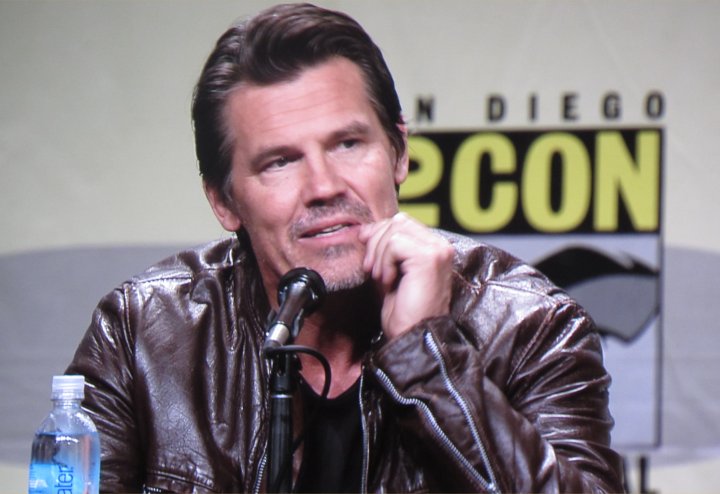 After the clip, some of the cast is brought out: Rosario Dawson, Josh Brolin, and Jessica Alba.  Geoff discusses the development of Jessica Alba's character in the new film, to which Jessica reveals Nancy will become "a warrior" in Sin City 2.  Josh Brolin discusses his character, Dwight McCarthy, and connecting to his character.  He discusses that he didn't know at first he would connect with his character, but had faith in Frank Miller and Robert Rodriguez.  Rosario marvels the various cityscapes of Sin City, and how it feels like a "living" city.  All of the actors seem really appreciative and respective of working with both Robert Rodriguez and Frank Miller.  Funny enough, the panel agrees that Sin City is no Metropolis (the city Superman comics takes place in).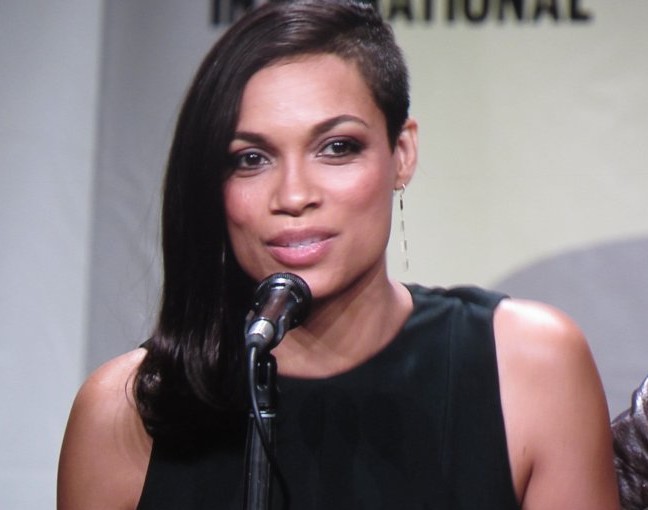 Robert Rodriguez is asked about keeping Frank Miller's name in the title of the work by Geoff, and Robert Rodriguez tells Boucher that he wanted Frank Miller to get his recognition for his work.  Frank Miller is actually a part of the title of the film, per Robert Rodriguez's request.
Rosario also discusses the use of sketches while filming, putting those sketches into a scene to see how exactly that scene should be filmed to mirror the graphic novel as best they could.  Robert Rodriguez talks about Josh Brolin's scenes which were filmed with Mickey Rourke, but Rourke filmed his scenes weeks before, so Brolin filmed scenes with Mickey Rourke without Rourke being around.  Brolin chimes in saying how "foreign" the films feel, and that he has to put his trust in the movie makers.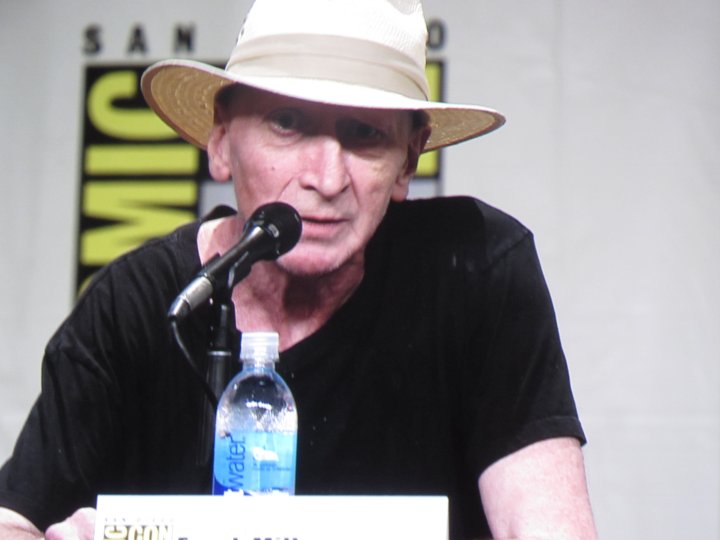 Frank Miller discusses working with the actors, and expresses how good of a job they all did making the film.  Rosario Dawson went as far as shaving her head for the film, despite her having to film another movie right after Sin City 2.
The panel then discusses how it was filming the movie ten years after the first.  Alba talks about being 10 years older, and more mature this time around. Robert Rodriguez talks about how 80% of the score for the film was created by him waking up at odd hours of the night, humming music into his smart phone to record.
The panel moves on to audience questions, and there are a couple good questions asked.  The green screen aspect of the film is brought up again, and Rodriguez talks about how he had all of the actors paint their own characters to help open their mind.  Miller also discusses how too much scenery could have been a distraction for the film, and he thought it actually helped certain scenes with minimal props and set design.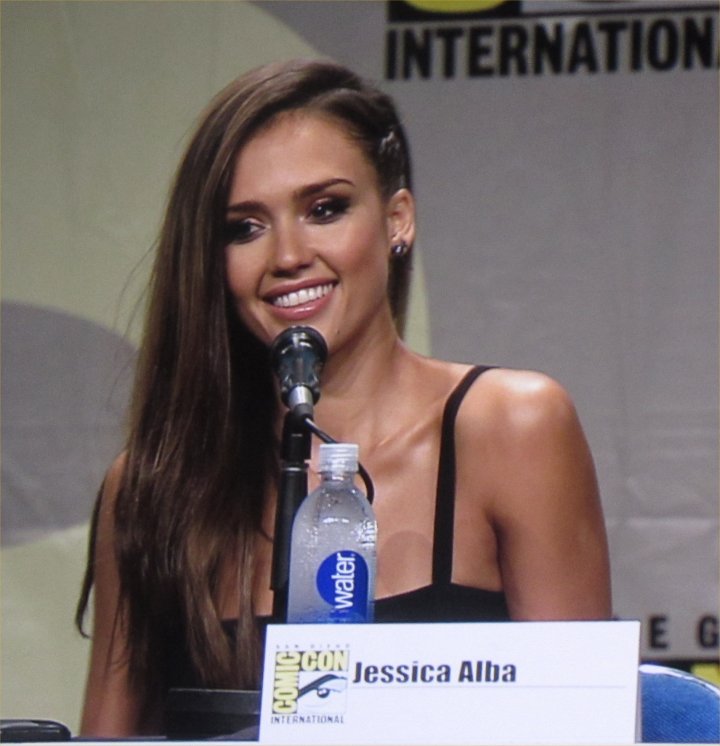 The panel rounds out mourning the loss of Michael Clark Duncan for this film, and Rodriguez discussing recasting his role.  Rodriguez says that Duncan fully immersed himself in his role in the first film, but since this movie is a prequel to the first, Dennis Haysbert did a great job stepping in to fill Duncan's shoes.  The questioner also asked about creating a movie for Martha Washington (another graphic novel by Frank Miller), to which Frank Miller says he would have to have the rights when the film was made, and it would have to be done right.  For his astute question asking, this Hall H-er earned a signed copy of a Sin City 2 the graphic novel.
More footage was shown at the end of the panel, showing a little more what the film is about.  Sin City: A Dame to Kill For is set to hit theaters August 22, 2014.  Unfortunately, none of the Comic-Con footage was released, but here is a trailer to check out:
Sin City: A Dame to Kill For Trailer
Below is our photo gallery from the Sin City: A Dame to Kill For panel. You may click on any of the thumbnails for an enlarged image. It will open in a new window, and you can click on the image again for an even more enlarged photo.