We're continuing our recap of our time at San Diego Comic-Con 2014, this time covering our Friday at SDCC. Remember, this is just a brief overview. More pictures and details of each panel coming soon. Read on to find out how Friday went for us!
Did you miss our Wednesday and Thursday recap? Click here to go back to it!
Friday, July 25
Security came around and woke us up at 4:23am, telling us to pack up our stuff because they would soon be condensing the line. We barely managed to get all our stuff together before the line started moving at 4:30am. After the line condensed, we ended up in the last row of tents for a little while, then it seemed we were continuously condensing until we were let into the room around 9:50am. We ended up near the front of the second section of seats.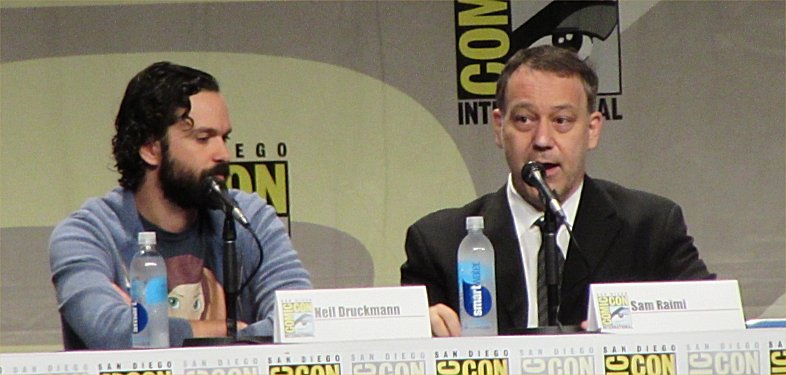 First up at 10:15am was Animation Show of Shows, where we were shown a collection of short animated films for an hour. I confess, I may have taken a little nap during this time…
Then it was time for the 30 minute "Sneak Peek" panel, which turned out to be for The Last of Us. We were shown a clip from the video game, and it was announced that it would be made into a motion picture. The video game's writer Neil Druckman came out on stage with Sam Raimi, who will be producing the film. At the end of the panel, Sam Raimi was honored with the Inkpot Award.


Up next was AMC's The Walking Dead panel, moderated by Chris Hardwick, featuring producers Scott Gimple, Robert Kirkman, Gale Ann Hurd, Dave Alpert, and Greg Nicotero, along with actors Andrew Lincoln (Rick), Norman Reedus (Daryl), Steven Yeun (Glenn), Lauren Cohan (Maggie), Danai Gurira (Michonne), Melissa McBride (Carol), Chad Coleman (Tyrese), and Michael Cudlitz (Abraham). Chris Hardwick presented Melissa McBride with a bouquet of flowers and told her to "Just look at the flowers." Later during the panel, Chandler Riggs (Carl) joined the stage and was eating out of a nice big can of chocolate pudding. We saw a parody clip showing Rick and Glenn as old men still in the train car, eating a piece of meat that was supposedly Carl. But then we got to see the world premiere of the Season 5 trailer. Twice.


After that, it was time for the Game of Thrones panel, moderated by Craig Ferguson, which included executive producers/writers David Benioff and D.B. Weiss, author George R.R. Martin, and actors John Bradley (Sam), Rose Leslie (Ygritte), Kit Harrington (Jon Snow), Sophia Turner (Sansa), Natalie Dormer (Margaery), Maisie Williams (Arya), Rory McCann (The Hound), Gwendoline Christie (Brienne), Nikolaj Coster-Waldau (Jaime), and Pedro Pascal (Oberyn). Since they don't have footage of the upcoming season yet, we were shown a blooper reel from the previous season. Most of the panel was audience Q&A, but we were barred from asking anything about what was going to happen in the upcoming season, or spoiling anything from the books.

After the Game of Thrones panel there was a mass exodus, but we stayed and were able to move up to the back of the first section of seats for the RADiUS-TWC Previews Horns and Everly panel. First we watched a trailer for Everly, then director Joe Lynch and actress Salma Hayek briefly came out on stage to talk about the film, which comes out in February, and which Lynch described as "Die Hard in a room." Then we watched the world premiere of the Horns trailer, and author Joe Hill, director Alexandre Aja, and actor Daniel Radcliffe joined the stage. This was Radcliffe's Comic-Con debut! It was recently Radcliffe's birthday, so Hall H sang "Happy Birthday" to him.  In the movie, Radcliffe's character begins growing horns, and sees the worst in everyone around him come to fruition.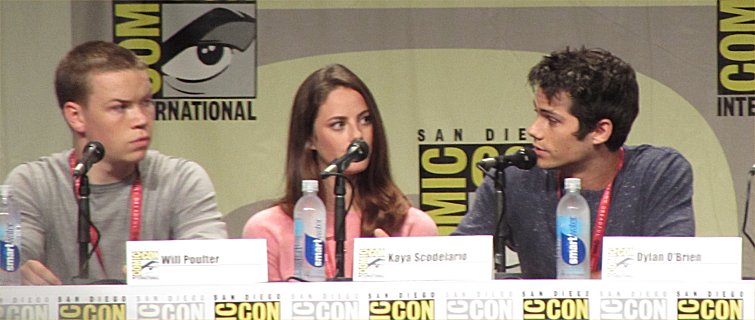 Our final panel of the evening was 20th Century Fox, a 2 hour panel that kicked off with The Maze Runner. Director Wes Ball, author James Dasher, and actors Will Poulter, Dylan O'Brien, and Kaya Scodelario were on hand to talk about the film. We got to see the world premiere of the new trailer, as well as a clip from the film where O'Brien's character encounters one of the grievers.
Book of Life was next on the roster. It's a computer animated film of "fractured fairy tales" based in the Latino culture. Director Jorge Guiterrez, producer Guillermo del Toro, and voice actors Ron Perlman, Christina Applegate, and Channing Tatum took to the stage to talk about the film, and we got to see some footage. It was pointed out that the film has a contemporary soundtrack, and singer Biz Markie came out on stage to lead the crowd in singing his hit "Just a Friend."  
We then watched a pre-recorded video message from Rupert Friend, who plays Agent 47, introducing the world premiere trailer for Hitman: Agent 47. Actors Zachary Quinto and Hannah Ware came out on stage to talk about the film.
After that was Let's Be Cops, with Rob Riggle, Keegan-Michael Key, Nina Dobrev, and Damon Wayans, Jr. taking the stage. Jake Johnson couldn't make it, so he sent a pre-recorded video message. The movie is actually based on a true story of guys dressing up as cops, and getting arrested for it. They announced there would be a free screening of the film that night, first come, first served.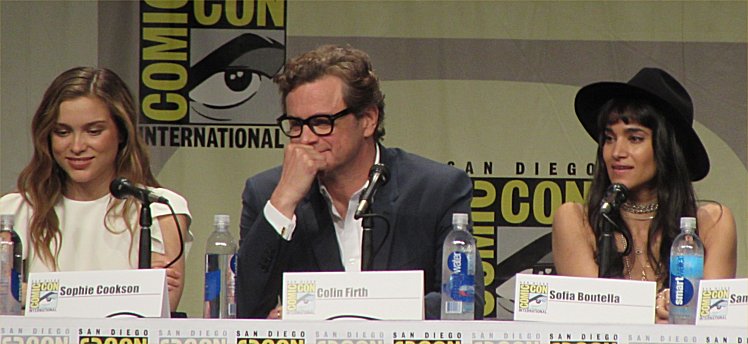 The final movie of the 20th Century Fox panel was Kingsman: The Secret Service, with Mark Millar, who co-wrote the comic book, moderating, and included co-writer Dave Gibbons, screenplay writer Jane Goldman, and actors Colin Firth, Samuel L. Jackson, Sophie Cookson, Sophia Boutella, and Taron Egerton. The director, Matthew Vaughn, couldn't make it, so he sent over a video message – which Mark Hamill was also in. We also got to see a couple of clips from the movie, one in which we see Hamill's cameo and Samuel L. Jackson plays the villain, and another in which Colin Firth kicks butt. The spy movie comes out October 24.
We were a little disappointed that there was no mention of Fantastic Four, especially since the panel ended 10 minutes early at 6:10pm instead of 6:20pm, so we were kind of expecting something else after Kingsman, but nope. So we headed back to the hotel, where Josh was waiting for us since he had driven down after work. We left our electronics in the room to charge while we went to eat at the cafe by our hotel, came back to our room and took turns showering, and then headed back out to the Convention Center.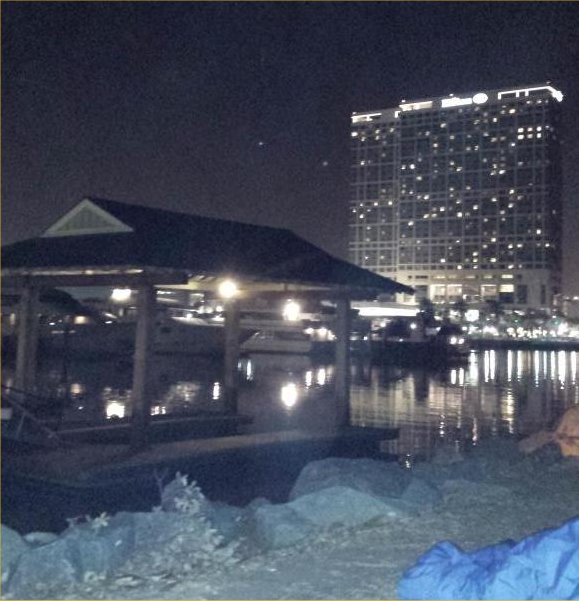 We had heard that the line had started much earlier in the day, and knew that this was going to be worse than the previous night, but we didn't realize just how bad it would be. By the time we got done with our long hike all the way to the end of the line, which was behind the Marriott, it was 10:15pm, about 5 minutes earlier than we got in line the night before. But we were to a part of the line that we never even knew existed. Wristband distribution was much quicker than Thursday night though, and they ran out of wristbands right around midnight – about 80 people in front of us. We decided to stay in line anyway, hoping that less wristbands were given out than the number of seats. We eventually got moved behind Joe's Crab Shack after the symphony in the park was over.