After the two and a half hour long Warner Brothers panel, it was time for the Lionsgate panel, consisting of two movies: I, Frankenstein and The Hunger Games: Catching Fire. This panel took place on Saturday, July 20, in Hall H, at 1:35pm. I (Violet) have divided the Lionsgate panel into two posts, one for each movie. First, let's get into the recap of the I, Frankenstein portion of the panel!
The panel right before this one was for Edge of Tomorrow, during the Warner Brothers panel. Click here to go to that post.
The Lionsgate panel began with the trailer for You're Next, which was odd, because there was not a panel for it. Dave Karger, the moderator, then came out in one of the masks from the movie and announced that You're Next would be in theaters August 23.
Dave started off the panel with I, Frankenstein, which is from the producers of Underworld, and  is based on a graphic novel by Kevin Grevioux, who played Raze in the Underworld films. It is a present day, big action, horror twist on the classic Frankenstein story. He then introduced the writer/director Stuart Beattie, followed by creator of the graphic novel, Kevin Grevioux (who also appears in the film), and finally, cast members Yvonne Strahovski and Aaron Eckhart, who plays Adam, the Frankenstein monster.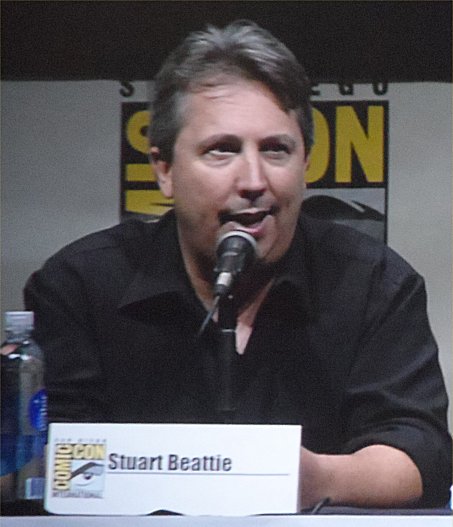 Stuart explained that this is a "Frankenstein like you've never seen before," who has been alive for 200 years, still walking the Earth looking for purpose, and is seemingly immortal. He gets brought up in the middle of a secret ancient war between two supernatural races: gargoyles and demons. The demons want to harness the power that brought the Frankenstein monster to life and use it to destroy mankind, while the gargoyles want to prevent that.
When Dave asked Aaron the scale of "bad-ass" that he plays in the film, Aaron answered, "11," explaining that this is a hardcore, action thriller featuring the Filipino art of kali stick fighting, that they all trained really hard to learn. We then got to watch an exclusive, never-before-seen sizzle reel from the film, which upon watching it had a very Underworld feel to it, and was evident that it was from the same producers.
Dave then asked Stuart what to expect from the action sequences, considering he worked as a screenwriter on G.I. Joe and Pirates of the Caribbean.  Stuart answered that he was trying to find new and different ways to do action sequences besides shootouts, fist fights, and car chases, as he wanted to offer something that people had never seen before, so as to engage audiences and give them value for their time and money.


Upon Dave asking Kevin where the idea came from for the graphic novel, he said that after working on Underworld, he was looking for a way to bring a new monster to life in a modern context, something that was more "action-oriented," so he wrote a screenplay which Lakeshore snapped up really quickly. He then decided to write a graphic novel based on that screenplay, trying to tell the story of Frankenstein as an action hero.
Dave commented on how in shape Aaron was for this film, and asked him how the training for this film differed from films he's done in the past.  Aaron said that they did a lot of kali stick fighting, which he had never even heard of before. He had an expert trainer come to his house, put two sticks in his hands, and say "here we go." It was a lot for him to learn. In addition to that, he also had a Cirque du Soleil trainer work with him for 3 or 4 hours every day for 6 months so that he could get in shape, because Stuart wanted a "fit Frankenstein." He also spoke about how everyone had to learn to kali stick fight, and that it was a "very physical film."  Dave asked if Aaron was still in that shape, and he answered, "Of course." Dave asked him to prove it, so Aaron asked for suggestions on how to prove it, with screams from the audience of "take off your shirt!" So he stood up, took off his jacket, and flexed one of his biceps.
Before opening up the panel to audience questions, Dave first asked a question that had been submitted on Facebook, which was what type of scientist Yvonne Strahovski plays, and what it was like to play that character. Yvonne revealed that she's an electrophysiologist, and that when we first meet her in the movie, she's reanimating a dead rat. Her character is very "scientific-minded" and doesn't believe in gargoyles or demons. Dave asked about the relationship between Yvonne's and Aaron's character, which she says is a "discovery of one another" in the movie, and Yvonne talked about how her character, Terra, called Aaron's character, Adam, "It," so she's looking at "It" very scientifically. One of the big themes of the movie is what it means to be human. Stuart jumped in saying that "they both have things that the other one wants: Terra wants to find out how Adam was made, while Adam wants Terra to make him a companion."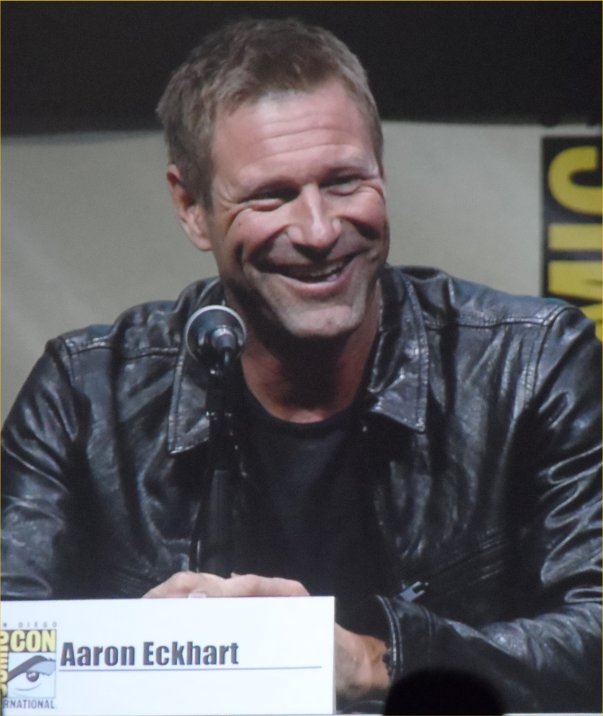 It was then opened to audience questions, the first of which was how Mary Shelley's Frankenstein will translate into the movie. Stuart answered that this story is the "next chapter," as the story begins when Mary Shelley's ends. He said that "it's very much Mary Shelley's character, but it's done in a whole new way, in a whole new light, in a modern day setting."
The next audience member asked if any of Yvonne's old characters transfer into the movie, to which she answers that every character is very different.
Dave asked another Facebook question, which was what sets Aaron's portrayal of Frankenstein's creation apart from other Frankenstein monsters. Aaron replies that this Frankenstein is "much more energetic" and "much more human." However, he also said that he believes they've "stayed true to that element of Mary Shelley's book that Frankenstein's monster is looking for love, his purpose in life, and how he fits in, looking for a community that is like himself." He went on to say that it's "a very strong human story" that he thinks we all can relate to.
Another audience question was why Aaron's character is a lot less scarred and less grotesque than the typical Frankenstein monster. Stuart joked, "There's not much you can do to make Aaron ugly." But then he seriously answered that when we saw Aaron in the clip, it was present day, so that's 200 years of scars that are healing and fading. However, there's a different look for him in 1795, where he's much more heavily scarred.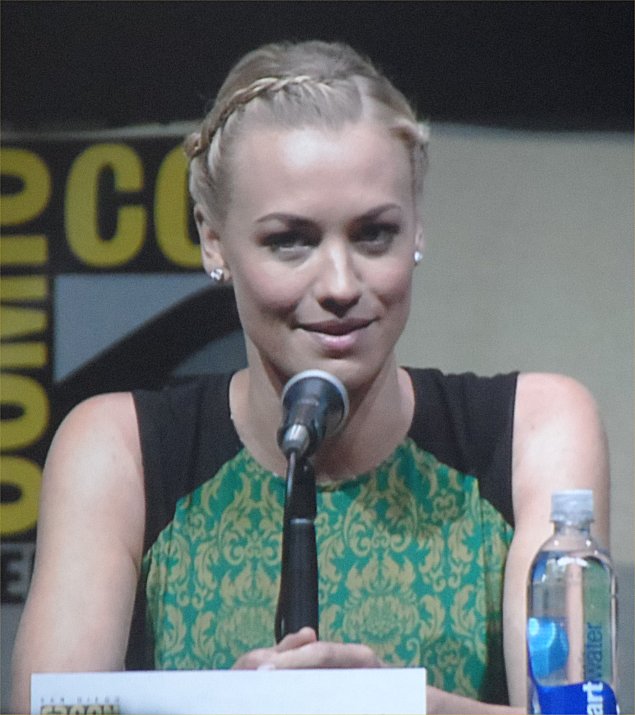 The next audience member asked Yvonne what it felt like making the transition from Sarah Walker, the muscle (in Chuck), to Terra the scientist or nerd. Yvonne said she was a little jealous of the fight scenes in this movie, and that she didn't get to be a part of the action scenes, but that Terra is definitely no "damsel in distress," she is a very smart, strong woman, and although she doesn't get to kick butt in a CIA type way," she gets to kick butt in a "science type way."
The final audience question was about Yvonne's character's experimentation with reanimating dead rats and how that led her to the Frankenstein monster. Stuart explained that Yvonne's character doesn't believe the Frankenstein story is real, she thinks it's just a myth, so "when Frankenstein comes crashing down into her lab" it's very life-changing for her when she realizes that she's using modern technology to try to do something that was accomplished 200 years ago.  Yvonne then talked about how humans have no idea that this war is going on between gargoyles and demons, and that is more real to you through Terra's eyes since she's the only human.
I, Frankenstein will hit theaters January 24, 2014.
Up next was Part 2 of the Lionsgate panel, featuring Hunger Games: Catching Fire. Click here to move on to that part of the panel!