Summit Entertainment stopped by Comic-Con on Thursday, July 18, from 3:50pm-4:50pm, to showcase their upcoming films Ender's Game, based on the book by Orson Scott Card, and Divergent, based on the novel by Veronica Roth. Each movie was allotted about half an hour each for clips and Q&A with cast members, producers, and directors. Read on for Violet's recap of the panel!
Divergent
Chris Hardwick moderated this panel, and of course we would see him moderating several more panels throughout the weekend. First up was Divergent, which is based on the young adult novel by Veronica Roth, who wrote the book while she was still in college.  Divergent was published in 2011 and was on the New York Times Bestseller list for 26 months straight. The panel started off with Veronica Roth, director Neil Burger, and cast members Theo James, who plays Four, and Shailene Woodley, who plays the protagonist, Tris.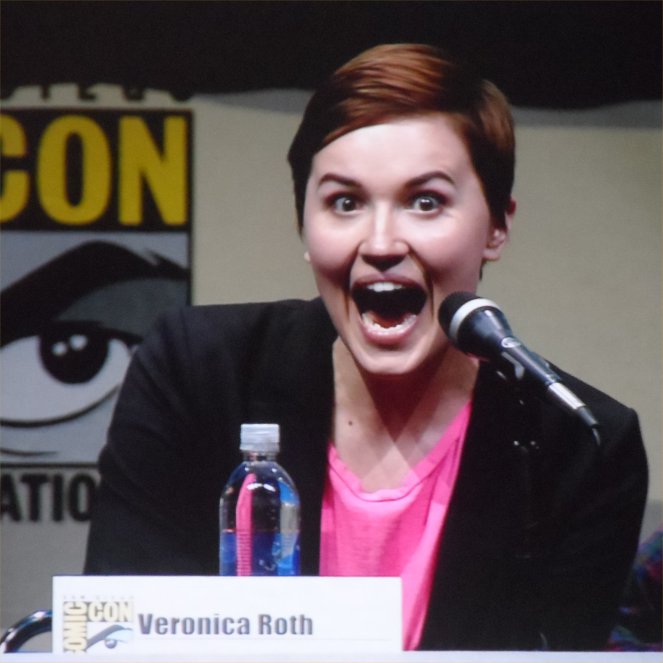 Burger and Roth then went on to explain the futuristic world in which Divergent takes place. I actually recently read Divergent and its sequel Insurgence, so I was already familiar with the premise. However, it was interesting to hear that although Burger thinks the events take place 100 years from now, he and Roth disagree on that. The story takes place in a dystopian Chicago, after there has been a war or some type of cataclysmic event, and the city, now with a much smaller population, is walled in. The city is divided into five factions, each of which are dedicated to cultivating a particular virtue: bravery, selflessness, honesty, intelligence, and peacefulness/kindness. The story is about a young woman named Tris who grows up in the selfless faction, called Abnegation, but feels stifled by it, and drawn to the bravery faction, which is called Dauntless. At a certain age, you take an aptitude test which determines which faction you're most suited for, and there is a Choosing Ceremony where you choose which faction you want to be in . Tris makes the tough decision to join Dauntless, which means leaving her family forever.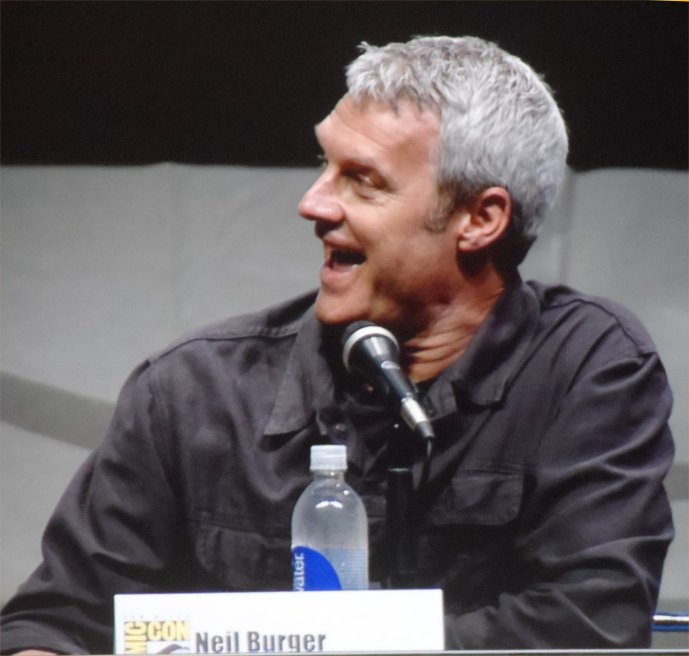 Burger then talked about how they just finished shooting two days before this panel, and then we got to watch an exclusive, never-before-seen clip from the movie. The clip consisted of Tris running next to and jumping onto a moving train, then it cut to her and her new friend Christina (played by Zoe Kravitz – yes, Lenny Kravitz's daughter) jumping off of the moving train onto a rooftop. Next, we see the group of Dauntless recruits standing on the rooftop, with the group leader saying that they have to jump off the roof into the open pit below. Tris volunteers to go first. We see her jump, and she is caught by a net. Four (played by Theo James) helps her off the net and asks her name. She begins to give her real name, Beatrice, but stops herself. Four tells her that she can pick a new name, but make it good, you don't get to pick again. She tells him her name is Tris. Four announces, "First jumper, Tris!" and tells her "Welcome to Dauntless." We then got some quick flashes of Dauntless training, including fighting lessons and knives being thrown around Tris as she stands in front of a target, one of which nicks her ear and draws blood, as well as a scene of Dauntless initiaties crowd surfing.
Roth talked about how she was not yet grasping the magnitude of Divergent at Comic-Con, and how it's been really incredible finishing up the third book while all of this is happening. She then revealed that she had gotten the go-ahead to give us some never-before-revealed information: the third book will be told from two alternating perspectives, Tris's and Four's. Having read the first two books, this was a very interesting revelation, considering that both have been entirely from Tris's perspective. The book is actually already done.
Chris Hardwick then asked Shailene how she took Tris and made her relatable, and what she saw in that character. Shailene said that she never saw Tris as a superhero, but instead as a normal young woman who is forced to find herself through her experiences. Further, Shailene thinks that everyone has bravery within them, but we're not all put into situations where we're forced to call upon our bravery, so what she loved about Tris is that when put into such a situation, she rose to the occasion and found the bravery and courage within herself to help others around her.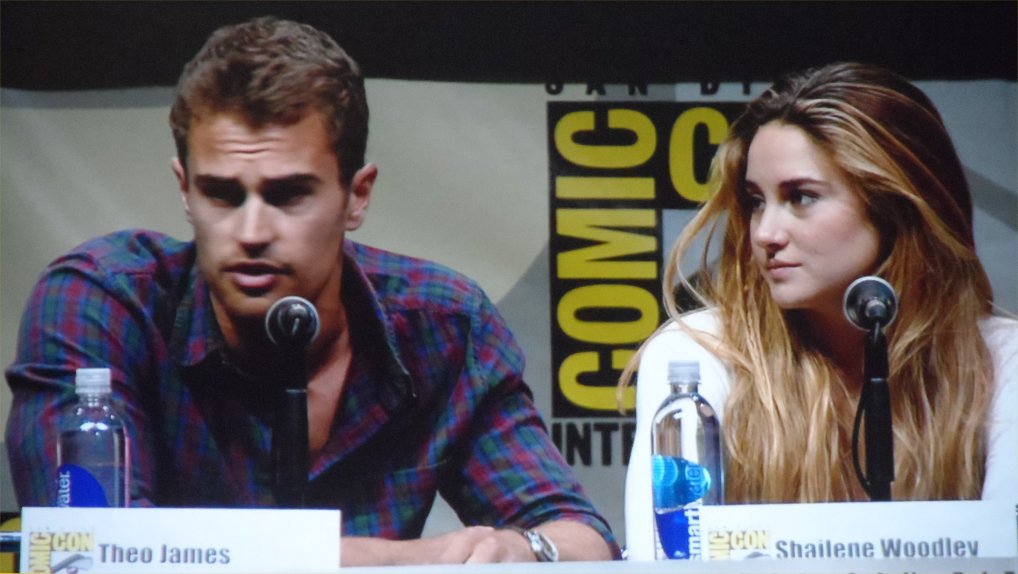 Hardwick then addressed Theo, calling him a "dreamy fellow," to the laughter of the audience. Theo started talking about watching himself on the big screen during the clip, and how it looked to him like he'd put on some weight, to which Hardwick commented, "Honestly, just listening to your accent, like half the audience just got pregnant." Hardwick commented that his character, Four, is not just a heartthrob, and asked Theo what made him complex. Theo replied that he's quite "old school" and not afraid to demonstrate what he's afraid of, which to him, makes him more masculine. He talked about one of his favorite scenes from the book, which will also be in the movie, where he and Tris are climbing a ferris wheel, and Four immediately admits that he's afraid of heights. He loved the concept that "You can't be afraid of nothing, everyone's afraid of something," that "bravery is not about being fearless, it's about how you deal with things that are scary."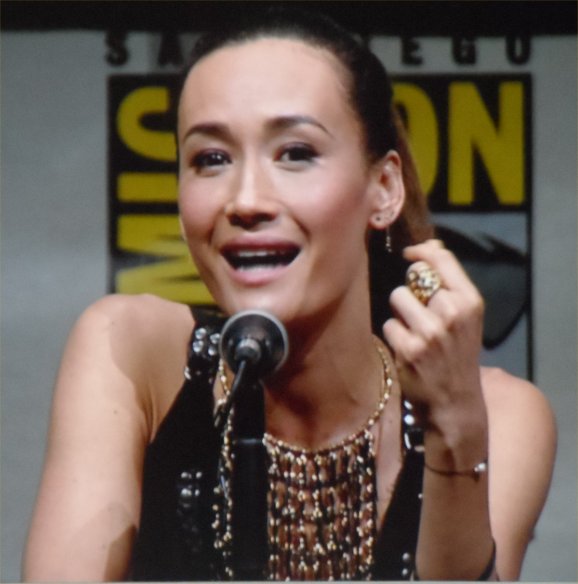 Hardwick then brought out the rest of the cast members, including Ansel Elgort (Tris's brother, Caleb), fellow Dauntless initiates Zoe Kravitz (Tris's friend Christina), Ben Lloyd-Hughes (Will), Ben Lamb (Edward), Christian Madsen (Al), Amy C. Newbold (Molly), Miles Teller (Peter), and Dauntless authority figures Mekhi Phifer (Max), and Maggie Q (Tori). Hardwick asked Mekhi and Maggie what the experience was like for them, working with a young cast. Maggie said she's never experienced working with such a young cast before, and that she's usually the youngest person in a show with R-rated elements, so she didn't realize how much she would enjoy working with young people. She then praised the young talent featured in the movie. Mekhi commented that it was a great experience, as there was a lot of exuberance and a great energy, and the young cast put in a lot of hard work and dedication.
Ansel, who plays Tris's brother Caleb, didn't get to work with most of the people on the panel (since he is in a different faction than them), but worked with several other actors not on the panel. He said it was the best experience of his life, that he felt like he had become part of a family, and he looked forward to doing the sequels. Hardwick laughed about the fact that Ansel put himself in the sequels, and commented that because he said it at Comic-Con "it has to happen" because "those are the rules!"
Hardwick asked the Dauntless initiates if they had any time to bond before filming started, and we found out that they had two weeks of combat training, including "gun fighting and knife throwing" which was a good bonding experience. Zoe talked about her favorite scene being where she and Shailene got to crowd surf for 45 minutes in a sea of Dauntless members (which we saw in the clip), and Shailene agreed that was one of her favorite scenes as well. Theo joked that she could crowd surf right there, and Hardwick agreed she could easily crowd surf and make it all the way to the back of the room. Hardwick asked if Theo had had time to process the wrapping up of the film yet, and Theo told us that he had gone to Vegas as soon as shooting was over as his way of processing.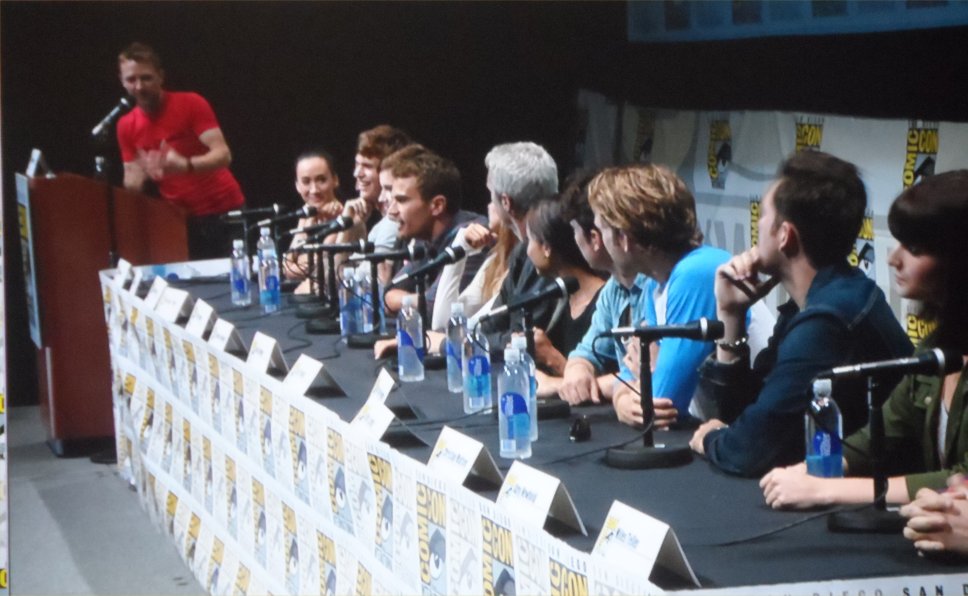 Hardwick asked Veronica whether the clip of the movie looks like what she pictured when writing the book, and she admitted that she actually doesn't have much detail in mind when writing. However, when she was on set, she was freaking out about all the incredible details of the set design, even the chairs. She then said that the movie stays very true to the book, which was a surprise for her.
Next, it was opened up to fan questions. The first person asked Veronica whether she saw something in the movie that she did not see while writing the book. She reiterated her fascination with all the details of the set, and also talked about how she was very surprised to see the actual water tank in which Tris was drowning, and seeing it actually filled with water and Shailene swimming in it. The next audience question was about what physical preparation the cast went through, and we learned that they did muay thai training for 2-3 weeks prior to the film. The next person stepped up to the microphone and said, "Loved Ender's Game,  loved it forever. In terms of the book…" and you could hear groans and laughter from the audience as they realized he was asking about the wrong movie, and his reaction was priceless when he found out his mistake!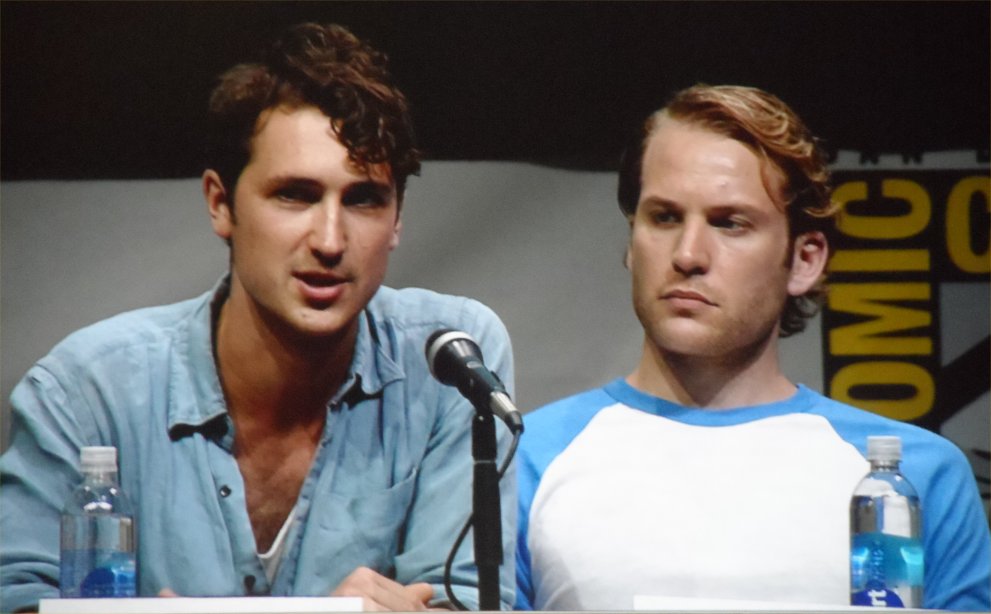 The person asking a question after that had to wait for the audience's laughter to die down to ask his question, which was whether the cast members experienced something new in this role that they hadn't experienced before. Theo answered that this was the first time he had done an American accent. The foreign actors had a dialect coach who helped them with their American accents, and she had them read poems every morning to get into the accent. Theo talked about Shailene's British accent, which Shailene then jumped in with that accent saying she sounded like Nanny McPhee. Another audience member asked for those who have read the book, whether there was a scene they were looking forward to filming and did they get to film it. Zoe answered that she was excited to film the scene where Christina is hanging over the chasm. Neil, the director, then talked about the difficulty of filming the scene where they jump off the train, and that instead of green screening it, they built their own train and tracks along Chicago's "L" train, and they all really jumped off. After that, an audience member asked Veronica if she felt that the relationship between Tris and Four in the book was accurately portrayed in the movie, to which Veronica replied that she actually tried to keep away from set during those scenes, because she felt it was too voyeuristic. But ultimately she thinks that the movie did a good job portraying the slow development of their relationship.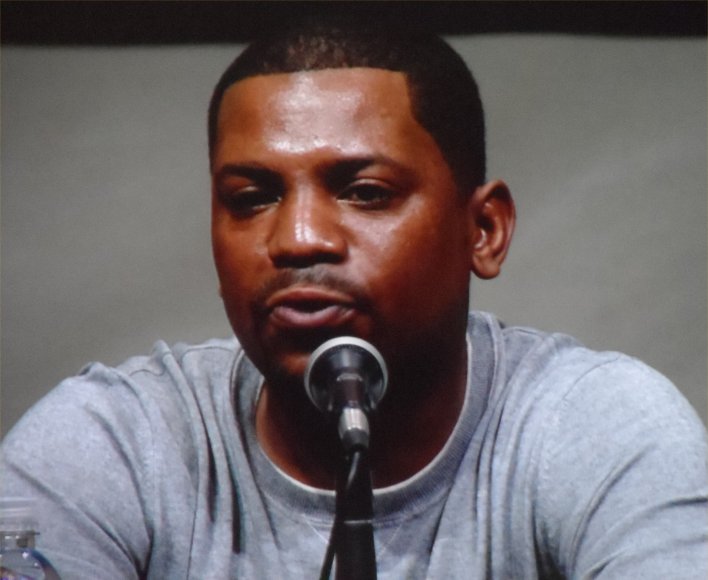 The last question was what similarities the cast members had with their characters, so each cast member went down the line. Maggie is a "bad ass," Mekhi grew up in Harlem, where he had to be brave, Ansel joked that both he and Caleb are tall and actually the same height, Theo is extremely protective of Shailene by nature, saying "I don't even let her go to the bathroom by herself without me standing outside the door." The director chimed in that Theo is a dangerously good fighter. Shailene said she likes to think she's brave, and  Theo talked about when Shailene climbed straight to the top of the ferris wheel. Zoe has an issue with saying whatever she wants, whenever she wants. Ben Lloyd-Hughes relates to Will in that he is good at standing up for his friends, while Ben Lamb is like Edward in that he enjoys learning. Christian Madsen talked about how usually you get a character description like "hot surfer guy," but when he got Al's character description of "quiet, gentle, big, shy" and he felt he really related to him. Amy found that  just like Molly, she found that she likes to fight, and the others chimed in that Amy is a good fighter. Miles joked that his similarity was that Peter is not very likeable.
Finally, we got to watch the clip one more time. As a fan of the books, the clip actually looked pretty good, and close to what I had pictured in the book, although it seems like the film will primarily appeal to teens, as it was meant to.
Ender's Game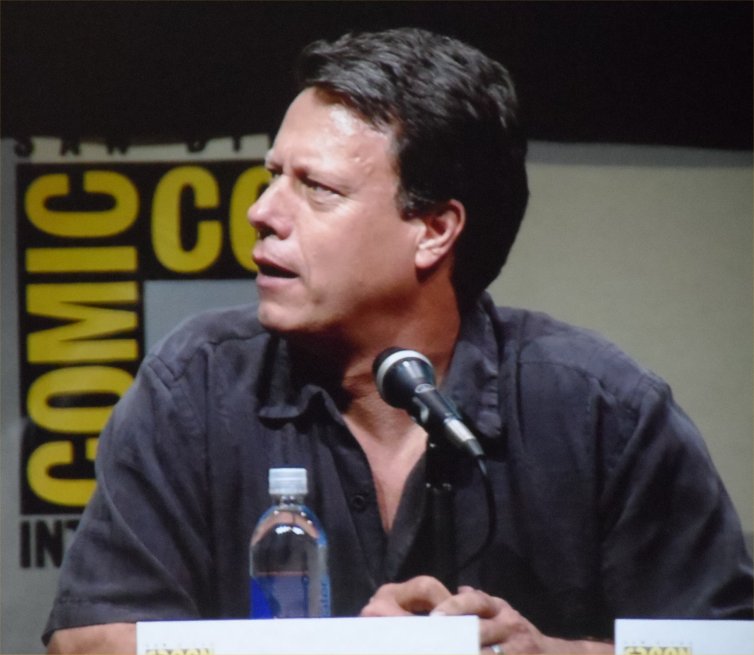 Chris Hardwick started off the panel by going through a list of the various awards and achievements of the book since it was published in 1985, and it was surprising to hear that the book is required reading for the military. Hardwick first introduced producer Roberto "Bob" Orci and then director Gavin Hood, who gushed about this being his first Comic-Con experience. Next Asa Butterfield, who plays Ender Wiggin, was brought out, followed by Hailee Steinfeld, who plays Petra Arkanian, and finally, Han Solo himself, Harrison Ford!! Ford plays Colonel Hyrum Graff. Then we got to see a never-before-seen exclusive clip from the movie.
Harrison Ford's voice narrates, "When the aliens first invaded, they nearly destroyed us. They will be back." He then goes on to say "There's greatness in you, Ender. The world needs you. You were bred for this. You see things in a way we can't. You alone can understand the enemy. You will be the one to save mankind." Within the clip are shots both on Earth, and in space, with stunning visual effects, and exciting outer space fight scenes.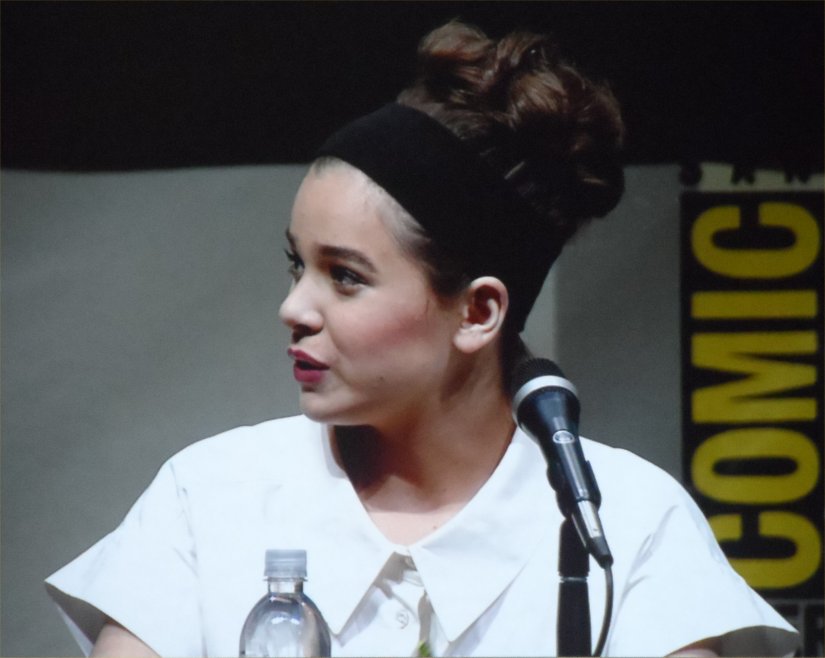 Orci spoke about the challenges of making a movie out of a well-loved book, then Asa talked about how it was a challenge, but exciting to bring Ender to life. Hailee admitted that this was the first time she had to physically train for a film, as they had three weeks of training before they started filming, starting with Space Camp in Alabama, and also a military boot camp.  Hardwick then addressed Harrison Ford, whose second Comic-Con this was (he was here last year), and asked, for playing Ender's mentor, what drew him to the film and what does he bring to it? Ford then corrected Hardwicks observation, saying he's not so much Ender's mentor as he is Ender's manipulator, to which Hardwick profusely over-apologized, spurring Ford to say, "I am never coming back here again!" to the amusement of the audience. He then went on to answer that he was drawn to the complex moral issues involved in the military. He brought up the fact that when the book was written 28 years ago, the ability to wage war removed from the battlefield was unknown.  However, the manipulation of young people and their value as soldiers because of their special skills was very complex and interesting to him, and he was delighted to play a character who brought these issues into public consciousness.


Hood addressed the challenges of adapting the book into a movie, including the technical challenges such as bringing the Battle Room to life. He spoke about how visual effects don't do it for us unless they're supported by a great story, and this is a great, complex story. He talked about the actors' ability to portray characters who are not simple, who "wrestle with their own capacity for good and evil," actors with the intelligence of Asa and Hailee, jokingly adding, "and of course, Harrison on a good day." Hood further joked, "And when he's not having a good day, you bring in Sir Ben Kingsley, and he makes up for it." Next, Hardwick asked Asa how he was able to come to work and put it out of his mind that he was working with stars such as Harrison Ford and Ben Kingsley, to which he said he wasn't sure really.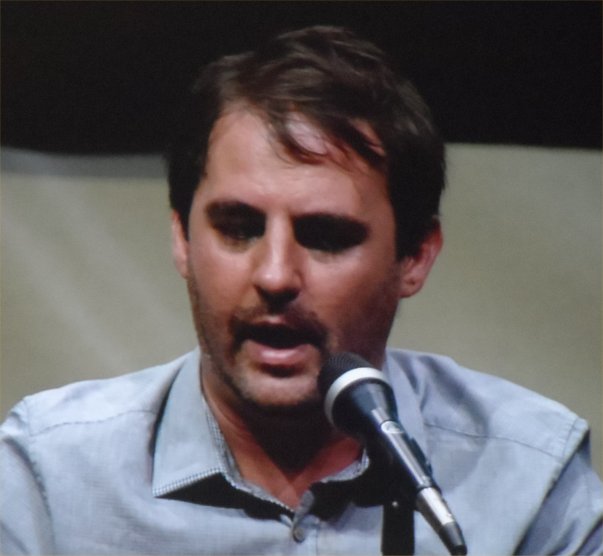 The panel was then opened up to audience questions, the first of which was about the controversy around the author of the book, Orson Scott Card, and how involved he was in the making of the film. As producer, Orci took the question, basically answering that they support Lionsgate/Summit's statement in support of LGBT rights, that they support all human rights, and that a lot of people worked on this movie and he would hate for their efforts to be thwarted for the opinion of less than 1% of the people behind the movie, especially since the message of the book and movie is tolerance, compassion, and empathy. Rather than shying away from the controversy, they are using the spotlight to say that they support LGBT and human rights.
Then, the guy who mistakenly asked the Ender's Game question during the Divergent panel returned to ask his question, to thunderous applause from the audience, and he joked that he was a fan of Divergent. His question was how they pick what themes from the book they want to explore in the movie. Gavin answered that he likes to think they focused on the same themes in the book. Leadership was one big theme they were drawn to, as well as the aforementioned themes of tolerance, compassion, and empathy, as well as self-identity.  If he had one goal, it would be to be true to the story of Ender Wiggin, and he hopes he delivered that in the film.
The next audience member began to ask the panel if they could take home one prop from the set, what would it be and why, when Gavin jumped in and said, "Harrison Ford." Asa then talked about a prop that they were sent, which was a futuristic wash kit that included a futuristic hair brush and toothbrush. When Hardwick questioned what made them futuristic, Asa answered that they had flashing lights.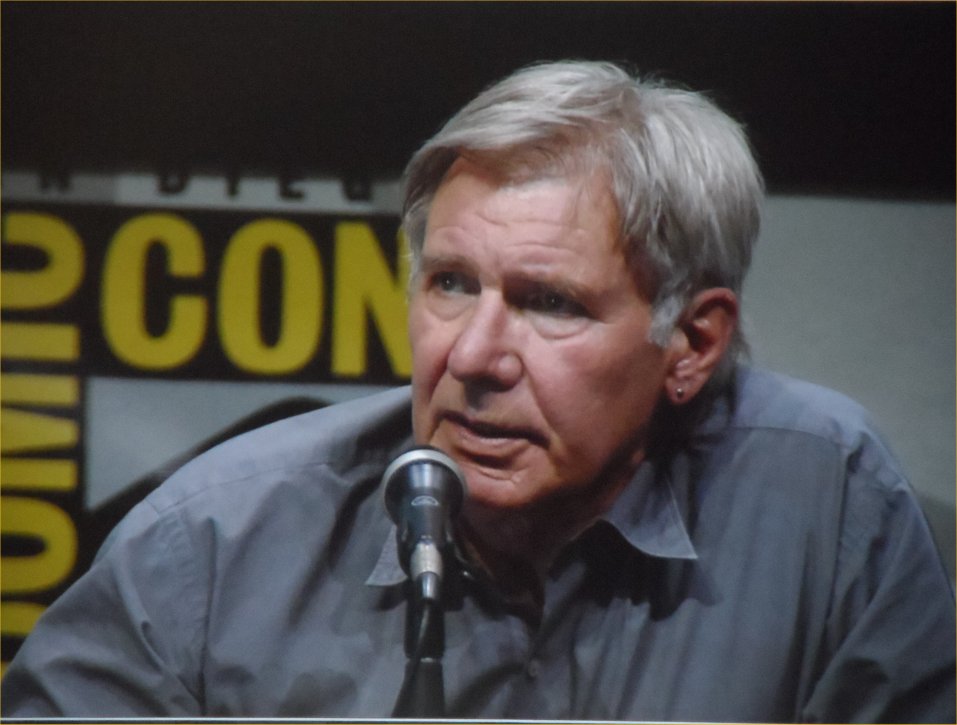 As the next person started to ask Harrison Ford the question, "If Han Solo and Indiana Jones were to meet…" Hardwick interrupted and said, "Okay, I'm going to stop you right there…" but then gave in and said, "Oh, just do it. I wanna know too." The audience member then finished the question, which was what would be the first words they would say to each other? Ford appeared amusingly annoyed by the question, rolling his eyes and sarcastically answering, "Hi. How are you?"
For the last question, a very excited Brazilian man came up to the microphone, beginning by saying he was a big fan of Harrison Ford and used to pretend he was Indiana Jones when he was a child, then asked if Ford thought that Han Solo would be a good soldier for Colonel Graff's army. Again, Ford appeared visibly annoyed, and began by saying "You and I have a lot in common: I used to dream about being Indiana Jones when I was younger too. Not so much anymore," which garnered much laughter from the crowd. He then answered the question, "I don't think Han Solo would be good as a soldier in anybody's army. I think he's what we call now an 'independent contractor.' "
The panel then ended with another screening of the clip we saw at the beginning of the panel, which makes the film look very exciting and visually stunning.
The Next panel up is Dexter! You can check out the Panel review for Dexter here.