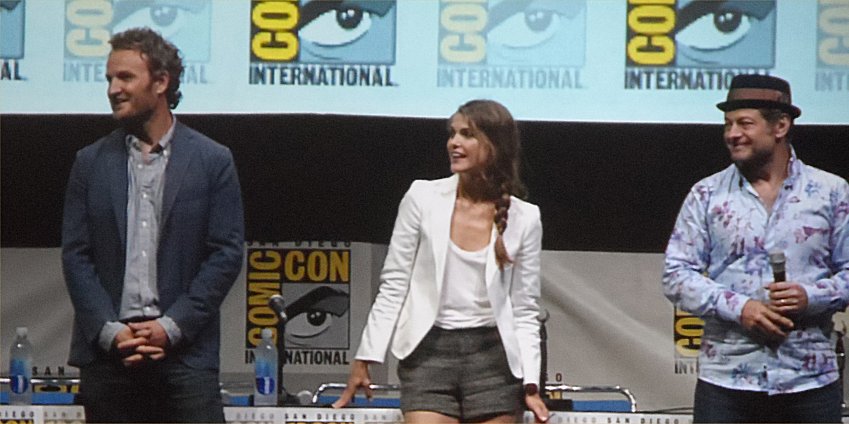 The 20th Century Fox panel took place on Saturday, July 20, at from 4:15pm-5:45pm in Hall H.  The panel was listed on the schedule as "TBA" so there were only speculations as to what movies would be showcased during this panel and who would be there. I (Violet) have split this panel up into two parts, starting with Dawn of the Planet of the Apes. Read on to learn more about the sequel to Rise of the Planet of the Apes!
The announcer, Jeff Walker, started off the 20th Century Fox panel by saying "How many of you are fans of X-Men? Wolverine?" and the crowd cheered loudly in response. He then introduced the moderator, Geoff Boucher. Geoff teased that they were going to do something that had never been done before in Hall H, and that we would not believe what they were going to do.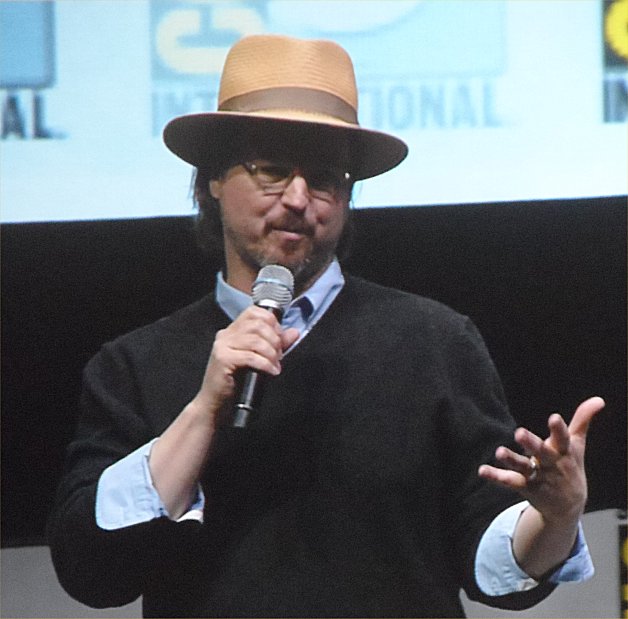 He then got right into the panel, starting with Dawn of the Planet of the Apes, the sequel to Rise of the Planet of the Apes, and welcomed director Matt Reeves to the stage. Matt announced that the movie would be released on July 18, 2014. Geoff asked about the challenges of coming in to direct this film, since he did not direct the first one. Matt then talked about how when he was a kid, he was obsessed with Planet of the Apes, and that he used to want to "be" an ape. After seeing Rise of the Planet of the Apes, he realized how Rupert [the director of that film] had created an emotional connection to the apes, and Matt wanted to continue that into the sequel, telling Caesar-centric story that starts in the world of apes, which we know eventually connects to the 1968 movie Planet of the Apes.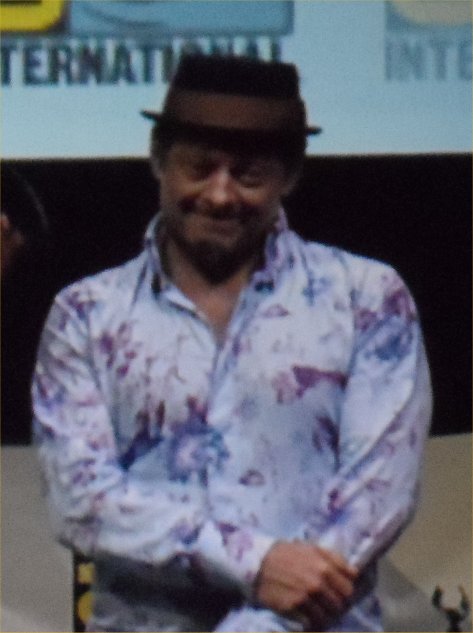 Matt then brought out a few cast members, including Jason Clarke, Keri Russell, and Andy Serkis. They all continued to stand at the front of the stage with microphones in their hands, rather than sit at the table like most panelists do. Geoff asked Andy, who returns to play Caesar, what the most exciting aspect of the film was for him, and he answered that one of the challenging aspects for him was the evolution of Caesar from a revolutionary leader to "a leader with responsibility  who has evolved this society of 2,000 apes," and trying to bring the humanity he grew up with into that society to make it peaceful and egalitarian. Andy talked about how Caesar is now in a position where "all apes together are strong," and now 10 years later, he not only is a mature and peaceful leader, but he also has a wife, a teenage son, and an infant, as well as a council of apes — and then, the humans arrive. At that point, it's all about the choices made in the reaction to the arrival of the humans, and how Caesar copes with that. Andy also talked about the apes learning how to communicate, not just with ape vocalizations, but with words and sign language.
Next, Geoff asked Keri what her "entry point" to the film was and what connected her most to her character. Keri said she felt that Matt Reeves had created a world of these two communities where "each community is independently trying to protect their own families and survive," and that was her entry point and focus in the story.


Moving on to Jason, Geoff asked about the way action is done in this film, bringing up Andy's motion capture performance in the previous film, more of which is used in this film. Jason talked about how Matt and Fox had hired Cirque du Soleil and parkour guys, so you're not going to just see CGI apes, you'll see "incredible athletes who are inhabiting these simians and really doing these live stunts" that are motion captured.
Lastly, Geoff asked Matt about the effect of having the 1968 Planet of the Apes as a "finish line." Matt said that for him, it helps, and that what's exciting to him is that with this story, we know where it goes, so the question is "How do we get there?" and that's all about psychology. He went on to say that what's so great about the Apes franchise is that "it's really about us." He comments how people say that apes are the animals, but "WE are the animals, and it's really waiting for us to look at our nature."   He elaborates that "the movie is really about character and psychology" and about how a character gets "from A to Z," and that it's the journey of "How?" and "Why?" that really draws him in.
Before airing footage from the movie, Matt mentioned that they shot until 5 in the morning, then they got on a plane to come to Comic-Con, because they didn't want to miss it. He shared that it takes 10-12 weeks to create one ape shot, so he warned us not to expect much of that in the footage. We then got to watch never before seen footage from Dawn of the Planet of the Apes — in 3D!
Throughout the teaser trailer is a voiceover by Gary Oldman saying essentially the following: "We've been through hell together. We spent four years, FOUR YEARS, fighting the virus, and then another four fighting each other. It was chaos. You all know what we're up against." Much of this clip takes place in a forest, where we see Jason Clarke's character walking, then he shouts, "I need… to speak… to Caesar!" We get a close up of Caesar's face. He looks angry. The voiceover continues, "I want you to know it's not just about power, it's about giving us the hope. To rebuild. To reclaim the world that was ours." At the end of the clip, it seems like Caesar has signaled the apes behind him to attack. It was pretty intense and looks really good! I don't think any footage has been posted online yet, though.
When the lights came up, the panelists were gone. That was a very short panel, as they were probably only there for a total of 10 minutes.
Dawn of the Planet of the Apes is set to hit theaters on July 18, 2014.
Click here to continue to Part 2 of the 20th Century Fox Panel