Up next for Comic-Con 2013 in Hall H, for Sunday, after the awesome Supernatural panel, is Breaking Bad.  Guess who is back to moderate Breaking Bad?  That's right, our favorite moderator, Chris Hardwick.  Let's get into the panel!
Click here to go back to the previous Sunday panel, Supernatural!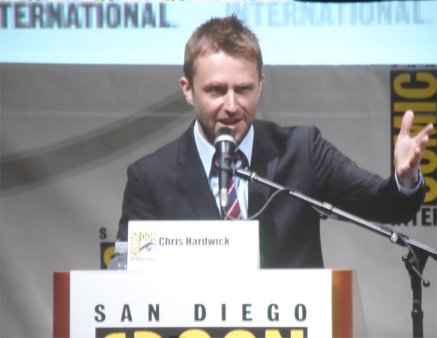 Chris Hardwick begins the panel with a little self-promotion, which is fine.  He will be having an after-show for Breaking Bad called Talking Bad, much like his other after show for The Walking Dead called Talking Dead.  He discusses that he will take a more serious tone with that show, as his usual banter might not go so well with the tone of Breaking Bad.  Sounds like it might be worth checking out, but anyway, on with the panel!
 Hardwick begins the Breaking Bad panel with discussing the show's Emmy nominations that just happened, which was a total of 13!  He describes Breaking Bad as, "one of the best shows ever", which I can certainly agree with.  He lets us know that the show will continue airing Sunday, August 11th, at 9pm EST, and has 8 episodes left.
Chris Hardwick then runs a trailer of season 1 up to season 5 for Breaking Bad, to what we have seen so far, with the big moments of the show in a few minute clip.
He then begins introducing the cast, beginning with Dean Norris, as Hank.  Next out is Anna Gunn who plays Skyler White.  Then RJ Mitte as Walter Jr., Bob Odenkirk as Saul Goodman, and Aaron Paul as Jesse Pinkman.  Then we see Walter White himself, Bryan Cranston, and Vince Gilligan.   But Bryan Cranston looks different…how could this be? The day before we saw him with hair on his head, and no hair on his face! Now his head-hair is gone, and facial hair is back?  Did he shave his head and put on a fake goatee? Turns out no!  See for yourself: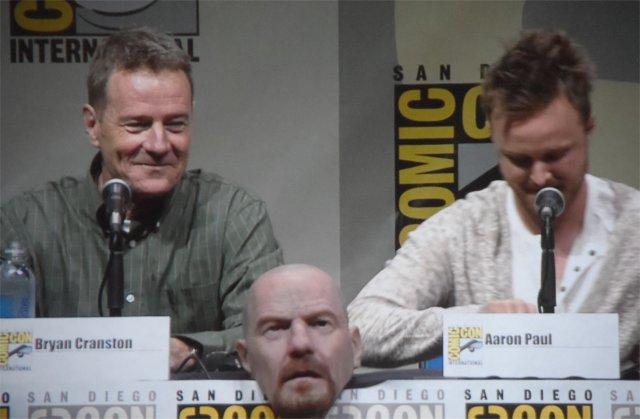 Bryan Cranston came out with a mask on, that looked human-like, that at first I thought it was his real face!  This drew laughter and craziness from the crowd in Hall H.  Bryan Cranston was walking the floor with this mask on.  "Hiding in plain sight" as Chris Hardwick says.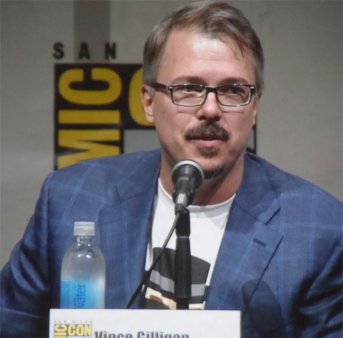 Chris Hardwick begins the questions with Vince Gilligan, asking what his emotional journey was for this show.  Vince Gilligan says he started out, "very much wanting a job" and he "did not foresee this happening" referring to the show blowing up, I assume.
Chris Hardwick compliments Vince Gilligan on his success with the show, that it has made it to Hall H, to which Aaron Paul chimes in, "Yeah B**ch! ", providing some extra oomph to Chris Hardwick's nice words for Vince Gilligan.  To this, Chris asks Aaron Paul, "How many times do people yell, 'B**ch' to you?", to which Aaron Paul replies, "I can't even begin to count".
On to Bryan, Chris Hardwick asks about Walter White's journey through the show.  Hardwick asks, "Was he always that guy? Or do you think he's changed?"  Bryan discusses emotions in all people, and how it only takes, "the right buttons" to change people, and says for Walter White, "all those buttons were pushed at one time".  Bryan then discusses, "When that turn was," referring to Walter White becoming the "bad guy". He has a pretty logical answer, one that I probably agree with to some extent: "To me it was really that first episode when he tried to become something he wasn't".
Chris Hardwick proceeds to discuss the tone of the Breaking Bad, which he describes as being set at the very beginning of the show.  At this point, Bryan Cranston begins playing with his Walter White head, placing it on top of his mic, staring into its eyes as it stares back.  The panel gets a little derailed with Bryan Cranston making out with his own head.  Chris Hardwick tries to keep the panel on track but Bryan keeps cracking up at his mask, and hilarity ensues, with more making out with the mask for both Bryan Cranston and Aaron Paul.
Getting back on to track, Chris Hardwick talks with Aaron Paul about where Jesse Pinkman is "now".  Aaron Paul discusses how Jesse Pinkman is "Terrified of this man", referring to Walter White.
Chris Hardwick congratulates Aaron Paul for his 2 Emmy awards as Jesse Pinkman.  Chris asks Aaron Paul about the intensity of shooting the show since it has such a dark tone.  Aaron Paul describes the set as "very loose and very comical", especially thanks to Bryan Cranston, describing him as, "the most professional person I ever worked with and also the most immature man I have ever experienced."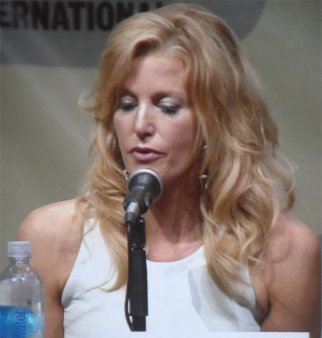 Moving down to Anna Gunn, Hardwick asks her how she views her character.  She talks about her character's history, and the "curve balls" Skyler and Walter have had to deal with.  Chris Hardwick asks Anna if Skyler feels like she has a normal life, to which she answers, "somewhere inside of her she knows it's probably not going to turn out well".  Chris then throws another tough question at Anna Gunn: "Do you think it's a good family?"  She thinks about it for a second, and says, "It was always my belief that they loved each other, that they keep trying to reach through that."
Chris then moves to RJ asking him the same question he asked Anna, "Do you think the Whites are a good family?"  I was not aware RJ Mitte actually had a bit of a speech impediment, but he still carries himself very well even on this panel.  His response is that, "He has no idea what is going on, how could he not?" RJ Mitte talks about his journey on the show with him starting the show at the age of 14.  He seems really grateful for being on the show.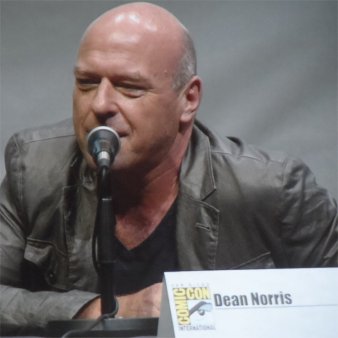 Dean Norris then talks with Chris Hardwick about the development of his character, Hank.  Dean describes his character as the "saddle of morality".  He says he is the, "one guy who won't let his conscience let him do the wrong thing".
Odenkirk, Saul Goodman, describes himself as a Fan of Breaking Bad, "who got a really good seat".   Odenkirk describes his character Saul Goodman as, "a sweet fella", "good at law", and "taste in clothing and office architecture".  He finishes up with saying that Saul is, "good at what he does".
Hardwick moves back to Vince Gilligan, and asks what he was able to see in comedians as actors.  He describes, "Comedy is a lot harder to do than drama."
We learn that Bryan Cranston has earned his wings, or at least his star on the Walk of Fame.  Moving on to audience questions, the first questioner asks what the cast's iconic moments of the show are.  Bryan Cranston enjoys his most famous lines.  He also talks about what he describes as a "horrific scene", when he lets Jane die.  Aaron Paul is up next to answer, and Vince Gilligan asks Aaron to talk about the "robot story".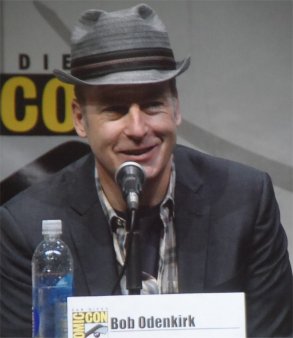 Aaron Paul begins the story, and I actually remember this part of the show very well. It is when they are stuck out in the desert, and the battery to the RV has died.  It is the scene (which Bryan Cranston jumps in to explain on the panel) that Walter says they need to build a battery.  They talk about filming the last scene, and they wrap on the last night, essentially done filming.  Aaron Paul goes on to talk about someone on the set named Nick Schuster, who suggests that Jesse should have asked if they were building robots when Walter was talking about building something.  Aaron then proceeds to explain that they faked the last take as being messed up for one reason or another so they would be able to work that line into the show.  Pretty funny behind-the-scenes moment.
The next audience question for Breaking Bad asks about the pizza in season 3, and how it got on the roof (the one that Walter White angrily threw), and if it was purposefully done.  Bryan Cranston tells the elaborate story of this pizza. Apparently he was told he would have to get that pizza on the roof, and Bryan thought it would be too heavy to be able to do it satisfactorily for the season.  He describes trying to mentally calculate the power he would need to use, and when they did the first take, it magically went right the first time.  He talks about them trying to do the scene again, and it didn't work again.
Chris Hardwick then asks about how much the show is planned out.  Vince Gilligan talks about Mark Margolis, and how they wanted to keep that character around.
The next questions is for Vince Gilligan, and it is actually a really good question.  He asks how and at what point did Walter White poison Brock, the kid of Jesse's most recent ex-girlfriend.  Vince Gilligan has an explanation, but by his own admission, it is a "tight time frame".  Vince's "best guess" is that once Walt got the idea, he would have gotten into Brock's school to swap out his drink.
A bit more advertisement comes up, discussing some iBook companion for Breaking Bad.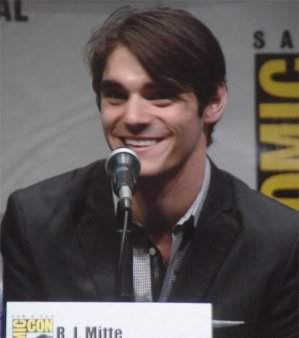 The next questioner asks if there is something that they had a hard time accepting for their character. Dean brings up Hank's paralysis as his.   RJ Mitte doesn't seem to have much.  Chris Hardwick presses him a little bit though, asking if he would know more about what was going on if he was really Walt Jr.  RJ Mitte acknowledges that if he were living Breaking Bad that he would probably know a bit more of what's going on.
Moving on to Bob Odenkirk for the same audience question, he says, "Saul does everything right, and I never had a problem with a single move he's made".
Anna Gunn talks about it being hard to understand Skyler's character.  She explains Vince helped her understand her character as the story progressed.  She said that she feels more emotional than what Skyler is, which she describes as, "challenging".  She talks about a funny scene, where she was smoking at a strip mall with the fake baby bump on, and received some hateful stares from bystanders not knowing what was going on.
Chris Hardwick moves down to Aaron with the same question, and he picked the scene I would have picked, which is when Jesse shoots Gale.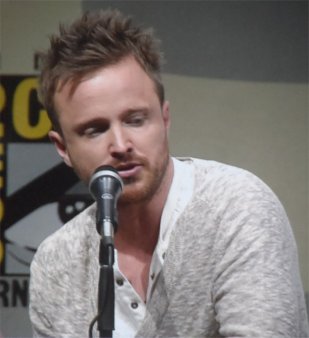 Bryan talks again about Jane's death, and we learn some interesting information about how that scene unfolded.  Bryan explains that the script first had Walt pushing Jane on her back when the choking started for her.  This was actually changed by the network and studio, to make the scene be more "accidental", and have her fall on her back when Walt is trying to wake up Jesse.  This was done because AMC and the studio thought it was too quick for Walt to turn that dark.
Chris Hardwick asks Vince about some tough parts of the show to make.  He talks about season 1 where Walt's former business partners offered him an excellent job to pay for his treatment, but he turns it down.  He talks about figuring out the character being "prideful to a fault".
The next question talks about Skyler's character, and how she is essentially a strong character, but is stuck in a terrible situation, and how Walt tries to manipulate her.
The last question asks Bryan Cranston what Walt's new motivation is.  Cranston says Walt is after power, but Vince cuts in saying that the empire has become shallow since Walt has realized Skyler is right in terms of enough money is enough, and family seems to be returning to his focus.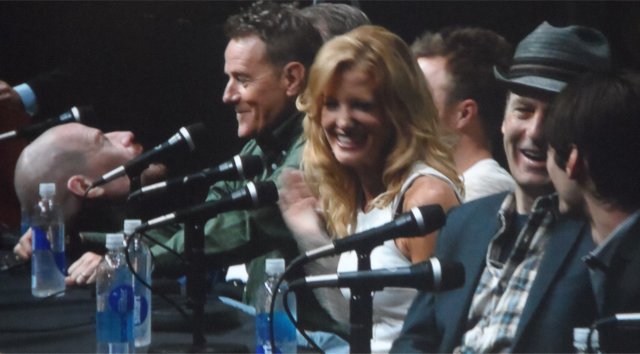 We finish the panel with a lengthy clip of the first moments of Breaking Bad season 5B. The Breaking Bad clip is probably the most vivid clip from all of Comic-Con that I remember.  It begins showing some teenagers skating in an empty pool of an abandoned house.  Walt's now abandoned house.  The clip shows Walt going up to the house.  He has hair, and no goatee. We know time-wise, that this is after the scene in the diner from the beginning of season 5A, because of the guns in the trunk, that he had bought illegally. Inside the house, it has been completely vacated and vandalized.  "Heisenberg" has been spray painted on one wall.    He makes his way to one of the rooms.  He pulls off a wall socket cover, revealing the Ricin poison he has hidden there several episodes back, which he intended to use on Gus but never got the chance to.  He takes the Ricin, replaces the wall cover, and exits his house.  On his way to the car, he bumps into his neighbor, who he greets nonchalantly.  She panics, and drops her groceries, revealing that most people in town know who he is now.
This ends the panel, and only makes me more excited for the season to start.  The show will be back August 11th, which can't come soon enough!  There is a small teaser online for Breaking Bad now. It isn't the footage we saw at Comic-Con, but it sure sends chills.  Here it is below:
Breaking Bad Season 5B Teaser Trailer
Up next is the grand finale of Comic-Con for us, after a very long 5 days.  The Doctor Who panel is up next. Check it out here!