by Josh



After the Arrow Paleyfest panel, the "little brother" show which has turned into an excellent show in its own right had its panel–The Flash. Aisha Tyler was the moderator again, and prior to the cast being introduced, we saw a quick teaser of what is to come for the superhero speedster. Read on for our recap and photos of The Flash panel!
If you missed our coverage of the PaleyFest LA 2015 Arrow panel, click here!
[**SPOILERS**] The teaser seems to indicate that Barry is going to make his attempt to save his mother. It also seems to indicate that Dr. Wells is the Reverse Flash, and that Barry is going to learn this himself. We see a scene where Cisco meets Laurel, who tells him she is Canary, and he says he loves her. We also see a few scenes of the new villains of the week, including Mark Hamill's character, as well as Gorilla Grodd, plus the return of Captain Cold. Then another shocker, Eddie punching Barry over Iris, and in another scene, Eddie shoots two cops for no apparent reason…A lot of interesting information in this teaser. [**END SPOILERS**]
The cast comes out, starting with Executive Producer Andrew Kreisberg. Then going down the line, the cast was introduced: Rick Cosnett (Eddie Thawne), Candice Patton (Iris West), Jesse Martin (Joe West), Grant Gustin (the speedster himself, The Flash/Barry Allen), Tom Cavanagh (Dr. Wells), Danielle Panabaker (Caitlin Snow), Carlos Valdes (Cisco Ramon), and finally capped off with another Executive Producer, Greg Berlanti.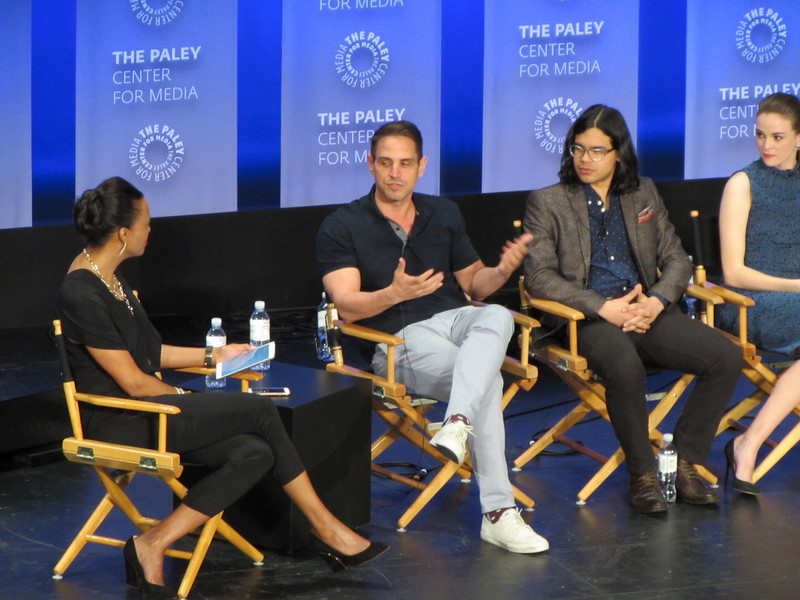 The audience gives all of them, particularly Jesse Martin and Grant Gustin, a huge welcome, but everyone got a great welcome.
Unfortunately, there was not a lot of stuff to glean from The Flash panel at Paleyfest. The teaser beforehand gave the most information. It was more of a tribute to the show's success, which of course is great to hear as well. Aisha Tyler has some great questions for the panel, first talking about the differences between the comic book Flash and the TV show. The Executive Producers field this question, and say that this cast really gives the sense of family among Barry and his group. They also wanted to capture the fun of comic books in the show since the producers grew up with them.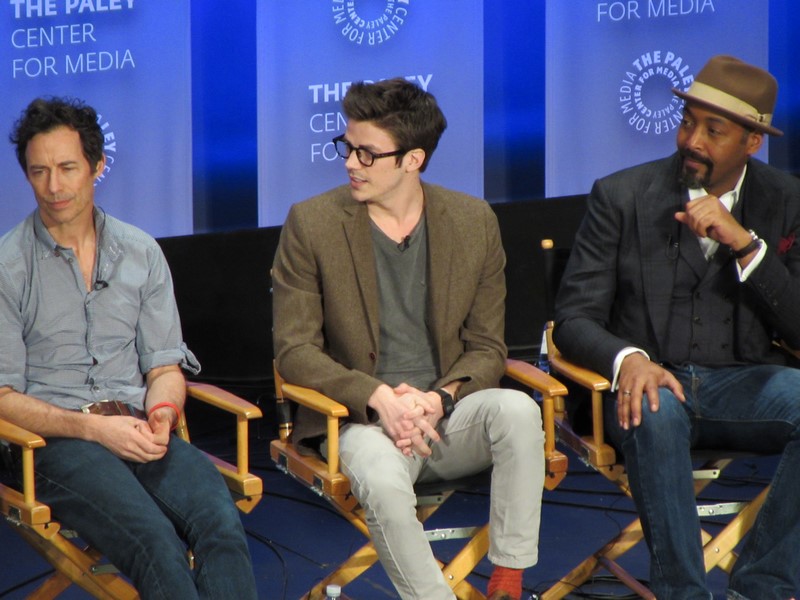 Grant seems really appreciative of his role as Barry Allen. He talks about being The Flash, which the character kind of mirrors his own experience, rising as a star as Barry Allen. He also talks about getting his feet wet with Arrow, then moving to his own show. It is pretty funny because Grant, and the entire cast seems to be tiptoeing on the panel, worried about spoiling something.
Aisha talks to Tom Cavanagh some, and unfortunately also is unable to say much about his character, as it would be spoilers for the future. Tom does say that Dr. Wells is "just trying to get home." He doesn't elaborate, and I am not sure what that means myself…Does that mean back to the future? Aisha then asks the big question–how is Reserve Flash fighting himself? Of course, that can't be answered either, and Tom Cavanagh reiterates–he can't say much. The producers to explain that they have planned everything out so there will be answers soon.
Moving to Rick Cosnett, he seems hamstrung as well, not being able to say a whole lot, but assures us that things will "come to fruition."
As for Jesse Martin, he talks about playing Joe, a father and a cop working in a world with superheroes and villains. He seems really excited for the acting gig. Moving on to Candice Patton, Aisha Tyler laments Iris being the only one on the panel not knowing who the Flash is (with the exception of also Eddie), and how everyone is okay with lying to her. Iris talks about it being an interesting aspect to the character, and how exciting it is seeing how that relationship plays out. There is a pretty funny moment when Candice says something about the "two men in [Iris's] life," referring to Barry and her father, and Rick Cosnett plays "hurt" as Eddie, and swaps seats to not sit next to her anymore. The two quickly "make up," and it was a pretty funny scene.
Aisha then talks about the science of the show. The producers says that the meta-humans have a "kernel" of science in them, but he admits a lot of it is made up. They also talk about how the emotions of the story play into the science. It was a bit of a weird comment. But they talk about time travel, and it sounds like Barry will be moving times pretty soon…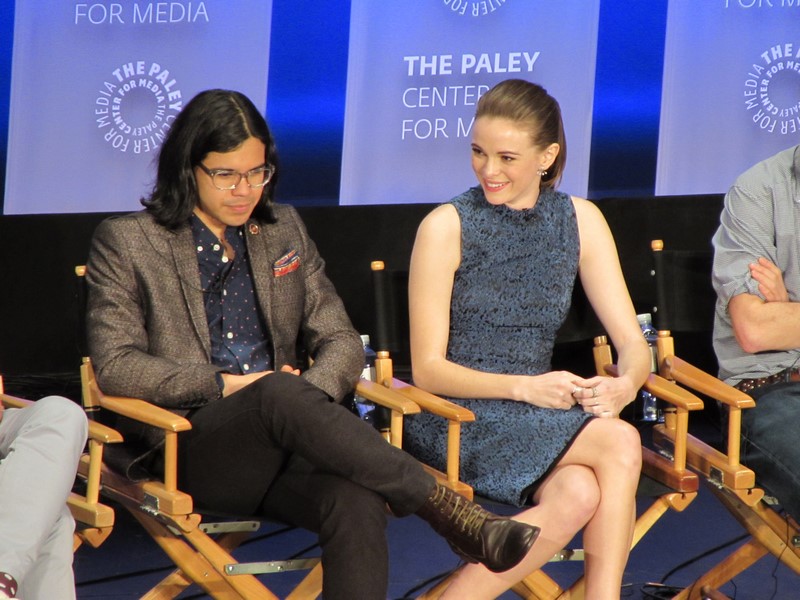 Aisha moves to Danielle and Carlos (Caitlin and Cisco). First talking to Danielle, Aisha asks about her character's journey, dealing with Ronnie and Firestorm, to snapping out of her depression. Danielle says that Caitlin's journey has "more to come" since Ronnie is a "phone call away." Aisha is sure to point out that making out with FIRESTORM while on fire could provide difficult.
Aisha then admires Cisco's "swagger" on the show, which Carlos seems to chalk up to the Flash pin he is currently winning. Carlos then talks about his naming of the villains, and how much control he has. I can't tell if he is joking from his answer, but it seems like he is saying he does get the job…
Back to Jesse Martin, Aisha asks about the whereabouts of Joe's wife, and Jesse seems unsure. Andrew Kreisberg says there is a small scene this season about her, but Jesse seems confused, perhaps not remembering it. Kriesberg insists it happened though, and Berlanti says it might be addressed more in the future.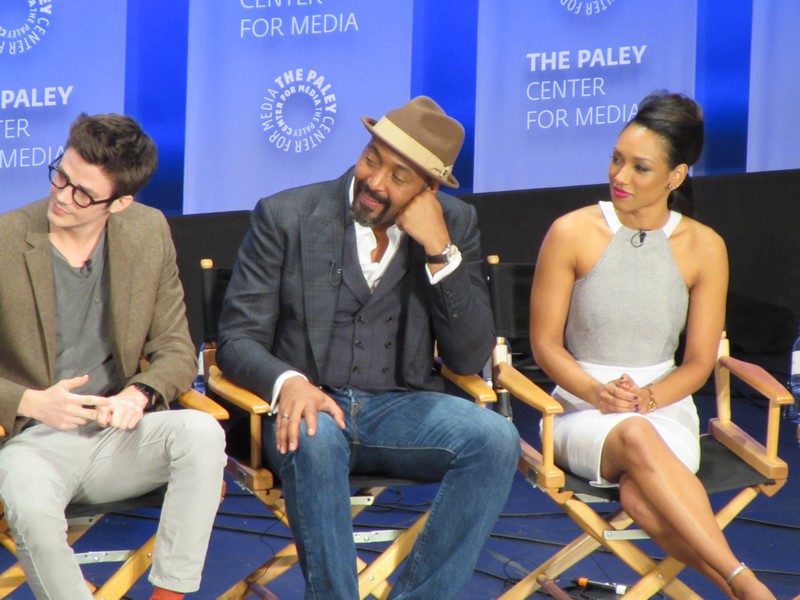 Moving on to Grant, Aisha asks how physically demanding the role of Flash is. Grant doesn't complain much, saying there's some scenes on a treadmill and a green scene, which can be tiring. Jesse Martin calls him out though, saying Grant runs a like a nerd. Way to call out your co-star, Jesse Martin!
Aisha then talks about rumors on the show, telling the audience that "the internet is at your disposal," but indicates that some STAR Labs people might get some powers of their own. The cast remains mum on answering that, but Carlos Valdes jumps in and says the show is focusing on Barry at the moment and "maybe later." Tom Cavanagh then has to deflect some as more questions come to him about Reverse Flash.
The producers then are asked about Arrow and The Flash having strong female characters. Greg Berlanti indicates it was a "conscious decision" giving these women these strong roles, and wants the show to reflect reality.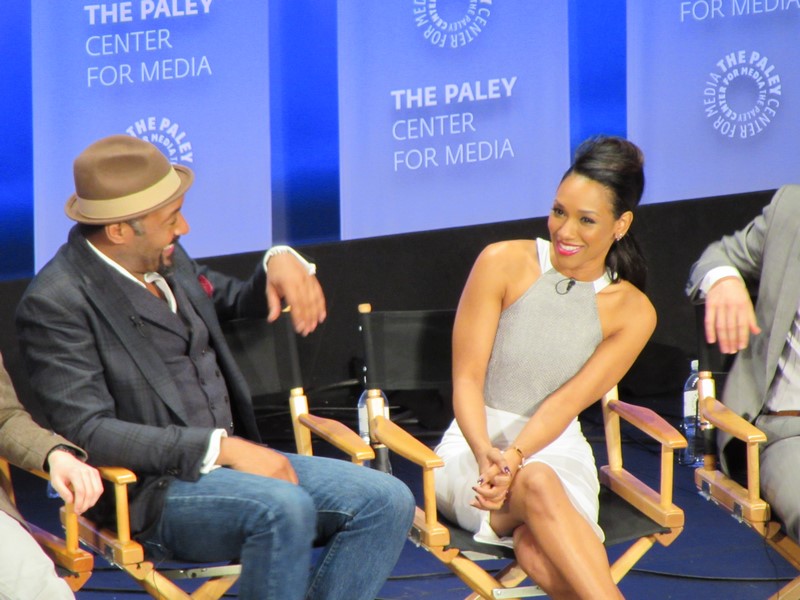 Another tough question comes from Aisha, which is how the show will change with time travel. The producers again are pretty dodgy, but indicate that the concern is addressed in the show. Jesse Martin is excited that if there is time travel, he might get a new/old wife back.
Barry talks about how his favorite part of filming The Flash are the "simple" scenes between Jesse and him or Tom and him. Tom also talks about the villainous nature of Wells, and how difficult it will be for his character to take his next step because he is emotionally connected to the people he works with.
Then Aisha brings up something that I wondered about for a while–who feeds the meta-human prisoners? The cast responds by pointing fingers at each other. Apparently it will be addressed "soon." Jesse then asks about how STAR Labs is so clean, and apparently a running joke with the cast is that they have a butler named "Gunther."
The final question Aisha has is how filming with time travel is. Jesse indicates that this primarily falls into the producer's lap. Grant does interject that he and other cast members have to remember what they know and don't know. The producers reassure us though–they have a plan.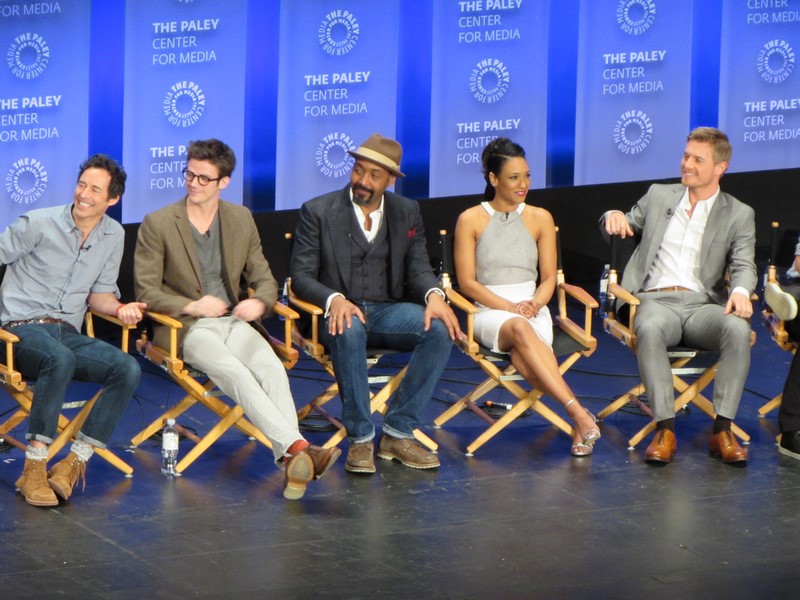 Audience questions were up next. For the most part, there wasn't a lot that was noteworthy. There was one question that was interesting, which asked if there would be a Justice League storyline adapted to the show. The producers confirmed that there would be a major storyline from The Flash comic books introduced to the show.
There were a couple cute kids on the panel as well. One clammed up though, and couldn't ask his question. His father did on his behalf, which was to sign his poster. Grant really wanted to do it, but Paleyfest had strict rules. However, Aisha Tyler assured the kid that it would happen after the panel finished up. Another kid, probably about 8 years old, won the theater over. He was able to recite the entire opening of The Flash opening credits. Not bad kid, not bad.
Overall, the panel, which lasted about an hour, was pretty fun. I had wished there would be new stuff we could learn, but of course I don't want the show ruined for me, so it is a conundrum. I am excited to know that time travel seems all but confirmed, and it looks pretty imminent. I also am excited to see what happens to our buddy Dr. Wells…
You can check out our slideshow of pictures from the PaleyFest LA 2015 The Flash panel below!
If you missed our coverage of the PaleyFest LA 2015 Arrow panel, click here!
This slideshow requires JavaScript.