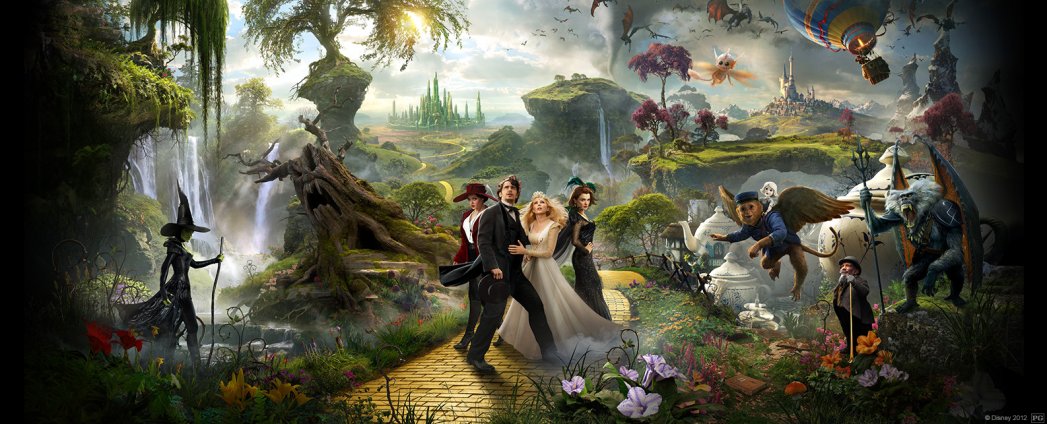 Check out our male and female biased reviews of the whimsical fantasy Oz: The Great and Powerful, starring James Franco. Our ratings averaged out to a 6.75 out of 10. See what we each thought of the movie after the jump!
One Girl's Perspective:
If you think this is just going to be a remake of the classic
The Wizard of Oz
film, think again.  This is actually more like a prequel that explains how the Wizard got to Oz in the first place.  However, it does give a few nice throwbacks to the classic film that are easily recognizable and will please those who might be looking for some sort of connection between the older movie and this one.  I've never seen the musical
Wicked
, nor read the
Oz
novels by L. Frank Baum, however, so I can't speak to the similarities to those works, unfortunately.
Like The Wizard of Oz, Oz the Great and Powerful starts off in black and white.  It also begins on a square shaped screen, rather than filling up the entire rectangular shaped movie screen.    Oscar, known as "Oz," played by James Franco (127 Hours, Spider-Man), is a con man magician in a traveling circus carnival in 1905. The opening scene felt a bit awkward to me. The tone was not what I was expecting, with humor and innuendo involved, as Oz is trying to seduce an innocent young woman, but keeps getting interrupted, first with her questions, and then by his assistant, Frank, played by Zach Braff (Scrubs).  Eventually, Oz's womanizing ways catch up to him, and he is chased by some other young woman's significant other and flies away in a hot air balloon, only to be caught up in a tornado, which then magically transports him to the Land of Oz.
At this point, the screen changes to color and expands to a full length movie screen.  We then see the bright, colorful landscape of the Land of Oz, as the hot air balloon glides down a river.  This part bugged me because the CGI looked so fake.  Sometimes CGI looks realistic and blends in, but not this time.  All the CGI looked like separate animation in a real life setting, rather than a part of that real life setting.  (To be fair, though, I saw this movie in 2D, so maybe the CGI looked better in 3D?) The balloon then crashes into the water, and Oz then meets Theodora, played by Mila Kunis (That 70s Show, Black Swan), who tells Oz that she is a good witch and informs Oz about the prophecy that one day a great wizard named Oz would fall from the sky and save them from the Wicked Witch. I hated Theodora's outfit, especially her awful wide brimmed velvet hat. Her matching velvet crimson top was okay, but paired with black leather pants it looked odd. It was mostly the hat though. I probably would not have minded the outfit so much if not for the hat. It's just not what I would picture either a good witch, or even a bad witch, or a citizen of Oz would wear.   Anyway, seeing that he just fell from the sky and his name is Oz, she presumes that he must be the fulfillment of the prophecy. Oz goes along with it, when he finds out that this means he gets to be king and therefore gets all of the king's gold. So they head off together and follow the yellow brick road toward the Emerald City so that Oz can claim his throne.
Along the way, Oz rescues Finley, a flying monkey dressed in a bellboy costume, from a lion.  The monkey, voiced by Zach Braff, then pledges his service for life to Oz as repayment to him for saving his life. Another CGI complaint: when will they be able to make animals look realistic? He looked so fake! Not the fact that he was a flying monkey, that part didn't bother me, it was his face that just looked way too computer generated. It becomes evident that Theodora is infatuated with Oz, assuming that she will be his queen.  Meanwhile, it is plain to see that Oz does not share her affections. They make it to the Emerald City, and Theodora's sister, Evanora, played by Rachel Weisz (The Mummy, The Bourne Legacy), welcomes Oz as their new king, or so it seems. However, she informs him that to officially claim the throne, and possess the king's riches, he must first defeat the Wicked Witch. I felt like Evanora's outfit was much more appropriate than Theodora's, as she wore a glittery elegant dress, and no big ugly hat.
So Oz and Finley set off in the middle of the night to kill the Wicked Witch in the Dark Forest.  On their way, they pick up another companion, a china doll, whose town has been destroyed by the Wicked Witch. Oh, I have to mention that I liked the CGI for China Girl – she actually looked like a real, walking talking china doll, not just some animation thrown in. So all three go to the Dark Forest, where they find the Wicked Witch – but it turns out that the "Wicked Witch" is actually a good witch named Glinda, played Michelle Williams (Shutter Island, Blue Valentine), and that the real Wicked Witch is Evanora. Glinda's outfit was also quite appropriate, a nice long elegant dress. I don't know how Theodora got screwed with her icky outfit. Okay, so there is a scene where Theodora is in a different outfit, a big poofy dress with her hair up and some side swept baby bangs (Where did those come from? They weren't there earlier!), which is a little better than her other outfit, but really she just looks like a high school student getting ready to go to prom. The style of her outfits just seemed very out of place.
The remainder of the movie consists of the mission of bringing down the Wicked Witch. Although, come to find out, based on Theodora's feelings for Oz, Evanora tricks Theodora into becoming the green Wicked Witch we all know from The Wizard of Oz. So they actually have two Wicked Witches to defeat.  Oz, pretending to be the prophesized Wizard, is able to rally the townsfolk (yes, including munchkins) to fight against the witches, which they do through the use of trickery (what Oz knows best) and basic machinery. The big conflict scenes where they are trying to sneak into the Emerald City and once they have gotten in are actually pretty neat to watch, and include quite a few references to the original movie. Of course, in the end, good triumphs over evil. The witches flee the city, but Oz warns that they will be back, foreshadowing a possible sequel.  Did I mention that James Franco sure gets quite a lot of liplock action in this movie?  He ends up kissing three different women, four if you count Annie and Glinda (both played by Michelle Williams) separately! The movie ends with Oz's fourth and final kiss. I was expecting there to be something after the credits, but there wasn't.
In summary, the things that bothered me most about this movie were Theodora's outfits (especially her big ugly hat), James Franco's over-the-top cheesy facial expressions (awkward and unsettling at times, like when he raises his eyebrow seductively at Theodora, or when he smiles way too big for no apparent reason), and the fake looking CGI (maybe it would have looked better in 3D?).  Some of the humor seemed odd at times as well. Overall though, it was an enjoyable movie, heartwarming at times, and with a couple of surprising twists and turns that you don't see coming.
My rating: 7/10
One Guy's Perspective:
The story of
Oz the Great and Powerful
is one of redemption for the main character, Oz (played by James Franco) who begins the story as a two-bit "wizard" in Kansas, struggling to make ends meet.  The beginning of the story is an introduction to Oz's shyster ways, with his fast-talking skills used to "woo" women and attempt to talk himself out of trouble.  The opening scene is meant to mimic that "early TV" vibe, being filmed in black and white, and letterbox format.  The acting has that over the top feel that many 50s TV shows and movies had.
After some back story has been played out, with a past love and Oz's motives and personality are introduced, Oz and viewers are whisked away to the land (not) surprisingly named after "the great and powerful wizard" that is prophesized to save the land from the Wicked Witch.  Most of the time, this landscape and special effects used look great, but there are a few times where something does not look quite right. However, since this is a land of make believe, that can be forgiven.
In the land of Oz, the "wizard" Oz begins his journey, which involves a little bit of yellow brick road, and we are introduced (and in some ways re-introduced) to characters such as the naive Theodora, the good Glinda, and the faithful Finley, among other characters.  The story not surprisingly becomes a metaphor for Oz's "previous" life, introducing characters that mirror different people Oz has had to deal with in Kansas ("And you were there, and you were there, and you were there!" comes to mind).
Overall the film was enjoyable, but seems at the mercy of the original film.  It does make some nice references to The Wizard of Oz, without being too overt about it, which was pleasantly surprising, and on the one hand, seemed to help with engaging the audience. It takes the audience on a journey to figure out where these characters end up at the beginning of The Wizard of Oz.  On the other hand, however, you can't help but be distracted, looking for Tin Mans and Scarecrows.  Additionally, the film does suffer from the inevitability of being a prequel: we generally know the ending.  The film tries to throw some curve balls into the film to attempt to keep you on your toes, but these attempts fall kind of flat.
But without the original material of the 1939 movie, this film would have been a mediocre "Alice in Wonderland" rip-off.  James Franco's acting seemed a little over the top as a shyster, while the transformation of Mila Kunis' character seemed a little too dramatic and extreme.  Oz's redemption story, and "second chance" in the film is an entertaining ride, but it is a movie where you need to leave your analytical mind at the door to get any enjoyment from the film.  The more you think about certain plot devices, the harder they are to swallow.
Overall I would give this film a 6.5 out of 10, primarily due to the fact you want to see where the film ends up as it approaches the beginning of The Wizard of Oz's timeline.  Some of the acting felt over the top, and some of the ties to the previous film felt strained, but it is a fun journey with (mostly) beautiful CGI.