The San Diego Comic-Con 2015 General Hotel Sale, or what attendees not-so-lovingly refer to as "Hotelpocalypse," took place on Tuesday, March 24 at 9:00 am PT. In the past, we've always either booked independent of the Comic-Con International ("CCI") hotel sales, or participated in CCI's Early Bird Hotel Sale, which only includes a handful of hotels, none of which are located in downtown San Diego. This year, we decided to try for a downtown hotel for the first time ever. Read on to find out how it went for us.
After last year's SDCC, our group decided that staying out in Mission Valley was just too far, and we wasted too much time driving back and forth. We all agreed that we would try to get a downtown hotel next time, preferably Hilton Bayfront, since it's right next door to the San Diego Convention Center, but anything within walking distance would be great. With the 4 of us working together, we should have a chance, right?
Cut to March of this year, when we discovered that half of our group was going to be on a family cruise during Hotelpocalypse. Okay, so that left me and Josh. But then, come to find out a few days before the sale that Josh is scheduled for an important meeting — at 9:00am on March 24. Which is annoying because such a thing rarely happens.
So, yeah, that left little ol' me to fend for myself on our group's first attempt at Hotelpocalypse. The whole group was depending on me. No pressure.
I decided that I would make the best of it, and practice, practice, practiced filling in the practice form on Friends of CCI Forum, and made sure to watch the handy video that Con Shark put together so that I would be ready. I was able to get my time down to about 40 seconds. Which is important, because the hotel you are given, and whether or not you get a hotel, is based on how fast you submit the form. Or is supposed to be anyway.
But nothing could prepare me for the "good" form vs. "bad" form fiasco.
Below is my account of how things have gone from the time the Hotel Sale went live, to the time hotel reservation emails went out, and then some.
Tuesday, March 24
Left for work a little early so I could make sure I was there with a good amount of time before Hotelpocalypse began at 9:00 am.
8:45 am-8:55 am Freaked out on Twitter with everyone else who was about to head into the Hotelpocalypse battle. Feeling very nervous with it being my first time, and being the only one in my group able to participate. Slightly shaking.
8:55 am-9:00 am Refresh. Refresh. Refresh. Repeat.
9:00 am-9:01? am Looks like the form is trying to load, but is taking awhile. I try opening the form in 2 new windows in addition to my first. All windows using Chrome.
9:01? am-9:01:25? am Form loads in one of my windows. Auto-fill my contact info. Try to select a hotel. It's not selecting anything. This isn't right. I know I'm supposed to be able to select 6 hotels, but all it's doing is highlighting one. I figure the form isn't ready yet, so try another window. Looks the same as the first. Refresh.
9:01:25? am-9:02:06 am I get a window that lets me select my hotels. Go through quickly. Submit at 9:02:06am. Get a message that my form has been successfully submitted. In case you're wondering, my 6 hotels were:
1. Hilton San Diego Bayfront
2. Omni San Diego Hotel
3. San Diego Marriott Marquis and Marina
4. Hard Rock Hotel San Diego – Studio Rooms
5. Hilton San Diego Gaslamp Quarter
6. Horton Grand Hotel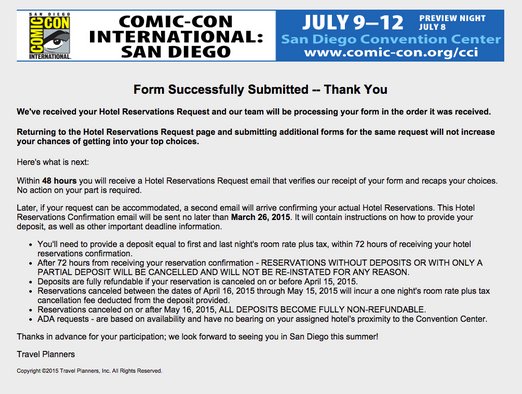 9:02:06 am – 9:06:?? am Move on to a second form, which I was going to put in Josh's name. I try opening in Chrome, but another "Form Successfully Submitted – Thank You" page pops up. (Looking back, I now realize it must have already been there. But in my frantic state, it didn't occur to me.) Anyway, so I think that it must have something to do with the cookies, so I clear the cookies from Chrome, and try again. But I'm unable to get the form that allows me to select hotels. I try in Firefox. No dice. I try in Safari. Still no. Finally, after refreshing several times, trying copy and paste, and trying clicking on the link, I got the "good" form to come up on Chrome.
9:06:?? am – 9:07:27 am I quickly go through, hit submit — get an error. I didn't fill out room type or check in and check out dates. That's when it hits me. Although I did fill out my room type, I DIDN'T FILL OUT MY CHECK IN AND CHECK OUT DATES ON MY FIRST FORM. BUT IT WENT THROUGH ANYWAY. I go back and fill in the missing info on this second form, hit submit, and I'm devastated to see that it's already 9:07:27 am by this point. With the combination of the first form missing our dates, and this form being submitted so late, I'm definitely feeling like we're screwed. Here's what our hotel selection list ended up looking like, according to our confirmation email. I had intended for it to have a couple of different hotels, but I panicked when I somehow didn't see Hilton Bayfront for some reason, but then it turned out to be there after all. I was pretty sure I re-ordered it to put Hilton Bayfront as #1, but maybe not.
1. Horton Grand Hotel
2. Omni San Diego Hotel
3. Hilton San Diego Bayfront
4. Manchester Grand Hyatt
5. Hotel Indigo San Diego Gaslamp – 4 Night Min. Stay
6. Westin Gaslamp Quarter
9:07:27 am-9:08:55 am I continue on with the intention of filling out a third form, this one in the name of one of our group members, Davey. After refreshing a couple of times, I'm able to get the "good" form on Chrome, fill it out, hit submit at 9:08:55am. The hotels I listed for this one were mostly what I had planned, except for some reason I put Hilton Bayfront as #1, though I hadn't planned to list that one on this third form.
1. Hilton San Diego Bayfront
2. Embassy Suits San Diego Bay – CityView Suite 2 Dbl Beds w/pullout sofa sleeper
3. Andaz San Diego
4. Courtyard San Diego Downtown
5. The Bristol Hotel
6. The Westgate Hotel
9:08:55 am-10:00ish? am Read all the Hotelpocalypse horror stories on Twitter and the Friends of CCI Forum, and learn about the "good" form vs. the "bad" form. Apparently, people were able to submit on the "bad" form by using Ctrl to select the hotels, and in some cases the "bad" form went through without any hotel selections, sometimes automatically submitting itself. See tweet from SDCC Unofficial Blog saying to call Travel Planners to provide any missing information, so I call to tell them about my missing dates from my first form. Get through right away and speak with a very pleasant rep named Renee. She first checks with me that I got the "Thank you" page, then says to wait for a confirmation email and then reply to it with my missing info. But considering that my form was incomplete, I am concerned as to whether or not I'll actually receive an email. So she takes down my info, including email, hotel selections, room type, and check in and check out dates, and says she'll forward the information to her boss.
10:00 am – 3:03 pm Continue to read Hotelpocalypse horror stories on Twitter and Friends of CCI Forum. Continue to worry that we're screwed. But seeing as how so many people had trouble with the "bad" form, hoping that it all balances out.
3:03 pm Receive email saying they realize I may have had trouble with the hotel drop down menu, and asking me to submit my 6 hotel choices. That wasn't my problem. I submitted on the good form. My problem was that I didn't get to input my dates. But I go ahead and resubmit my choices anyway.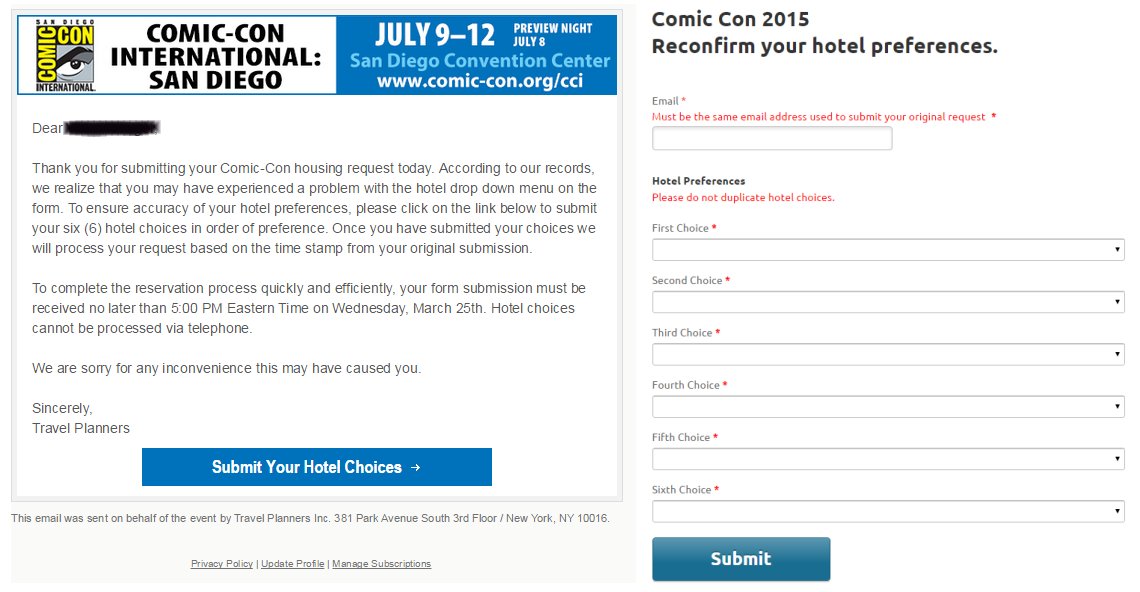 3:09 pm Receive email recapping my hotel choices I just submitted. Continue to worry about those missing dates.
Wednesday, March 25
10:34 am I email Travel Planners about my missing dates.
3:30 pm & 3:31 pm Receive 2 duplicate "Your Comic-Con 2015 Hotel Request Has Been Received" emails. I know they're duplicates because they both have the same reservation request number. All the information is correct — except that the room type, arrival and departure date, and room occupants section is blank. Oh, and I was pretty sure I had selected the option for any shuttle route hotel, rather than just any hotel.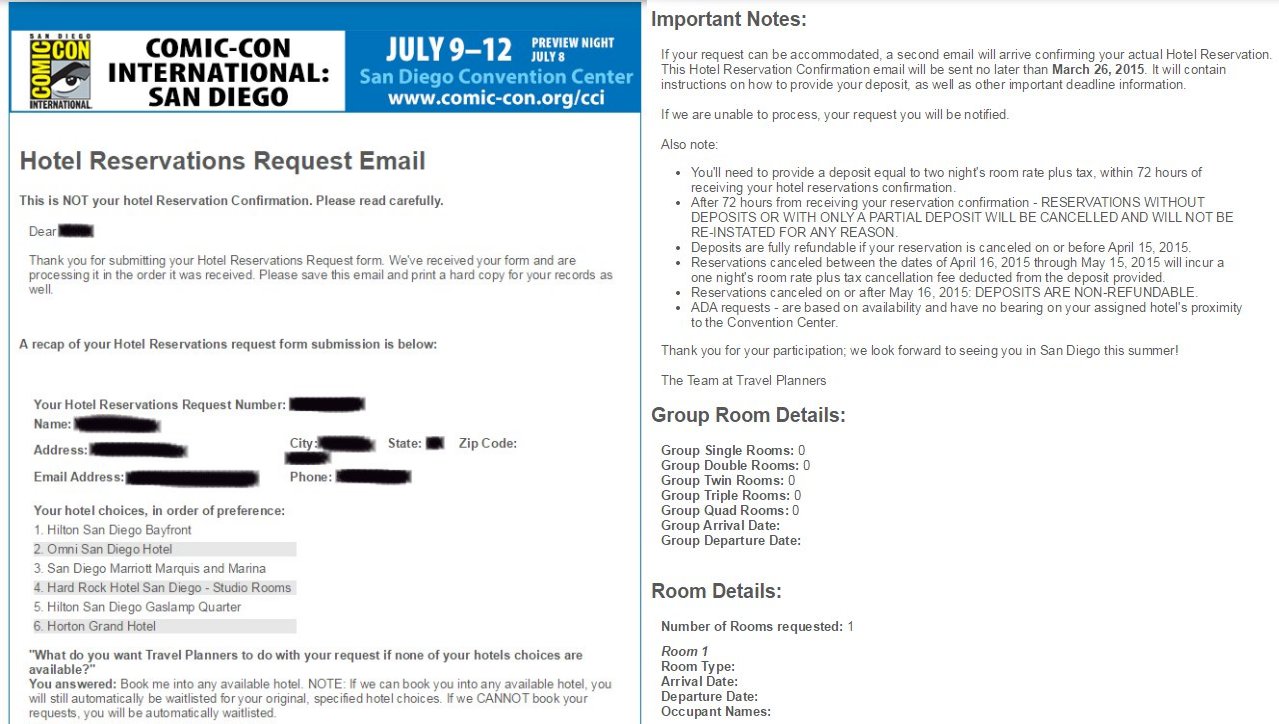 3:40 pm Receive another email to the same email address, with a different reservation request number, and including all of the same information as above, except that it actually lists the room type and occupant names. However, the arrival and departure dates are blank. That means this must be the confirmation for my 9:02:06 "good" form. It is at this point that I realize that I must have actually had a "bad" form go through as well. Back when I thought it was a cookies problem that caused another "Thank you" page to pop up, it must have actually been that my first attempted form went through, which was a "bad" form. That form, therefore, must have automatically submitted itself sometime between 9:01 am and 9:02 am. I respond to this email with my missing dates. Or so I thought.
Thursday, March 26
6:00 am Josh receives the email confirmation, with all information correct, for his 9:07:27 good form.
6:34 am Receive the email confirmation for the form I submitted in Davey's name, for his 9:08:55 good form.
10:44 am It's all over Twitter that you should email, rather than call, Travel Planners to provide any missing information. I had already done so yesterday, but I thought it wouldn't hurt to reply to one of the duplicate emails for my "bad" form, seeing as how there's been news that Travel Planners would accept the earlier time stamp for any "bad" forms that went though. So I reply, providing the room type, dates, and occupant names. Then I realize that my email reply for my "good" form supplying the missing dates never actually went through! I had replied on the train the day before, which has spotty service. So I reply to that email too, making sure everything goes through this time.
10:44 am – 4:00 pm There's been word from people who have spoken with Travel Planners that hotel assignment emails will go out today. But then there's also been reports that they may not go out until Friday, or even Monday. I spend the day constantly checking my email, Twitter, and Friends of CCI Forum for any news.
4:00 pm I leave work and catch my bus, on which I take a nap during the one hour ride, in hopes that it'll help pass the time more quickly, and that I'll wake up to some good news. Then I transfer to the subway, which has no service, and finally emerge to service around 5:15 pm, at which point I check Twitter and see that rejection notices have started to go out. Suddenly, people don't want to receive an email.
4:11 pm Although I don't see the email until about 5:20 pm, this is the time that I receive a rejection email for the form submitted in Davey's name. It's our slowest form, so I'm not too concerned. I check my email and Josh's email, and we have not received a rejection. It seems like there's still a chance that we're in the clear.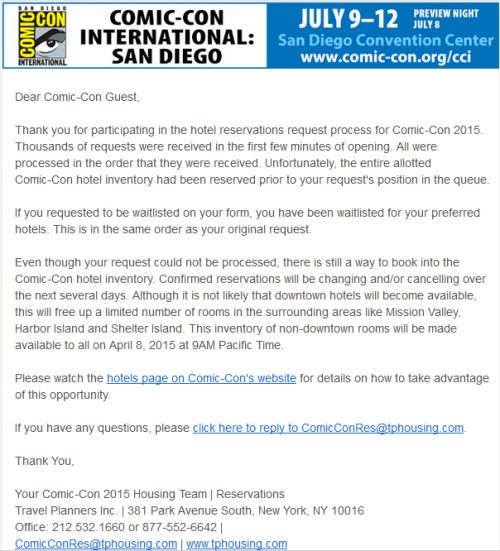 5:25 pm – 6:05 pm I monitor the hotel situation on my phone via Twitter. It seems like a few hotel assignments have gone out, including Marriott Marquis and Marina, Town and Country, and a couple other smaller, less popular hotels. Whereas in the past, hotel assignments have gone out in alphabetical order by the name of the hotel, this year they went out in a random order.
6:15 pm – 7:32 pm Arrive home. Go to my desktop. Check my email, Josh's email, Twitter, Friends of CCI Forum. Repeat. Repeat. Repeat. Fix some dinner to get my mind off of things. Return to computer to eat. Check my email, Josh's email, Twitter, Friends of CCI Forum. Repeat. Repeat. Repeat.
7:32 pm Josh receives email confirmation for Manchester Grand Hyatt! This is for his submission of a good form at 9:07:27, and listing Manchester Grand Hyatt as his #4 choice. Very surprised. We feel relieved to have gotten a downtown hotel, since we're still not sure if my good form missing dates, or my apparent bad form will yield anything.
7:32 pm – 10:00 pm Remain glued to my computer screen all night. Check my email, Twitter, Friends of CCI Forum. Repeat. Repeat. Repeat. Hotels continue to be assigned in a random order that doesn't make any sense. However, it's becoming increasingly obvious that they're saving the best for last: Hilton Bayfront.
10:00 pm Decide to take a break and go shower, thinking maybe that'll make an email come.
10:15 pm Return to computer. Still nothing.
10:21 pm Receive not one, not two, but three email confirmations for Hilton Bayfront! What? Why? Are they duplicates? No, each one has a different reservation confirmation number. Weird…
10:27 pm Receive yet another email confirmation for Hilton Bayfront. Realize that this final email is the only one that lists the correct room type and occupants. The other three are for a single (1 person, 1 bed), and only list my name as the occupant. Promptly log into the correct reservation and make our deposit. Immediately receive an email confirming the deposit. Glad that we got our first choice, but feeling bad that Travel Planners screwed it up so much. The later email must have been for my good form that I had submitted at 9:02:06, but somehow I got three reservations for my one earlier bad form.
Friday, March 27
Figured out the transfer process, and transferred our Manchester Grand Hyatt room, and three extra Hilton Bayfront rooms to friends in need. Although I felt bad about getting so many extra reservations, I'm glad that we were able to help out so many people who needed it.
Final Thoughts
I remain baffled as to how we received three extra Hilton Bayfront reservations. Obviously, one of the three had to have been in response to my bad form, but what about the other two? Did my calling in on to Travel Planners on Tuesday create an additional reservation? I only got 3 total confirmation emails of my hotel requests, 2 of which were duplicates because they had the same reservation request numbers.
In any case, I feel extremely lucky to have gotten the hotel assignments that we did. The order that Travel Planners went in to assign rooms does not make any sense. It couldn't have been time stamp, because Josh's time stamp was over 7 minutes, and he got his fourth choice, while people who submitted in way less time than that, and listed Manchester Grand Hyatt as their first choice, did not receive it. I was surprised that Josh received anything, let alone something on his list, and much less something downtown at all, due to the extremely slow time.
Apparently, this year was a really bad year to have a first time experience participating in Hotelpocalypse, and on top of that, a really bad year to take it on alone, as I did. But somehow, a miracle occurred and we made it through alive, getting exactly what we wanted.
In the end, it seemed like this year was more of a lottery, and that attendees didn't really have any sort of control over the situation. There are so many reports of people having a very fast submission time on the good form, and ending up with a Mission Valley hotel, or even nothing. That's a shame, because with badge sales having already moved to a lottery system, and with parking now moving to a lottery system this year, this was the one remaining thing that attendees could try to get on merit — fastest submission time. If it's going to turn into a lottery, then might as well just call it that, rather than leading attendees to believe otherwise. Then at least people wouldn't feel quite as shafted when someone with a much slower submission time gets a close hotel, while someone with a quicker submission time gets a much further out hotel, or worse, no hotel at all.
If the system worked smoothly, without the "good" form vs. "bad" form issue, and hotel assignment was truly based on submission time, then that's fine. But the way things worked this year, there was a lot of unfairness going around. I'm definitely curious to see how this year's Hotelpocalypse affects the SDCC hotel sale process going forward, if at all.
Did you participate in this year's Hotelpocalypse? If so, how did it go? Let us know in the comments below!