Violet recaps the Season 6 premiere of Game of Thrones, titled The Red Woman, where we see what happens in the aftermath of Jon Snow's murder, Theon and Sansa are on the run, Jaime returns to Kings Landing, and Daario and Jorah search for Daenerys, who has been taken by the Dothraki!  Following the recap, both Violet and Josh share their thoughts about the episode.
Game of Thrones Recap, Season 6 Episode 1: The Red Woman
The Aftermath at Castle Black
The Season 6 premiere of Game of Thrones picks up not long after we left off in the Season 5 finale, which ended with Jon Snow being killed by several members of the Night's Watch. Davos hears Ghost (who is locked away) howling, then goes outside and sees Jon Snow's dead body laying in the snow. A few members of the Nights Watch who were loyal to Jon Snow come outside not long after, and are stunned. They carry the body inside and place it on a table. They know this is Alliser Thorne's doing.
Davos asks Edd how many of their brothers they think they can trust — which is just the few men in the room. Melisandre knocks on the door, and they let her in. She is confused, as she saw Jon Snow in the flames, fighting at Winterfell.
Alliser calls a meeting of the Night's Watch and announces that he and the other officers killed Jon Snow. He admits that they have committed treason. However, he asserts that Jon Snow was going to destroy the Night's Watch, pointing out that he let the Wildlings through the gates, and also gave them land on which they raped and murdered.
Davos and the loyal Night's Watch members stay holed up in the room with Jon Snow's body, and they have retrieved Ghost from where he was locked. Edd wants to fight back, but Davos points out that they don't have the numbers. But he then tells them they're not the only ones who owe their lives to Jon Snow. Edd heads out to find help – presumably from the Wildlings.
Later, Ser Alliser comes knocking at the door, and says he'll grant amnesty to all brothers who throw down their arms before nightfall. He says he'll allow Ser Davos to travel South a free man. Davos asks for food for his journey, and Alliser agrees. Alliser tells him that he can take the Red Woman with him or leave her there. However, they must surrender by nightfall, or this will end with blood. Davos says they'll discuss it and get back to him. After Alliser leaves, Davos tells the others that if they open the door, Alliser will slaughter them all. Their only chance is Edd. Davos points out that there's always the Red Woman, and they haven't seen her do what he's seen her do.
Sansa and Theon's Great Escape from Winterfell
At Winterfell, Ramsay mourns the death of Miranda, and vows revenge. He directs her body to be fed to the hounds. Later, Roose Bolton congratulates Ramsay on the victory over Stannis. However, he warns him that this was an easy victory compared to what he'll face against a prepared and provisioned Lannister army. He also points out that without Sansa Stark, the North won't back them, nor will Ramsay be able to produce an heir.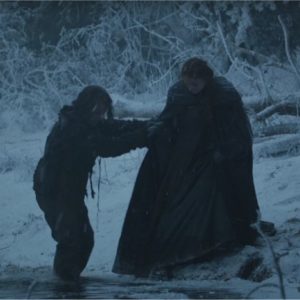 Meanwhile, Theon and Sansa run through the woods, with the hounds not far behind, chasing them down. They come to a stream, which Sansa refuses to cross at first, because it's too cold, but Theon convinces her that it's better than what the hounds will do to them.
After crossing the stream, they sit down to rest, and Theon hugs Sansa to keep her warm. They soon hear the hounds approaching, and Theon tells Sansa to run North to Castle Black while he distracts them. The soldiers question Theon, who tells them Sansa is dead, but they don't believe him. The hounds find Sansa still hiding behind the fallen tree.
Just then, Brienne and Podrick ride up and fight the soldiers. They eventually kill all of the soldiers, with Theon stabbing one through the back to rescue a disarmed Podrick. Brienne kneels before Sansa and offers her services once again. This time, Sansa accepts, stumbling over the ceremonial words appointing Brienne to her service, with Podrick helping remind Sansa of the words.
Jaime Returns to Kings Landing
In Kings Landing, a servant notifies Cersei that a ship from Dorne has just sailed into the harbor. Cersei excitedly runs outside, eager to greet Myrcella. However, upon the rowboat's approach, she sees that a body is covered with a gold shroud and realizes that Myrcella is dead.
Jaime and Cersei mourn Myrcella's death together. Cersei talks about how Myrcella was good, and was nothing like her. Cersei tells Jaime that he couldn't have stopped her death, because the witch had prophesied that her 3 children would die. Jaime doesn't care about the prophecy, and says they're going to take back everything that's been taken from them and more.
Meanwhile, Margaery is still locked in her cell, being urged to confess. The High Sparrow comes in and rescues her from the Septa. He tells her that her husband misses her. He gently encourages her to confess, but she says she has nothing to confess. However, she admits that she is not without sin. He tells her that she has started down the path, but has a long way to go.
Trouble in Dorne
Prince Doran talks to Ellaria about how Oberyn was born to be an adventurer, while he was born to rule. Just then, he is presented with a message which informs him about Princess Myrcella's death. Ellaria and one of the Sand Snake, Tyene, immediately take action, stabbing and killing the guards and Prince Doran. As Prince Doran lay dying, Ellaria tells him that his son, Trystane, is weak, just like him, and that weak men will never rule Dorne again.
Meanwhile, Trystane is still on the boat docked in the harbor of Kings Landing. Two of the Sand Snakes, Obara and Nymeria, confront him, telling him they've come to kill him. However, they let him choose which one will kill him. He reluctantly chooses Nymeria, but the Obara stabs him with her spear from behind — through his face.
Tyrion and Varys Take a Stroll Through Meereen
Tyrion and Varys take a walk around the city. They come across a woman with a baby. Tyrion speaks to the woman in Valyrian and tries to give her money. She misunderstands, and thinks he wants to buy her baby to eat. Varys explains that he just wants to give her money so that her baby can eat. They see graffiti on the side of a building saying "Kill the Masters" and "Mhysa is a Master." Mhysa means "mother." They are referring to Daenerys. They find a group of people listening to a man talking about the Lord of Light. Tyrion comments to Varys that many of the former slaves think that Daenerys has abandoned them, and that this is a problem.
They continue their walk, and Tyrion comments how fear has brought Meereen to a standstill. Varys says he has started looking for who gives orders to the Sons of the Harpy. Just then, they hear bells ringing, and people running away from something. Tyrion and Varys go to find out what it is. They see that all of the ships in the harbor have been burned.
Jorah and Daario Search for Daenerys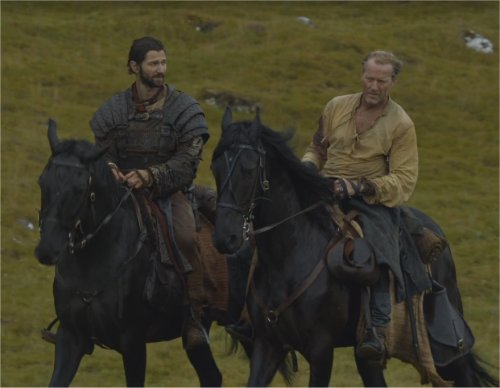 Jorah finds the scorched skeleton of a ram, and concludes they are on the right track. Daario asks Jorah why he keeps coming back, and whether it's frustrating wanting someone who doesn't want you back. Jorah admits that it is. Jorah secretly looks at the greyscale on his arm, which has started to spread. They realize that a horde has been through this area. Daario guesses that it was the Dothraki. Jorah finds the ring that Daenerys left behind as a breadcrumb. Jorah realizes that the Dothraki have her.
Daenerys and the Dothraki
Daenerys walks with the Dothraki horde with her hands tied. She does not let on that she understands what the men taunting her are saying. Finally, they stop and make camp. She is taken to the Khal. As he talks to her in Dothraki, and is about to pull her dress open, she speaks back in Dothraki, surprising him and the others around. She introduces herself confidently, but he does not care about all of her titles. He says he will lie with her tonight, and she will give him a son. However, she says that won't happen, and that she was wife of Khal Drogo. He stops his advances and apologizes, explaining that it is forbidden to lie with a Khal's widow. He cuts her free from her restraints. She asks to be brought back to Meereen, but she is told there is only one place for a Khal's widow: Vaes Dothrak, to live with all of the other widows of dead Khals.
Arya's New Life in Braavos
Arya, now blind, has resorted to sitting in an area with other beggars, putting out a plate for money. She gets a visit from the waif from the House of Black and White, who gives Arya a stick, and begins hitting Arya with a stick. She tells Arya to stand and fight. Arya tries to fight back, but doesn't do very well. The waif lets up her beating pretty soon, and tells Arya that she'll see her tomorrow.
The Red Woman's Big Reveal
In her quarters, Melisandre strips her clothes off while looking in a mirror. She then removes her necklace with the red stone. Suddenly, she is now a very old woman. She looks at herself in the mirror awhile longer, then crawls into bed.

Her Thoughts on Game of Thrones, Season 6 Episode 1: The Red Woman
I thought this episode was a pretty good start to the season. Although it was a continuation from the end of last season, picking virtually right where Season 5 left off, it was also a good setup for what's to come in Season 6. It wasn't was one of those "epic" episodes of Game of Thrones, but not every episode can be, nor should the first episode of the season be that epic episode. The Season 6 premiere provided a good compass to give us a clue on where this season will take us. While not overly exciting, it did provide some good action and suspense, and even a few deaths — though not of anyone we really cared about.
As you may recall, in the past I have mentioned that I had read the first four books and just a little of the fifth book of A Song of Ice and Fire. That is still true, as I have not resumed reading the fifth book yet, so as not to get any spoilers, but I think at this point, I'm ready to move forward soon. In any case, in the novels, I found it really hard to get into the Dorne storyline, and I felt the same way about it in the show. So killing off Prince Dorne and his son Trystane didn't really matter to me. Do Ellaria and the Sand Snakes have a bigger role this season, or did they just want to take over Dorne? If they're going to be around longer, hopefully their storyline gets more interesting.
So, Jon Snow. Is he permanently dead? Or is he going to come back somehow? Right now, it looks like we're heading toward a fight between the Night's Watch and the Wildlings. But Davos has implied that the Red Woman, Melisandre, might be able to do something useful. That is, if she's up to doing anything. Right now, it seems that she may have lost her faith in the Lord of Light, since Jon Snow is dead, though her god had shown him fighting at Winterfell — so she feels she was lied to. When she took off her necklace and revealed that she's actually a very old woman, I have to admit that I was not very surprised. It made sense. But the way that undressed and then got back into bed, she appeared devastated to me, like the world had turned upside down for her, and she didn't know what to do now. Will she actually be useful to Jon Snow's loyal friends going forward? Only time will tell.
It looks like Daario and Jorah are on the right track to finding Daenerys. Maybe her going to the Khal widow camp will make it easier for them to retrieve her and take her back to Meereen with them. Hopefully it's before there's too much unrest in Meereen, and before Jorah is overcome with greyscale.
As for the Stark sisters, it looks like Sansa is set with Brienne as her new bodyguard, and Arya will become a great fighter despite being blind. It's been awhile since we've seen Bran, but it looks like we'll see him soon!
Season 6 of Game of Thrones looks like it's going to be a pretty good one, and I'm looking forward to seeing what's to come!
His thoughts on Game of Thrones' Season 6 Premiere: The Red Woman
It looks like we might be seeing Jon back, given that his body is still around, and that Davos is looking to Melisandre for help, it seems.  I just wonder what comes back if Melisandre does "reanimate" Jon.   Will he be a White Walker?  Or some thing else?  The next question is–will he be leader of the Knight's Watch again or is he going to murder them all?  I am hoping he does not come back as an evil-doer though.  One last thing–it looks like Melisandre is a lot older than she appears to most people.  I guess she has a "beer goggles" spell she can cast on everyone around her.
As for Arya, it looks like we might be going the "Daredevil" route with her.  I am curious why this is though.  Why does this "Faceless One" want to train her?  Why would she/he make her blind to do so?  I guess maybe she will get powers similar to Matt Murdock eventually/possibly?
I wonder if Jaime and Cersei have plans to enact revenge on the people or Dorne.  Ellaria at the very least should be in Jaime's sights, I would think.  I am kind of curious why Jaime didn't turn completely around in the finale to tell Doran what Ellaria had done.  Doran might have been still alive if Jaime had done so.  I guess Jaime could think that Doran was in on the plan too.
It looks like Tyrion is going to have his hands full trying to rule Meereen.  I am curious if anyone will listen to him, as I am not sure if he was ever officially given any power.  The city seems to be on the brink of unrest.  I guess we will see what happens there.
As for Jorah, he seems to be getting more Greyscale, and I wonder if he can find a cure.  In Game of Thrones the good guys tend to lose, so I am guessing no.
So far, I thought it was a pretty interesting set up for the season.  Hopefully it has good follow-through moving forward!
Scenes from the next episode of Game of Thrones:
Scenes from Game of Thrones, Season 6 Episode 2: Home
What did you think of the Season 6 premiere of Game of Thrones, titled The Red Woman? Let us know in the comments below!