First, Violet gives a quick recap of Season 5 Episode 2, titled The House of Black and White, since we weren't able to get a full recap to you last week, then gives a more detailed recap of Season 5 Episode 3, titled High Sparrow! Following the recap, both Violet and Josh share their thoughts about the episode.
Don't need the Game of Thrones episode recap for High Sparrow? Click here to jump directly to Violet's thoughts on the episode!
To see Josh's thoughts on this week's Game of Thrones episode, High Sparrow, click here to get directly there!
Quick Recap of Game of Thrones, Season 5 Episode 2: The House of Black and White
Due to circumstances beyond our control, we were unable to get a detailed recap of Season 5 Episode 2 up in a timely matter. So here are some bullet points to get you caught up before we dive into Season 5 Episode 3.
King's Landing: Cersei fears for the safety of her daughter, Myrcella, who is in Dorne, so Jaime volunteers to go there and bring her back, and brings Bronn with him. Cersei stands in as Hand of the King for now, until Tommen chooses a new one. She appoints Mace Tyrell as Master of Coin, and Qyburn as Master of Whisperers. Her Uncle Kevan declines appointment as Master of War, calling her out as having no power, and returns to Casterly Rock.
Castle Black: Stannis offers to make Jon Snow a Stark and give him Winterfell in exchange for pledging his fealty. The Night's Watch votes Jon Snow as their new Lord Commander after Sam makes a speech in his favor.
Braavos: The ship that Arya was on stops in Braavos, and Arya is taken to the House of Black and White. At first, the doorman turns her away, despite her coin. But later, he comes and finds her on the streets of Braavos, and lets her in, changing his face to that of Jaqen H'ghar.
The Vale: Brienne and Podrick happen to be eating at the same tavern as Sansa and Littlefinger, and Brienne approaches them, offering Sansa her protection, which she refuses. When Littlefinger tries to take her into custody, Brienne and Podrick flee, releasing the horses outside and stealing one. Littlefinger's guards try to kill Podrick, but Brienne saves him.
Dorne: Ellaria Sand wants Doran Martell to avenge Oberyn's death through Myrcella, but he refuses.
Pentos: Varys and Tyrion begin traveling to Volantis on their way to meet Daenerys.
Meereen: Although Daenerys plans to give a fair trial to the member of the Sons of Harpy they have captured, Mossador takes matters into his own hands and kills him. Daenerys has Mossador publicly executed, which causes the former slaves to turn on her and riot. Drogon pays Daenerys a brief visit, then flies away.
Episode Recap of Game of Thrones, Season 5 Episode 3: High Sparrow
Braavos
Arya confronts Jaqen, tired of sweeping floors, demanding to be his apprentice like he said she would be, and teach her how to be a Faceless Man. He tells her that she must serve the Many-Faced god and become no one.
The other girl servant at the House of Black and White demands to know who Arya is, and attacks her, but Jaqen intervenes. However, Jaqen notices Needle, Arya's sword, and wonders how she can claim to be no one if she is surrounded by Arya Stark's things. Arya throws all her things into the water, including the coin. But she can't bring herself to throw Needle into the water, and hides it in some nearby rocks instead.
Later, Jaqen pulls Arya away from sweeping duties to help the other girl servant clean the body of the man who recently died there.
King's Landing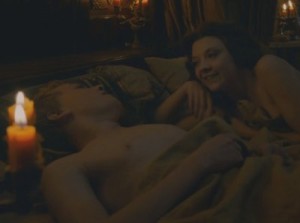 Tommen and Margaery get married, and consummate the marriage. She sneakily manipulates Tommen into trying to get Cersei to move back to Casterly Rock, because he wants her to be happy. However, she assures him that King's Landing is her home.
Cersei visits Margaery and tells her to let her know if there's anything she needs. Margaery politely asks if she should address Cersei as Queen Mother or Dowager Queen, though Cersei says there's no need for formalities.
At Littlefinger's brothel, Lancel and the other Sparrows drag the High Septon outside, naked, and march him through the streets, calling him a sinner. Later, the High Septon meets with the Small Council to tell them about his assault, and demands the execution of the High Sparrow.
Cersei goes to speak to the High Sparrow. She tells him that her views on the matter align with his, and that she has imprisoned the High Septon.
Cersei has Qyburn send a message to Littlefinger.
Winterfell and Moat Cailin
At Winterfell, Roose Bolton informs his son, Ramsay, that he has arranged a marriage for him in order to solidify the North.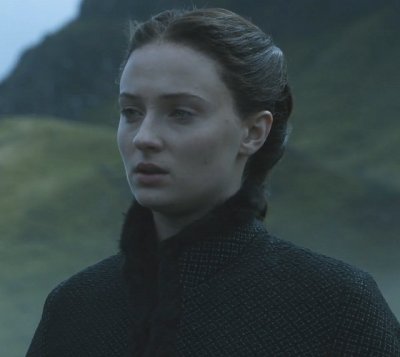 As Sansa and Littlefinger approach Moat Cailin, Littlefinger informs Sansa that she will be marrying Roose Bolton's son, Ramsay. She refuses at first, but he talks her into it, saying that this is how to avenge her family.
Meanwhile, Brienne and Podrick are following Sansa and Littlefinger from afar. They plan to go around the long way. Podrick tells Brienne how he became Tyrion's squire. She agrees to train him to be a knight. Brienne then shares the story of how she ended up serving Renly. When she was a girl, her father held a ball, where the boys mocked her by fighting over her, calling her "Brienne the Beauty." However, Renly rescued her, dancing with her all night. She laments not having been able to save him in return. Brienne knows that the shadow that killed Renly was Stannis Baratheon, and she plans to avenge Renly's death.
Sansa and Littlefinger arrive at Winterfell, and Roose Bolton introduces Sansa to Ramsay.
Later, Roose and Littlefinger talk about their plan, and Littlefinger assures Roose that they have nothing to fear from the Lannisters now that Tywin is dead. However, Roose presents Littlefinger with the message he received from Cersei, which he has already read, and questions their alliance. He also requests to read Littlefinger's reply.
Castle Black
Jon Snow meets with Stannis and declines his offer to become Jon Stark, opting instead to honor his vow to the Night's Watch. Davos stays behind and talks to Jon, but Jon reminds him that he is sworn to stay out of the politics of the Seven Kingdoms. However, Davos thinks that the Night's Watch vow to be "the shield that guards the realms of men" obligates Jon Snow to do more than sit at the Wall, and is of the opinion that as long as the Boltons rule the North, the North will suffer.
At the Night's Watch meeting, Jon Snow appoints Ser Alliser as First Ranger, and gives Janos Slynt command of Greyguard. However, Janos refuses, and insults Jon. Jon orders Janos to be brought outside, and for his apprentice to bring him his sword. Janos is placed on the chopping block, and begins to beg for mercy, saying he'll go to Greyguard. However, Jon beheads him anyway. Stannis nods approvingly.
Volantis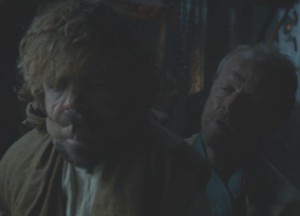 Varys and Tyrion arrive in Volantis, and Tyrion demands to leave the carriage, despite Varys's warnings that he might be recognized. They watch a Red Priestess preach about the savior, the Dragon Queen, but they go to a brothel when Tyrion is noticed by the Priestess.
At the brothel, Tyrion chats up a prostitute, but realizes he can't do it when they get up to go seal the deal. When Tyrion goes to pee off the side of the building, Jorah Mormont sneaks up behind him and kidnaps him, saying he's taking Tyrion to the Queen.
Violet's Thoughts on Season 5 Episode 3 of Game of Thrones: High Sparrow
We're already getting to some things that I had not gotten to in the books, not having read most of Book 5 yet. This is why I decided to stop reading, because I wanted things to be a bit of a surprise, rather than already knowing and waiting for things to happen. There were a few things from this episode's storylines that I was quite familiar with, such as Arya's story, which fell right in line with the books.
However, there were a couple of things that happened a little differently from the books, which surprised me. The main example of that was Tommen and Margaery in bed together after their wedding. Yeah, that totally did not happen. But then, that's because Tommen was much younger in the books at this point, probably about 8-10, whereas he seems like he's supposed to be a bit older in the show, maybe 12-13. Which is still disturbing. I looked up how old the actors are, and Dean-Charles Chapman, who plays Tommen, is 17, while Natalie Dormer, who plays Margaery is 33. So, still kinda creepy, but not as bad.
I was also surprised by Jon Snow's decision to behead Janos Slynt. Apparently this did happen in the books, but is a little further than I had gotten. It seemed really odd to me that he did this, and I was admittedly a little disappointed in him. I do understand his whole thing about what his father told him during the first episode, that if you sentence a man, you must follow through. However, he never actually pronounced a sentence, he just said to take him outside. And Janos was actually begging for mercy, and admitting that he had only been afraid this whole time, which makes perfect sense, considering that he had hid with Gilly during the fight with the Wildlings. I thought for sure Jon Snow would relent, making this be only a threat, a warning to scare him. But he actually cut the guy's head off. Wow. I guess he felt he had to do it to solidify his standing as the new Lord Commander, but I felt like this was an awful way to start his reign, killing one of his own men, after he had begged for mercy. Jon Snow has always struck me as an honorable, merciful man, so it puzzled me that he took this action.
I also hadn't been aware of the arranged marriage between Sansa and Ramsay Bolton. It must have been bittersweet for her to return home to Winterfell, but for it to be so unrecognizable, and to no longer have family there. At least it seems like there are still residents of Winterfell that remember and support her. I wonder how she and Littlefinger plan to get vengeance for her family, though. It will be interesting to see that story develop. It seems that maybe her story and Jon Snow's story will converge soon, with Davos encouraging Jon Snow to do something about Roose Bolton.
My favorite part of the episode though, was seeing Jorah again! At the risk of sounding like a 12 year old girl, I totally ship Jorah and Dany, and was so sad when Dany banished Jorah! I never got to the part in the books when Jorah returns, so this was also a total surprise for me. So, when he said that he was taking Tyrion to the Queen, he had to mean Dany, right? So Joran and Dany will see each other again soon? How will that go, I wonder? I hope she forgives him and they become friends again. Not likely, but a girl can hope, right? On the other hand, he could be taking Tyrion to Cersei to collect the reward money. That would not be good.
Josh's Thoughts: Game of Thrones, Season 5 Episode 3: The Wars to Come
Man, Margaery is playing a dangerous game with Cersei. That exchange they have in the beginning of the episode is so polite, yet the undertones are terrifying to think about.  One of them is going to end up dead by the end of the season, I have a feeling.  I would bet it is Cersei who wins this battle though.  We have seen her cunning work pretty well.  But still, I wouldn't count Margaery out yet.  She certainly has wooed the King so far, and her cougarness seems to be working in full force.  Cersei might wind up in Castle Black if Margaery has her way.
I feel really sorry for Sansa this episode.  She should have taken Brienne's offer of protection.  Now she is going to have to marry this weirdo.  I wonder how Sansa will feel when she finds out what happened to Theon Greyjoy.  She probably will even more not want to be a part of this arranged marriage.  I do wonder what Littlefinger has scheming though.  He certainly is good at playing chess.
I thought Jon Snow was very out of character this episode with his execution.  He has always seemed levelheaded, and willing to give people second chances.  This guy merely talks back, and he gets beheaded.  I guess I understand that orders are orders, but the guy did apologize.  Perhaps this was his way of showing his strength in leading, but I really didn't like it.
As far as the break up of Stannis and Jon Snow, I am wondering where this goes.  It seems Roose Bolton is worried about Stannis or the Lannisters coming in on him.  This must tie together with Sansa and trying to create some alliances.  This show sure is complicated with its relationships.
As for Jorah kidnapping Tyrion, I am wondering why he wants to take him to the queen.  I mean Varys was taking him that way anyway, so I guess its a win-win for both Jorah and Tyrion?  I guess the other thing this could be is that Jorah is going to take him to Cersei, if he still considers her queen.  If that is the case, Tyrion could be in a world of hurt.  I guess we will have to see where that goes.
Finally, the last thing that really stood out to me this episode was Arya.  She really seemed to try to let go of her identity, but Needle was the one thing she couldn't get rid of.  I am sure we will be seeing that sword again soon.
Game of Thrones, Season 5 Episode 4: Sons of the Harpy
Scenes from the next episode of Game of Thrones, titled Sons of the Harpy:
What did you think of Season 5 Episode 3 of Game of Thrones, titled High Sparrow? Let us know in the comments below!