Game of Thrones has finally returned! Check out Violet's recap of the Season 5 premiere, The Wars to Come! Following the recap, both Violet and Josh share their thoughts about the episode. 
Don't need the Game of Thrones episode recap for The Wars to Come? Click here to jump directly to Violet's thoughts on the episode!
To see Josh's thoughts on this week's Game of Thrones episode, The Wars to Come, click here to get directly there!
Episode Recap of Game of Thrones, Season 5 Episode 1: The Wars to Come
Cersei's Flashback
The episode begins with a flashback to Cersei as a child. She wanders through the woods with a friend and goes to the residence of a witch who can see the future. Cersei demands that the witch tell her future, and she agrees to answer three questions. The witch reveals that Cersei will never wed the prince she is betrothed to, she will marry the King. The witch also confirms that Cersei will be the Queen, for a time, until a younger queen comes along. Lastly, Cersei learns that although the King will have 20 children, she herself will only have 3.
King's Landing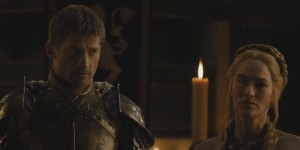 Cersei and Jaime view Tywin's body. Jaime warns her that "they," their enemies out there, are just waiting to take everything from them. Cersei also figures out that Jaime set Tyrion free, and is angry with him.
Later, Cersei endures receiving condolences from several different people, one of which is her cousin, Lancel, who has now taken up a religious calling as a Sparrow. They speak privately, and he asks her forgiveness for their unnatural relations, and for what he did to the King.
Margaery walks in on her brother Loras in bed with his lover, Oliver. She kicks Oliver out. Loras says that now Tywin is dead, no one can make him marry Cersei. He also points out that if he doesn't marry Cersei, she won't leave to live at Highgarden with him, which means Margaery is stuck with Cersei at King's Landing. However, it appears that Margaery has something up her sleeve.
Pentos
Varys frees Tyrion from the crate inside which he crossed the sea as cargo on a ship. Tyrion drinks some wine, which he promptly pukes up. Then he drinks some more. Tyrion asks why Varys set him free. He says he did it for the Seven Kingdoms, and that Tyrion is a man of talent who has a part to play in the war to come. Although Varys agrees that Tyrion will never sit on the Iron Throne, he thinks that Daenerys is the ruler that the Seven Kingdoms needs, and that Tyrion can help her take that seat. He invites Tryion to ride with him to Mereen and meet Daenerys.
Meereen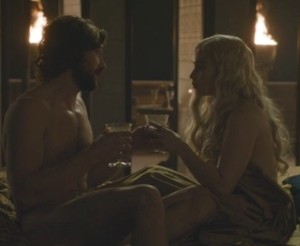 In Meereen, an Unsullied soldier named White Rat goes to a prostitute. They start to cuddle, then someone wearing a gold mask slits his throat. The mask is left on the body, and the mask later is brought to Daenerys. She recognizes it as belonging to a group called Sons of the Harpy. Dany says she wants the body buried with honor publicly in the Temple of the Graces. This will anger the Sons of the Harpy. She demands that the men who did this be brought to her. Dany's handmaiden, Missandei, goes to see Grey Worm to ask why an Unsullied would go to a brothel. However, he doesn't know.
Dany holds court, and one man comes forth asking her to re-open the fighting pits. However, she refuses. Later that night, while Daario and Dany are in bed together, Daario tells her that he thinks she should re-open the fighting pits, and tells his story, saying that's how he learned to fight, and that's the only reason he's there now. Daario tells her she needs to show strength, and reminds her that she's the mother of dragons.
Dany goes down to the catacombs to see her two dragons she had locked up down there. They are very angry and breathe fire at her. She barely escapes without being burned.
Castle Black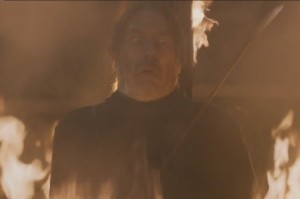 Jon Snow trains a kid how to swordfight. Ser Alliser looks around the courtyard with disgust toward Gilly, and she implores Sam not to let Ser Alliser send the Wildlings away. Then Melisandre fetches Jon Snow and brings him to the top of the Wall to talk to Stannis. It seems that he plans to take Winterfell in order to win the North. But to do that, he'll need the Wildlings to fight in his army. Stannis gives Jon Snow until nightfall to convince Mance Rayder to bend the knee to him. However, when Jon Snow goes to talk to Mance Rayder, he refuses to do so.
That night, Mance Rayder is marched out in front of everyone, and Stannis once again offers to spare his life if he bends the knee. He doesn't, and he is tied to a post and burned at the stake while everyone watches. However, Jon Snow can't take it, and shoots an arrow into Mance Rayder's heart to put him out of his misery.
Runestone
Littlefinger leaves Robin with Lord Royce at Runestone, expecting that his fighting skills will have improved by the time he returns for Robin. Then he and Sansa depart, saying that they're heading for the Fingers, but instead, they travel West.
Brienne and Podrick
Brienne and Podrick continue on the road. It appears that Brienne has given up on her mission, considering that Arya didn't want her. Podrick still wants to try to find Sansa though.
Violet's Thoughts on Season 5 Episode 1 of Game of Thrones: The Wars to Come
Yay, Game of Thrones is back! Now I can sing the theme song and have it in my head for the next couple of months! Well, on Sundays, at least. And maybe Mondays.
Anyway, overall, I didn't find this episode too exciting. But then, as a Game of Thrones fan, it's like we're conditioned to want to see something shocking happen every episode, but obviously that can't happen every single episode. This was more of a setup of what's to come for the rest of the season. While last season was based primarily on the second half of the third book, with elements of the fourth and fifth books, this season is supposed to be based on the fourth and fifth books. Though with regard to Castle Black, I believe there are still some significant events from the third book that they haven't gotten to yet.
As I've mentioned before, I have only gotten so far as the beginning of the fifth book, and decided to stop reading in order to avoid spoilers. So there was one important thing from this episode that I don't remember reading about (though it has been awhile), and that was Varys offering to take Tyrion to meet Daenerys so that he could help her to take the Iron Throne. What a major development! Finally things are starting to be tied together between Westeros and Essos! The question is how soon Tyrion will meet Dany. Will this season will consist of Tyrion being on the road to Meereen the whole time, and lead up to meeting her at the end of the season? Or will they keep the trip a minor element of the show, and have the two meet within a couple of episodes? I hope the latter, because it will be really interesting when Tyrion and Dany meet!
What happened with Mance Rayder felt a little anti-climactic and sad. He was this formidable enemy, the King Beyond the Wall, and to see him go out like that, so helpless, was a little sad. True, he went into it with honor, and sticking to his principles, but it just felt like a waste of what could have developed into a powerful character.
Looks like there is going to be a lot going on this season, as usual. It appears that Cersei is worried about the younger queen, Margaery, taking over as Queen, and it seems like Margaery herself has something devious in mind. I'm honestly not sure what Littlefinger and Sansa are up to, nor Brienne and Podrick, though it sounds like they may be on Sansa's trail soon. Arya was absent from this episode, but from the trailer for the next episode, it seems will we soon see where she has ended up. Oh, and will Dany gain control of her dragons again? If so, how? And what about Drogon, who's flying around free? Definitely excited for the potential the season has!
Josh's Thoughts: Game of Thrones, Season 5 Episode 1: The Wars to Come
It has been forever since we have had a Game of Thrones episode! There is a lot going on in this episode as well, and things seem to be getting more exciting.
Mance Rayder sure seems stuck in his ways. He even seems terrified of being burned alive, but that wasn't enough for him to suck it up. I think Jon Snow had some good points—Stannis is going to move forward with his plans with or without Mance Rayder, and I think eventually if Stannis executes enough people, someone will be convinced to join up with him. I admire Mance Rayder's resolve, but I think he could have figured out some other means to handle this situation that kept him alive, and protected his people better.
Tyrion seems to be a mess now that he basically has no family, no money, and no home. On top of that, he killed his ex-lover, father, and is reviled by everyone in King's Landing. Tyrion is in a bad way at the moment. But what is pretty interesting is that Varys seems to be finally planning to bring Daernerys into this whole storyline. That I can't wait for, as it feels like forever that we have been waiting for her story to loop into everything else.
There's a bunch of other stuff going on, Sansa in her new black hair possibly going evil, Arya on her new journey, the new King Robin and Littlefinger, Brienne and her missing horses, and a bunch of smaller stories going. I am pretty excited for the season!
Game of Thrones, Season 5 Episode 2: The House of Black and White
Scenes from the next episode of Game of Thrones, titled The House of Black and White:

What did you think of Season 5 Episode 1 of Game of Thrones, titled The Wars to Come? Let us know in the comments below!