As you may or may not know, this year was the first year that E3 (Electronic Entertainment Expo) was open to the public. The cost was $149 for the first 1,000 people, and $249 for the next 14,000 until it sold out.  Usually, it's only open to industry people and the press. Earlier this year, I began a new job, working at a video game company, which qualified me to get a free Industry pass. Being that E3 takes place in the middle of the week, Tuesday, June 13 through Thursday, June 15, I opted to take just one PTO day from work and attend on the Wednesday.
I'll be upfront and let you know that I'm more of what you would call a casual gamer rather than a hardcore gamer. Josh is the big gamer in the family. He would have been able to appreciate E3 much more than I did, but alas, it's difficult for him to get days off from work, and my free Industry pass benefit does not extend to guests, unfortunately. But I figured that since I could go for free, I might as well check out this spectacle that I've been hearing about year after year. I used to work in downtown Los Angeles, and had an office on the 44th floor, from which I would always see the big signs plastered all around the convention center. Finally, I would be able to see all of this up close and personal.
I didn't know how long lines would be for anything, including picking up my badge, so I decided to get an early start, catching the 7:21am train from Fullerton to Los Angeles. It was close to 8:30am by the time I arrived at the LA Convention Center after transferring to the red line subway, and then the blue line light rail train, and finally walking the block from the train station.
South Hall
The badge pickup booth was located just outside the South Hall (there were in fact several pickup points, but this is the one I went to), and I was able to walk right up with no wait, have them scan my barcode and show them my ID, and then I was given my badge.
I then went inside the South Hall to meet up with friends Chris Sully of @TheNerdFu, Jason Koh aka @CorgiKohmander, Cheezmo aka @PadrickSalton, and Cheezmo's friends "No Dice" and "Uncle Jesse." However, the doors weren't scheduled to open until 10:00am, so we settled in for a bit of a wait. Right next to the line, Nescafe was giving out some free coffee, so I went over and got some.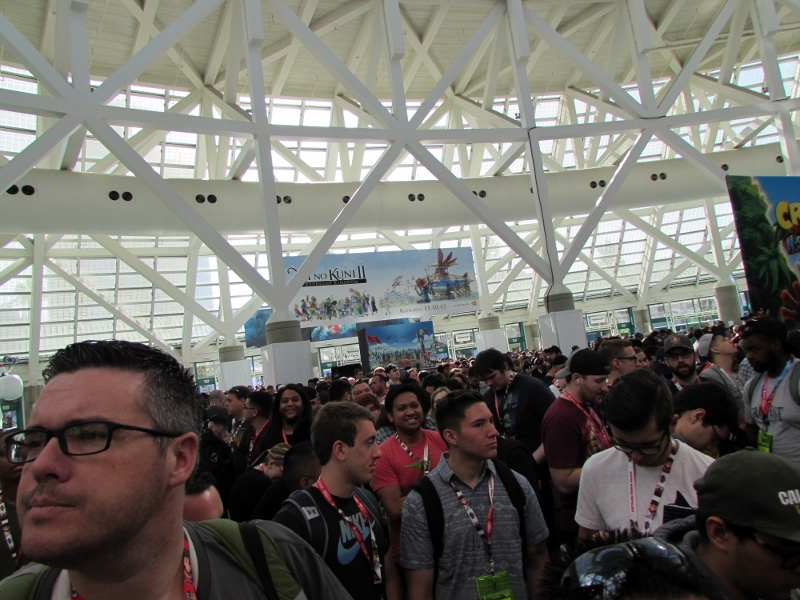 I didn't really have a game plan for the day, and didn't really know what to expect, so I was just going to tag along with the guys and go with the flow. They told me to download the PlayStation Experience app, because that was where you make reservations to play the various games that PlayStation was demoing at the show. The earlier times would be available at 9:30am to make a reservation, while the later times would be available at 1:00pm. There were different blocks of time for each game, for which there were about 30 or so spots available for each time slot. The first available time slot was for 10:30am, but their strategy was to go for a later time slot, 12:30pm, with the assumption that most people would try to go for the first time slot, and less would go for a later one. The time approached and we kept clicking on the 12:30pm time slot for Star Wars Battlefront II. A screen loaded saying "Processing" but then about a minute later I got a message saying that it was full. Ah well, it was worth a try. None of the six of us were successful.
The time approached 10:00am, which was when the show floor was scheduled to open. But around 9:45am, the crowd started moving in! There was one wave of people let in, but then the crowd was stopped. This was probably so as not to crowd the escalators. We were let in with the second wave, and the guys headed straight for the Destiny 2 demo line. Having already been there the day before, apparently they knew exactly where to go. But the line was already long, and we were soon informed by line staff that the wait would be 4 hours. At that point, we decided to abandon ship, and Corgi, Sully, and I went over to Marvel Superheroes 2, which had a very short line (meanwhile, the Destiny 2 line continued to grow).
Marvel Superheroes 2
We waited about 20 minutes to play at one of the six stations they had set up. Sully went first, so I was able to take some video while he played, which you can view by clicking here. It was a LEGO game which had Guardians of the Galaxy characters that you could switch between playing. Oh, and this was on PS4, by the way, which I've never played before. The demo first starts off in a spaceship, and I was pretty much just running around, not knowing what I was doing. A staff member came by and directed me what to do, and which character to do it with, since I was pretty lost! After jumping ship, you fight against this really huge robotic bad guy who's standing in the water (kind of reminded me of a Pacific Rim Jaeger). They ended up kicking me out before I defeated the big baddie, since I was taking too long! I got about 10 minutes to play, and was given an Iron Man LEGO set for stopping by to play.
LEGO Dimensions
We then hopped on over to LEGO Dimensions right next door. This one had two controllers for each of the three stations. There was no line, but the stations were full, so the three of us just waited for the next available station and took turns using the two controllers, while a staff member told us about the game. At first, she asked if we wanted to do a puzzle game, or just run around and explore, so we chose the latter. We pretty much just tried out different characters and flew around and tried out their various powers.
eSports Zone
After that, we walked around South Hall for a bit. There was an eSports Zone, with commentators. There weren't very many people sitting in the chairs set up there at that point.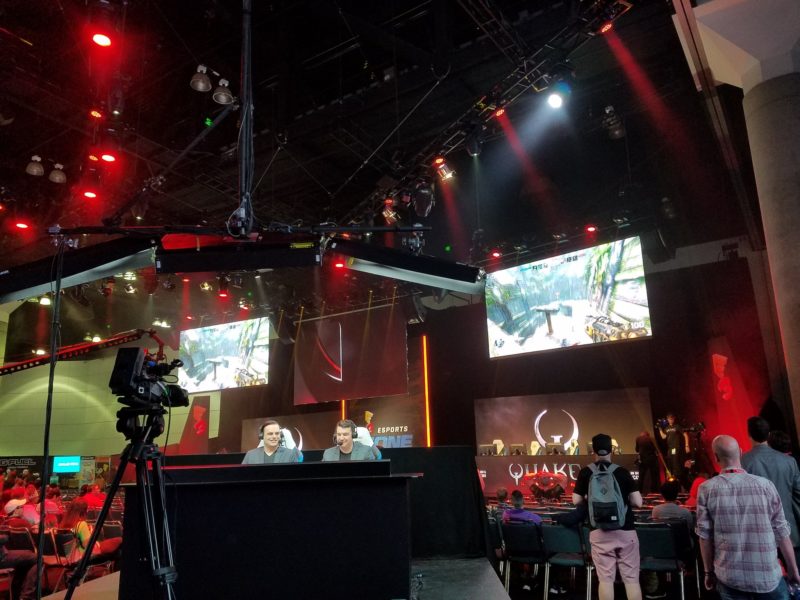 Bethesda
Just across from the eSports, Bethesda's booth had transparent cubicles set up for VR games, so you could watch what these people wearing the VR headsets were doing.
Xbox
We soon ended up in the Xbox booth. It was pretty crowded over there, barely any space to move around, and several different demos of various games were set up, including Sea of Thieves, Halo 2, Assassin's Creed Origins  and many more. It seemed that every line was capped, except for Minecraft. Corgi and I got separated from Sully. During this time, we happened to see John Cryer (Two and a Half Men) walking around with his son. We then went over to stand in line for the Xbox Theater, for which the line was pretty short, and we waited only about a minute before they let us in.
Inside the Xbox Theater were three rows of seats, and at the front of the room was the new Xbox One X hooked up to a large TV screen. No photos were allowed once the presentation started. Several different people then spoke to us. The first person talked about the new and improved Xbox One X, and showed us the difference between HD and 4K, which is what the new Xbox One X supports. They also demonstrated the Dolby Atmos surround sound system in the room. Next up, a couple of Minecraft game developers talked to us about the improvements they've been able to make in the game, thanks to 4K, and showed us the differences. Additionally, a Gears of War developer took us through a little bit of the improved game, and a Forza 7 (car racing) game developer showed us a little of that game as well. As we exited the theater, we spotted the rest of our crew in line for the theater, so we knew we had some time to kill while they did that. I walked up and started playing F1, a car racing game, since there was no wait. Somehow I "broke the game" — my car got stuck, and no matter what I did, I couldn't get it unstuck, nor could Corgi. A staff member had to come over and reset the track! Oops. Then Corgi and I wandered over to Ubisoft while we waited on the others.
Ubisoft
Over at Ubisoft, they were doing a live promo on stage for Just Dance 2018. Several people from the audience were up on stage mimicking the dance moves that the game directed them to do. When the song finished, a new group of volunteers came up on stage to dance to a new song. If you registered with Ubisoft, they would give you a wristband, and every time you play one of their demos, you would get points that the wristband would keep track of. Then you could go over to their gift shop to see what you could get with your points. Although I did get a wristband, I ended up not waiting to play any of their demos, as by this time, we figured the others should be wrapping up their Xbox Theater presentation.
Lunch; Twitch eSports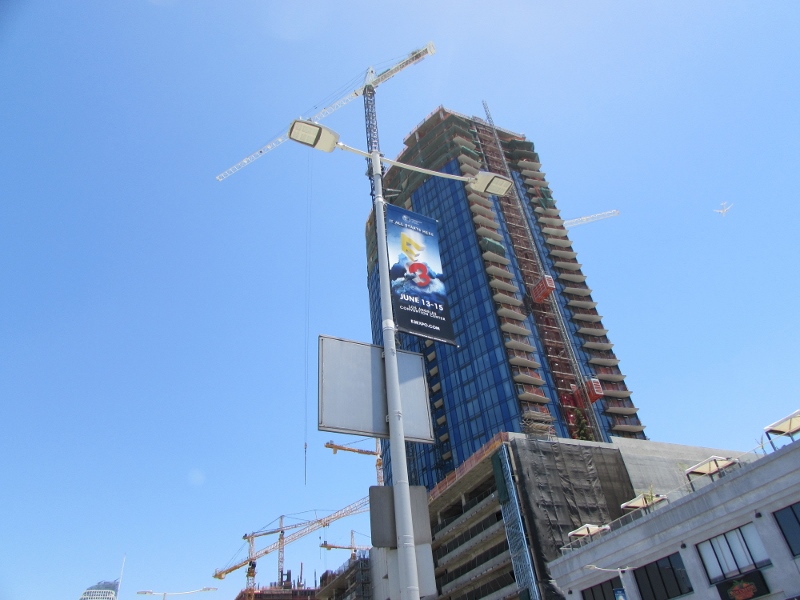 It was around 12:30pm or so when the six of us all met back up, and we decided it would be a good time to go grab some lunch. The options were the nearby food trucks, or the restaurants over at L.A. Live, over on the other side of West Hall and the Staples Center, about 2 blocks away. We opted for the restaurants. At first, they wanted Smashburger, but seeing as how the line was out the door and in the hot sun, we quickly changed our minds to Live Basil Pizza right next door, since their line, although a bit long, was inside. While we stood in line, Uncle Jesse did some recon over at Yard House and Wolfgang Puck to find out how long their waits were, so that we could have a nice sit down meal. However, he reported back that Yard House was a 3 hour wait(!), and Wolfgang Puck was 45 minutes. We decided to stay put.
While we were in line, the next wave of PlayStation demos were going to become available for booking at 1:00pm. The first available time slot would have been 2:30pm, so we decided to go for the 3:10pm time slot, once again for Star Wars Battlefront II. As we looked around the restaurant, we could see that pretty much everyone in our vicinity was on the PlayStation app, vying for one of the coveted demo spots. And once again, no one in our group got it. It didn't sound like anyone around us was victorious, either.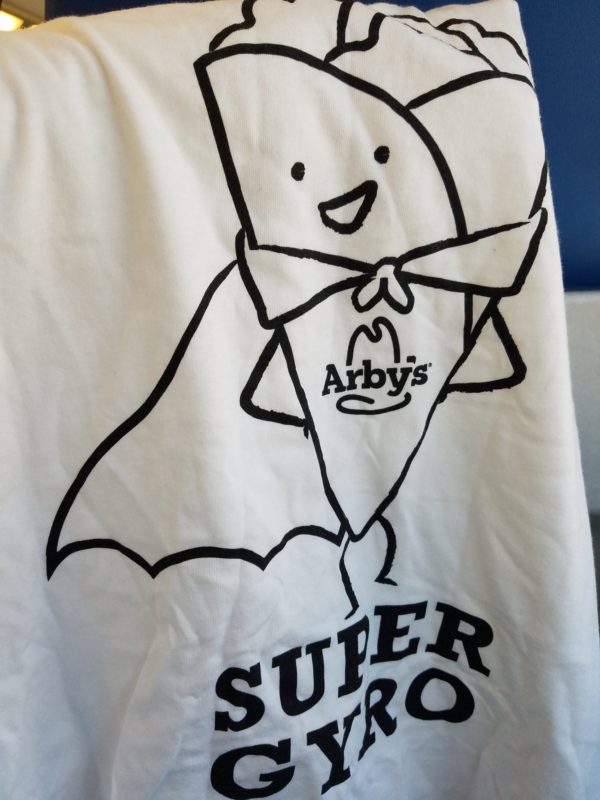 Also while waiting in line, I happened to check in on Arby's Art Drop on Twitter. They had been posting photos of where they left some art behind, and the first person to find each item would win cool prizes. Anyway, so I checked on it, and saw that they had just posted a photo of their art a few minutes prior, which was attached to a planter just outside the 11th Street entrance to the Staples Center — which was right across the street from us! Cheezmo ran outside to try to be the first to get to it. Unfortunately, someone else got to it before him. The prize for being first was a PlayStation swag bag, but they gave Cheezmo a consolation prize — an Arby's T-shirt, which he brought back and gave to me. Thanks Cheez!
We finally got through the line at this pizza place, which was one of those places where you create your own. I can never finish a whole one of those, so I got a kid's pizza, which was basically a half pizza! That was the perfect size for me. It was crowded inside the restaurant, but we were able to get a table outside, which was luckily in the shade. Right next to us, the Twitch eSports Arena was going on in the middle of the L.A. Live courtyard. Several chairs were set up, and there were commentators doing some commentary on people playing games. An E3 badge was not required to sit in that area. However, it was mostly empty over there, most likely because all the chairs were out in direct sunlight with no shade.
West Hall
After lunch, we decided to go check out West Hall, since we had spent the morning in South Hall.
Nintendo
One of the big draws at West Hall was the Nintendo booth — though "booth" is an understatement. It was set up like a city, with the walls looking like the sides of buildings and townhouses. There were also several statuesque displays of Mario and related characters, such as Goombas, Bullet Bill, Chain Chomp, and a tank. The main focus here was on Super Mario Odyssey, the upcoming open world game, which will be released October 27. One option was that you could stand in line to play the game in console mode, on a TV screen. This line wrapped outside the walls of the booth. The other option was more subtle and less obvious — you could wait in line to play it on a handheld portable Switch. At first glance, we didn't realize that this is what was going on. It just looked like people sitting on a bench playing their own Switch that they brought in. Upon a closer look, you would notice that the Switch devices are tethered to the park bench, and there is a short line of people waiting in line to play Mario Odyssey on each of those Switches! There were only 3 people in line for the Switch at the end, so Corgi and Sully sat down and waited in line, while I walked around West Hall for a bit.
When I returned, I watched Corgi and Sully take their turns playing Mario Odyssey on the Switch, and even got some video of Corgi playing, which you can watch here. One of the cool things we learned you can do is possess things by throwing Mario's hat on it. For example, Mario was able to possess Bullet Bill and went flying around in him. Another cool thing was the unexpected transition from 3D to 2D! It was a seamless transition, as Mario approached a wall, it turned into the old school blocks that you move sideways to jump up and hit, or jump on top of. In another instance, the 2D occurred on a rounded castle, and you could see the bullets flying around it in a circle but in flat 2D. Hard to explain, and I don't have video of that, unfortunately, but it was really cool. When they finished playing, they were each given a Mario Odyssey pin and a voucher, which they were then able to go redeem for a prize. The prize was a visor resembling Mario's possession hat. Corgi graciously offered up his visor to us so that we could use it in a giveaway, so be on the lookout for that soon!
After that, we wandered around the Nintendo booth some more, looking around at what else they had going on. They had demos for Mario + Rabbids Kingdom Battle, Arms, FIFA, Splatoon 2, and Pokemon, all of which had lines. A tournament for Arms was just starting, for which there were commentators on hand.
PlayStation
We then went over to the PlayStation booth (again, "booth" is a vast understatement), which was the other big draw in West Hall. The lines weren't quite as crazy over here though, since PlayStation had their app system to take care of that. So the only people in line would have been people waiting for their time slot. It was just about time for a Star Wars Battlefront II time slot to start, but the QR code wasn't loading for the people who had that time slot for some reason, so the demo area was empty. Not sure how long that problem lasted. Other demos were set up, such as Destiny 2, Call of Duty: WW2, and the various other ones for which you had to somehow impossibly book a time through the app. Corgi took some video of Destiny 2 gameplay, which you can watch here. There were elaborate displays set up for various games, including Spider-Man, Days Gone, and Uncharted, for which there were theater experiences. And just like the demos, you also were supposed to reserve a time through the app. But when we tried to do that, there was just a spinning circle for any of the times we tried to look at. Probably because these were also already booked well in advance. Oh well.
Return to South Hall – Square Enix
We then heard from the other guys, who had gone back over to the South Hall, so we headed over there to meet back up with them. I hadn't been over to the Square Enix or Capcom booths at South Hall yet, so that was cool with me. Before looking for Cheezmo, No Dice, and Uncle Jesse, we stopped by Squire Enix first, which had a trailer going for Final Fantasy. Then we found a demo set up that had three open spots, so Corgi, Sully, and I stepped up to play. It was a motorcycle racing game. None of us were particularly fond of it. We quickly moved on.
Capcom; Marvel vs. Capcom: Infinite
Just around the corner from there was the display for Marvel vs. Capcom: Infinite, which was a photo op with Ultron Sigma (at first we thought it was Thanos, but upon researching it, found out otherwise) sitting on a throne. The line was quite short, so Corgi got a photo with it, and then I did. Corgi had a cool pose of "proposing." I wasn't sure what to do, so I just kind of stood to the side.
Gaming Outfitters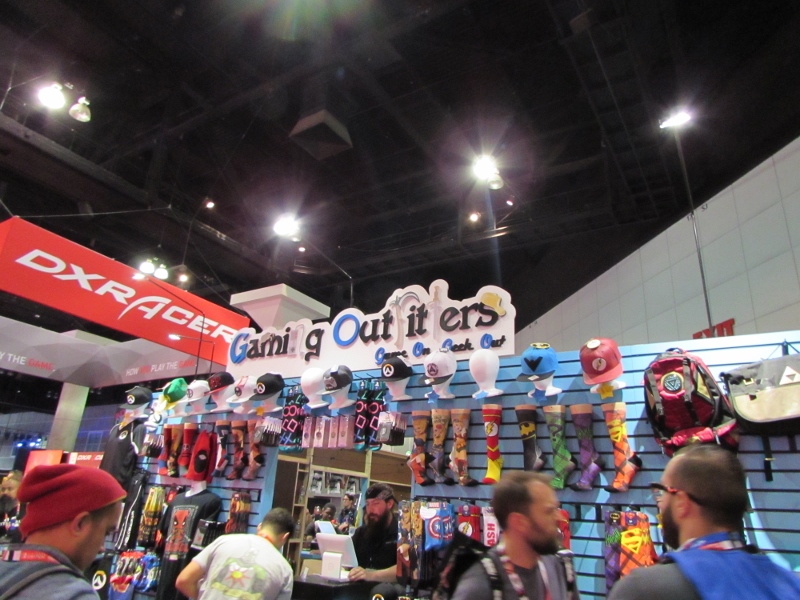 We had gotten word from the other guys earlier that they were sitting at the DXRacer booth, charging their phones. That booth was on the other side of the convention hall, and by the time we got over there, they said they had gotten kicked out of the booth for lounging there too long! Also on this side of the hall was one of the only actual vendors I saw at E3, Gaming Outfitters, which felt odd to me, since there's always booths selling things at the cons I go to. They were selling socks, lanyards, hats, shirts, backpacks, messenger bags, and the like.
Back at Xbox
The guys had relocated to the Xbox booth, so we headed over there. Right as we got there, a presentation started up on the Xbox stage, featuring "Major Nelson" (Larry Hryb, Director of Programming for XBox Live) and Albert Penello (Leads Marketing for Xbox Consoles). An Xbox game developer named Bill Stillwell also joined in. They quickly launched into taking questions from the crowd, and every time someone asked a question, they were rewarded with a prize. One of the questions was whether there would be any games exclusive to the new console, but the answer was no, because that would go against everything they stand for.
After the Q&A portion, they called for 4 volunteers from the audience to come up on stage. It turned out they would be playing Fuzion Frenzy against each other for the chance to win a prize. After that game was over, they called for another 4 volunteers — and Cheezmo was picked as one of them! Unfortunately, it was 5:00pm by this point, and I wanted to make sure to give myself enough time to get over to Union Station to catch the 5:46pm train back to Fullerton, so I didn't get to stay and watch the results. (I was later informed that Cheezmo did not win the coveted custom Xbox controller, but he did win a 3 month Xbox Live subscription for participating. Congrats, Cheez!) No Dice and Uncle Jesse were elsewhere in the crowd, so I said my goodbyes to Corgi and Sully, and we snapped a quick selfie before I left.
Final Thoughts
Although I'm just a casual gamer, I still enjoyed myself quite a bit at E3. Admittedly, if I were an avid gamer, I probably would have enjoyed and appreciated it a lot more. However, merely from a spectacle aspect, it was fun to just walk around and take everything in, and see what this fabled show was all about. In terms of the exhibitor booths, if you've ever been to San Diego Comic-Con, the E3 booths were at least on par, if not even more elaborate in some cases. A big part of the fun of SDCC is walking the Exhibit Hall floor and taking in the sights, and with SDCC just over a month away, this was like a warm up. On the other hand, another large part of the SDCC Exhibit Hall, or any other con's Exhibit Hall, for that matter, is seeing what there is to buy. But at E3, there wasn't a whole lot to buy. There was an Ubisoft gift shop, and Gaming Outfitters, which I mentioned above, but that was about it. (Or if there were other things on sale, rather than merely on display, it wasn't particularly obvious.) Then again, we don't usually buy much at cons, we mostly just like to look around, so more things to see and less things to buy is fine by me.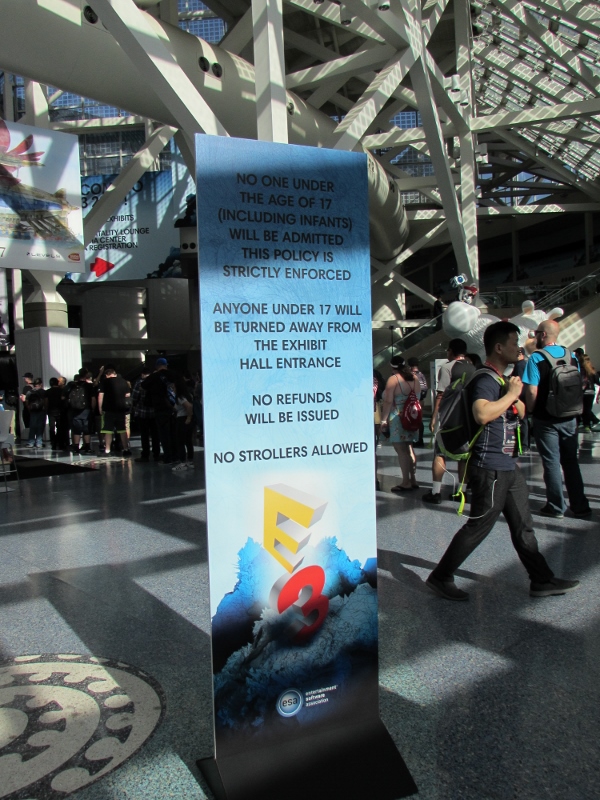 One of the big glaring differences about E3 as compared to other cons is the demographics of its attendees. A contributing aspect to this is the fact that those under 17 years of age are not allowed into E3. I'm not sure why this is, but I would guess it has to do with so many of the games being rated M for Mature, and they don't want to have to worry about policing this for underage children. I liked this rule, as you didn't have to worry about kids running around, or strollers getting in your way. It's already crowded enough without having to worry about extra obstacles. Of course, this is coming from someone who does not have any children, so this rule may have been an inconvenience for those who would have liked to bring their kids.
The other big demographic difference I noticed was the lack of female attendees. I mean, just looking at the group of people that I attended with, I was just one female with a group of five guys. The vast majority of females that I did see at E3 were working the booths, or conducting interviews or media reports. So, basically most of the females there were working. At times, I would look around me and try to spot another female in the crowd who was just another attendee. They were few and far between.
Was one day enough to satisfyingly experience E3? If you just want to walk around and look at things, then yes. That's all I wanted to do, and I had a great time doing so. The only big thing that I feel like I missed was the E3 Coliseum, which featured panels with video game developers and media celebrities. However, it was not allowing backpacks in for some reason, and I had a backpack, so it would have been a hassle to have to check my backpack. Plus, there wasn't anything I was strongly interested in on the day that I attended, so it wasn't worth the time to me. Also, these panels were being livestreamed, so it didn't feel that exclusive to me. I would have liked to have attended the panel with Chris Hardwick, Neil deGrasse Tyson, and James Gunn that was on Tuesday, though.
If you're a hardcore gamer that wants to actually play games, one day at E3 is not going to be enough. It takes time to wait in line for the various demos, so you'll have to budget out time each day to do the things you want to do. Unfortunately, taking place exclusively in the middle of the week makes it difficult for the general public to attend all three days of E3, because that's 3 days of precious PTO you would have to use. However, unless you're able to get a free Industry or Press pass, the public cost of $249 (or $149 if you were one of the lucky first 1,000 buyers) is too steep to only attend for one day. So plan accordingly if you're considering attending E3 next year.
Will I be back next year? Absolutely! But only because I can get a free Industry pass, and I'll probably also only go for one day again. That's all that a casual gamer like myself needs.
Check out even more photos from E3 2017 below!