When was your first time to San Diego Comic-Con? Are you a seasoned veteran, or will this be your first year? Well, SDCC 2012 was our first time! Violet gives a day-by-day breakdown of how we handled it. Who knows, you might find some valuable information for your next (or first!) trip to the Con. Either that, or you can chuckle to yourself about things we did wrong. Read on for the tale of how a group of newbies survived their first Comic-Con! It's a bit of a long one, so just sit back and relax…
Day 1: Wednesday, July 11, 2012. 
Josh and I, along with our friends Davey and Tamara, all had 4-day badges — without Preview Night. We left our house in north Orange County around 6pm, and it took us about an hour and a half to get to San Diego, since the traffic actually was not bad.
We headed straight to Town & Country Hotel to pick up our badges to make sure we got there before badge pickup closed for the night, which I believe was at 8:30pm. Turns out that was a good decision, because the exit ramp for Town & Country was backed up for quite awhile, and moving very slowly. By the time we got in, we were pretty much able to just walk up and get our badges.
On our way out, they were handing out the WB tote bags. There was one lady handing them out with the SDCC logo facing outward, saying that all the bags are the same, to take one and keep the line moving. Josh, Tamara, and Davey took their bags from her, and all ended up with Vampire Diaries. However, I noticed another lady off to the side who had a variety of different bags to choose from, and I took the Dark Knight Rises bag. They were all very jealous of me and I feared for my life the next few days.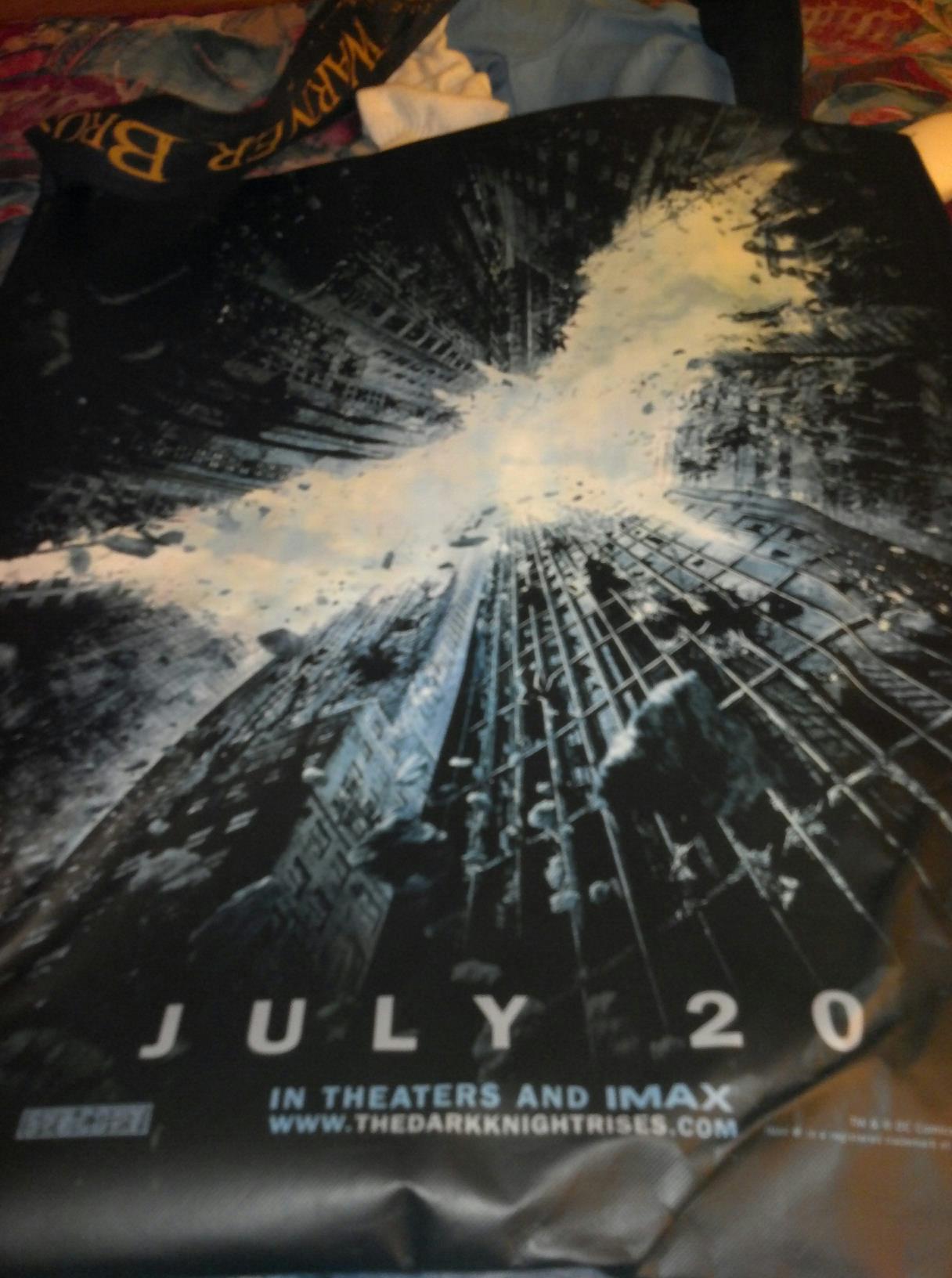 We then proceeded to our hotel to check in. We had booked a hotel the same day we bought our badges, and did not participate in either the Early Bird sale or the Hotel Lottery. Instead, we found a relatively inexpensive hotel called California Suites, which cost just over $100 per night. The low price was because it's located about 10 miles north of the Convention Center, even further than the "Hotel Circle" in Mission Valley that everyone seems to dread. Anyway, so we went out to eat in the area, went to a nearby Wal-Mart for provisions, came back to the room, and got the only decent night's sleep we would get for the next several days.
Thursday, July 12, 2012
We "slept in" til 6am, at which time we all took turns taking showers. This was the only day that we were able to take advantage of our hotel's continental breakfast, although we weren't allowed to take any food with us from the breakfast room. By the time we got to downtown, parked in our pre-paid parking spot at Horton Plaza, and walked the 5 blocks or so to the Convention Center, it was 9:30am. I guess the line rush had already passed, as we were able to just walk up to one of the doors and go in.
We walked around the Exhibit Hall for awhile, just overwhelmed by how much stuff there was to see, and how packed it was. We got in line for a giveaway at the CBS booth, and it was hard to tell who was in line walking forward, and who was just part of the crowd that happened to also be walking that way. At one point, we got in the BBC America line because for some reason we thought they were giving away Dalek hats. We were in that line for a long time, and when we finally got near the front, we discovered there were no giveaways, it was just a line to buy stuff from their store! I spoke to at least two or three other people later on in the week who also got fooled and wasted time standing in that line.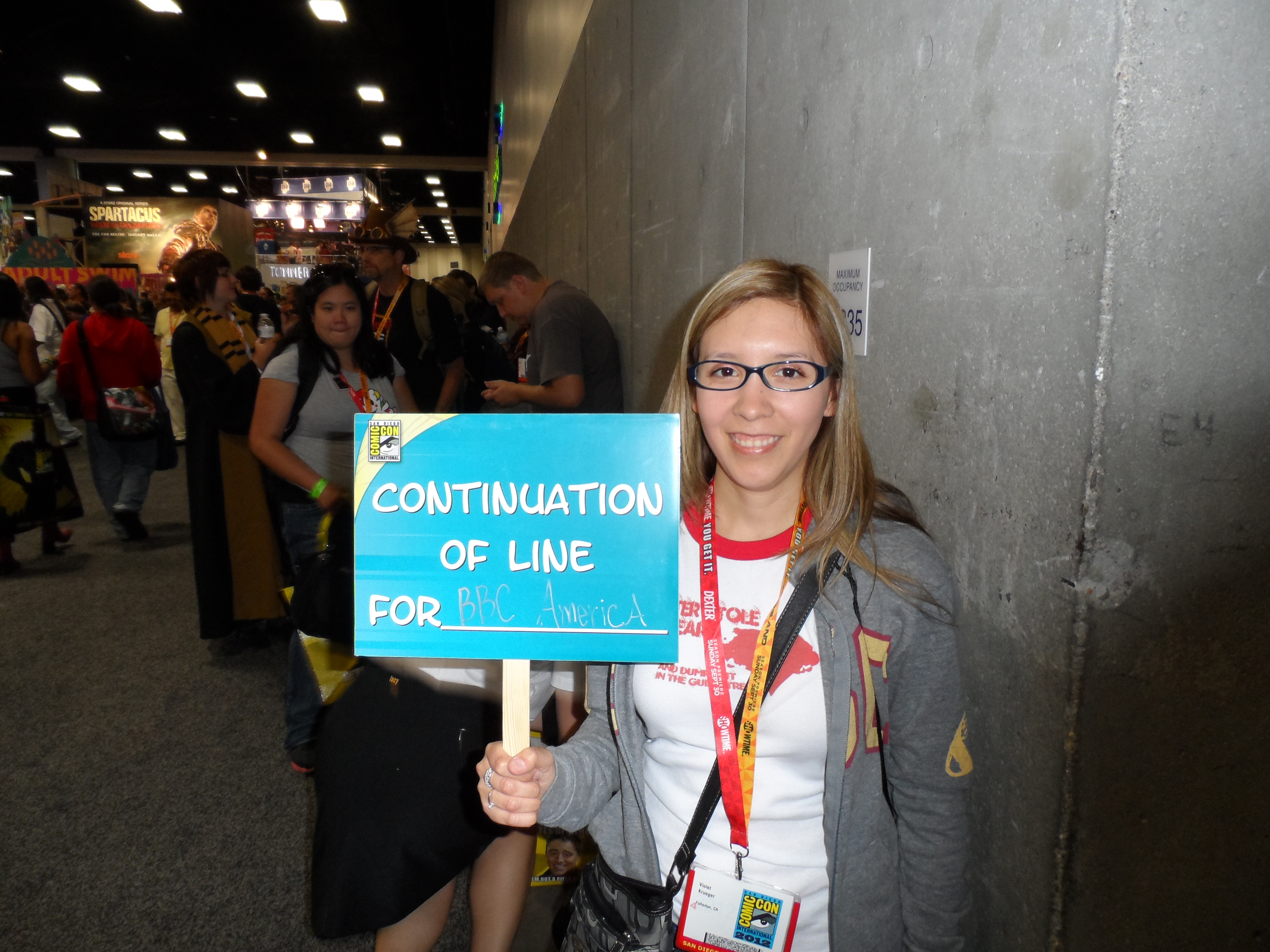 After awhile we left the Convention Center and got lunch at Subway, just barely missing the lunchtime rush, then came back and walked around the Exhibit Hall some more.
The goal of the day for me and Josh was to see the Dexter panel, which was at 6pm in Ballroom 20. So while Davey and Tamara continued their quest on the Exhibit Floor for free stuff, Josh and I went to get in line for Ballroom 20. It was difficult trying to figure out what time to get in line, because the first panel in Ballroom 20 that day wasn't until 2:15pm, which was the Psych panel. We got in line around 1:45pm, and we actually made it in right as the Psych panel was starting, although we didn't really care about it since we've only seen a couple episodes here and there.

Next up was the Beauty and the Beast panel, 3:30-4:30pm. We got to watch the entire pilot episode of the new show that would starting airing on CW in the Fall, followed by a short Q&A with cast members Kristin Kreuk and Jay Ryan, plus some of the producers.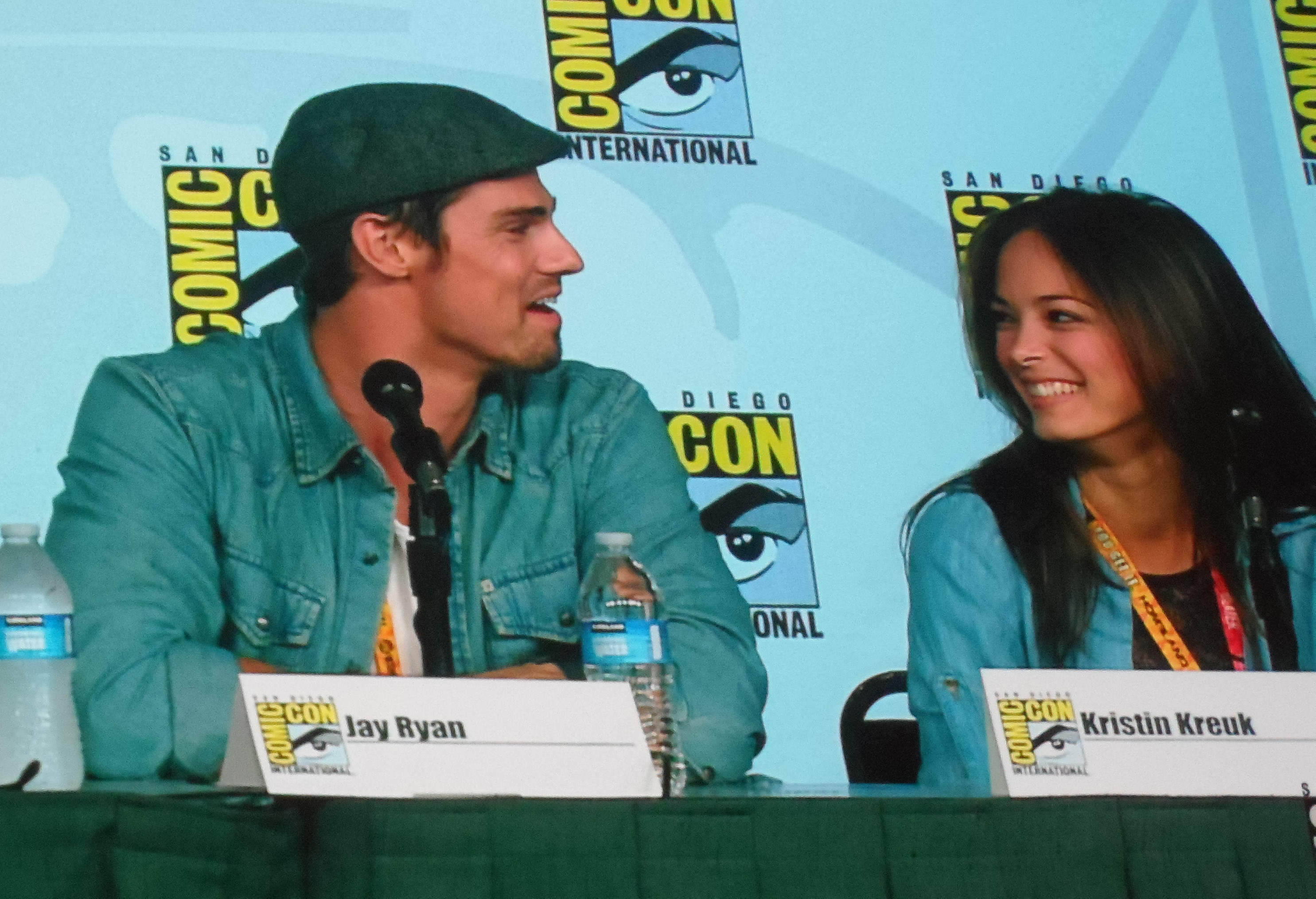 Then it was the Elementary panel, 4:40-5:45pm, based on Sherlock Holmes, where Watson is a woman, "Joan" Watson, played by Lucy Liu. In addition to a short Q&A with the stars of the show, Jonny Lee Miller (who played Jordan Chase in Season 5 of Dexter!) and Lucy Liu, as well as producers, we also got to watch the entire pilot episode of this show, which would start airing on CBS in the Fall.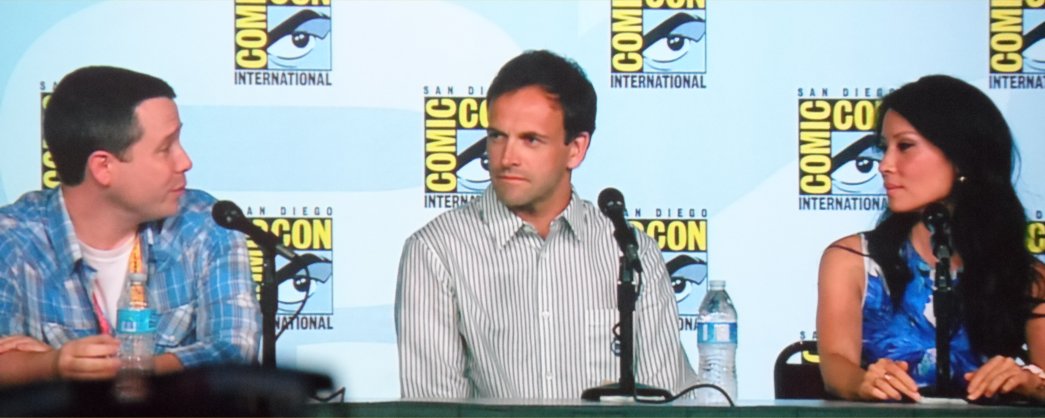 Then it was finally time for the Dexter panel! Ralph Garman from KROQ was moderating the panel. We got to watch a 2 minute clip of the beginning of Season 7, starting from where the last season left off, as Dexter tries to explain himself. We then got an hour long Q&A with cast members Michael C. Hall, Jennifer Carpenter, and newcomer Yvonne Strahovski, along with several of the producers.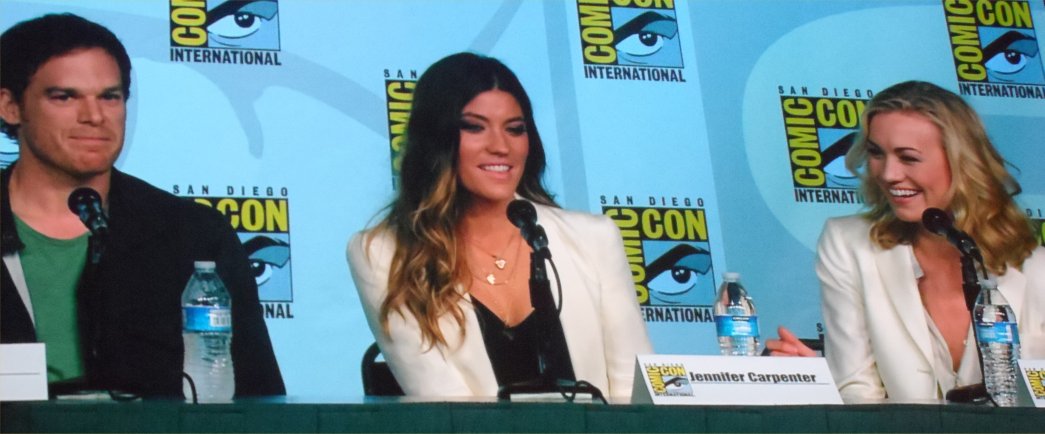 The Dexter panel ended at 7, but Davey and Tamara had decided to go to a Batmobile panel in one of the smaller rooms which took place 7-8pm. By the time we navigated through the crowd and figured out how to get to that room, it was probably about 7:30pm, at which time we just sat outside of the room waiting for them and charged our phones.
We made it back to our hotel's area in time to eat at Souplantation before they closed, then it was back to the hotel for what would be an early wake up call…
Friday, July 13, 2012
The goal of this day was to get into the Firefly 10th Anniversary Reunion panel in Ballroom 20. We got up and started getting ready around 5am, at which point we looked at Twitter to discover that Joss Whedon had gone through the Ballroom 20 line around 2:30am that morning and took pictures with people, including people sleeping!
We made it to the line around 6:30am.  We actually wasted a lot of time looking for the line because as we crossed the pedestrian bridge – since we had pre-paid parking by Petco Park that day – a volunteer directed us to go behind the Convention Center, and we ended up wandering around back there, asking every security guard we could find where the line was, but no one knew. It ended up being right next to the Hall H line.
By 8:30am the line had reached around 10,000 (for about 4,500 seats), and they were telling people that there was no way they were going to get in until around 2:00. The first panel of the day was Community at 10am. We made it into that panel sometime in the middle of it, walked around trying to find seats, and ended up getting bathroom passes so that we could come back when the panel was close to over so that we could hopefully find seats together. Luckily, that worked.
Next up was the Legend of Korra panel, 11:15am-12:15pm, in which none of us had any interest, but it was a pleasant surprise to see David Faustino (a.k.a. Bud Bundy from Married with Children). I think I may have accidentally dozed off a bit during this one…
Then finally it was time for the Firefly 10th Anniversary Reunion panel!!! It was so emotional, the room was so full of energy because EVERY person in that room was there for Firefly and had been in line for several hours JUST for this panel! Joss Whedon, Nathan Fillion, Summer Glau, Sean Maher, Alan Tudyk, and Adam Baldwin were in attendance for this amazing panel, plus writer Jose Molina and producer Tim Minear.

After Firefly, over half the room cleared out, and they didn't fill it back up for some reason. So the room was half empty for the Bones panel, 1:45-2:45pm. I felt kind of bad for David Boreanez when he jumped out and saw how empty the room was. His co-star Emily Deschanel was also there.
Then at 3:00pm, we got to see the pilot episode for Arrow, based on DC Comics Green Arrow, which would be airing on CW in the Fall. Following the pilot was a short Q&A with cast members Stephen Amell and Katie Cassidy, plus producers of the show.
After that was the Powerful Women in Pop Culture panel, 4:15-5:15pm, with scheduled panelists Kristin Bauer van Straten, Sarah Wayne Callies, Kristin Kreuk, Nikki Reed, and Anna Torv. However, Lucy Lawless made a surprise appearance!
Finally, at our last panel of the day, Joss Whedon hosted his own panel, where he basically stood onstage alone and did Q&A for an hour with the audience. It was actually a really fun panel to watch, and a great way to end our day, which ended at 6:30pm, much earlier than the 8pm ending the day before.
At that point, we left and went to eat at the Souplantation by our hotel again, then went to bed by 9:30pm for an even earlier wake up call…
Saturday, July 14, 2012
We knew we had to get in line really early for Hall H on Saturday, as there were to be several HUGE movie panels, so woke up at 2am on Saturday morning, and got in line around 3:30am. You'd think this would be pretty early, but we were still across the street from the beginning of the line. We were very unprepared and sat on the cold, hard sidewalk. They started condensing the line sometime around 7, and I think they let us in around 10:30am.
The first panel of the day was Django Unchained at 11:30am, with Quentin Tarantino, Jamie Foxx, Christoph Waltz, and others on hand to talk about the film and answer questions. We also got to watch an 8 minute "sizzle reel" of the film.
Then at 12:45pm there was an Open Road Films panel featuring the upcoming movie End of Watch, starring Jake Gyllenhaal and Michael Pena. Unfortunately, Jake Gyllenhaal couldn't make it, but Michael Pena was there, as well as the writer/director. We got to watch a short clip of the movie. The second half of the Open Road Films panel featured Silent Hill: Revelations cast member Adelaide Clemens, as well as the director and producer.
Following the Trailer Park (where you watch a bunch of trailers) was the Warner Bros./Legendary Pictures panel, moderated by Chris Hardwick, which lasted from 2:30-5:00pm.
First up was Pacific Rim, with director Guillermo del Toro on hand to talk about the film, along with several of the actors, including Ron Pearlman. We got to watch an exclusive trailer.
Then Will Ferrell and Zach Galifianakis dropped by unannounced to promote their upcoming movie The Campaign.
After that was the Man of Steel panel, with director Zack Snyder, and the new Superman himself, Henry Cavill. We got to watch a nice long trailer, which I heard was much longer than the teaser trailers they had been showing before the Dark Knight Rises.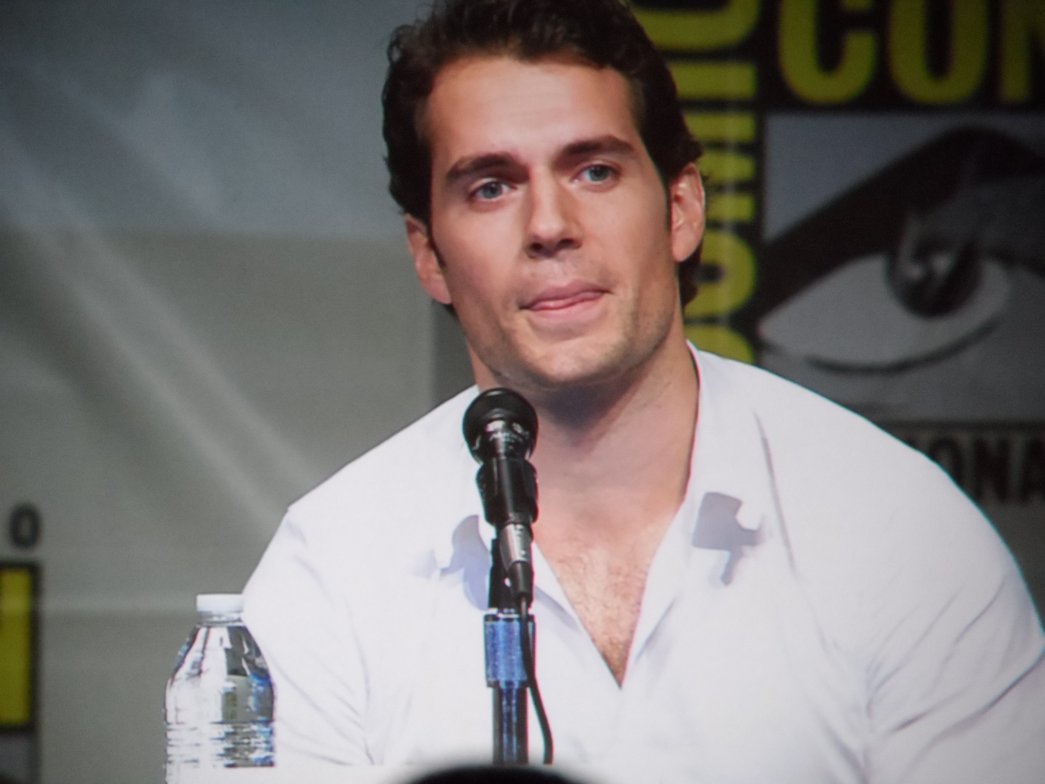 The last WB/Legendary panel was for The Hobbit, which Peter Jackson showed up for, along with several actors, such as Sir Ian McKellan, Elijah Wood, and Martin Freeman. We got to watch a lot of behind the scenes footage, in addition to 12 minutes of the movie! Speaking of Ian McKellan, we had learned early Saturday morning that he had visited the Hall H line around 12:30am. Missed out again!
After another round of Trailer Park, our final panel of the day was Marvel Studios 6:00-7:00pm. During the panel, Marvel announced several movies, including Thor 2, Captain America 2, Avengers 2, Guardians of the Galaxy, and Ant Man. Edgar Wright stopped by to talk about the Ant Man movie, and we got to see a short clip. Then for Iron Man 3, Robert Downey Jr. made a surprise Tony Stark entrance by running from the back of the room and through the aisles before going up on stage. Jon Favreau and Don Cheadle were also there.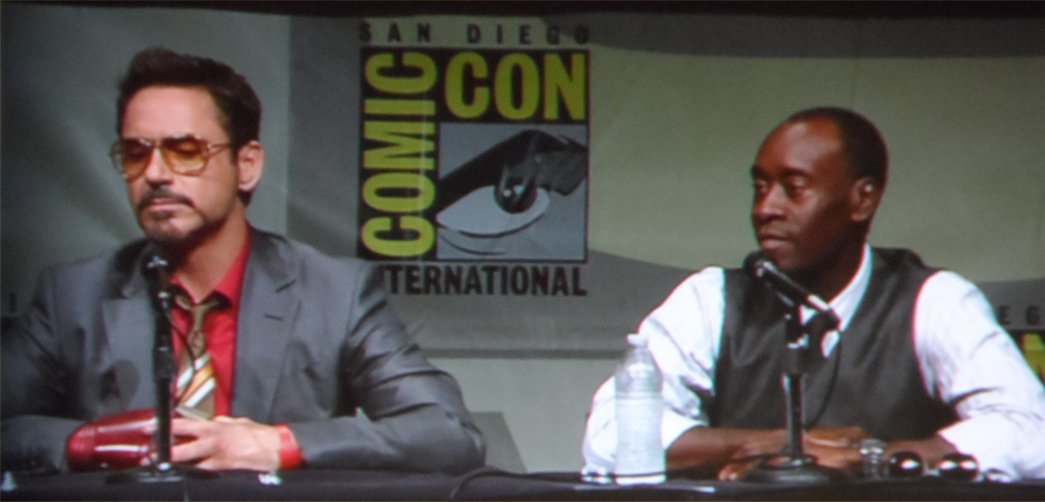 After hearing about Joss Whedon coming through the line on Thursday night, and Sir Ian McKellen coming through the line on Friday night, we didn't want to wake up to find out we had missed another opportunity on Saturday night. So after eating, we decided to go buy sleeping bags and camp out for the Doctor Who panel the next day. Also considering that Hall H was the only large room with panels that day since Ballroom 20 was shut down, we decided camping out was the best decision to make sure we got in. We came back and got in the Hall H line a little before midnight, and managed to get a campsite on the grassy area.
Sunday, July 15, 2012
Camping out paid off! Nathan Fillion visited the line around 3:00am, and we all got pictures with him. Well, except for Josh, who preferred to keep sleeping. Around 6:30am, security came around and soothingly told us to wake up and bring our sleeping bags back to our cars. Davey and Josh volunteered for this job, but when they got there, they realized they didn't bring the keys! So they left our stuff in front of the car (we had parked at Horton Plaza) rather than have to walk back and forth.
Security had condensed the line by the time they got back, so that probably happened around 7:00am. Around 9:00am, they began letting us into Hall H.
The first panel was Fringe, at 10:00am, with Anna Torv, Joshua Jackson, John Noble, Lance Reddick, Jasika Nicole, and the executive producer in attendance. We got the coolest giveaway during this panel: fedoras!  People actually started quacking at one point (Mighty Ducks anyone?)!
After that was the Supernatural panel at 11:15am, with stars Jared Padalecki and Jensen Ackles, plus Misha Collins, Jim Beaver, Mark A. Sheppard, and producers.
Finally, at 12:30pm, was the moment we'd all been waiting for: the Doctor Who panel! Panelists included actors Matt Smith, Karen Gillan, and Arthur Darvill, plus writer/producer Steven Moffat and executive producer Caroline Skinner. This was a bittersweet farewell to the Ponds. We also got to see a few clips of the upcoming season, including Dinosaurs on a Spaceship. Oh, and Chris Hardwick (who also moderated this panel) showed us an embarrassing picture where he had run into Matt Smith while dressed as the 10th Doctor.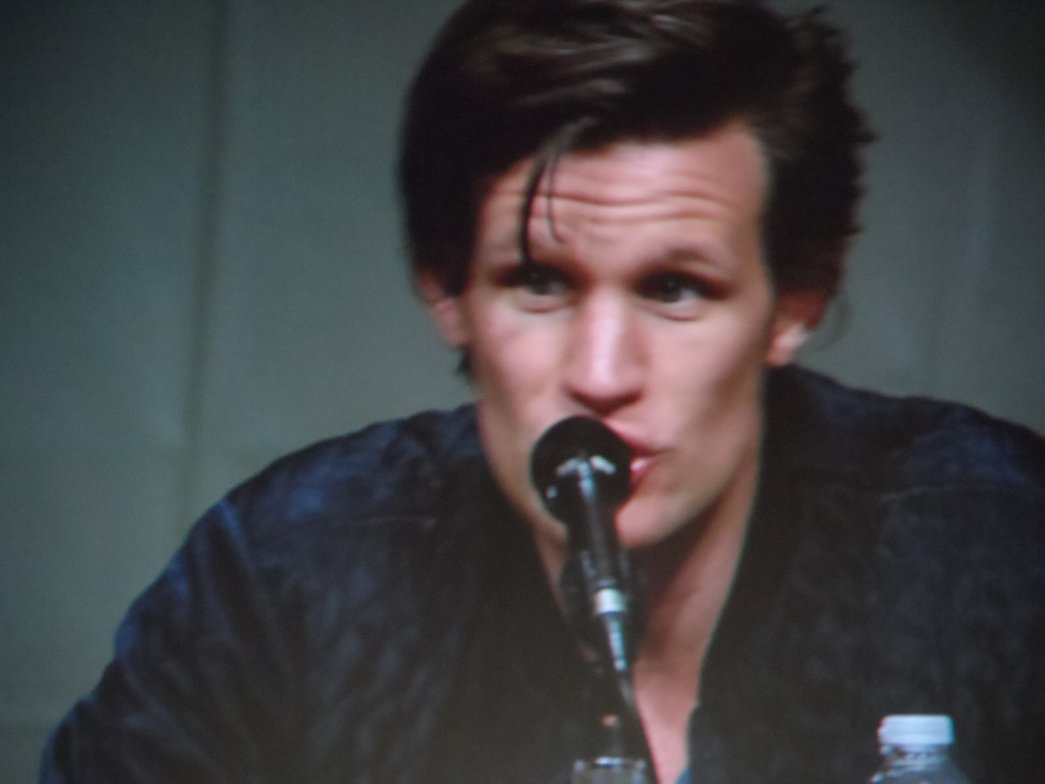 After that we decided to walk around the Exhibit Floor for a little while, and then it was time to head home. Oh, funny story as we were walking back to our car. We were waiting outside the Convention Center to cross the street because a train was passing. As we're waiting I look to my right and see a guy wearing a hat and sunglasses that looks like Seth Green. Then I look at his Comic-Con badge, and sure enough, it was Seth Green! But then we were able to cross the street, and he ran off in a hurry!
Oh, and in case you're wondering, yes, our sleeping bags were all still there in front of the car when we got back to it!
If you're still reading, kudos to you! I hope you learned something that might help with your Comic-Con adventures, or at least enjoyed our story!